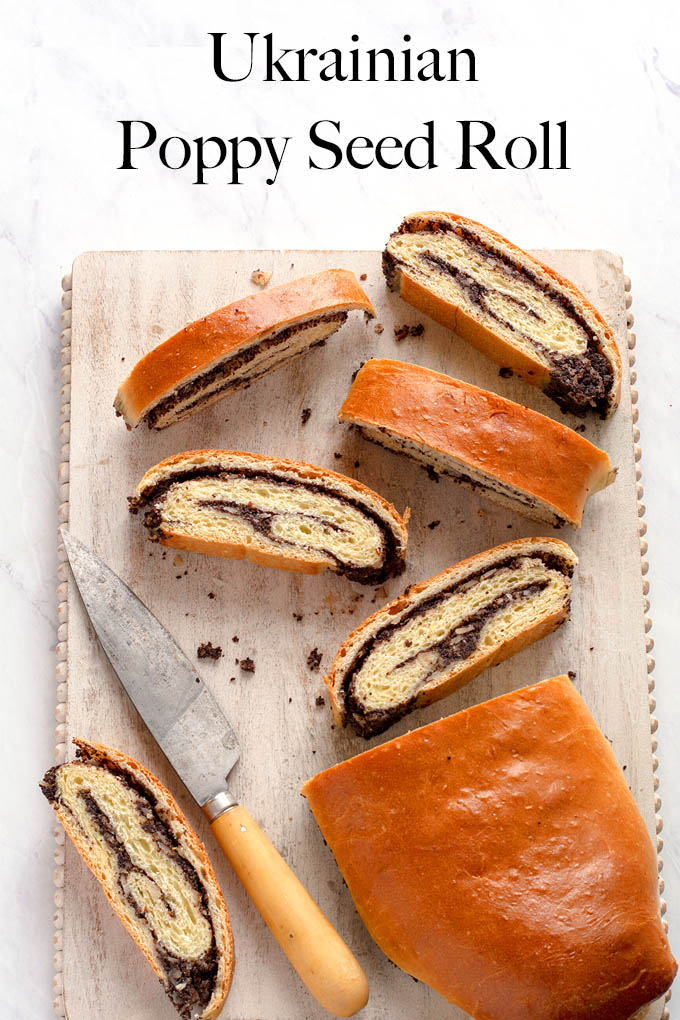 Traditional Ukrainian Poppy Seed Roll is a lovely sweet bread filled with ground poppy seeds and almonds. It makes a great snack and is perfect for holidays.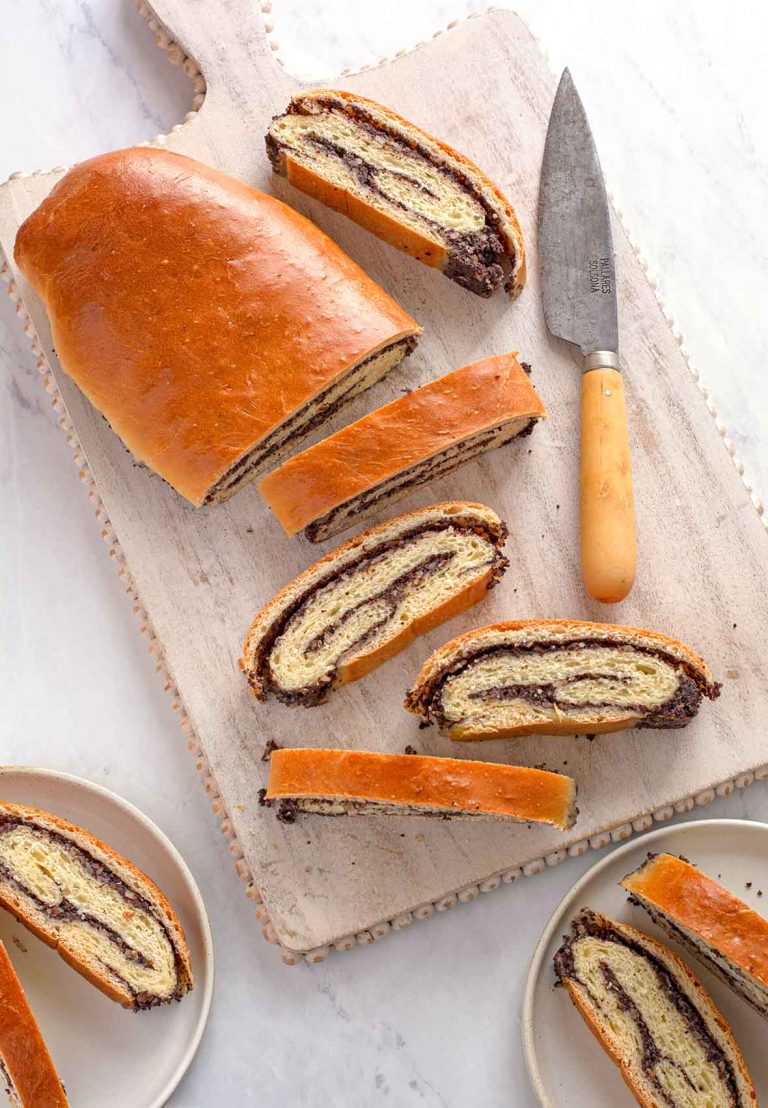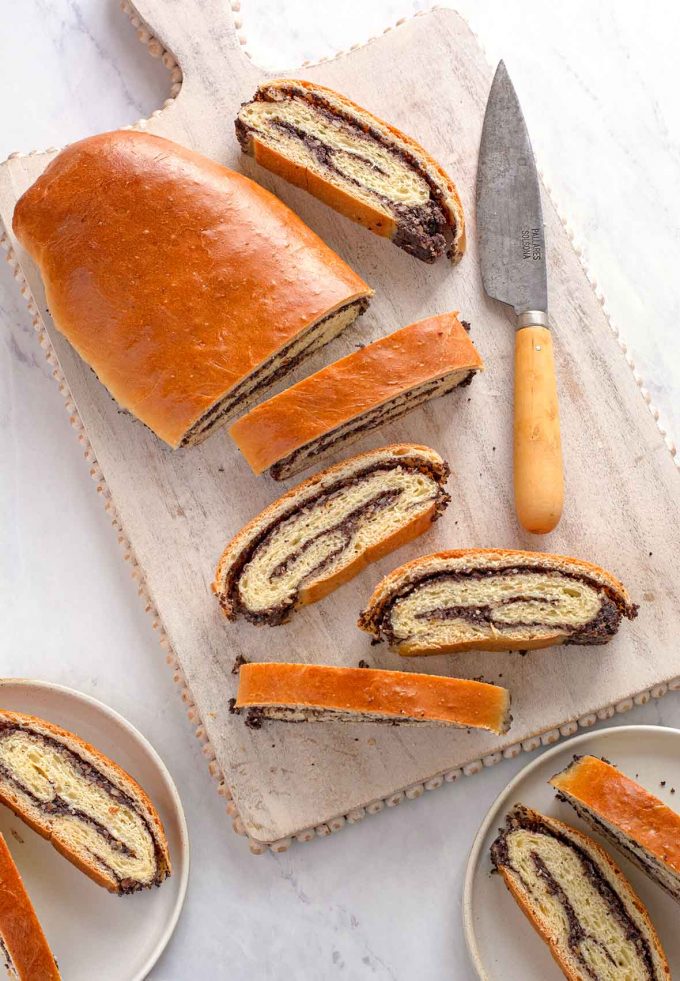 Growing up, we always had Ukrainian poppy seed roll from one specific bakery in Winnipeg. It was a huge roll and came on a Styrofoam tray, and wrapped in plastic. It was also dry, and the filling was limited to just poppy seeds. It's nostalgic, and we certainly love it, but I've been working on a version to make at home for my family that is tender and moist with a flavourful filling. I've always been a little intimidated by this roll, but it's not much different than making cinnamon rolls.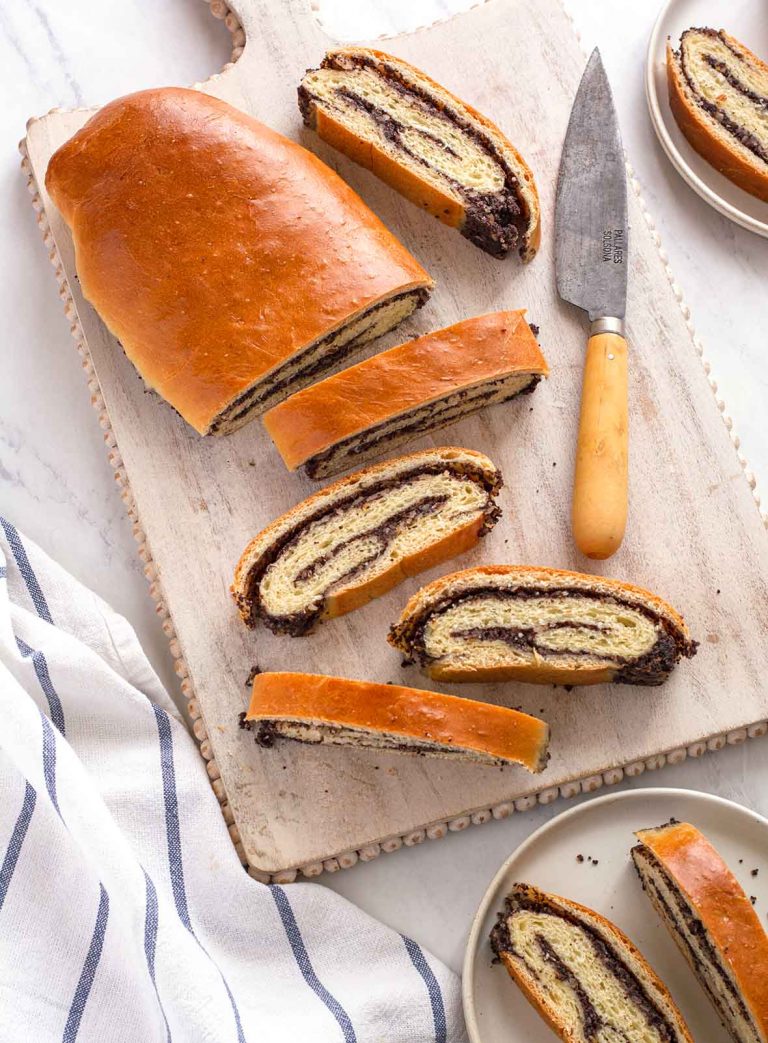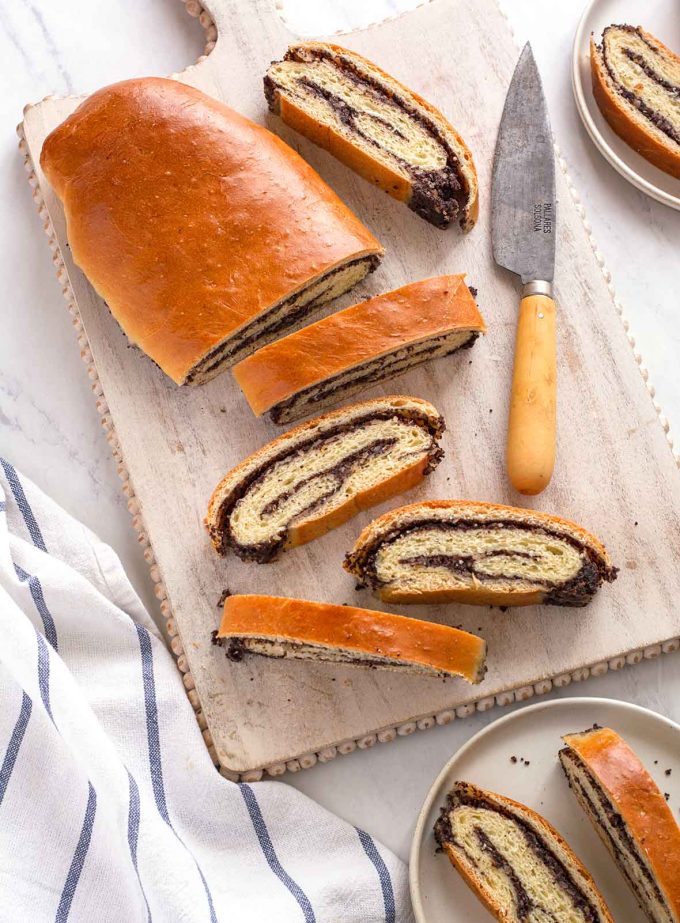 Tips for Making the Poppy Seed Filling
It's important to soak the poppy seeds in boiling water before grinding them. This will help soften them, making them easier to grind, and will help take away some of their bitterness.
Strain them really well after they've soaked. I like to use a mesh sieve lined with coffee filters, but cheesecloth works great, too. Press on them to get out excess water.
The tricky part of the filling is that you need to grind the seeds. There are special poppy seed grinders, but I'm not one for extra kitchen gadgets. I had the best success with my old bullet blender, but a coffee grinder would work as well. You will need to work in small batched. Give it time to grind down to a paste. You will need to stop and scrape down the sides as you go. You can buy canned ground poppy seeds, but I've never personally used them. A friend of mine has, and she enjoyed it.
I would suggest making the filling first and letting it sit in the fridge while you make and proof your dough. This will help the filling thicken up a bit.
I've used almonds in my filling, but walnuts are also very common.
All About the Dough
The dough for the poppy seed roll is an enriched dough, meaning it's made with lots of fat incorporated. In my recipe, I use whole milk, butter and eggs. Lots of recipes call for melted butter, but I've found that you get a much nicer, softer dough by adding the butter while it's still solid, but soft. Cut the butter into chunks and add one piece at a time until all the butter has been incorporated into the dough. The end result is a very soft, tender and moist roll.
Another tip with the dough, is to make sure you don't roll it too thin. Don't panic if you can't get it to quite the dimensions I've listed in the recipe. It's more important that the dough be evenly thick. I've found, that if it gets too thin, it can bust open on the sides and you can lose some of the filling while it bakes.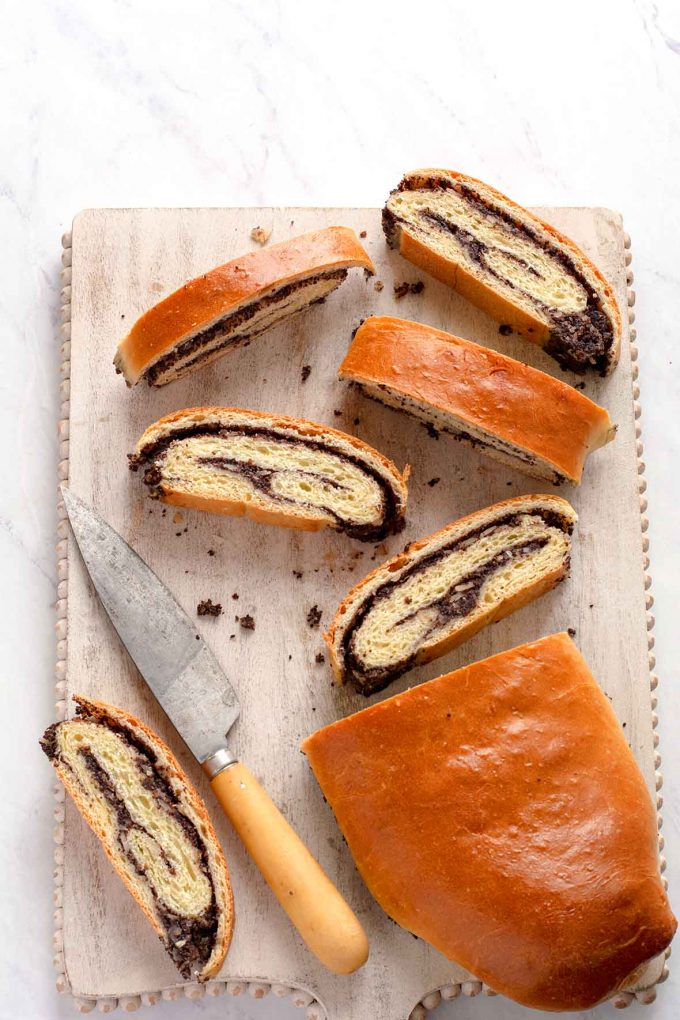 Filling Variations
There are lots of other recipes out there for poppy seed roll, but this one is my families favourite. Poppy seed roll is a common dessert in many Eastern European countries, which all have their own variations. Try experimenting with other common fillings such as
raisins
walnuts
sweetened condensed milk
minced chestnuts
canned poppy seeds
rum
apricot jam
A Few Other Poppy Seed Recipes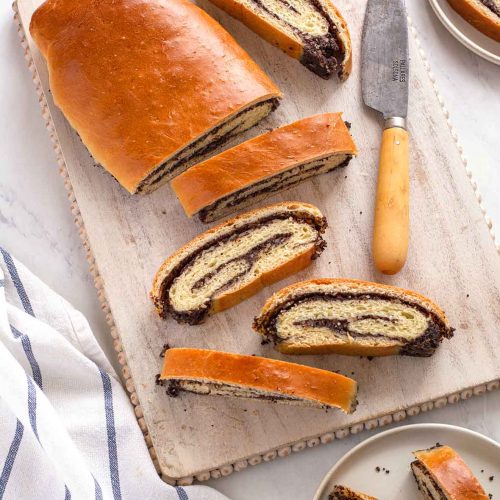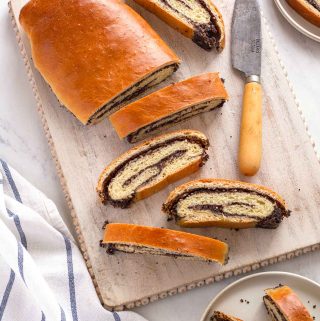 Ukrainian Poppy Seed Roll
A traditional sweet bread filled with poppy seeds and almonds.
Print
Pin
Rate
Ingredients
Poppy Seed Filling
1

cup

poppy seeds

1

cup

slivered almonds

½

cup

hot milk

3/4

cup

granulated sugar

3

Tbsp

butter

melted

1

Tbsp

lemon juice

1

Tbsp

lemon zest

½

tsp

vanilla

1/2

tsp

almond extract
Dough
3

cups

all-purpose flour

2

Tbsp

granulated sugar

2

tsp

instant yeast

½

tsp

salt

3/4

cup

warm milk

¼

cup

butter

softened and cut into pieces

2

eggs

lightly beaten

1

egg + 1 tsp water for eggwash
Instructions
Poppy Seed Filling
Place the poppyseeds in a small heatproof bowl. Boil some water, and pour over the poppyseeds until completely covered, then stir the seeds. Let them settle, and scoop out any debris that floats to the top. Let the poppy seeds sit in the hot water for about 30 minutes.

Drain the seeds through a cheesecloth (or a coffee filter) lined sieve. Try to press out as much excess water as you can. Let them dry out a bit before proceeding. I like to flatten a few coffee filters, and spread the poppyseeds out over them to dry on the counter for about 30 minutes. They will still be damp.

Place poppyseeds in a coffee grinder or small food processor (small bullet blender works good, too). Process until seeds are ground and forming a paste. This took me about 4-5 minutes using bullet blender, and scraping down the sides every minute or so. Coffee grinder would work as well, just work in batches.

Add the slivered almonds and process until the almonds are finely chopped and mixed in with the seeds. You can also finely chop the slivered almonds by hand.

Mix the ground poppyseeds and almonds with hot milk, sugar, melted butter, lemon juice, lemon zest, vanilla extract and almond extract. Stir to combine. Cover and refrigerate while making the bread. The filling will thicken up while it chills.
Dough
In the bowl of a stand mixer, whisk together flour, sugar, yeast, and salt. Because I use instant yeast, there's no need to proof it in warm water first.

Add the warm milk and two eggs. Begin to knead on low.

Using the dough hook, knead the dough on low. Once a shaggy dough has been formed, begin to add pieces of butter, one at a time.

Continue to knead until soft and smooth, about 10-15 minutes. If your dough is still too sticky, add more flour, 1 Tbsp at a time, until it's tacky but not sticky. You should only need 1-2 more tbsp of flour, maximum. As you knead the dough, it should become less sticky. You don't want to add too much extra flour, as the dough will become too dry and dense.

Transfer the dough to a lightly oiled bowl and let rise until doubled in size, about 45 minutes to 1 hour.

Line a baking sheet with parchment and set aside.

Punch down the dough and divide into two equal portions. Work with one portion at a time, and cover the rest. On a lightly floured surface, roll the dough out into a 11x14 inch rectangle. It's important to make sure you don't roll the dough too thin. If you can't get it quite to those dimensions, don't worry much.

Spread the poppy seed mixture evenly over the dough, leaving a 1-inch border around all edges.

Starting at one of the longest sides, begin rolling the dough into a long log, like you would for a jellyroll or cinnamon rolls. Pinch the seams to secure the roll and pinch the ends and gently tuck under the roll and pinch to secure.

Repeat with second ball of dough.

Transfer the rolls to the parchment lined baking sheet, making sure they are seam-side down.  Cover and let rise for about 45 minutes, or until doubled.

Preheat oven to 350°F.

Brush the poppyseed roll with egg wash.

Bake for 35-40 minutes, until dark golden brown.

Allow to cool completely. Store in an airtight container
Nutrition
Serving:
16
slices
|
Calories:
229
kcal
|
Carbohydrates:
34
g
|
Protein:
7
g
|
Fat:
8
g
|
Saturated Fat:
1
g
|
Polyunsaturated Fat:
3
g
|
Monounsaturated Fat:
3
g
|
Trans Fat:
1
g
|
Cholesterol:
23
mg
|
Sodium:
99
mg
|
Potassium:
176
mg
|
Fiber:
3
g
|
Sugar:
13
g
|
Vitamin A:
72
IU
|
Vitamin C:
1
mg
|
Calcium:
145
mg
|
Iron:
2
mg
Nutritional calculation was provided by WP Recipe Maker and is an estimation only. For special diets or medical issues please use your preferred calculator