If you recall from my Lemon Poppy Seed Pancake post, I have a lifetime supply of poppy seeds at my disposal. So naturally, after making pancakes, I just had to bust out some muffins. Lemon and Poppy Seed are a popular, classic pairing that marry so well in pancakes, loafs and muffins just to name a few. For me, the pairing is reminiscent of spring – warmer weather, more sunlight, and fresh flavors. And what flavor screams "fresh" more than lemon?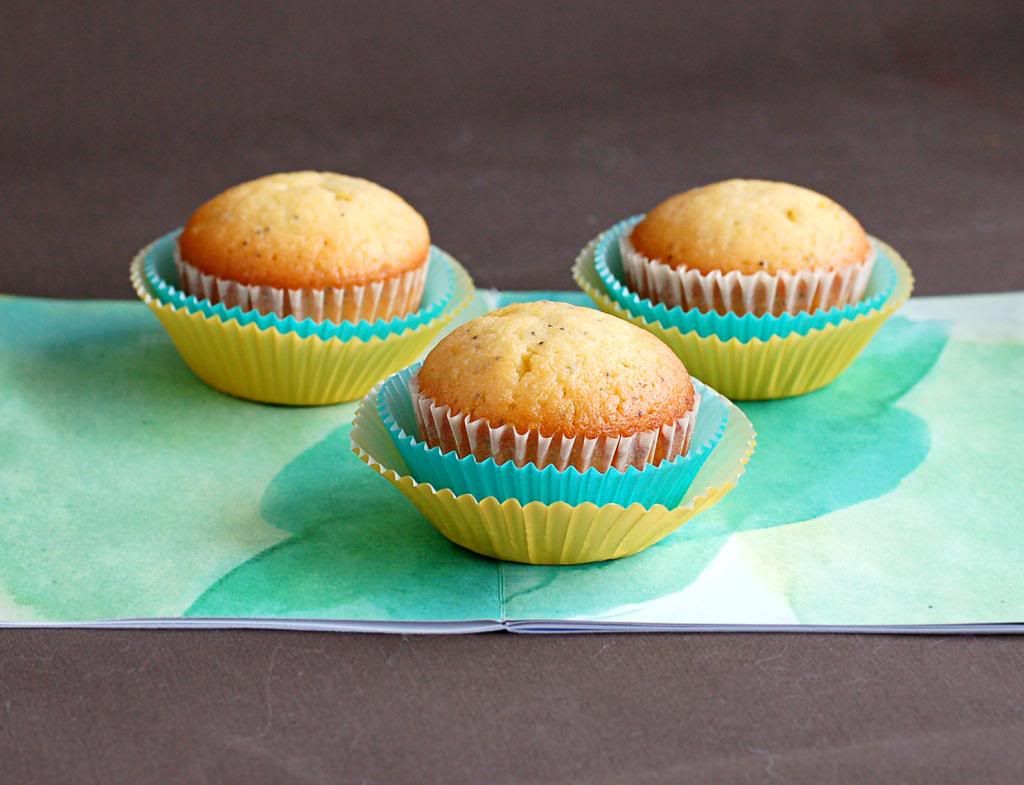 I'm currently baking my way through the Bouchon Bakery book. So far, it's my absolute favorite cookbook. Like, ever! Seriously guys, it's pretty fabulous. I think I may have found the perfect muffin texture in these muffins. I left mine out for more than 3 days, and they did not dry out at all! I was very surprised!
Like all recipes from this book, the measurements are provided in both weight and metric. I always use weight when it's provided. Also note, the batter must sit overnight in the fridge to allow it to completely hydrate. Thomas Keller says, "The key to making a great muffin is letting the batter rest, to allow the flour to hydrate. Resting the batter also enhances the flavor and gives a better crumb"
Ingredients
1

and 1/4 cups

161 g Cake Flour

1/2

+1/8 tsp

3.4 g Baking powder

1/2

tsp

1.7 g Kosher salt

1

cup

+ 3 tbsp

234 g Sugar

1/2

cup

+ 3 tbsp

170 g Eggs

3/4

tsp

4.5 g Vanilla paste

6.8

ounces

194 g Unsalted butter, melted and still warm

1/4

cup

60 g Fresh Lemon Juice

Generous 1 tbsp

6 g Grated Lemon Zest

1

and 1/2 tsp

4 g Poppy Seeds
Instructions
Sift the cake flour ans baking powder into a medium bowl. Add the salt and whisk to combine.

Combine the sugar, eggs and vanilla paste in a deep medium bowl and mix with an immersion blender. Add the dry ingredients in 2 additions, mixing until just combined. With the blender running, pour in the melted butter in a steady stream and continue to mix until the batter is smooth. Add the lemon juice and blend again to combine.

Fold in the lemon zest and poppy seeds. Transfer the batter to a covered container and refrigerate overnight, or for up to 36 hours.

Preheat oven to 425 degrees.

Line the muffin tin with muffin papers and spray the papers with nonstick spray.

Transfer the batter equally into each cup, stopping approx 3/8 inch from the top. (I made 12 muffins, and the batter fills up all 12 equally).

Place the muffin tin in the oven, lower the temperature to 325 degrees, and (for jumbo muffins) bake for 34-37 minutes, or (for regular sized muffins) bake 20-25 minutes or until the muffins are golden brown and a skewer inserted in the center comes out clean. Set the pan on a cooling rack and cool completely.

The muffins are the best the day they are made, but they can be wrapped individually in plastic wrap and stored in a covered container at room temperature for up to 3 days or frozen for up to 1 week.
Nutritional calculation was provided by WP Recipe Maker and is an estimation only. For special diets or medical issues please use your preferred calculator
Recipe from Bouchon Bakery