Two weeks ago, I had a conversation with a lovely gal about baking. She asked some hard-hitting questions like, "cake or pie?"
Girl, don't make me choose!
If you're wondering, I chose cake.
She couldn't leave it at that, either. She pressed further, "why cake?"
Why not cake? There are so many aspects to cake that I love; tiers, multiple layers, icing, fillings, sprinkles. I'm sure my answer was something to that effect.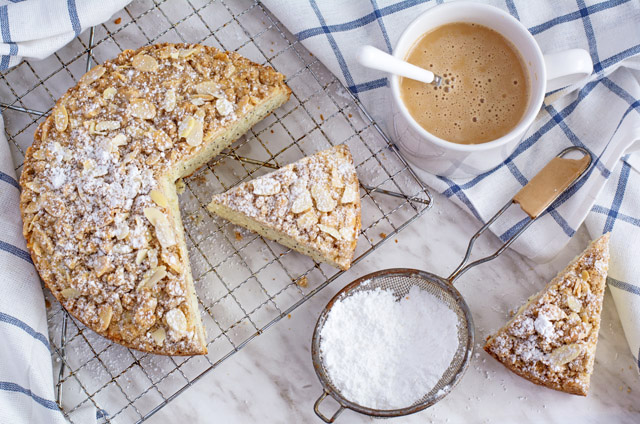 Cakes signify celebration. I think it's weird to put a candle on a pie, just saying'. It marks holidays, birthdays, joyful celebrations. Plus, I find far more joy in assembling and decorating a cake than a pie. Pie is fun, but cake is better – more impressive and even humble, rustic cakes are masterpieces.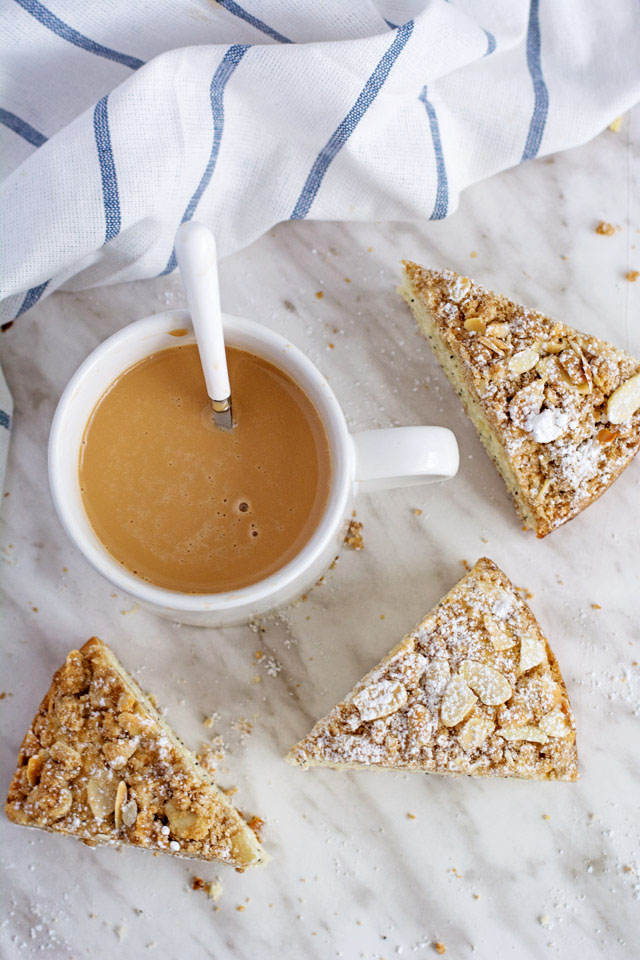 Also, I feel cake can be represented as breakfast food, or even morning snack food for that matter. If I bust out a slice of pie on my morning coffee break, I'm gonna get some weird looks, like "girl, pie in the morning? You're out of your damn mind".
Cake, namely coffee cake, is widely accepted. When I pull out a generous slice of my new favourite Lemon Poppy Seed Coffee Cake, everyone in the office will be singing my praises. Or at least that's how I see things playing out. I'll test this scientific theory at work tomorrow and keep you posted.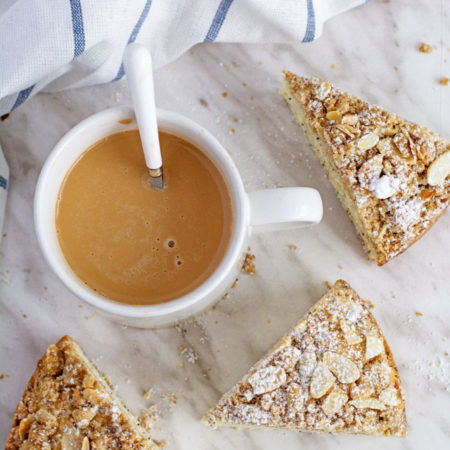 Ingredients
Streusel
1/2

cup

flour

1/4

cup

brown sugar

1/2

tsp

salt

1/2

cup

butter

melted

1/3

cup

slivered almonds
Coffee Cake
1/2

cup

butter

at room temperature

1/2

cup

sugar

2

eggs

at room temperature

1 1/2

tsp

lemon zest

1

tbsp

freshly squeezed lemon juice

1 1/4

cup

all-purpose flour

1

tsp

baking powder

1

tsp

salt

2

tbsp

poppy seeds

1/4

cup

sour cream
Instructions
Preheat oven to 350 degrees F. Grease an 8-inch round cake pan and lightly flour all sides. Set aside.
Streusel
In a medium bowl, whisk together flour, brown sugar, salt and slivered almonds. Pour in about half the butter and mix. Keep adding more until the mixture forms a crumbly texture. You may not need to use all the butter, but you don't want extra flour kicking around the bottom of the bowl.

Set aside.
Coffee Cake
In the bowl of a stand mixer, fitted with the paddle attachment, beat together butter and sugar until light and fluffy, about 5 minutes.

Add in eggs and beat until combined.

Add in lemon zest and lemon juice and beat until well combined.

In a separate medium bowl, whisk together flour, baking powder and salt.

Add the flour mixture to the butter mixture and mix for about 20 seconds. Add in poppy seeds and sour cream. Beat until mixture is well combined.

Transfer the batter into the prepared 8-inch pan. Spread the batter evenly with an offset spatula.

Top with streusel.

Bake for 30-35 minutes, or until a toothpick inserted into the center comes out clean. Allow the coffee cake to cool in the pan for about 15 minutes. Run a knife around the outside edges to encourage it to release easily. Invert onto a plate, and then onto a cooling rack to finish cooling.
Nutritional calculation was provided by WP Recipe Maker and is an estimation only. For special diets or medical issues please use your preferred calculator
Notes
Recipe adapted from Bake from Scratch Magazine Vol 3 Issue 1