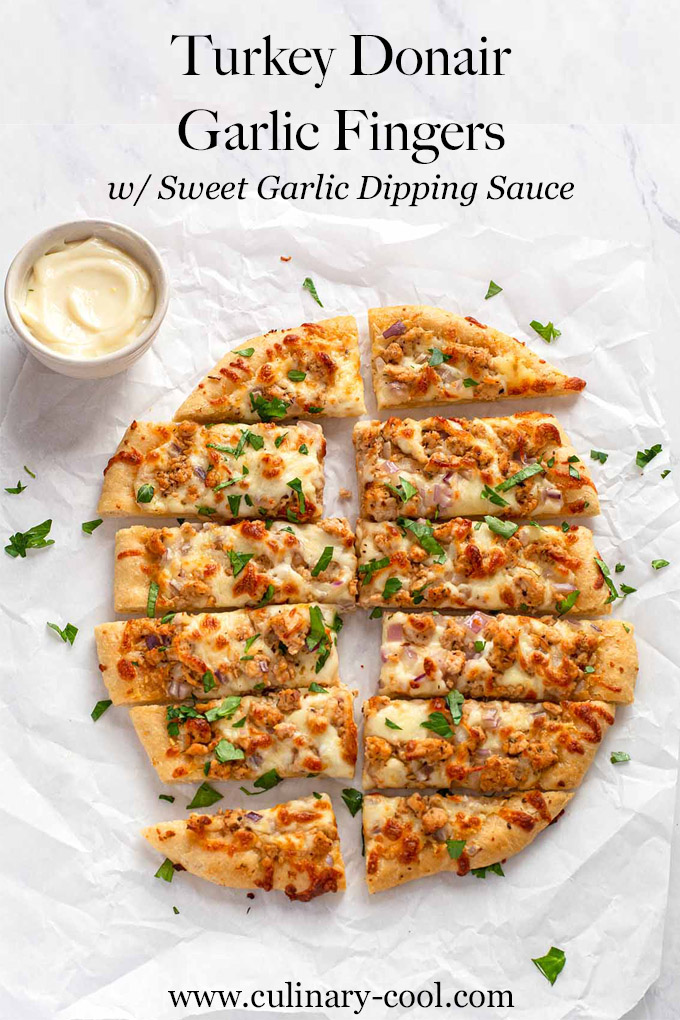 We're taking a virtual trip to Halifax, Nova Scotia today, with this fusion of two Maritime classics: Donair and Garlic Fingers! Let's travel through food and make Turkey Donair Garlic Fingers.
This post is sponsored by Turkey Farmers of Canada. As always, all opinions are my own.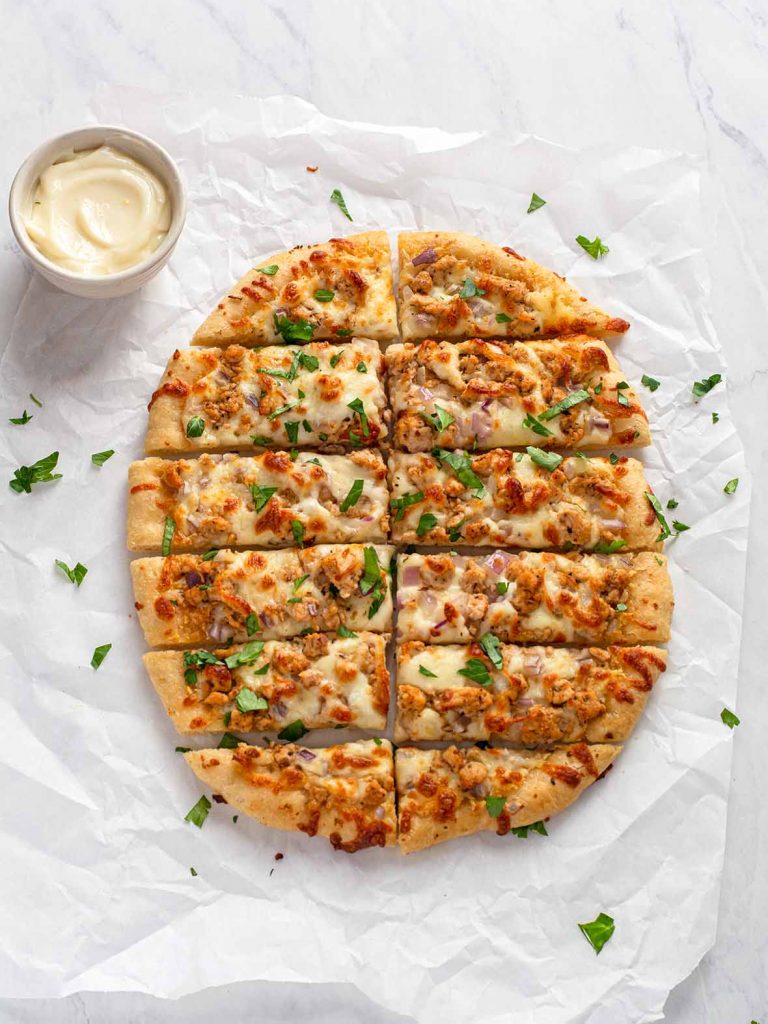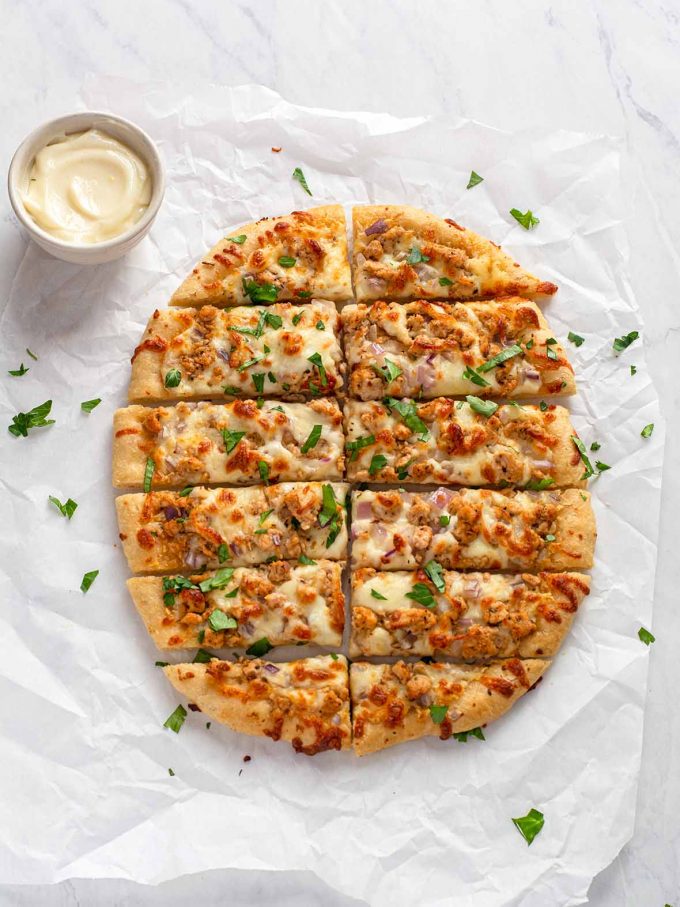 It's been a whole year since I've travelled anywhere, so I'm reliving past travels through food. One of my favourite road trips was back in 2014, when I spent two weeks on the East Coast. The Maritimes have so much to offer and it's not all seafood. One of my most memorable meals was one that we ordered into our hotel room after a long day of driving. We were in Halifax and ordered two Maritime classic dishes. We had the biggest donair I've ever seen, and some classic garlic fingers. The donair was insanely big. So big that it took 4 people to eat it and there were still leftovers. The garlic fingers were garlicky (obviously) and super cheesy. I've decided to fuse these two classics into one dish – Donair Garlic Fingers, with a twist.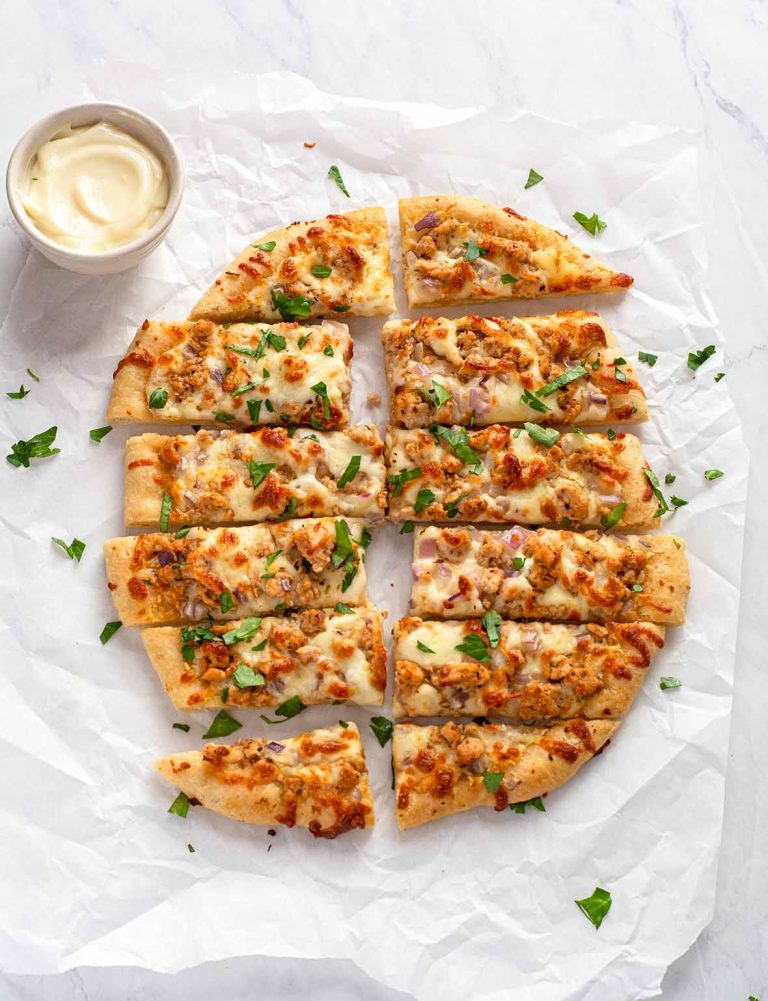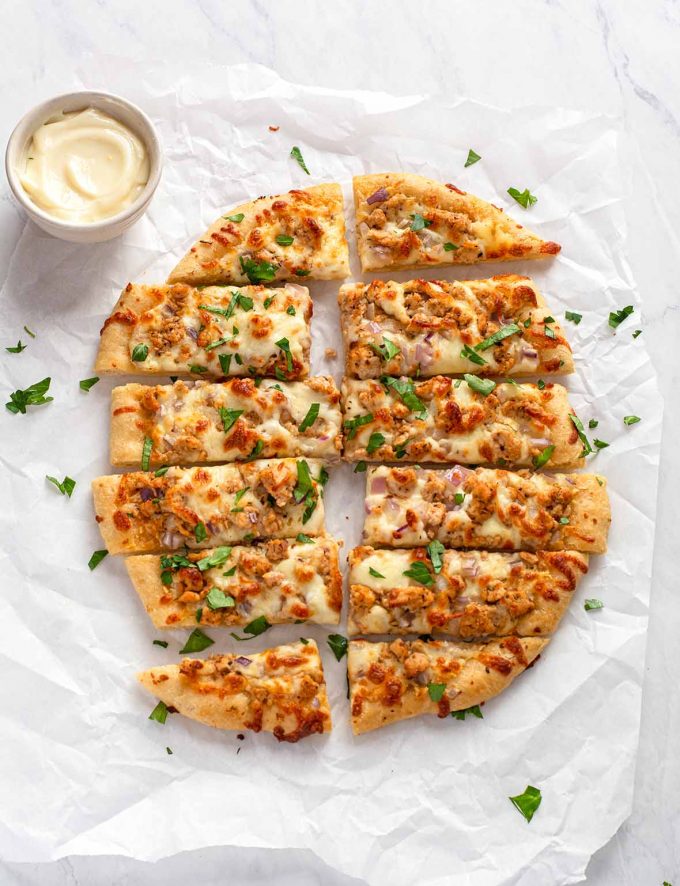 What is Donair?
Halifax Donair is a spiced meat (similar to the gyro or shawarma) that is cooked on a rotating grill, sliced thin and served in a Lebanese style pita, with tomatoes, onions and a unique sweet garlic sauce. You'll likely find it on the menu at local pizza joints and it's generally served wrapped in foil. The sweet donair sauce really makes it unique. It's an unusual combination of sweetened condensed milk, vinegar and garlic powder. It sounds a little bizarre, but trust me (and all the people of Halifax), it's incredible with donair, and with another East coast staple, garlic fingers.
What are Garlic Fingers?
Garlic fingers is pizza dough, topped with garlic butter and loads of cheese, then cut into fingers opposed to triangular slices. Like donair, you need the sweet garlic dip to take it to the next level. You'll also find this dish at the local pizza joints and it makes a great appetizer, snack or the whole meal!
Halifax Fusion …with a twist
Inspired by my travels, I've combined the Halifax Donair with the Halifax Garlic Fingers into one incredibly flavourful meal, but with a twist. It's important to me to make healthier choices, especially now that I have a little one to feed, but I also love indulging in special treats. For this recipe, I've made the pizza dough out of spelt flour, cut back on the garlic butter and used turkey for the donair.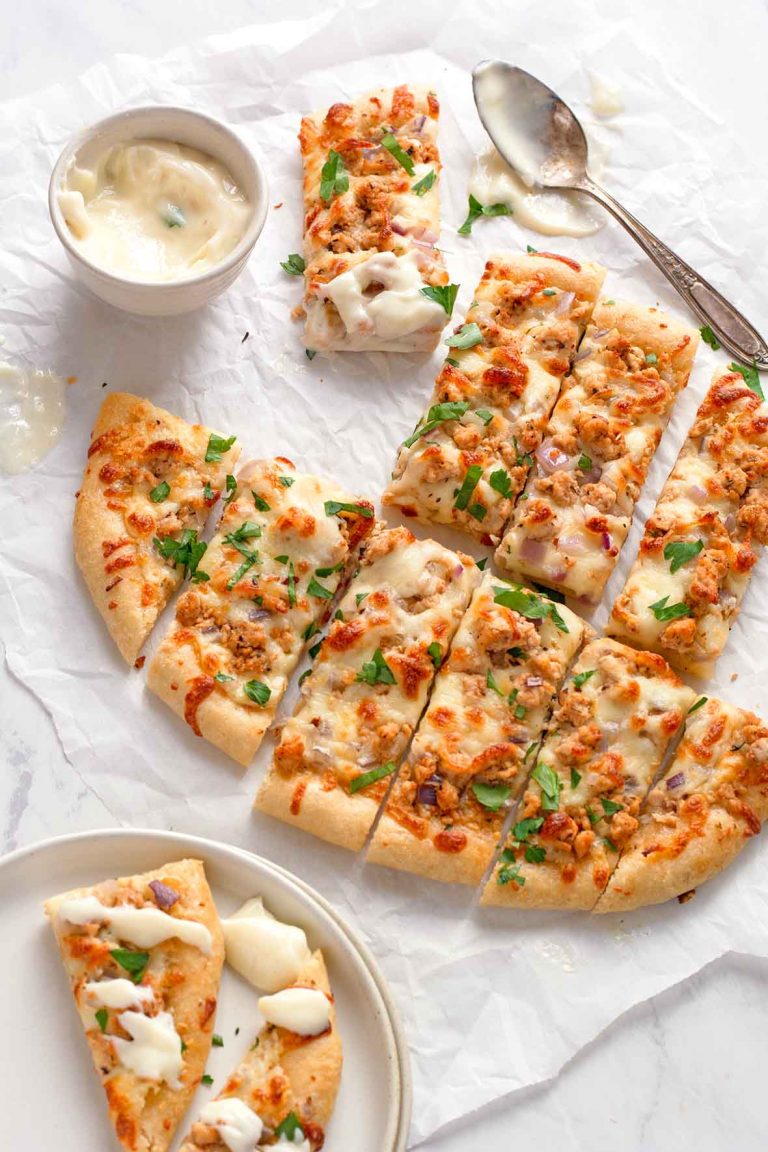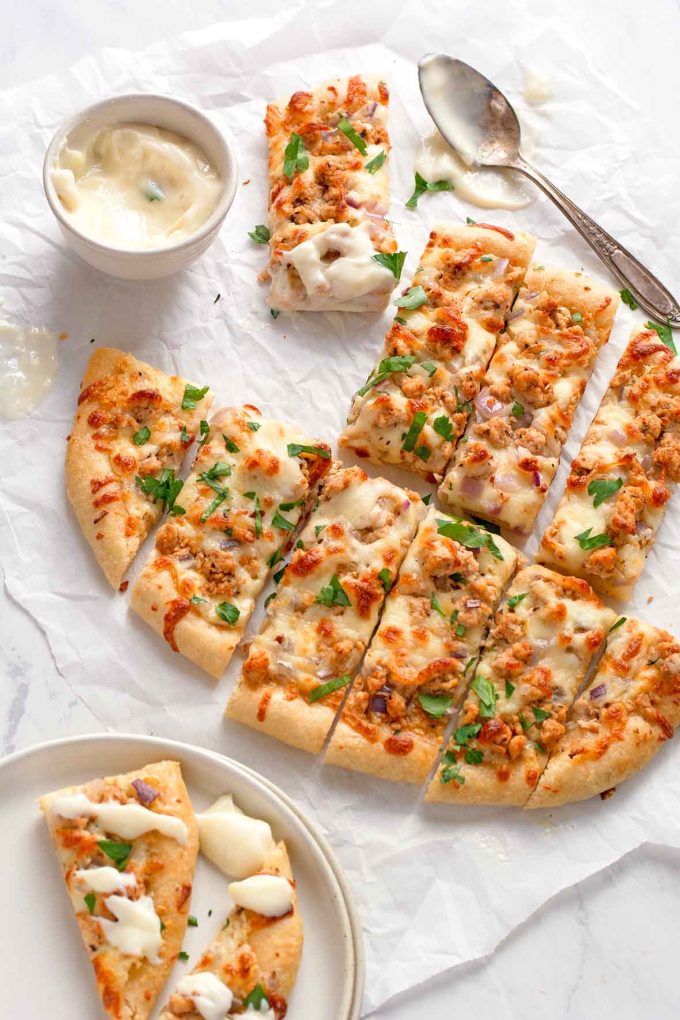 Lets Talk Ingredients!
Spelt Flour: Spelt is an ancient grain, related to wheat. Spelt flour is a whole grain flour but produces a much lighter and airy crust than using whole wheat flour. This is a great flour to use when wanting to eat whole grains, but still enjoying the light and fluffy texture white flour offers. It's also a great source of fibre and protein and is said to be easier to digest than wheat flour.
Turkey: This is a no brainer! Turkey is one of our all-time favourite proteins to use because it's lean and versatile. It's a great source of vitamin B12 and iron – two things I've been low on since having Isla almost two years ago. It's a great source of protein and keeps us feeling fuller, longer. I use ground turkey in place of other proteins to add variety to our diet and because it takes on any flavours I pair with it.
Donair Seasoning: Having only been to Halifax once, I cannot proclaim myself an expert on donair, nor it's seasoning. After much research, reading and trial and error, I've found the blend of spices I like the best. One important ingredient is za'atar – a Middle-Eastern blend of herbs such as oregano, marjoram and sumac. Sumac is what gives this multifaceted spice blend its tangy flavour. It's easy to find at most well-stocked grocery stores and I implore you to search it out. If you're in a pinch, just substitute more Italian Seasoning.
Donair Sauce: Ok, I'll admit, this sauce sounds funky. But believe me, it's fabulous and it works wonders with both donair and garlic fingers. I've made a few variations of this sauce over the years, using either evaporated milk (Carnation) or sweetened condensed milk (Eagle Brand) and I prefer the condensed milk. I don't know which of the two is the authentic version, but this is the one I've come to prefer. The recipe below doesn't quite use up one can, so save that liquid gold and put it in your coffee (and thank me later).
I'd love to make it back to Halifax and eat more donair and garlic fingers, but until then, I'll make this Turkey Donair fusion version at home and dream.
Hey! You might like these recipes, too!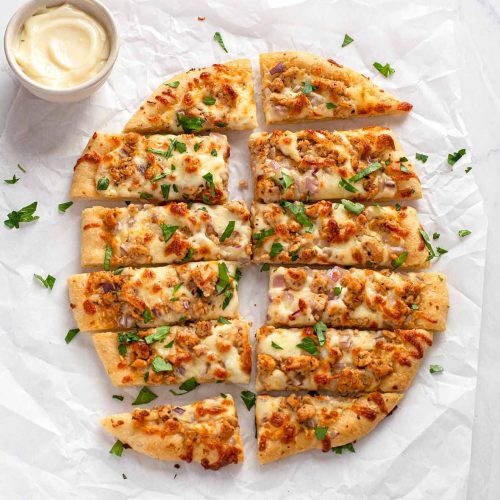 Turkey Donair Garlic Fingers
A fusion of two classic Maritime dishes: donair and garlic fingers.
Print
Pin
Rate
Ingredients
Dough
2

cups

spelt flour

1

tsp

salt

1/2

tsp

sugar

2 1/2

tsp

instant yeast

3/4

cup

warm water

2

Tbsp

olive oil
Donair Turkey
10-13

oz

ground turkey

2

tsp

canola oil

1

tsp

salt

1

tsp

za'atar

1

tsp

garlic powder

1/2

tsp

Italian seasoning

1/2

tsp

onion powder

1/2

tsp

freshly ground black pepper

1/4

tsp

smoked paprika

1/8

tsp

cayenne pepper

1/2

cup

water
Garlic Butter
3

Tbsp

butter

at room temperature

1 1/2

tsp

minced garlic
Donair Dipping Sauce
2/3

cup

sweetened condensed milk

1/4

cup

white vinegar

1/2

tsp

garlic powder
Toppings
2

cups

shredded mozzarella

divided

1/4

cup

chopped red onion

divided

Parsley for garnish
Instructions
Dough
In a large bowl, whisk together flour, salt, sugar and instant yeast.

Add in the warm water and olive oil. Mix until a shaggy dough is formed.

Turn the dough out onto a lightly floured work surface and knead until a smooth dough is formed, about 5 minutes. It will still be slightly tacky but not sticky.

Place the dough in a lightly oiled bowl and cover. Proof until doubled in size.
Donair Turkey
In a large skillet over medium heat, add oil and turkey. Stir often until cooked through.

In a small bowl, mix salt, za'atar, garlic powder, Italian seasoning, onion powder, black pepper, smoked paprika and cayenne.

Add donair seasoning to the cooked ground turkey. Stir to combine thoroughly. Cook for 1 minute. Add water and cook until the water has evaporated.

Set aside to cool.
Garlic Butter
In a small bowl, mix together butter and garlic. Set aside.
Donair Dipping Sauce
Mix sweetened condensed milk, vinegar and garlic powder in a small bowl. Chill in the refrigerator until ready to eat the garlic fingers.
To Make the Garlic Fingers
Preheat oven to 425°F.

Once the dough has doubled, punch it down and divide into two equal balls.

Working with one ball at a time, place the dough on a piece of parchment and roll out, or press and stretch with your fingers, until it's 9-inches round.

Transfer the parchment and dough to a baking sheet.

Spread the garlic butter over the dough, 1 1/2 Tbsp for each round of dough.

Sprinkle half the turkey donair over the dough and top with 1/8 cup of onions and 1 cup of cheese.

Bake for 8-10 minutes, or until the cheese is melty and golden. Once out of the oven, sprinkle with parsley.

Repeat with second ball of dough.

Enjoy warm, served with Donair Dipping Sauce
Nutrition
Nutritional calculation was provided by WP Recipe Maker and is an estimation only. For special diets or medical issues please use your preferred calculator