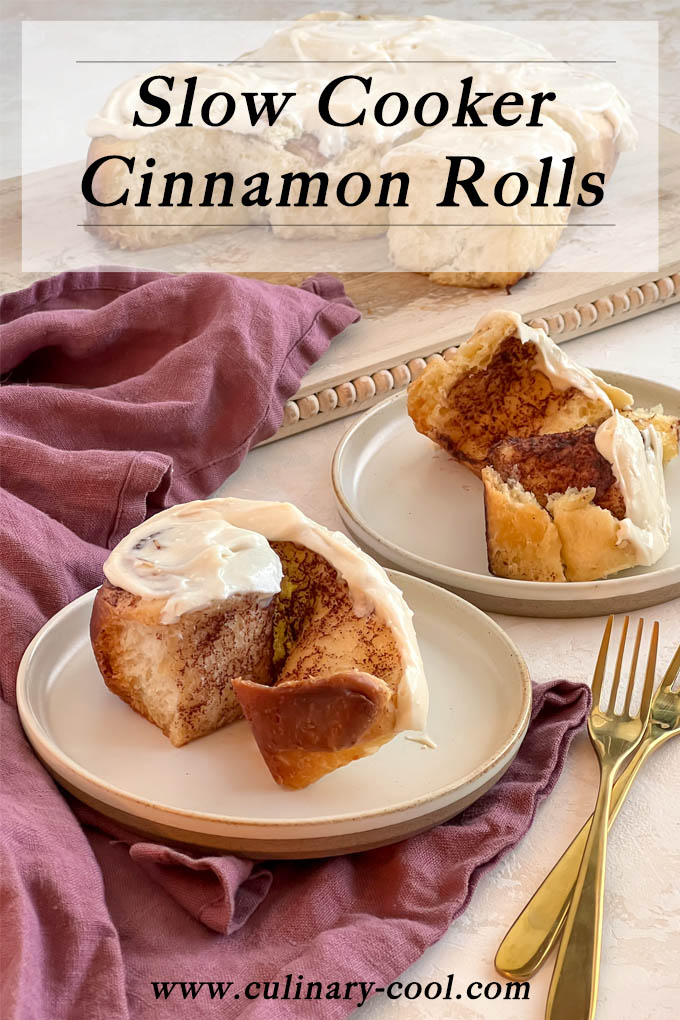 Fluffy and sweet cinnamon rolls made right in your slow cooker. They take almost half the time and have all the same qualities of the ones you bake in the oven!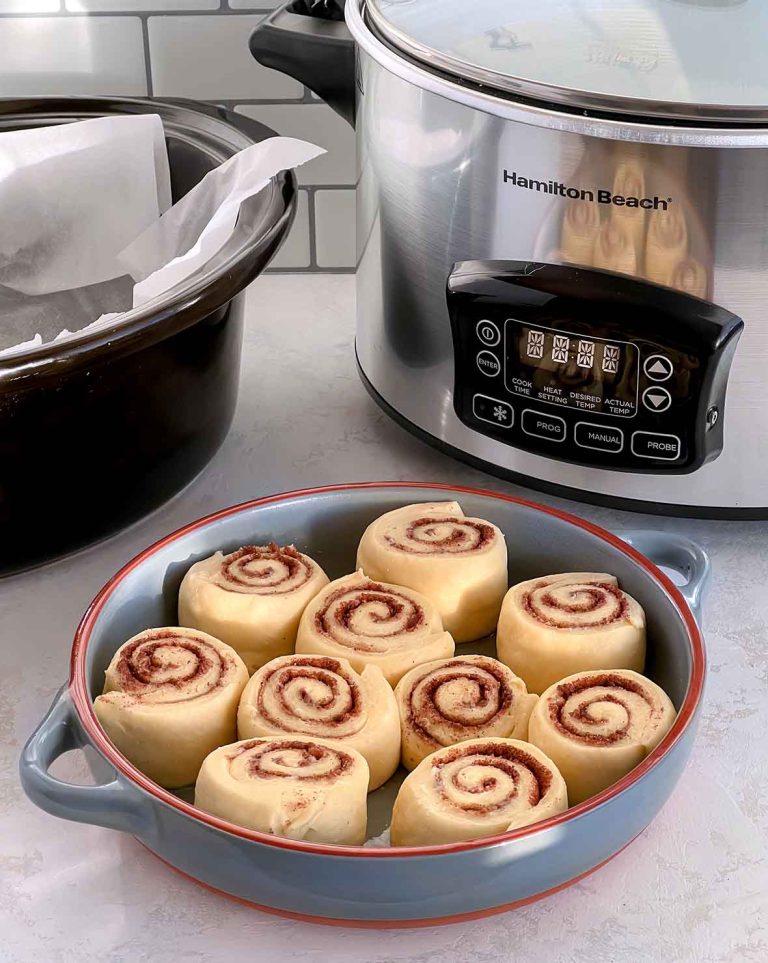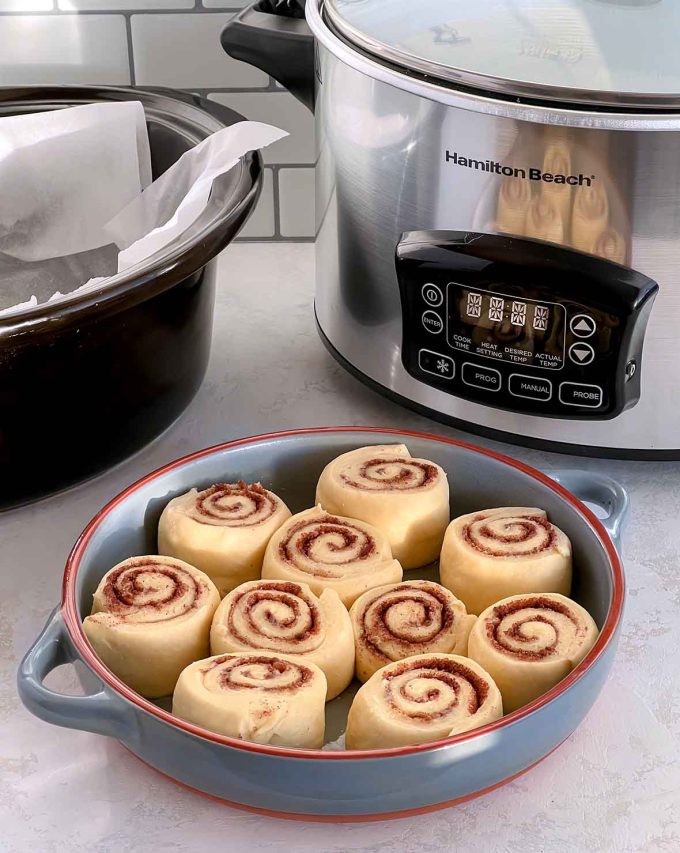 What can't the slow cooker do, honestly? If you thought baking was one of the things that you can't do in a slow cooker, you would be mistaken. Truth be told, I had never attempted it until now and boy, is it ever a game changer! And there are two ways to go about it – all at once, or make ahead and bake in the morning. Let's dive in to how to make slow cooker cinnamon rolls.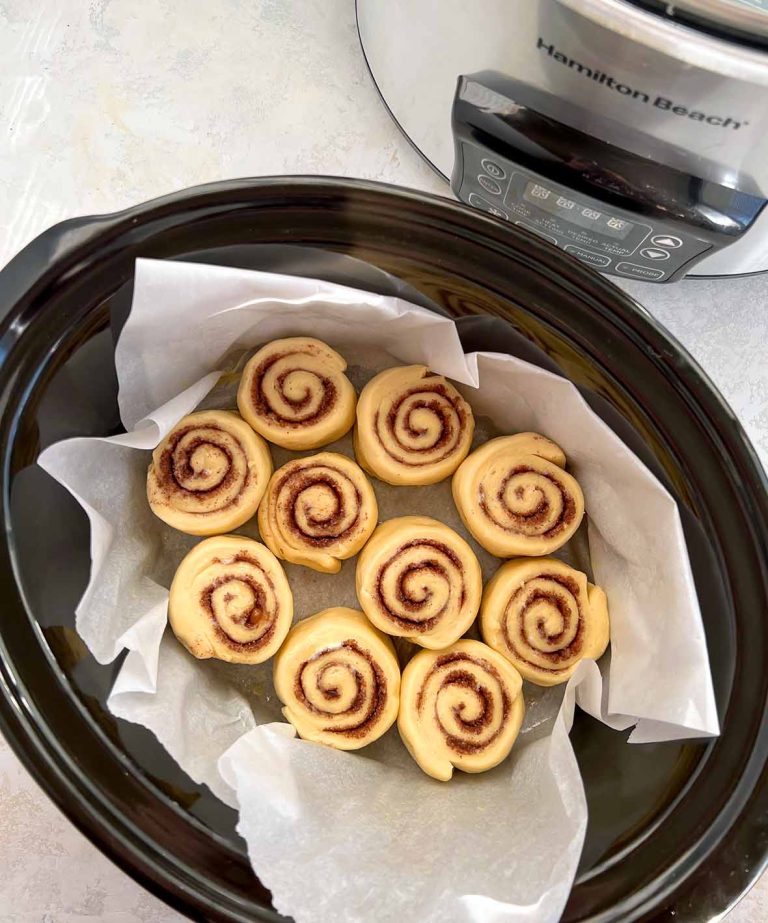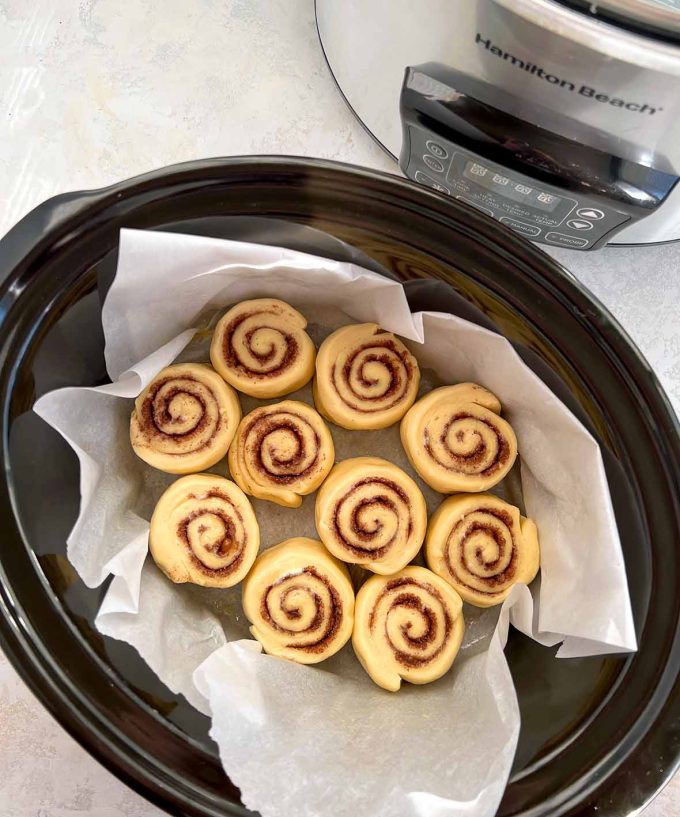 Why use a Slow Cooker?
Limited oven space: Think Christmas morning, or any other holiday where your oven is in high demand. Using the slow cooker allows you to still bake cinnamon rolls fresh, alongside anything else that needs to be in the oven.
Simplicity: The beauty of this recipe is that you don't need to wait for the dough to rise twice, or even at all. This was a game changer for me! The dough only needs a brief 10-15 minute rest before being rolled out and placed in the slow cooker. The trade off, is that the rolls take about 2 hours to bake in the slow cooker.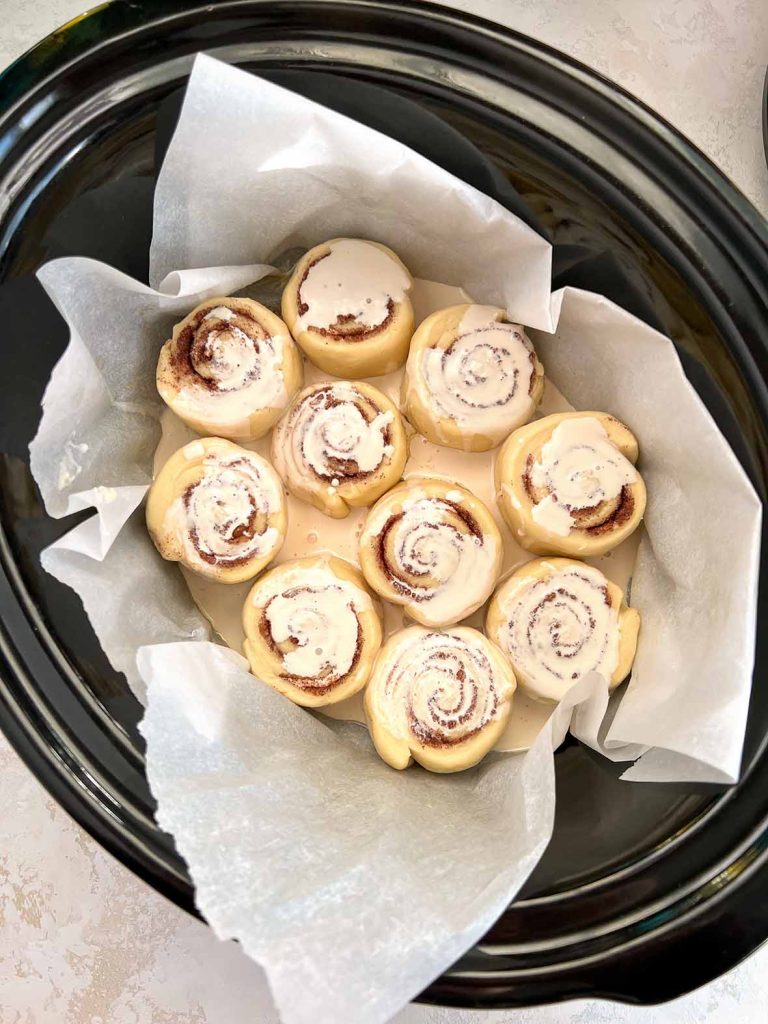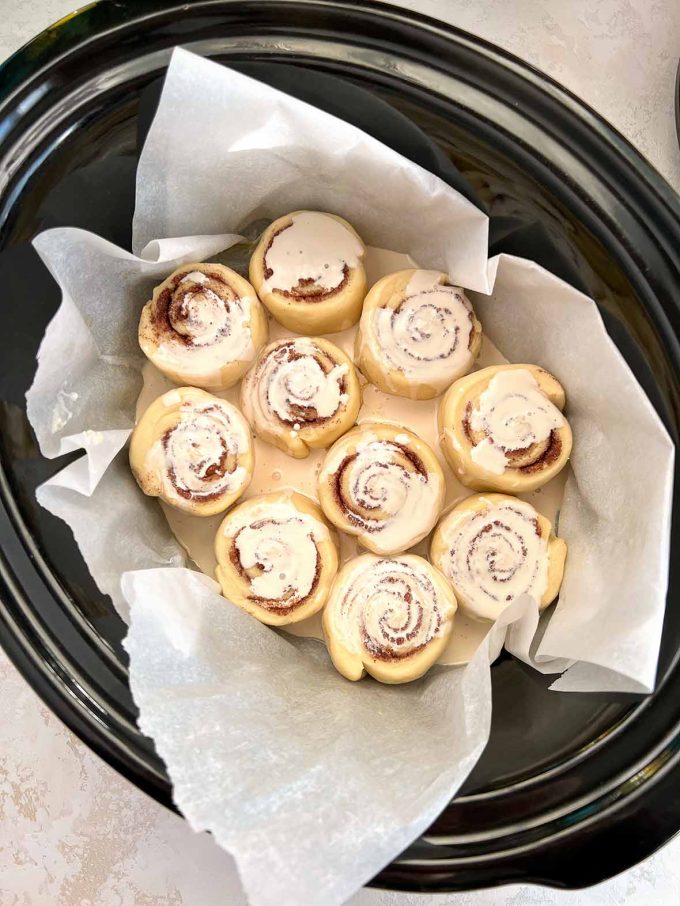 How to Make Cinnamon Rolls in the Slow Cooker
Make the dough: Yeasted doughs can be intimidating to some people. Trust me – this one is a cinch! Mix everything in a stand mixer until a soft ball is formed. Let it rest for 10 minutes, then roll it out! There's no need to wait for it to rise before rolling it out. This will all happen in the slow cooker.
Make the filling: While the dough is resting, whip up the filling.
Roll the dough: After the 10 minute rest, roll the dough into a rectangle. Spread butter over the dough, followed by a generous sprinkling of cinnamon sugar. Roll it tightly into a log and cut into 10 rolls. 10 was the magic number for me. They fit perfectly in my 6-quart slow cooker without being crowded.
Bake in the Slow Cooker: Bake on high for 1 hour, then turn down to low and bake for 1 more hour. *See tips below for why I adjust the temperature halfway through.
Top with cream cheese icing: The tops of these cinnamon rolls don't brown quite like they would in the oven. But that's perfect fine, since we slather these in a cream cheese icing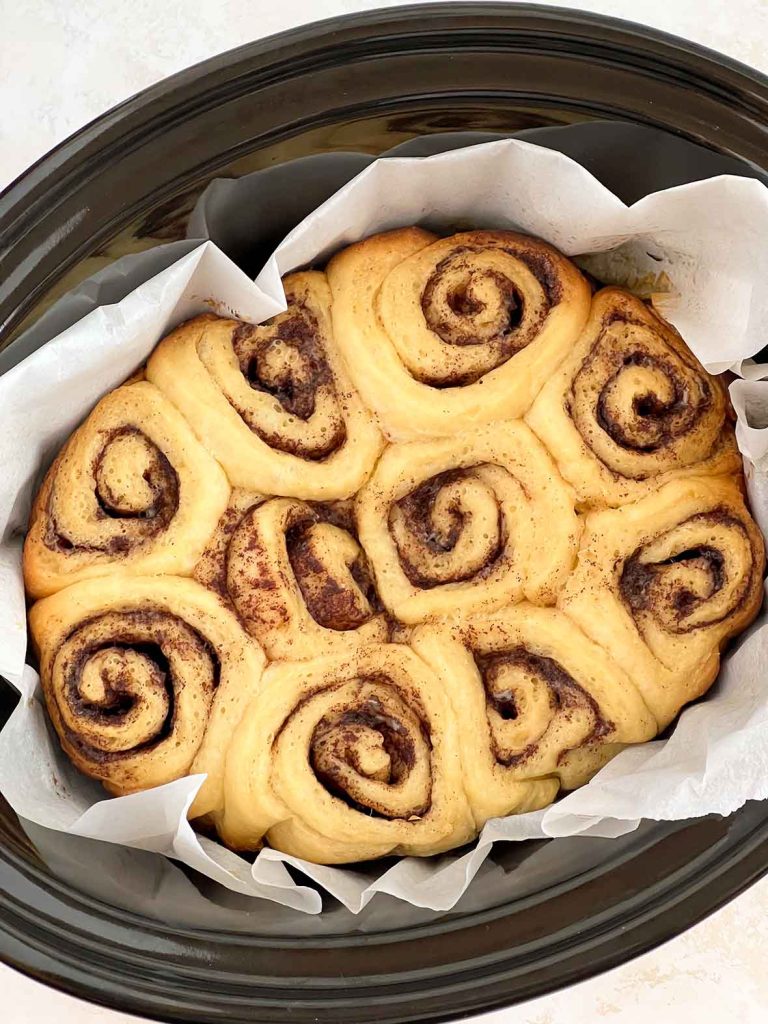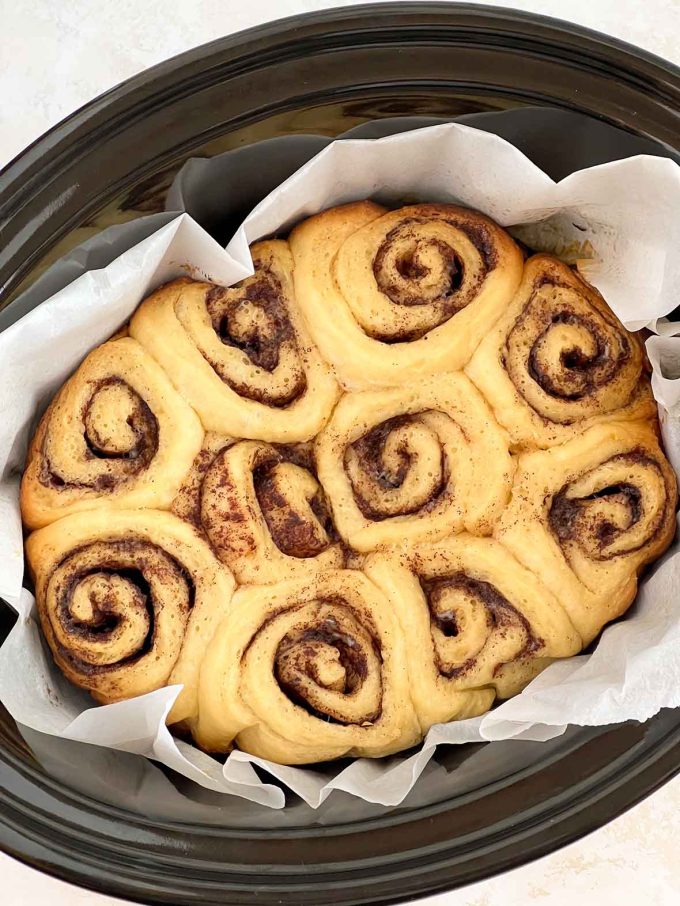 Let's Talk Ingredients
Instant/Quick Rise Yeast: I use instant/quick rise yeast exclusively in my kitchen. This type of yeast doesn't need to be proofed with warm water/milk. Just mix it with your dry ingredients right at the beginning.
Cream: I saw this trick on Instagram via Baked Ambrosia. Right before baking, pour some heavy cream (slightly warmed up) over the rolls. This helps to keep them super light and tender.
Salted butter: I use salted butter for pretty much everything cooking and baking related. The only time I would fuss about using unsalted butter would be if I were making some kind of laminated dough. Salted butter has more water in it than unsalted butter, which would affect the lamination process more than it would baking cinnamon rolls or cookies.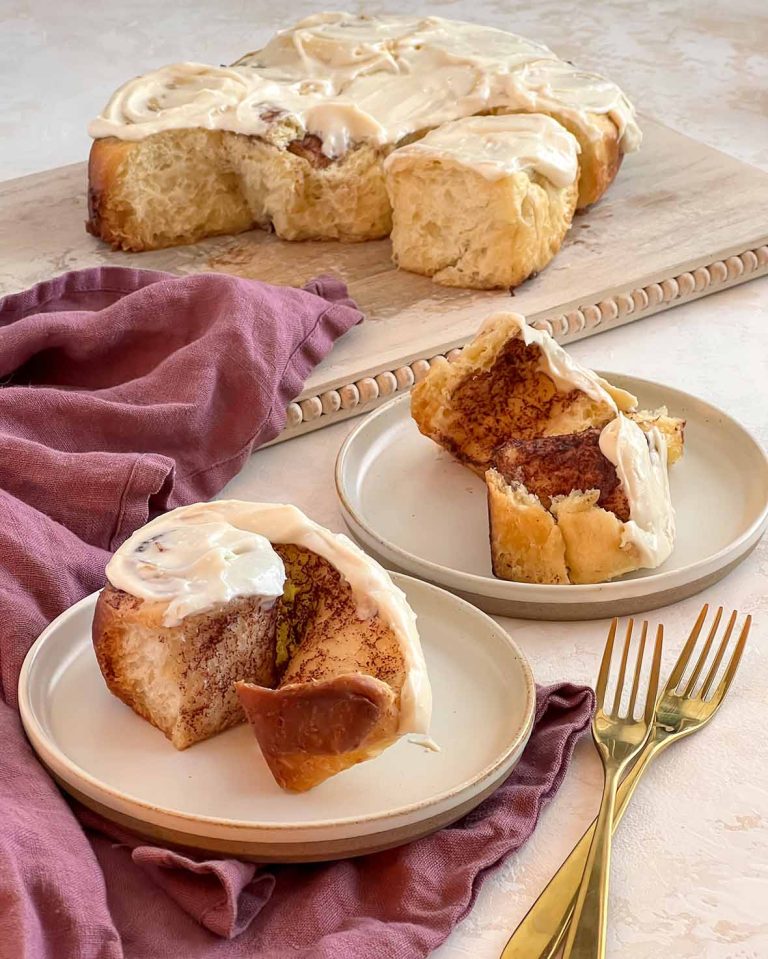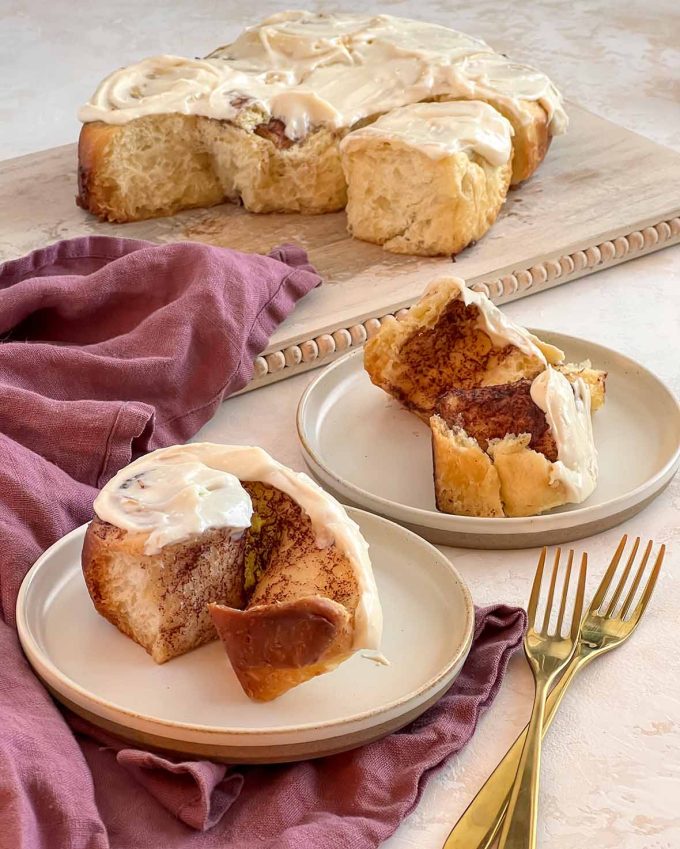 Tips for Success
Make your dough the night before and chill it in the fridge overnight. Follow the directions through to where you cut the dough into rolls. Then, place the rolls in a greased pie plate and cover with plastic. Resting the dough overnight in the fridge will allow the rolls to develop a deeper flavour. It's often recommended to chill dough overnight for maximum flavour. Also, it makes for quick work in the morning to pop them into the slow cooker and walk away!
Start on high heat, then switch to low. Every slow cooker is different and they tend to have hot spots. I found that cooking on high the whole time resulted in very brown and burnt edges. I had the best luck when I started on high for an hour, and switched to low until they were done.
Looking for more breakfast recipes?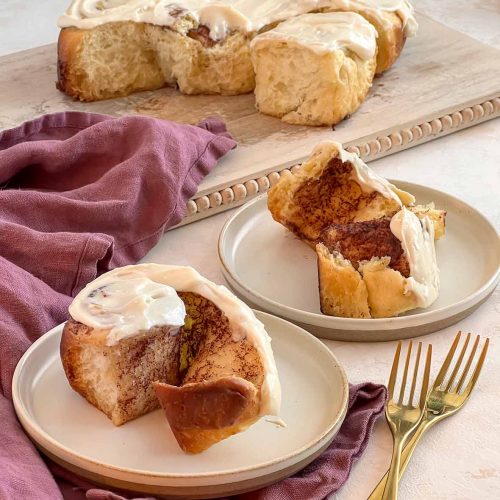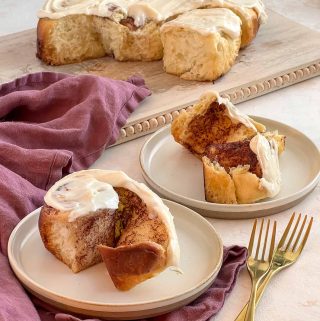 Slow Cooker Cinnamon Rolls
Soft and fluffy cinnamon rolls made in the slow cooker.
Print
Pin
Rate
Equipment
5-6 quart slow cooker

Parchment paper or slow cooker liners
Ingredients
Dough
2 3/4

cups

all-purpose flour

2 1/4

tsp

instant yeast

1 packet = 2 and 1/4 teaspoons

1/4

cup

granulated sugar

1

tsp

salt

3/4

cup

whole milk

1/4

cup

salted butter

melted

1

large egg

at room temperature
Filling
3

Tbsp

brown sugar

3

Tbsp

granulated sugar

1

Tbsp

cinnamon

5

Tbsp

salted butter

1/3

cup

heavy cream

1

tsp

vanilla
Icing
4

ounces

cream cheese

1

Tbsp

salted butter

1/4

tsp

vanilla

1/2

cup

powdered sugar

1/4

cup

heavy cream
Instructions
Directions
In the bowl of a stand mixer fitted with the dough hook, whisk together the flour, sugar, salt and yeast.

Warm the milk in the microwave until lukewarm, about 20 seconds.

In a small bowl, melt the butter in the microwave. Then, add it to the warm milk. Whisk to combine.

Turn the mixer to the lowest speed and add in the warmed milk, melted butter and the egg.

The dough will appear quite wet. Keep mixing on low for 2-3 minutes. As it mixes, it will hydrate and appear less sticky. If the flour has all been incorporated and the dough is still sticking to the sides of the bowl, add 1 Tbsp of flour and let mix for 1 minute. Add more flour only if needed. The dough will stick to the bottom of the bowl but not the sides. You want the dough to still be slightly tacky but not so wet that it sticks to your fingers and hands.

Remove the dough from the bowl and knead lightly for about 30 seconds to 1 minute by hand on the counter. Cover and let rest for about 10 minutes.
Filling and Assembly
While the dough is resting, make the filling. In a medium bowl, mix together the brown sugar, granulated sugar and cinnamon. Set aside.

Line the slow cooker with parchment paper and slightly spray the parchment with cooking spay or brush with oil. *If baking in the morning, skip this step until you're ready to bake.

After the dough has rested for at least 10 minutes, roll it out into a 14x8 inch rectangle.

Using an offset spatula, spread the softened butter onto the dough, leaving a border all around the edges.

Sprinkle the cinnamon sugar mixture on top of the butter.

Starting from one of the longest sides, tightly roll the dough into a log.

Using a serrated knife or dental floss, cut the dough into 10-12 even pieces. *Instructions below on how to prepare the night before and bake in the morning.

Place the rolls into the lined slow cooker.

Warm the heavy cream in the microwave until lukewarm, about 15-20 seconds. Add the vanilla and stir to combine. Gently pour the cream over the rolls in the slow cooker.

Place a piece of paper towel under the lid to absorb excess moisture. Do not skip this!

Turn the slow cooker on to high and allow to cook for 1 hour. After 1 hour, turn to low and cook for 1 hour. Each slow cooker seems to have different temperatures, so check on the rolls after about an hour and a half to gauge their doneness

Once they're done, remove the rolls from the slow cooker immediately by lifting them out with the parchment paper.

Set aside to cool slightly.
Icing
In the bowl of a stand mixer, beat the cream cheese and butter until fluffy and smooth, about 1-2 minutes. Add the vanilla and powdered sugar and beat for 1 minute.

Add the cream and continue to beat until light and fluffy, about 3-4 minutes.

Spread over warm rolls and serve immediately. These cinnamon rolls are best if served on the same day as they are made.
Nutrition
Serving:
10
servings
|
Calories:
413
kcal
|
Carbohydrates:
48
g
|
Protein:
7
g
|
Fat:
22
g
|
Saturated Fat:
13
g
|
Polyunsaturated Fat:
1
g
|
Monounsaturated Fat:
6
g
|
Trans Fat:
1
g
|
Cholesterol:
80
mg
|
Sodium:
392
mg
|
Potassium:
132
mg
|
Fiber:
2
g
|
Sugar:
19
g
|
Vitamin A:
764
IU
|
Vitamin C:
1
mg
|
Calcium:
64
mg
|
Iron:
2
mg
Nutritional calculation was provided by WP Recipe Maker and is an estimation only. For special diets or medical issues please use your preferred calculator
Notes
Overnight Instructions
Follow steps through to step 7. Once you have the dough cut into rolls, place the rolls in a greased pie or casserole dish. Cover with plastic wrap and refrigerate overnight. In the morning, continue on at Step 8.
Checking for Doneness
The best indicator that the rolls are done, is by temperature. Using a digital thermometer, check that the rolls have reached 190-200°F.
Recipe adapted from Sally's Baking Addiction