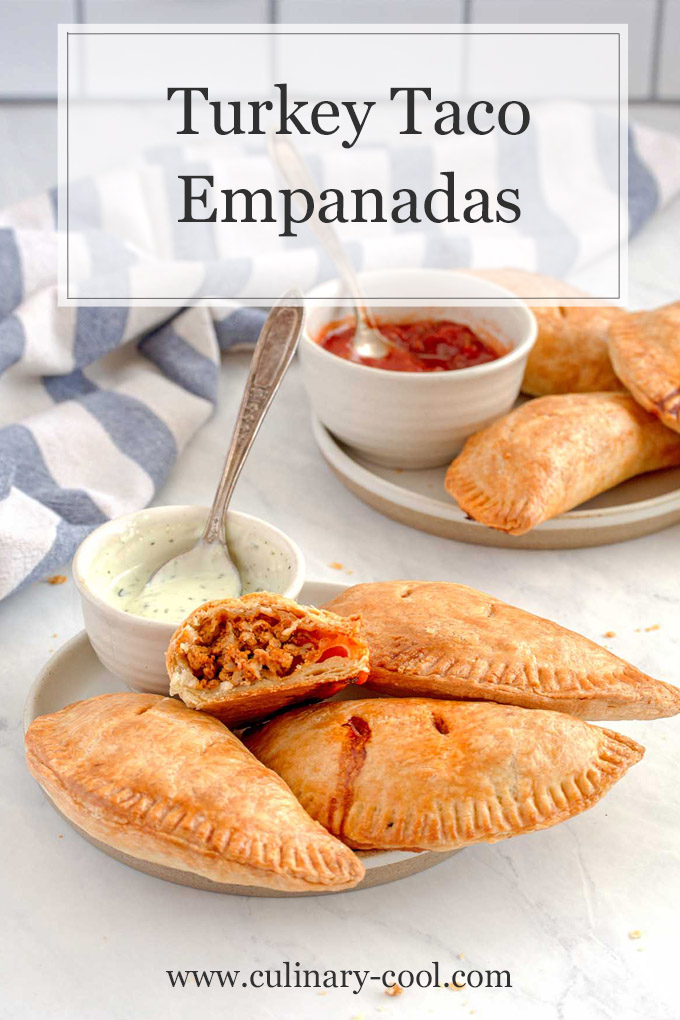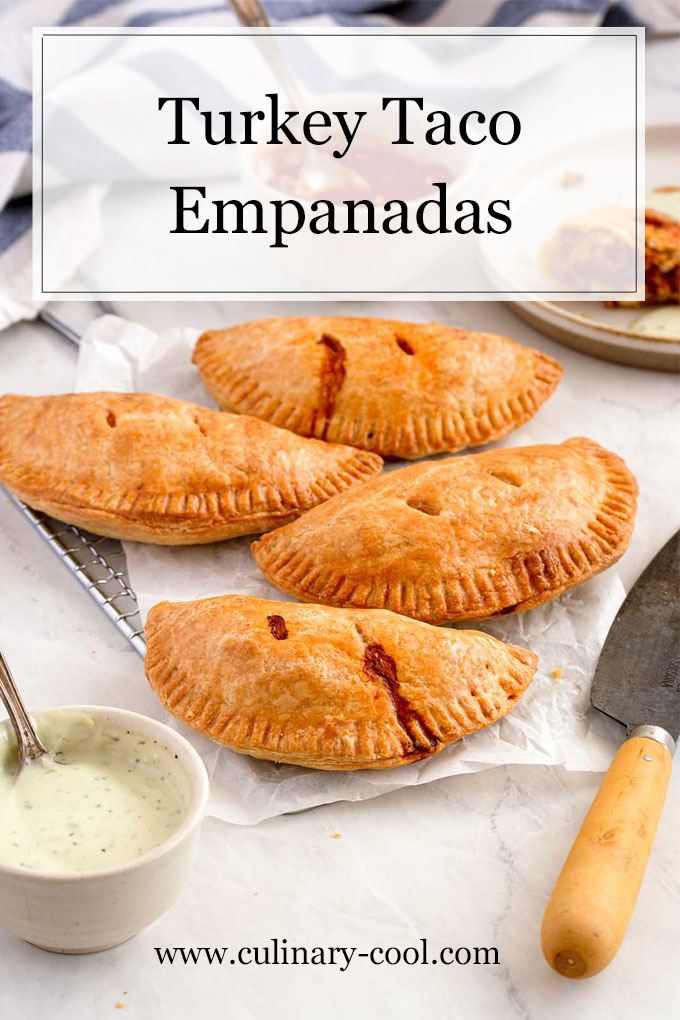 Turkey Taco Empanadas bridge two things kids love – tacos and finger food. This Family Day long weekend get the kids in the kitchen and make a batch together.
This post is sponsored by Turkey Farmers of Canada. As always, all opinions are my own.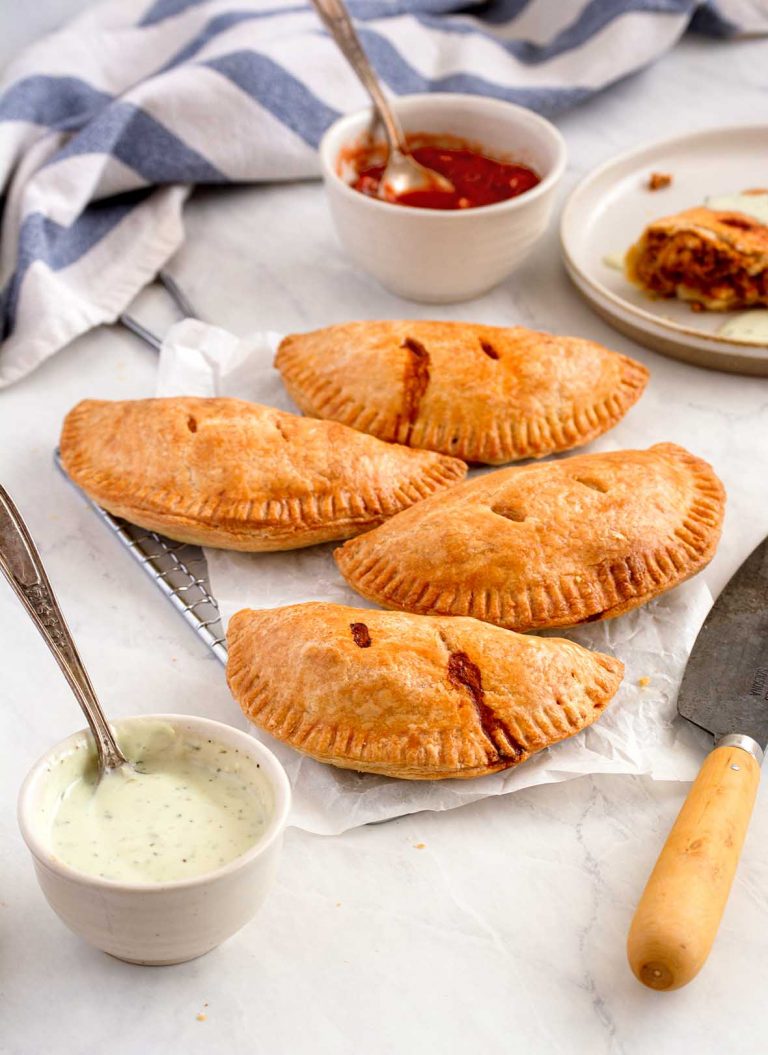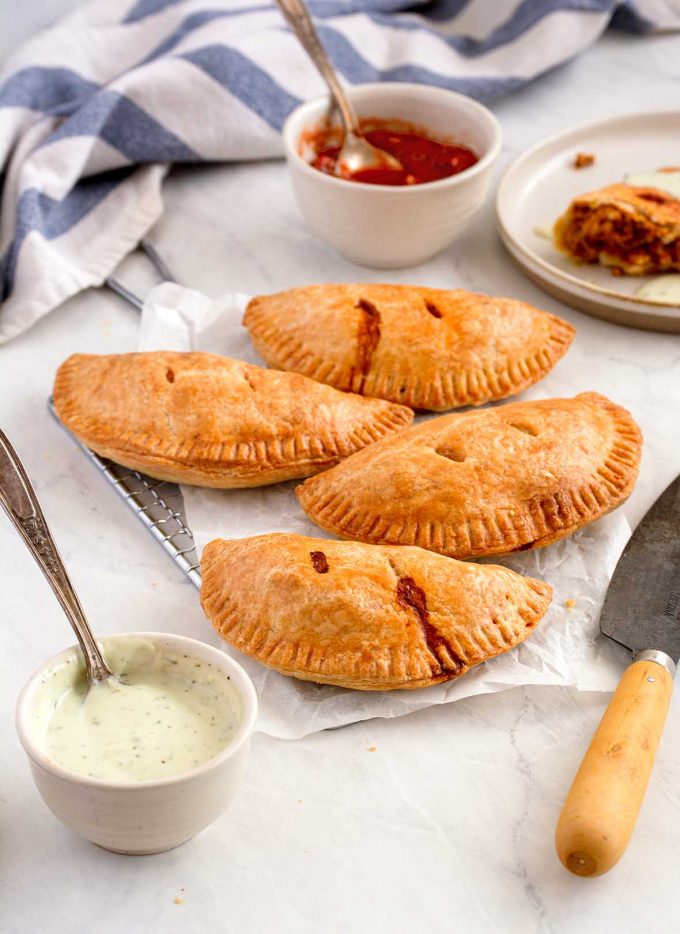 My daughter is finally at the stage where she's interested in "helping" me cook. It's truly the cutest thing ever. She drags a chair over to the counter, pulls herself up, blows on all the food and says, "hot", then proceeds to steal and eat anything she can, especially cheese. She's in my way more than anything, but I love it. If you've got kids who love helping out in the kitchen and can follow some basic instructions (unlike mine), then this is a great recipe to make together. I'd wager that most kids love tacos and enjoy eating with their hands. Turkey Taco Empanadas cover both those bases, with the added bonus of being a tiny bit cleaner to eat and a whole lot more fun to make.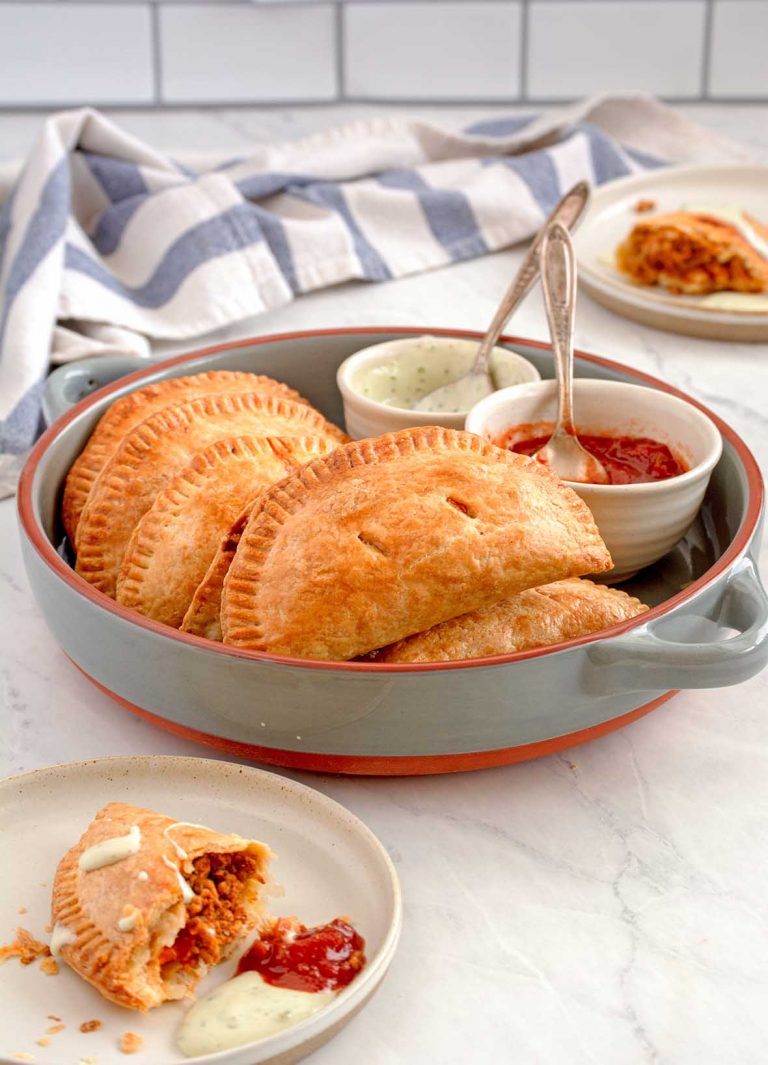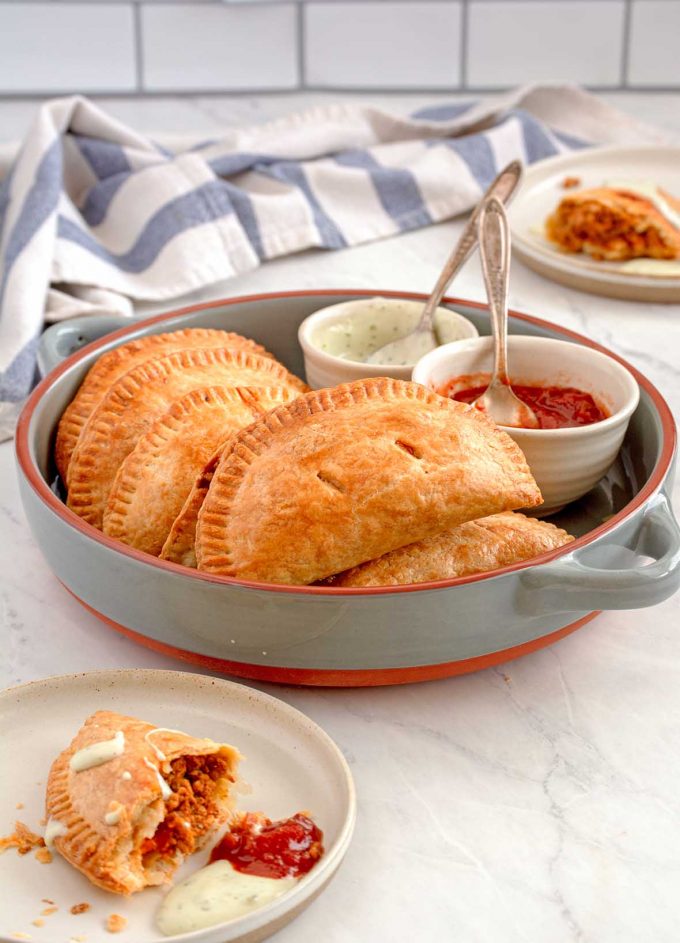 How to Get the Kids Involved
Empanadas are a great pastry to make with kids because the dough is relatively forgiving, easy to work with, and your little ones can get their hands messy by learning to knead the dough. It's also really easy to cut the circles and a fun task for the little ones. Get the older kiddos grating cheese or dishing out the sour cream and salsa into serving bowls. My 18-month-old loves spoons, so I try to get her involved in anything that involves mixing and stirring. Does it get messy? You betcha! Does she try to eat whatever she's mixing? Of course! But she laughs the whole time (who can resist full belly laughs from a toddler) and the mess is easy to clean up.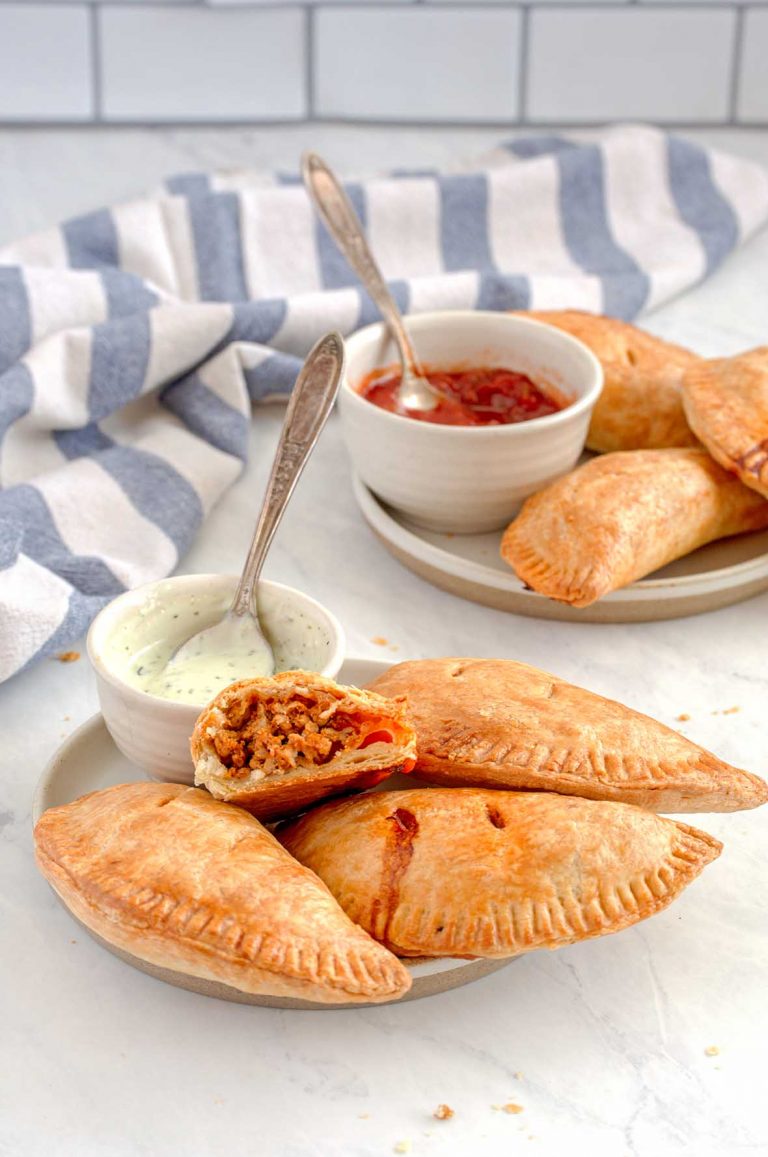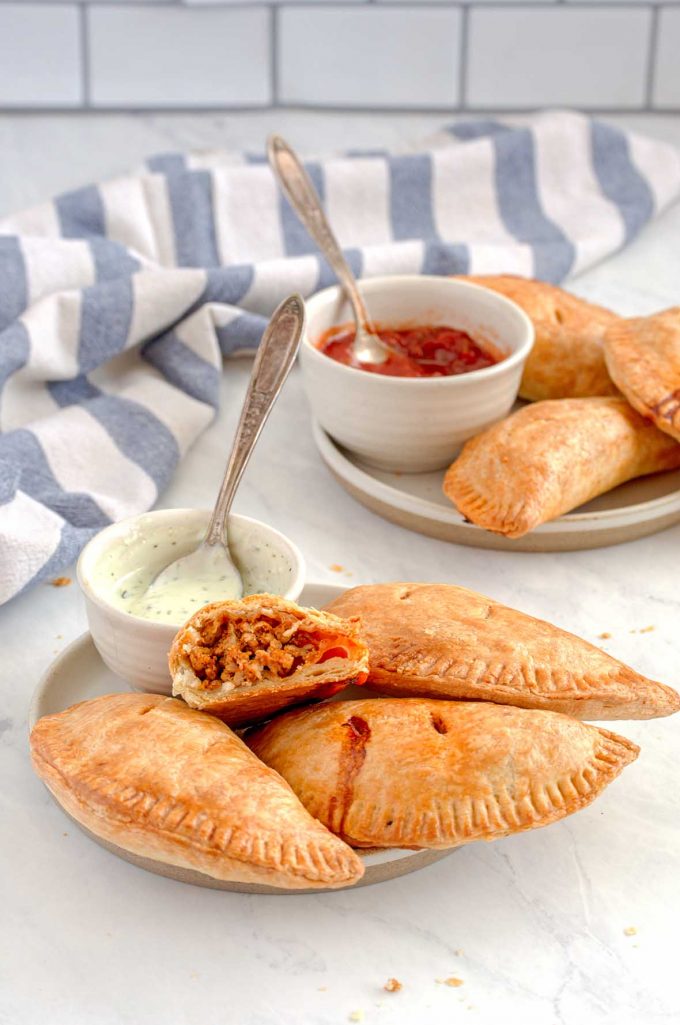 Ingredients for Turkey Taco Empanadas
I prefer to make my own taco seasoning, especially now that I have a toddler. My big issue with the store-bought variety is the salt content. Tiny humans don't need that much salt, and really, neither do us grown-ups! I always have all the spices on hand anyways, and I can control the salt on my own. In fact, my homemade taco seasoning contains no salt! I prefer to salt the dish at the end, as needed. Another benefit to making your own seasoning is that you can adjust the flavours. I like my seasoning to have a little extra smoked paprika (it's one of my all-time favourite spices).
Ground turkey is a staple ingredient in our house. It's one of the most used and versatile proteins in our freezer. Ground turkey can be used in any recipe that uses other ground proteins, and works with all flavours and cuisines, just like these Taco Empanadas.
Turkey is a lean protein option and adds variety to our weekly meals. And my daughter loves it, which is a huge win!
If your family loves other ingredients in your tacos, such as black beans, or tomatoes, you can add them to the filling. I like to add a few scoops of salsa to the taco meat before filling the empanadas for extra flavour and it helps keep the filling moist.
This Family Day long weekend get the kids together in the kitchen and whip up a batch of Turkey Taco Empanadas. It's a great way to spend time together with the shared goal of eating delicious food!
Check out these other Comfort Food recipes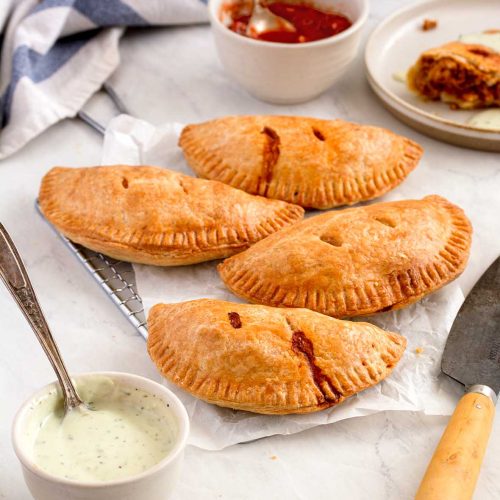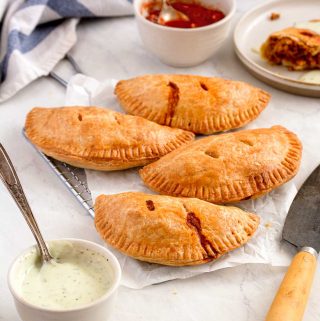 Turkey Taco Empanadas
Turkey Taco Empanadas bridge two things kids (and adults alike) love - tacos and fingerfood! Flakey pastry filled with ground turkey, taco seasoning and cheese is sure to please!
Print
Pin
Rate
Ingredients
Dough
3

cups

all-purpose flour

1/2

tsp

salt

3/4

cup

cold butter

cut into large chunks

1/2

cup

milk

1

egg
Taco Seasoning Mix
2

Tbsp

chili powder

1

Tbsp

sweet smoked paprika

2

Tbsp

cumin

1

Tbsp

onion powder

1

tsp

garlic powder

1/8

tsp

cayenne
Turkey Taco Filling
1

lb

ground Turkey

1

tsp

canola oil

2

Tbsp

finely minced yellow onion

2

Tbsp

homemade taco seasoning

1

cup

water

1/2

tsp

salt

1

cup

shredded cheddar cheese

1

egg for an egg wash

Sour cream and salsa for serving
Instructions
For the Dough
In a food processor, add flour and salt, and pulse a few times to combine.

Add the butter and pulse until the butter is the size of peas.

Add the milk and egg and pulse until a crumbly dough has formed.

Turn the dough out onto the counter and knead gently until the dough forms a cohesive ball.

Divide the dough into two equal balls and flatten them slightly into a disk. Wrap in plastic and chill in the fridge for at least an hour, or overnight. You can also use the dough right away, but it's easier to work with if it's chilled.
For the Taco Seasoning
In a small bowl, mix together all the spices.

Store in an airtight container
For the Turkey Filling
In a skillet over medium heat, add oil, ground turkey and minced onion. Stir often, until the turkey is cooked through.

Add in 2 Tbsp of the homemade taco seasoning, water and salt. Cook until most of the water is gone. You don't want the filling to be completely dry. If too much water is cooked out, you can always add a few Tbsp's of salsa to the meat.

Set aside and allow to cool before making the empanadas.
Assembly of Empanadas
On a lightly floured surface, roll the dough out until it's about an 1/8 inch thick.

Cut 10-12, 5 ½ inch circles in the dough. You might need to re-roll the scraps to get 10-12 circles. Just be careful, the more you work the dough, the harder it can be to roll out again (it will shrink back if overworked. If that happens, just let the dough rest for 15 minutes or so before working again).

Place 2-3 Tbsp's of taco filling on one half of each circle. Top with 1 Tbsp of shredded cheddar cheese.

Dip one finger in some water and wet the edges of half the circle of dough.

Fold the dough in half and gently seal by pinching all around the edges. You may need to go over it a few times. Then, gently press the tines of a fork over the pinched edges to create a nice detail and to help seal further.

Preheat the oven to 350°F.

Pop the empanadas into the fridge for about a half hour while the oven preheats.

Line a baking sheet with parchment and set aside.

In a small bowl, whisk the egg with a splash of water.

Remove the empanadas from the fridge and place them on the prepared baking sheet.

Cut two small vent holes in the top of each empanada.

Brush each empanada with the egg wash.

Bake for 20-25 minutes. until they are golden brown.

Serve warm with sour cream and salsa.
Nutrition
Calories:
323
kcal
|
Carbohydrates:
27
g
|
Protein:
16
g
|
Fat:
17
g
|
Saturated Fat:
10
g
|
Polyunsaturated Fat:
1
g
|
Monounsaturated Fat:
5
g
|
Trans Fat:
1
g
|
Cholesterol:
76
mg
|
Sodium:
409
mg
|
Potassium:
244
mg
|
Fiber:
2
g
|
Sugar:
1
g
|
Vitamin A:
1199
IU
|
Vitamin C:
1
mg
|
Calcium:
109
mg
|
Iron:
3
mg
Nutritional calculation was provided by WP Recipe Maker and is an estimation only. For special diets or medical issues please use your preferred calculator
Notes
If you don't have a food processor, you can make the dough by hand in a big bowl. Freeze your butter first, then grate it directly into the flour.
You can make the dough and filling in advance. They both keep well in the fridge for up to 3 days.
Empanadas freeze great once baked.
If the turkey filling is a little dry, add a few Tbsp of your favourite salsa