Warm potato salad is a total game changer, and I can barely keep this one in the bowl. It's full of bacon, a touch of blue cheese, and roasted potatoes. Sure, it's great warm, but it's equally fabulous cold.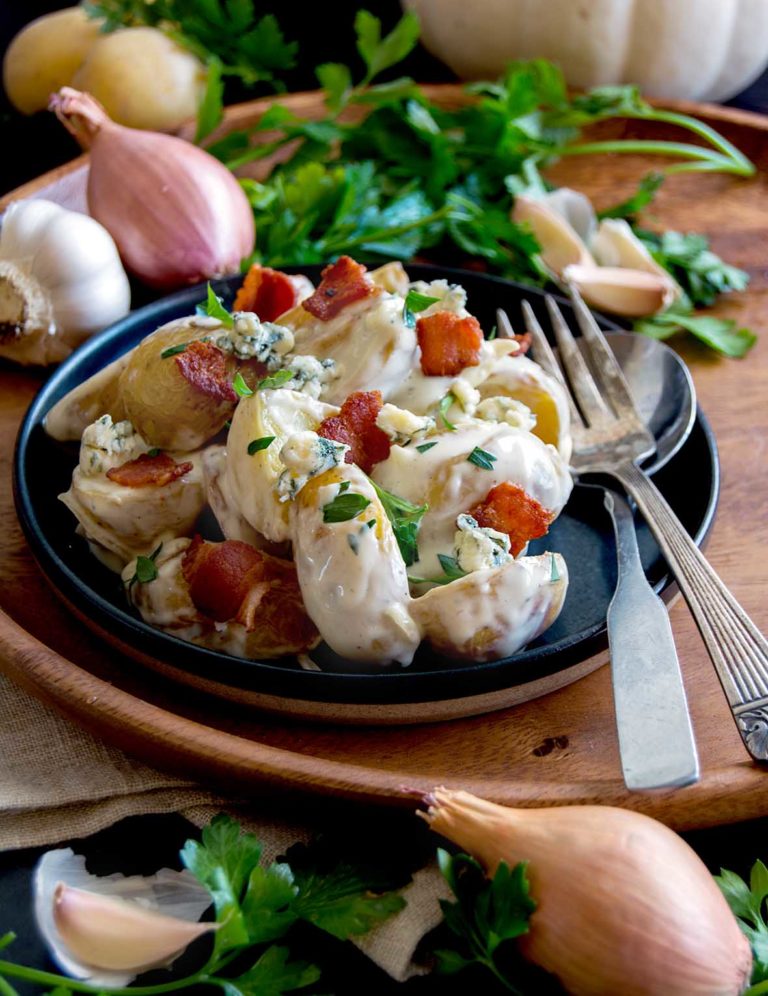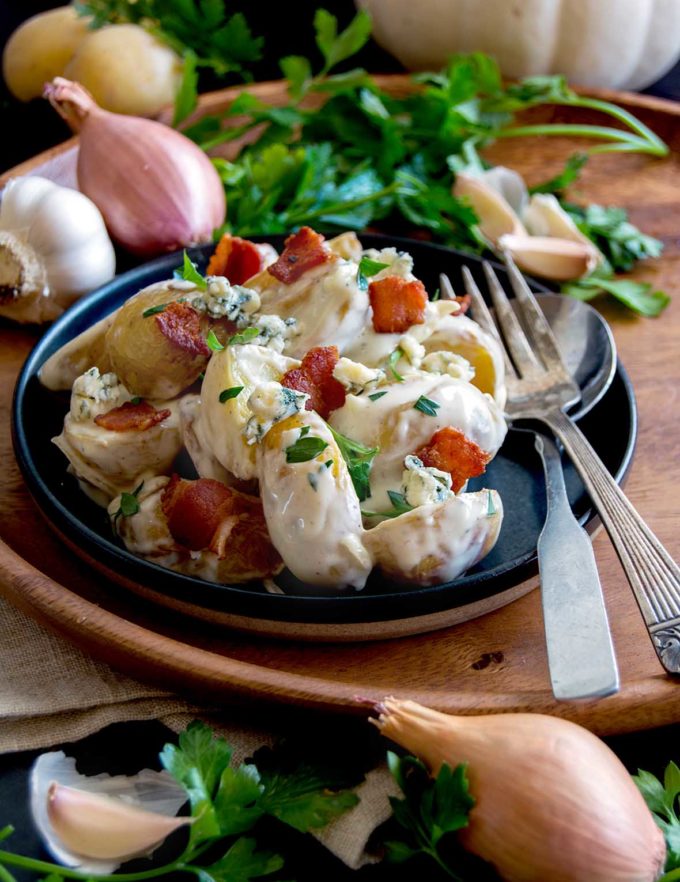 Are you binge-watching Stranger Things right now?
Yeah, me too.
I do have an odd question, though. Season 2, episode 4: Did Dustin's mom really fill the cat's food bowl with some no-name brand of Cheerios? Cause like, who feeds a cat cereal? Of all the things that happened in this episode, this is what bothered me the most.
Also, I refer to Dustin as "Lispy", but in the most endearing kind of way. And mostly because I can never remember what his name is. Kind of like how I nicknamed my youngest nephew, "Chubs" on account of his chubbiness, except I know his name is Connor, but prefer Chubs. I'm not a horrible person, I swear.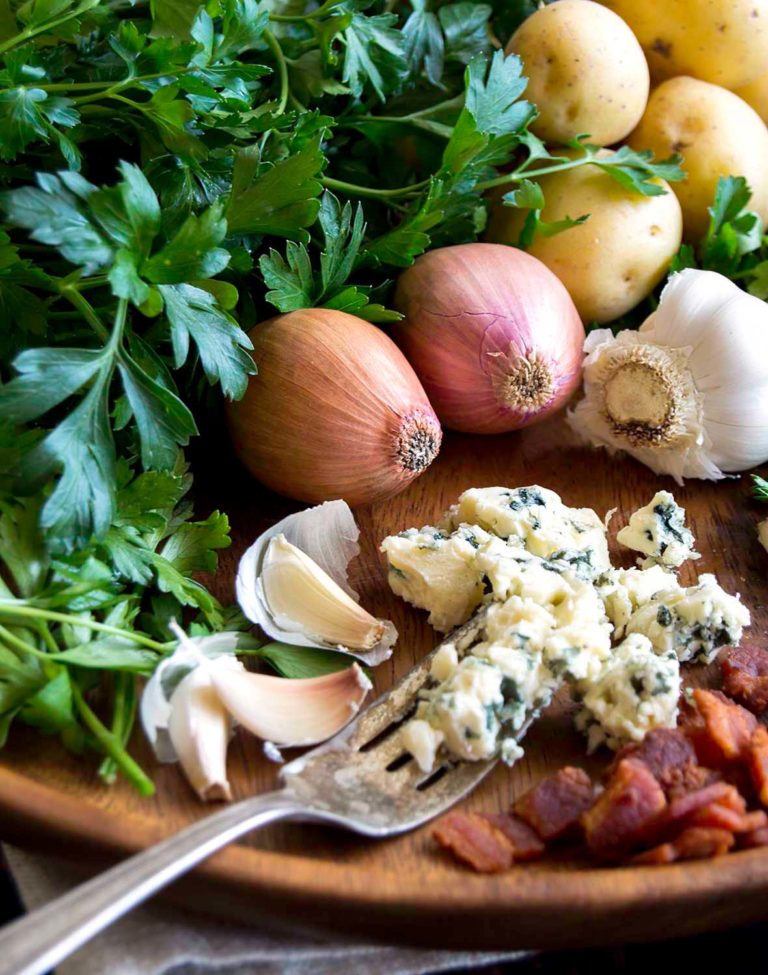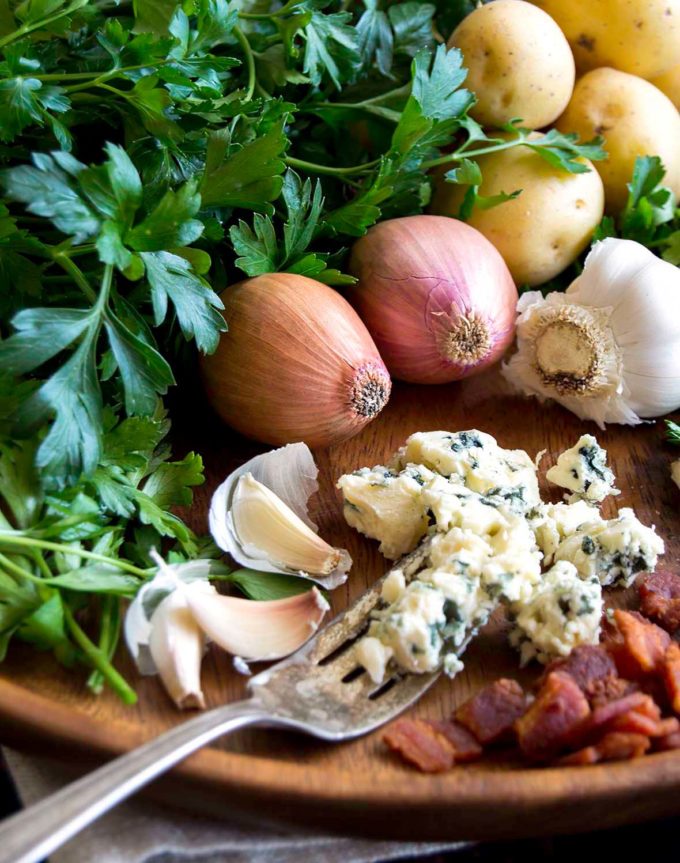 I'm actually a fairly decent person, who created a warm potato salad recipe… and wanted to tell you about it… but was trying to watch Stranger Things and write a blog post… and now here we are. Sidetracked. Thanks Netflix.
Okay, so back to potato salad. I'm a card-carrying member of the "eat potato salad all year round" club. In summer, I favour a cold potato salad, with hard-boiled eggs, green onions, mint and some balsamic vinegar (check out the recipe here) – all very summery flavours. Once the temperatures drop, I'm reaching for something entirely different – roasted potatoes, blue cheese, sautéed onions and garlic.
I've experienced some flat-tasting potato salads in my day, so to combat that, I employee a variety of tactics. First, I use a combination of mayo and sour cream. I like the creaminess of mayo, but the flavour can be kind of boring. By adding sour cream, you add a sour element (go figure) which adds a bit of interest to the dressing. Second, I add a generous amount of Dijon, which makes the dressing tangy and adds a terrific zingy nuance. You also need acidity, which helps to brighten the flavours. For my potato salad, lemon is absolutely necessary, and a little bit of cider vinegar gives the perfect punch of flavour.
Warm potato salad is the perfect side-dish for cold days, and like it's cold counterpart, it can be served with just about anything. If you have any leftovers, it's still fantastic cold the day after.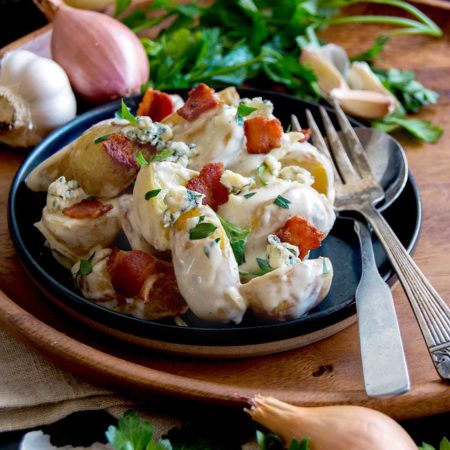 Ingredients
2

lbs

baby potatoes

cut into quarters

olive oil

salt and pepper

1

shallot

chopped*

2

cloves

garlic

minced

1/2

cup

sour cream

1/2

cup

mayonnaise

2

tbsp

dijon mustard

1

tbsp

lemon juice

1

tbsp

apple cider vinegar

1/4

cup

crumbled blue cheese**

1/2

lb

bacon

chopped into large pieces

Parsley for serving.
Instructions
Preheat the oven to 375 degrees F.

On a parchment lined baking sheet, toss the potatoes with a drizzle of olive oil, salt and pepper. Roast for 30-40 minutes or until the potatoes are soft and starting to brown. Remove from the oven and set aside to cool slightly - you still want them to be warm.

Meanwhile, in a medium skillet over medium heat, add about 1-2 tbsp of oil and sauté the chopped shallots until soft, about 5 minutes. Add garlic and cook for another minute. Remove from the skillet and allow to cool.

Wipe the skillet with a paper towel (if desired) and fry the bacon until crispy. Drain on paper towel, and allow to cool.

In a large bowl, whisk together sour cream, mayonnaise, dijon, lemon juice, and apple cider vinegar. Stir in the blue cheese, shallots and garlic. Season with salt and pepper.

Once the potatoes have cooled slightly, but are still warm, add them to the bowl with the dressing and stir to combine well. Add bacon and chopped parsley.

Serve warm. Also great as a cold salad.
Nutritional calculation was provided by WP Recipe Maker and is an estimation only. For special diets or medical issues please use your preferred calculator
Notes
*I used a larger sized shallot, and once chopped, it equalled about a 1/4 cup.
**I found 1/4 cup to be just enough to notice the blue cheese without it being overpowering. Feel free to add more.
Recipe adapted from my Berry Delicious Potato Salad