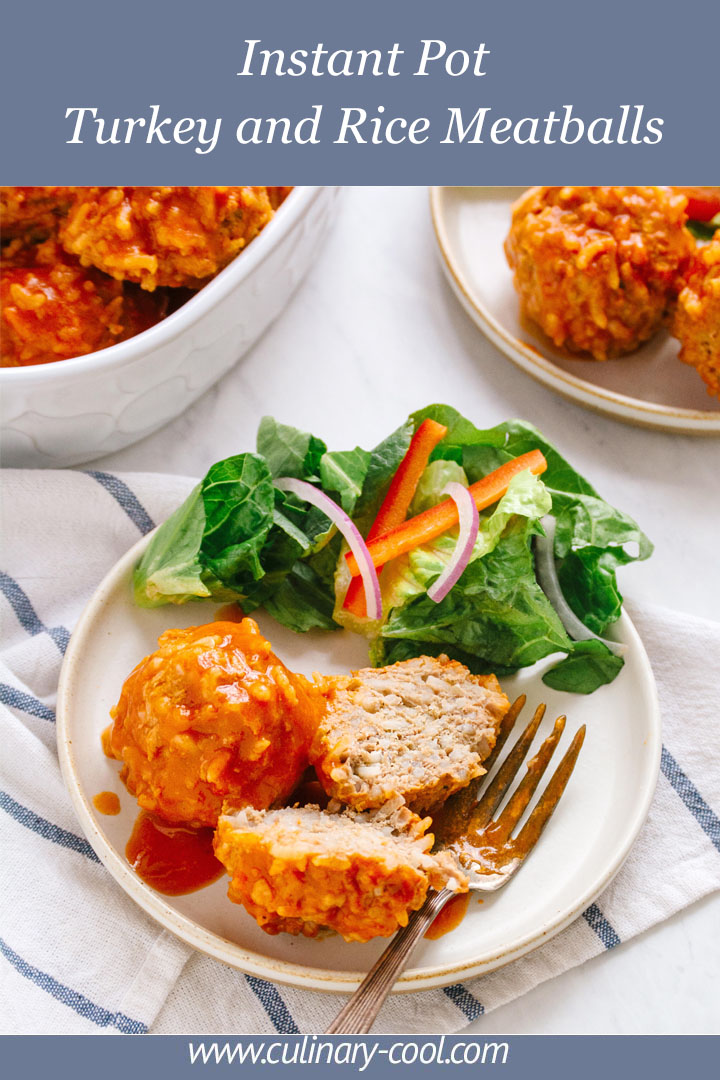 These Turkey and Rice Meatballs are covered in a delicious tomato sauce and only take a few minutes in the Instant Pot. They make the perfect weeknight meal and are great for lunch the next day.
This recipe and post is sponsored by Turkey Farmers of Canada and I was compensated for my time. As always, all opinions are my own.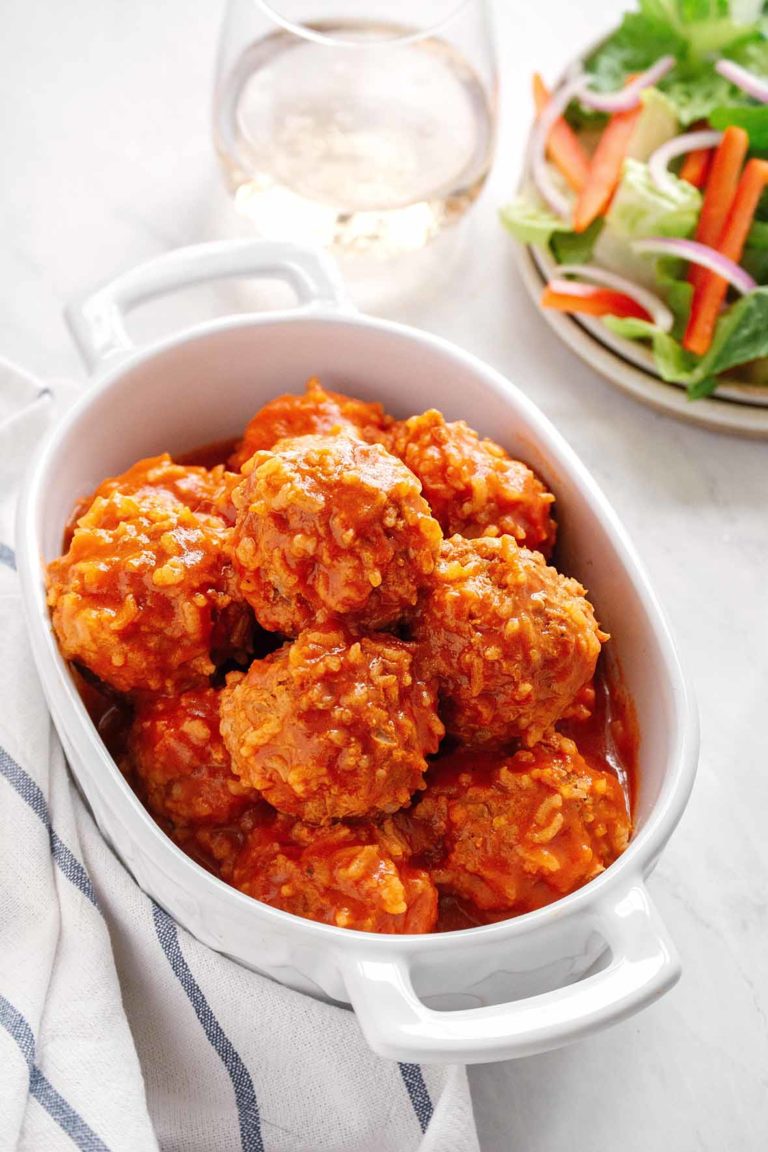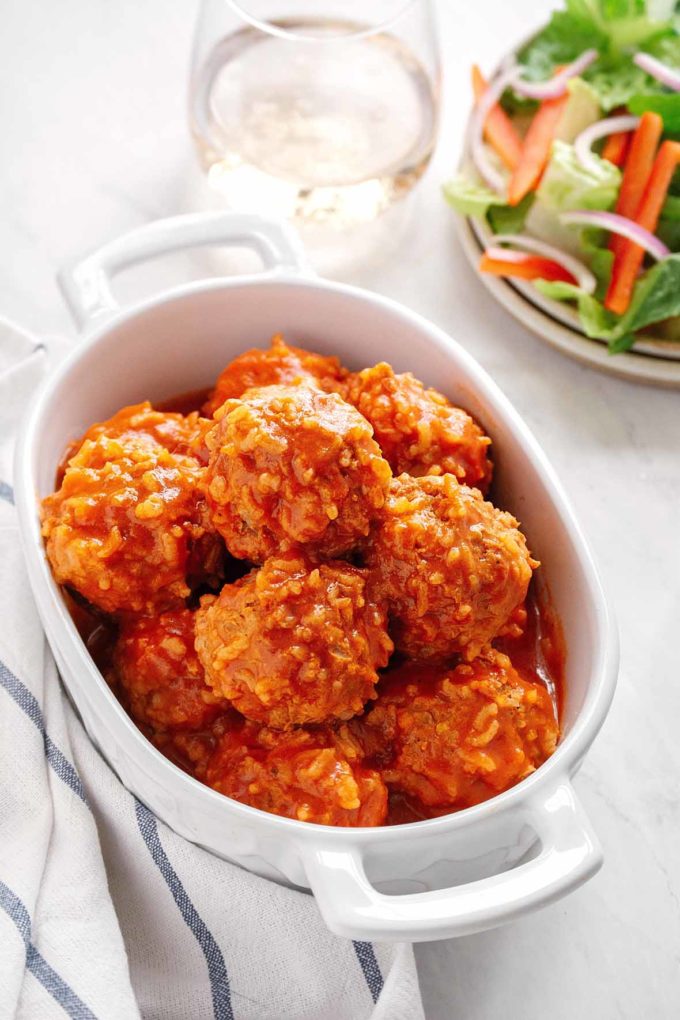 Before I was a mom, quick and easy didn't always mean quick and easy. I had more time, and our dinners could be quite involved when it came to prep and cooking. Well, having a 4-month old munchkin around sure changes things, and I find myself leaning towards legitimate quick and easy meals. But for real, less than 15 minutes of hands-on prep, most of which I do during her nap time, and I rely heavily on the magic of the Instant Pot.
It's November, and that means we are well into comfort food season. I love cooking with meatballs because you can do so many different things with them. Enter, our family favourite Turkey and Rice Meatballs – made with ground turkey, long grain white rice (that you add right into the meatballs without cooking first), and smothered in a super simple tomato sauce. Truly the epitome of classic comfort food in my books!
It also classifies as a "pantry staple" meal in our household, as I always have the ingredients on hand, including the ground turkey. I always make sure to have a few packages of ground turkey in the freezer because it's a versatile protein that works great in any of our family-favourite recipes, including these meatballs, which are traditionally made with beef. I also use ground turkey to make lettuce wraps, chili, meatloaf and tacos.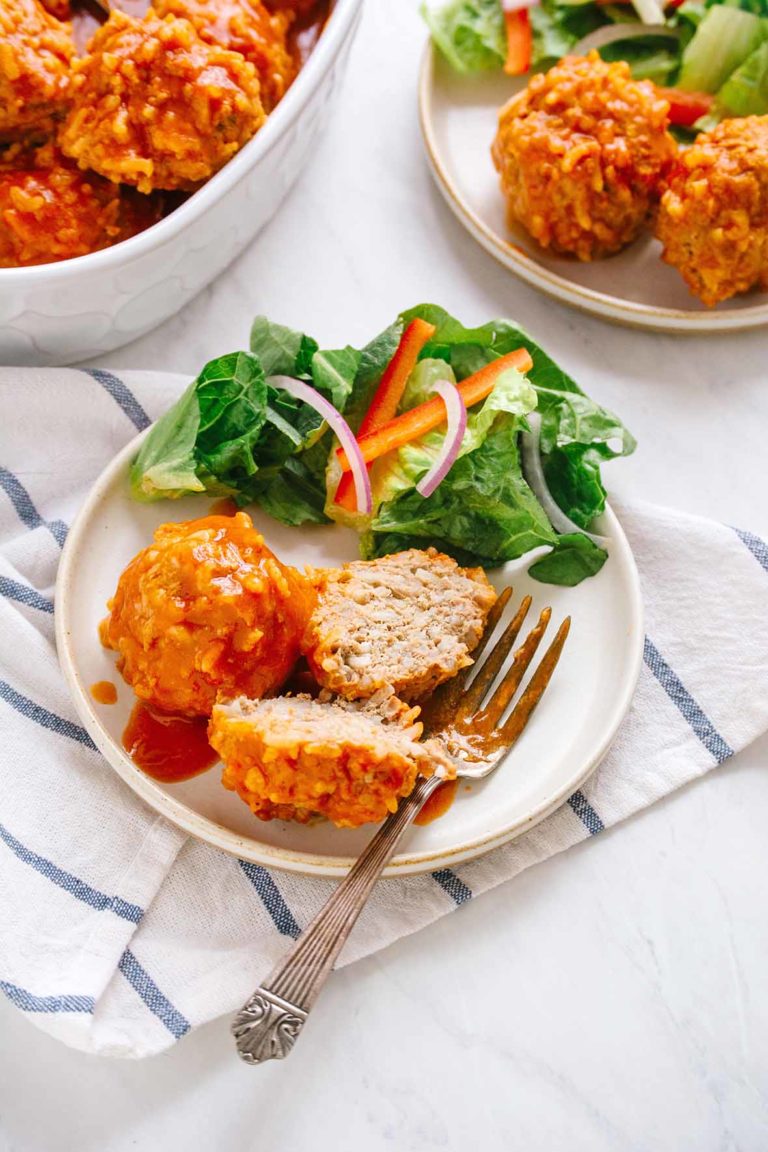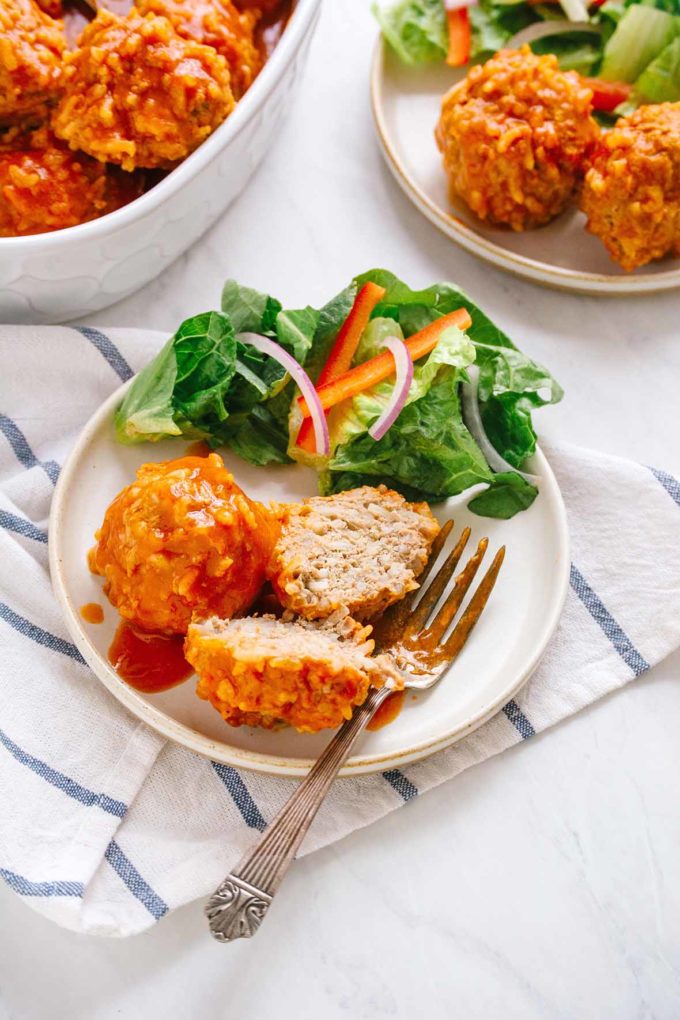 To make this classic recipe even better, I employ the pressure cooking magic of the Instant Pot. If I were to bake these meatballs in the oven, it would take about an hour (if not longer because the rice has to cook), and who has time for that? Using the Instant Pot allows me to have this meal on the table within about a half hour – and you can't beat that!
A couple tips for these meatballs:
– I use a 3 tbsp cookie scoop to form the meatballs, and instead of rolling in my hands to make them perfectly round, I just scoop and drop right into the tomato sauce.
-This classic recipe uses canned tomato soup. If that really isn't your jam, feel free to use another favourite tomato sauce, just make sure you have 2.5 cups of liquid.
-You can jazz up the meatballs by adding finely chopped mushrooms, grated zucchini or even spinach (frozen is easiest to work with, just squeeze out the water as best you can).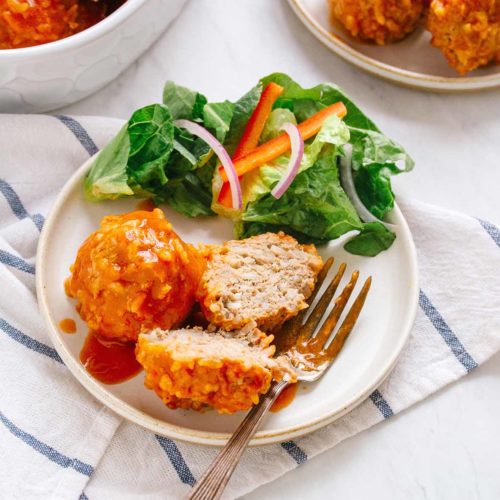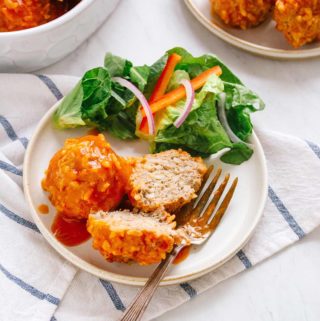 Ingredients
1

lb

ground turkey

1/2

cup

uncooked long grain white rice

not instant rice

1/2

cup

chopped yellow onion

1

tbsp

minced garlic

1

tbsp

worcestershire sauce

1/4

cup

panko breadcrumbs

1

large egg

salt and pepper

1 284

ml

can condensed tomato soup + 1 can of water

* if not using canned soup, ensure you have 2.5 cups of tomato sauce instead
Instructions
In a medium bowl, combine ground turkey, uncooked long grain white rice, onion, garlic, worcestershire, panko and the egg. Season with salt and pepper. Mix until combined.

In the pot of the Instant Pot or pressure cooker, add the tomato soup and water. Season with salt and pepper and mix to combine.

Scoop 2.5 -3 tbsp of turkey and form into meatballs. I use a 3 tbsp cookie scoop to get uniform meatballs. They scoop into the perfect shape, and don't require any additional rolling.

Place the meatballs into the tomato sauce in the Instant Pot in a single layer. They will touch each other, which is fine, as they will still hold their own shape and remain independent of each other. Close the lid (following manufacture's guide).

Using the Manual/Pressure Cooking setting, set the Instant Pot timer to 15 minutes on high pressure.

Once the Instant Pot cycle has completed, do a quick release (following manufacturers instructions) and once the release is complete, remove the lid and turn the pot off. If you keep it on "warming" it can burn the bottom of the meatballs.

Serve immediately with your favourite side salad or vegetables.
Nutritional calculation was provided by WP Recipe Maker and is an estimation only. For special diets or medical issues please use your preferred calculator