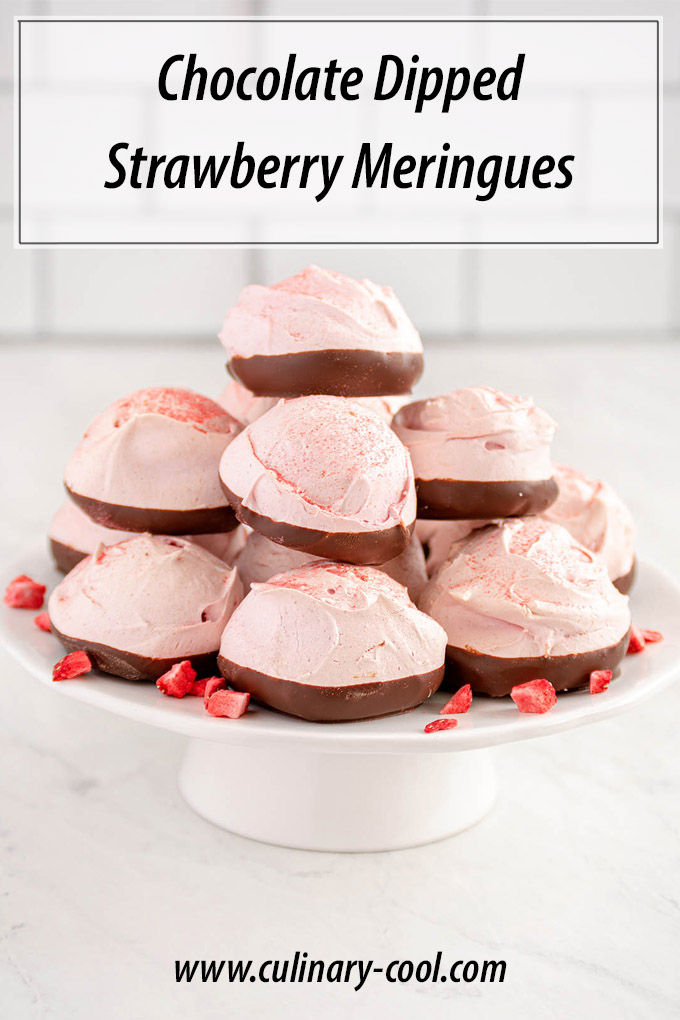 Chocolate Dipped Strawberry Meringue cookies are light and airy, perfectly sweet and surprisingly easy to make. This small batch meringue recipe is made with freeze-dried strawberries and dipped in luscious dark chocolate.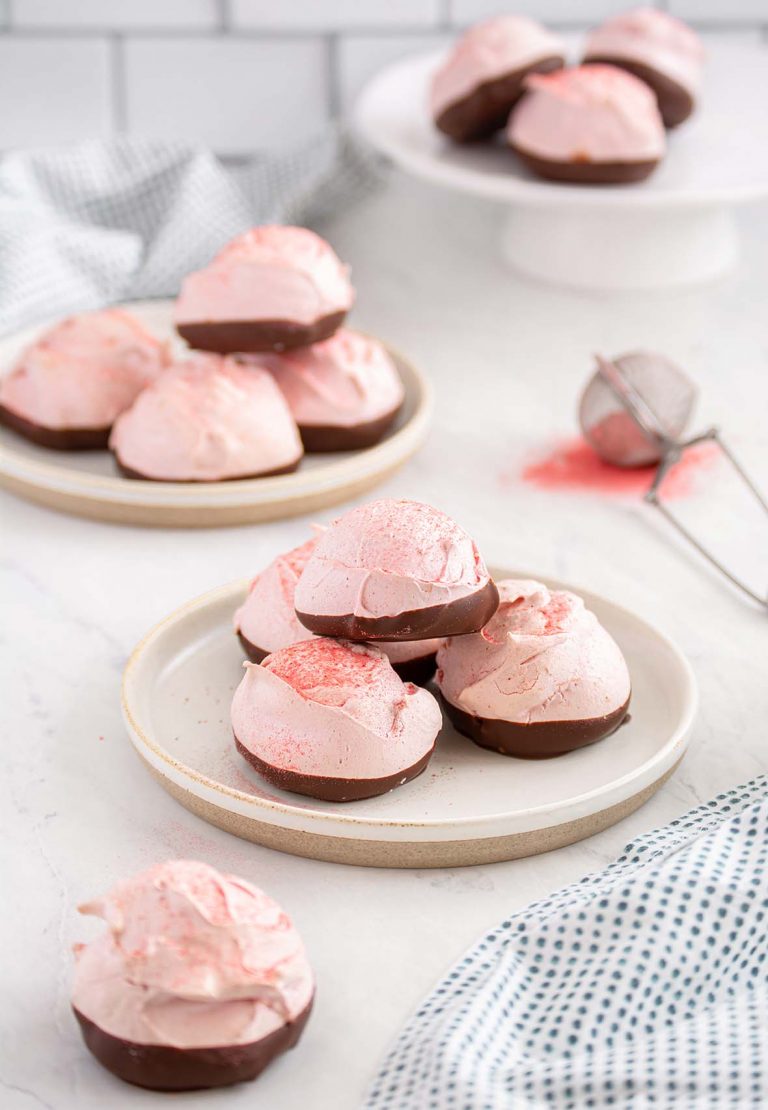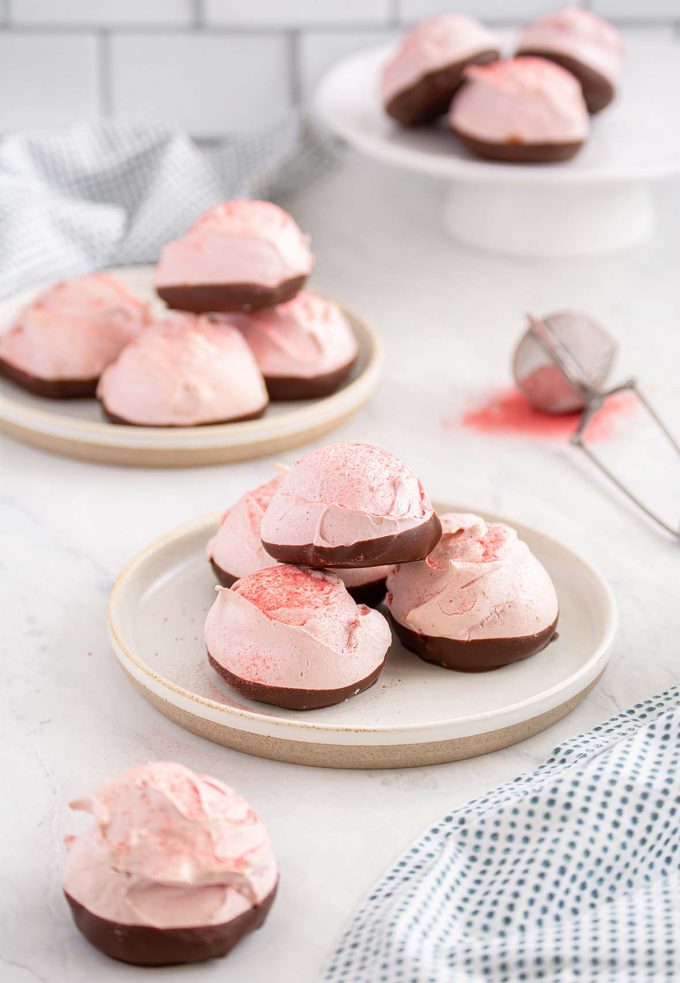 Meringues are underrated and quite incredible. Just 4 simple ingredients, plus a few bougie add-ins on my part, and you get the culinary equivalent of witchcraft. Seriously though – magic is the only way to describe what happens when you whip egg whites and sugar. Then, you bake them and the result is light as air, crispy, slightly chewy and perfectly sweet. Truly a melt-in-your-mouth treat. Further to the magical qualities of meringue, it's quite literally a blank slate and can be flavoured to your hearts content. For me, I love using freeze-dried fruit, and dipping the baked meringue in some quality chocolate.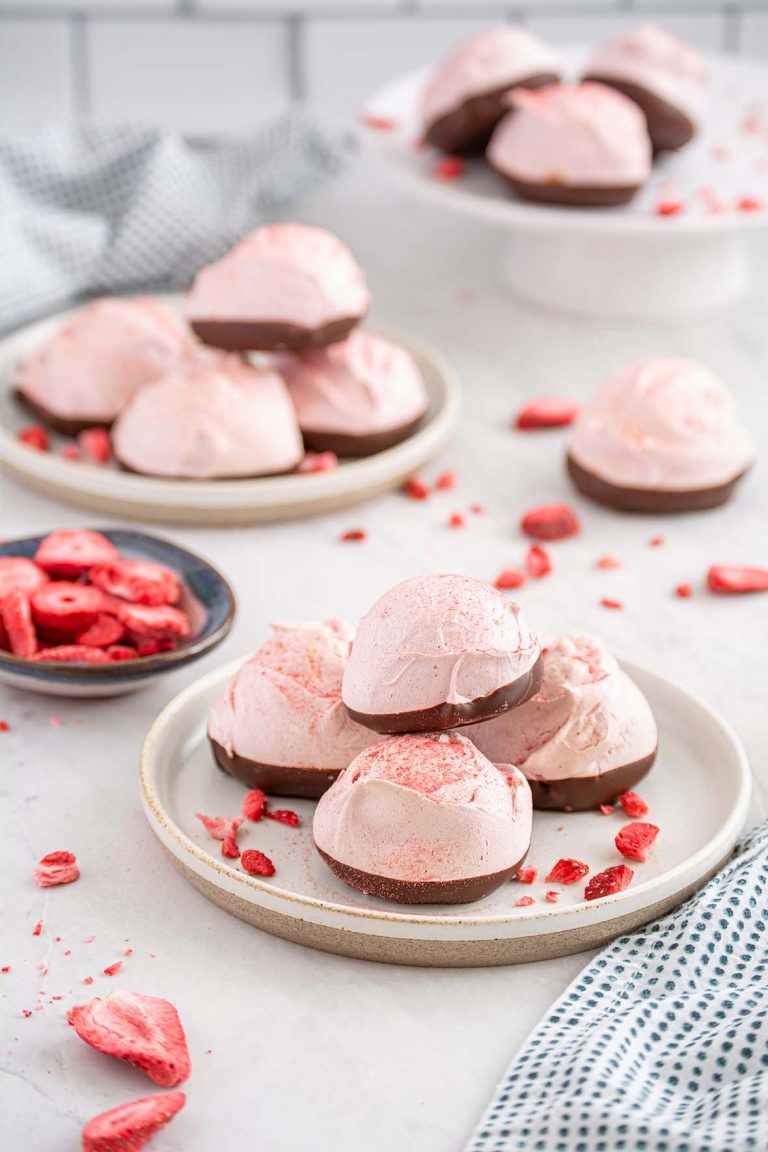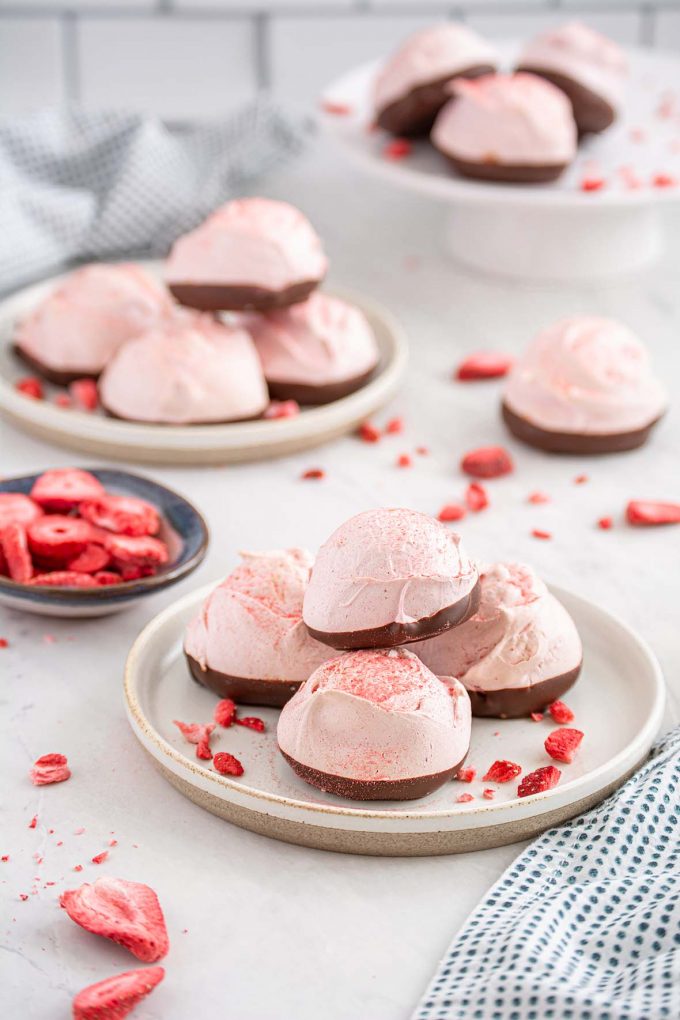 Tips for Making Meringue
As with most baking, you really need to follow the rules and instructions and meringues are no exception. In fact, I'd dare say you need to be extra diligent in following the rules with meringues to ensure a successful final product. Don't let the talk of rules scare you. They're easy and straightforward.
Egg whites will not whip if they come in contact with fat/grease/egg yolks. As a little added insurance, I always wipe my mixing bowl and whisk with a little vinegar. This will ensure there is no residual grease or fat left in the bowl from your last use (even if you did clean it super well). If your yolk breaks into the whites, I would recommend saving those eggs for later, and starting fresh. If there's any trace of yolk in those whites, they will not whip up no matter how hard you try.
Use a stainless steel or glass bowl. Avoid using plastic when making meringue, as the plastic can hold grease and other fats that prevent the whites from whipping up.
Egg whites whip better at room temperature. But…. eggs are easier to separate when cold. So, separate your eggs while cold, save those yolks for something delicious like lemon curd, and let those whites sit in the mixer for at least a half hour before you start whipping.
Make meringues on a dry day. This seems odd, but meringue can be finicky if it's too humid. Meringues absorb moisture, so if it's humid, your meringues can turn out soft and sticky, albeit, still delicious. I live in a climate that's unbearably dry in winter, so that's the perfect time for me to bake these.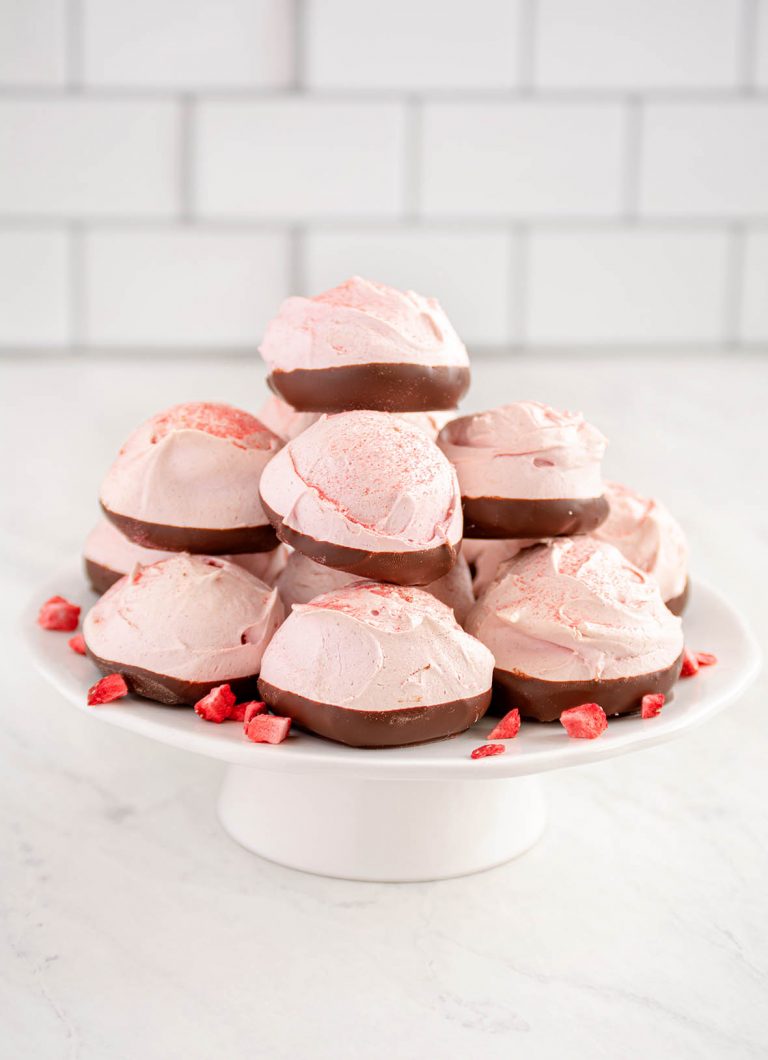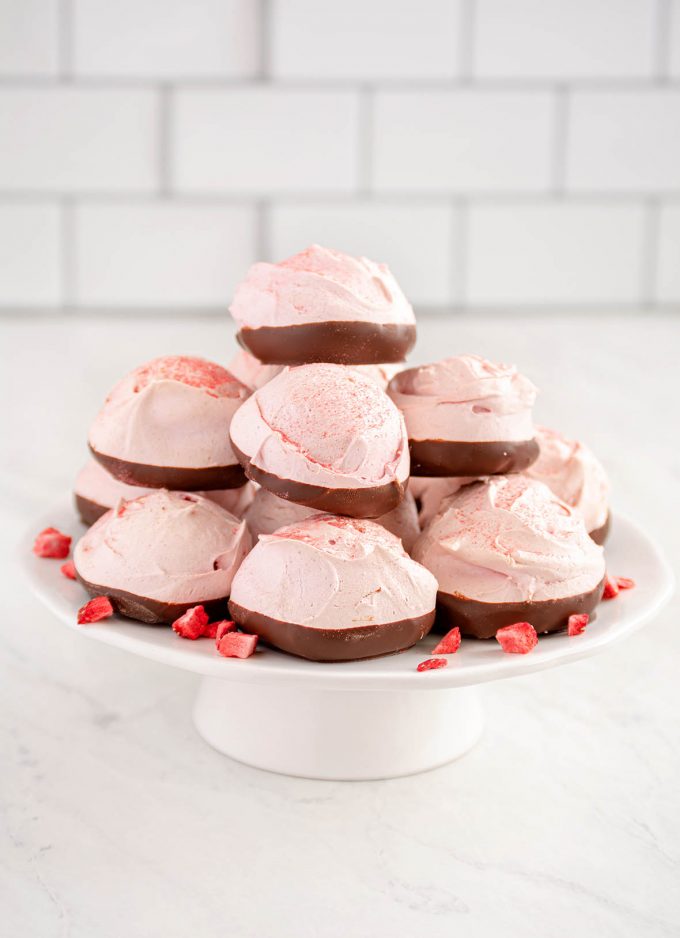 Flavour Options for Meringues
The beauty of meringues is that you can leave them plain (with perhaps a dash of vanilla) or really jazz them up. Just keep in mind, a little bit goes a long way.
Cocoa powder. Sift it over the meringue in the bowl and barely stir it in for a marbled effect.
Freeze-dried fruit. It can be expensive, but it's worth it. Pulse it in a food processor until a powder forms and mix it in for a real fruit flavour.
Chopped chocolate. Stir chopped chocolate into the meringue before scooping into cookies.
Extracts. Almond, lemon, peppermint, orange, whatever you like.
Nuts. Sprinkle nuts on top of the meringue before baking.
Sprinkles! Man, I love sprinkles. They make everything so cheery! Add your favourite sprinkles onto of the meringues before baking.
Melted Chocolate. Dip the baked and cooled meringues in some melted chocolate. You can also drizzle chocolate over the tops.
Looking for Other Cookie Recipes? Check these out: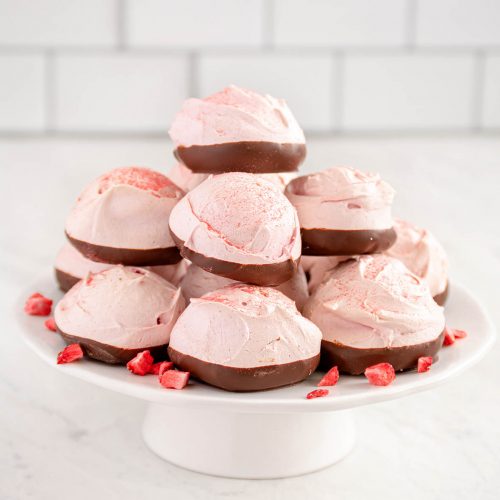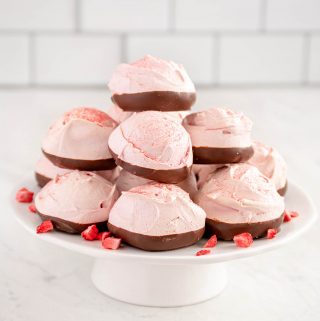 Chocolate Dipped Strawberry Meringues
Meringue cookies flavoured with freeze-dried strawberries and dipped in dark chocolate. Perfecly sweet, light and crispy.
Print
Pin
Rate
Ingredients
1/2

cup

granulated sugar

1/2

teaspoon

cornstarch

2

large egg whites

at room temperature

pinch

salt

1/8

tsp

vanilla extract

3

Tbsp

freeze dried strawberry powder

Pink gel food colouring

optional

1

cup

finely chopped dark chocolate
Instructions
Preheat the oven to 250°F.

Line a baking sheet with parchment paper and set aside.

In a small bowl, whisk together the sugar and cornstarch.

Add the egg whites to the bowl of a stand mixer fitted with the whisk attachment (or a handheld beater using a large bowl). Add the pinch of salt, and begin to beat the eggs on a medium-low speed until frothy, then, turn the mixer speed up to medium-high and beat until soft peaks form.

While the mixer is running, begin adding the sugar/cornstarch mixture slowly, about 1 Tbsp at a time, until all the sugar has been added.

Continue to beat until the egg whites are thick and glossy and stiff peaks are formed (when the whisk is turned upside down, the meringue should hold a peak and only droop back on itself a tiny little bit). It's also important to ensure the sugar has dissolved. To check this, rub a small amount of the meringue between two fingers. If it's girtty, it needs more time to allow the sugar to dissolve. Scrape down the sides.

Add in a tiny dot of gel food colouring, if using. Add vanilla. Sift in the strawberry powder and whisk until just combined and evenly mixed.

Using a small ice cream scoop (mine is about 2 1/2 Tbsp), scoop 12-14 heaping balls of meringue onto the parchment lined baking sheet.

Place the baking sheets in the oven and bake for 50 minutes. The insides will still be chewy, which is how I like them. If you want your meringues to be more crispy, bake for 1 hr 10 mins.

Turn the oven off, and crack the door to allow steam to release. Keep the oven door open slightly. Keep the meringues in the oven while it's turned off for about an hour.

Melt the chocolate in a heatproof bowl in the microwave in 15 second increments until fully melted. Allow to cool slightly. Dip the bottoms of each meringue in the chocolate and place back on the parchment to dry fully.

Store in an airtight container for up to 7 days.
Nutritional calculation was provided by WP Recipe Maker and is an estimation only. For special diets or medical issues please use your preferred calculator
Recipe adapted from Simple Bites Small Batch Meringues