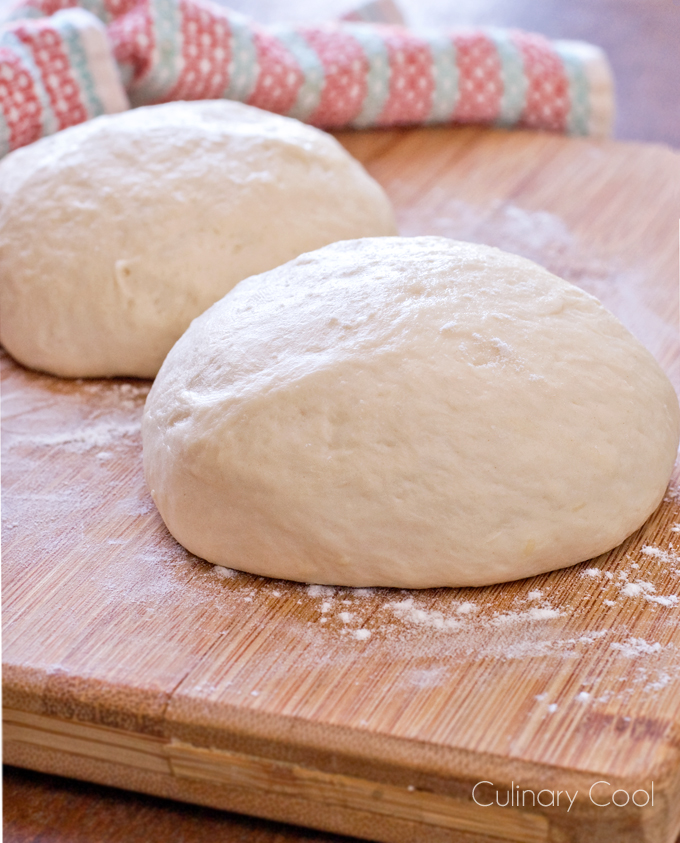 Like most people, I'm a huge fan of pizza. Sure, picking up the phone (or these days, going on-line) and ordering up a pizza is simple. It's equally easy to grab a box of the frozen stuff at the grocery store. But did you know that making it fresh from scratch at home is easy too? Everyone should have a good pizza dough recipe in their repertoire. It's so easy to make and won't include weird additives or preservatives. Once you realize just how easy it is to make, and how much better it tastes than the store-bought stuff, you'll never go back to buying a frozen pizza. Like, ever.
And while your at it, make extra. This recipe freezes incredibly well. Mix up the recipe and let it rise per the instructions. Once you have divided it into equal portions, wrap each tightly with plastic wrap and place in a freezer bag. You must take the dough out of the freezer the morning you plan to use it. Place it in the refrigerator to thaw during the day, and by supper time, it's ready to go.
Tips & Tricks
Use a baking stone. Preheat it with your oven. This will give your crust a crispy bottom, but the top will still be soft and chewy.
Use parchment paper and shape your dough on the paper. This will make things easier to transfer to and from the baking stone. I always make more than one kind of pizza at time and this gives me the ease to bake one, and immediately start baking another.
Brush a little oil around the edges of your pizza so you get a nice golden crust.
Carefully stretch the dough into a circle with your hands and knuckles. If the dough is resisting the stretching motions, let it rest for 5 minutes.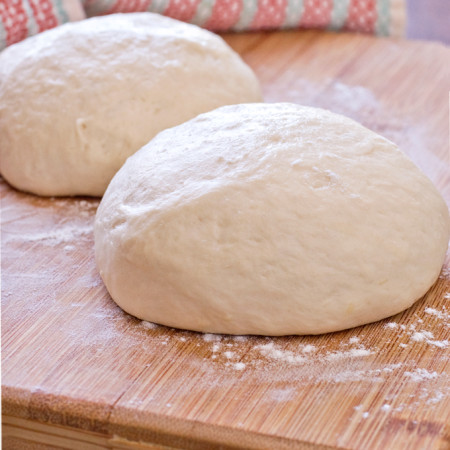 Ingredients
4

cups

bread flour

2

tsp

granulated sugar or honey

1

and 1/2 tsp salt

1

and 1/4 tsp instant yeast

1

and 1/2 tbsp olive oil.

11

fl oz room-temperature water
Instructions
Combine the flour, sugar or honey, salt, yeast and olive oil in the bowl of a stand mixer. Mix with a spoon to combine all ingredients.

Engage the bowl with the mixer fitted with the dough hook.

On low speed, add the water and mix until the dough comes together in a course ball, about 2-3 minutes. Let rest for 5 minutes, uncovered.

To Knead the dough, either continue with the dough hook on medium-speed, or by hand for 2-3 minutes.

Add more water or flour as needed to produce a ball of dough that is smooth, supple, and fairly tacky but not sticky. When poked with a clean finger, the dough should peel off, leaving only a slight residue. It may stick to the bottom of the mixing bowl, but not the sides.

Lightly oil a bowl that's twice the size of the ball of dough. Roll the dough in the bowl to coat it with oil.

Cover the bowl tightly with plastic wrap and refrigerate for at least 8 hours and up to 3 days. It will rise slowly in the refrigerator but will stop growing once completely chilled.

Divide the dough into 4 equal pieces weighing about 8 oz each. At this point you can wrap and freeze the dough, or proceed to shape and bake it.

To bake, preheat the oven and pizza stone to 450 degrees F for at least 30 minutes.

Shape the dough with lightly floured hands. Brush the outer edge lightly with oil.

Top as desired. Bake until the crust is golden brown, and cheese is bubbling, 10-12 minutes.
Nutritional calculation was provided by WP Recipe Maker and is an estimation only. For special diets or medical issues please use your preferred calculator