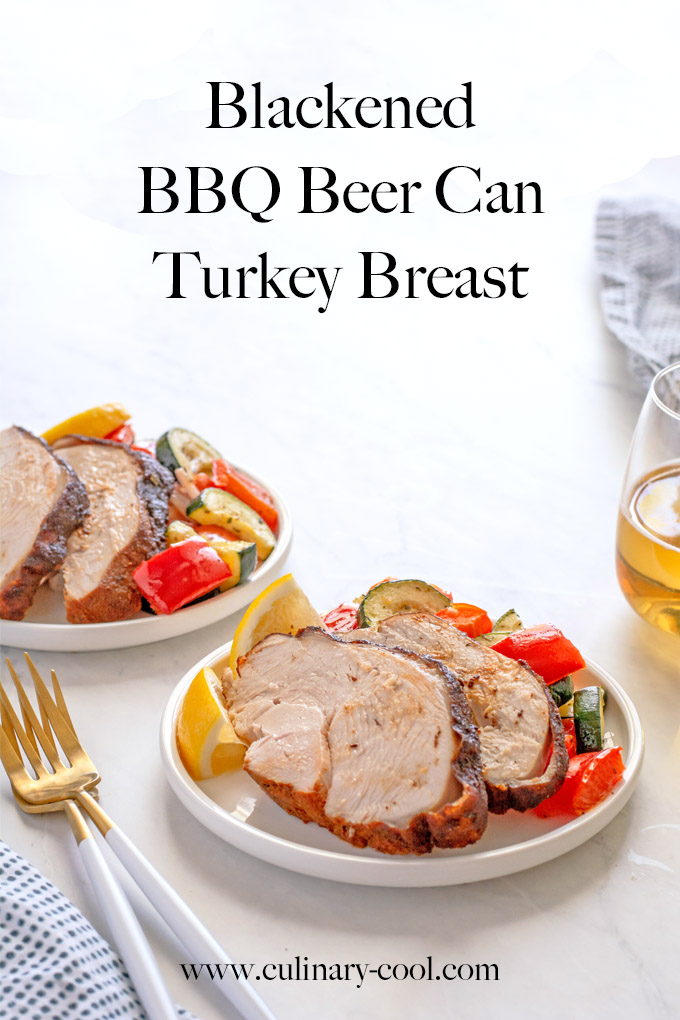 Grilling season is in full swing and that means backyard BBQs are a weekly occurrence. Switch up the usual burgers and surprise everyone with a Beer Can Turkey Breast on the BBQ with a Blackened Saskatchewan dry rub. Juicy and super flavourful, this BBQ turkey is going to be a huge hit!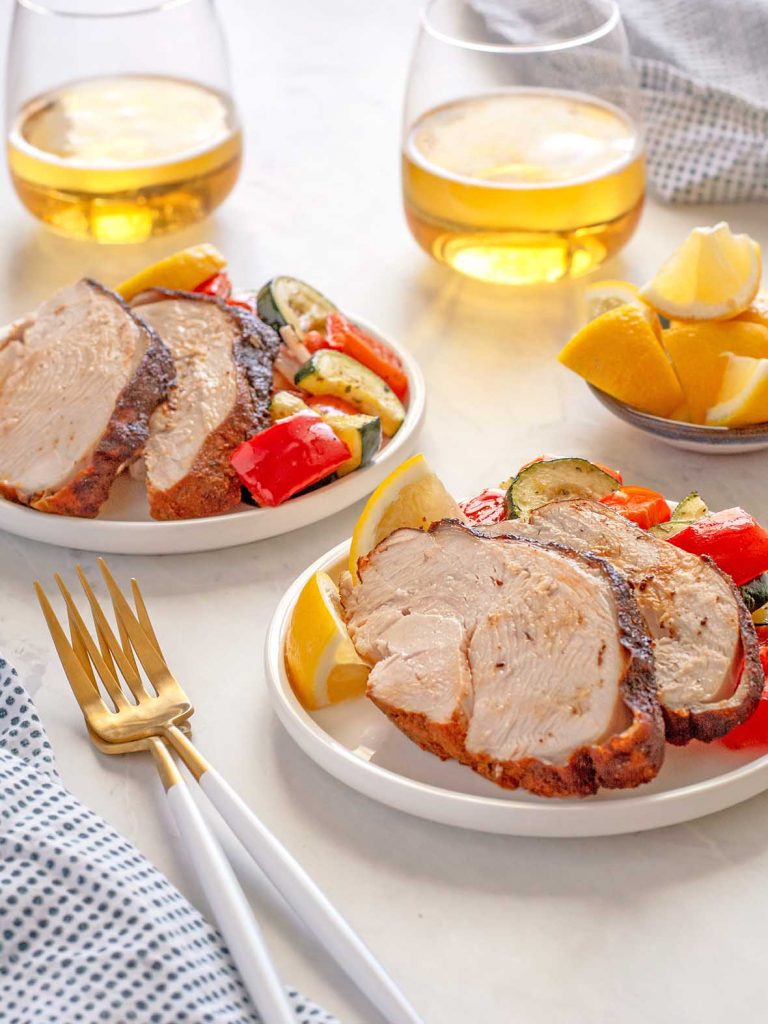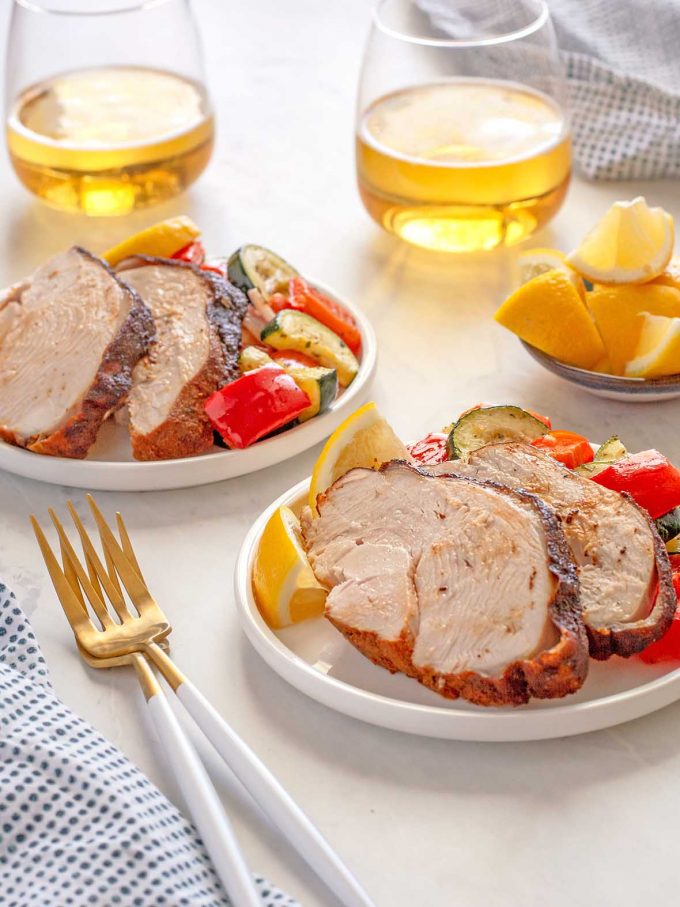 This post is sponsored by Turkey Farmers of Canada. As always, all opinions are my own.
Summertime on the prairies is short lived, so you can expect to find me outside as much as possible. Morning coffee, supper under the gazebo, basically every waking moment, you can find me outside. But what I'm really looking forward to is firing up the grill several times a week and dining al fresco. We've all got our old standby meals prepared on the grill; kebobs, burgers, you know, the usual suspects. It's easy to stick to old favourites, but where's the fun in that? This summer, go for a Beer Can BBQ Turkey Breast.
Why use a Beer Can?
When you nestle the turkey over a can of beer (or pop), it changes the position the breast is cooked in. It allows the turkey to be cooked vertically, which gives the skin an opportunity to get deliciously brown and crispy the whole way around. If you ask me, crispy skin is a necessity! When protein is cooked horizontally, with one side flat on a cooking surface, the bottom doesn't have the same opportunity for crispiness and the juices tend to congregate in that area which further inhibits that golden crispy texture.
A bone-in turkey breast is quite large, and you might find (depending on its size) that you have a hard time balancing it. Instead of using a beer can, there are also pans made specifically for roasting poultry vertically, that allows you to pour beer into a centre reservoir, similar in shape to a can. These lovely contraptions also have a built-in drip tray, and are quite sturdy, which helps to balance everything while on the BBQ. You can find these easily online or at camping/outdoorsy stores. You can even use a bundt pan to get the job done.
The Dry Rub
With poultry, we tend to think of marinating. Marinating is a lovely way to get lots of flavour into protein and a great way to tenderize. The downfall is that the exterior of the protein is wet and may not brown or crisp up as well. That's why I've gone with a dry rub for this BBQ turkey breast. Drying the skin, applying a touch of oil, followed by the dry herbs and spices will pack a punch of flavour and since it's already dry, it will brown and crisp up quicker resulting in a far superior texture!
The dry rub I've gone with here is a Blackened Saskatchewan dry rub,. It's heavy on the smoked paprika, garlic and black pepper, and also features a blend of onion, chili, mustard and brown sugar.
The term "blackened" is referring to a cooking technique more so than a specific blend of spices. When blackening, the protein is coated in either butter or oil, then a dry rub is applied. The rub, in conjunction with the fatty oil or butter, chars, or blackens while cooking. I'm a huge fan of charred bits on my meat, so this method is one of my favourites to use. In terms of flavour, a blackened rub is generally less spicy than, let's say, a Cajun rub, but who's to say you can't add more chili or cayenne to spice things up even more. You do you, my friend! When I make this for my bestie, Thao, I make it as spicy as possible, at her request. When I make it for my family, I tone it way down because that's just their preference. The beauty of making your own seasonings and rubs, is that you can adjust the flavours to meet your family's needs.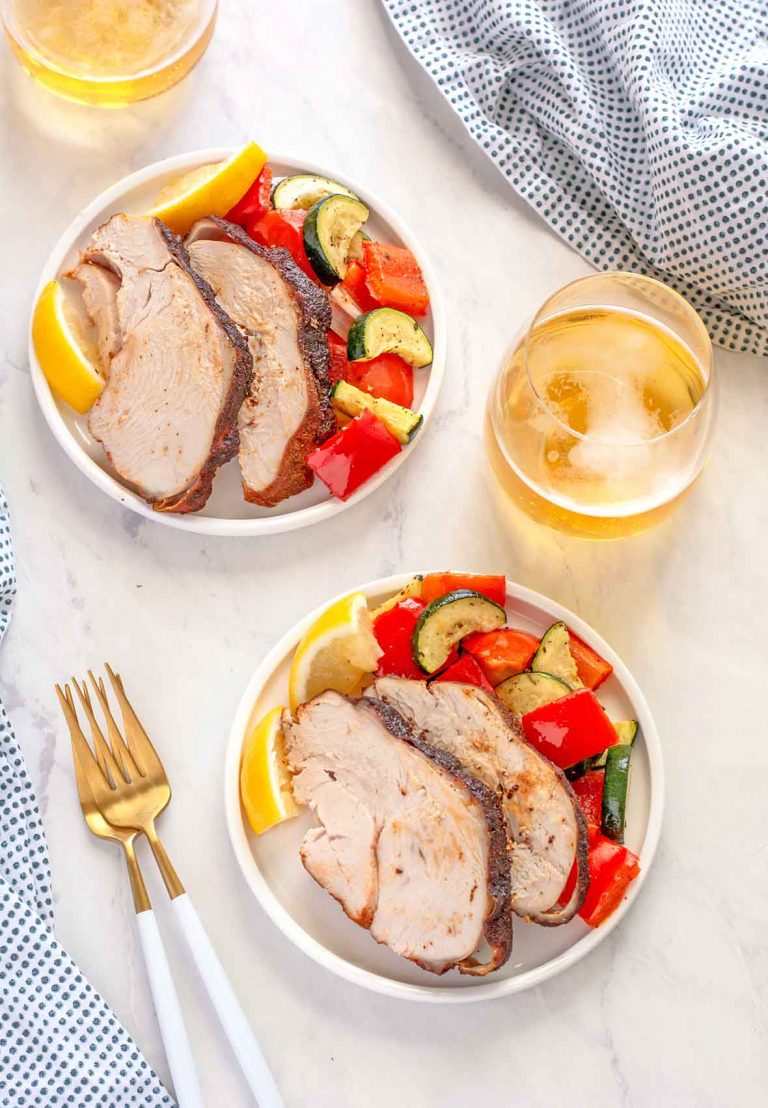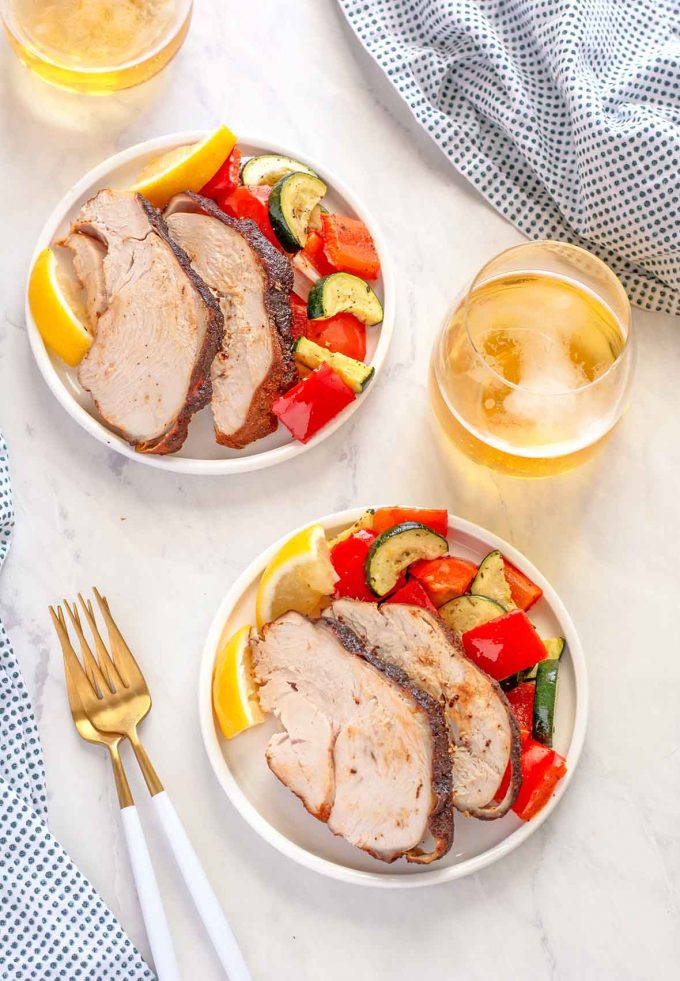 Let's Talk Turkey
Turkey is a great protein to lean towards at all times of the year, not just the holidays. When it comes to feeding a crowd, no protein does it better than turkey. I love the versatility of turkey, too! Not only is it great for roasting, but grilling it is a breeze, too. I'm cheating on other meat this summer and using a bone-in turkey breast to feed my family at our next BBQ. Instead of watching the grill, flipping numerous burgers, hot dogs and kebobs, I'm going to put one turkey breast on the grill and let it cook over indirect heat with minimal hands-on time required. I'd rather be chasing bubbles with the kids than standing by the hot grill any day!
Not only is turkey versatile, but it's lean, delicious and you already know your family loves it!
This summer, switch things up and make a juicy, delicious Beer Can Turkey Breast with a Blackened Saskatchewan Dry Rub. Minimal hands-on time required, and you'll have a meal to feed a crowd without standing by the grill flipping burgers!
Check out these other recipes: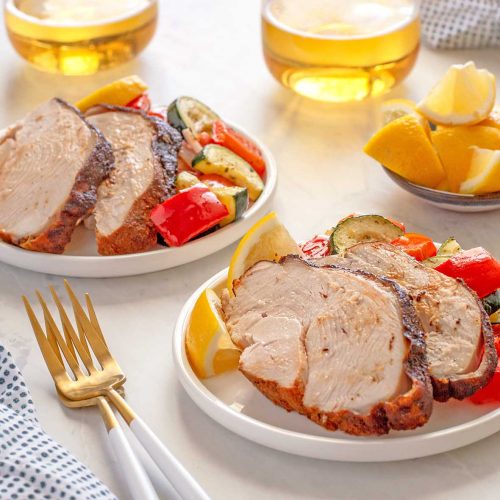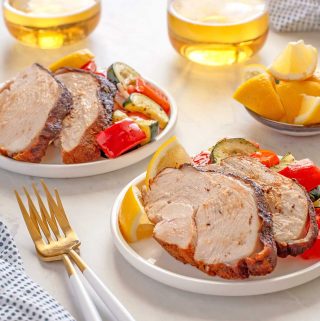 Blackened Saskatchewan Beer Can Turkey Breast
Switch up the usual burgers and surprise everyone with a Beer Can Turkey Breast on the BBQ with a Blackened Saskatchewan dry rub. Juicy and super flavourful, this BBQ turkey is going to be a huge hit!
Print
Pin
Rate
Ingredients
Blackened Saskatchewan Spice Blend
2

Tbsp

smoked paprika

hot or sweet

2

Tbsp

garlic powder

1

Tbsp

onion powder

1

tsp

salt

1

Tbsp

black pepper

1

Tbsp

brown sugar

1

tsp

chili powder

½

tsp

cayenne powder

¼

tsp

dry mustard
Beer Can Turkey
4-5

Lb

bone-in whole turkey breast

1

Tbsp

canola oil

1

355 ml

can of your favourite beer or pop

lemon wedges for serving
Instructions
In a small bowl, mix together all the spices to make the dry rub. Set aside.

Pat the turkey breast dry with paper towel.

Lightly brush the turkey with canola oil, then evenly coat with the Blackened Saskatchewan Spice Blend.

Let the turkey sit at room temperature with the rub on it for 30 minutes.

Meanwhile, prepare your barbeque for indirect grilling using medium heat. Preheat the grill to 350°F.

Open a can of your favourite beer, or soft drink and take a few big sips. You need to empty about 3-4 ounces from the can.

Place the can onto a disposable aluminum pan (or any pan that is safe for the grill).

Place the turkey breast over the can.

Place the pan onto the barbecue over indirect heat (opposite side of the grill that is turned on).

Close the lid and cook for 1 - 1 1/2 hours or until internal temperature reaches 165°F. A good rule of thumb is 20 minutes for every 1 lb of turkey.

Once done, remove from the grill and allow to sit and rest for 15 minutes.

Remove the turkey from the can, slice, and serve with wedges of lemon, if desired.
Nutrition
Serving:
5
g
|
Calories:
429
kcal
|
Carbohydrates:
8
g
|
Protein:
79
g
|
Fat:
9
g
|
Saturated Fat:
1
g
|
Polyunsaturated Fat:
3
g
|
Monounsaturated Fat:
4
g
|
Trans Fat:
1
g
|
Cholesterol:
196
mg
|
Sodium:
1225
mg
|
Potassium:
1026
mg
|
Fiber:
2
g
|
Sugar:
3
g
|
Vitamin A:
1660
IU
|
Vitamin C:
1
mg
|
Calcium:
75
mg
|
Iron:
3
mg
Nutritional calculation was provided by WP Recipe Maker and is an estimation only. For special diets or medical issues please use your preferred calculator
Notes
Watch the kind of turkey breast you purchase. The single breast is very common but that's only half of what you need to make this work. A full bone-in turkey breast looks like a full turkey, minus the legs and wings.
If you don't want to use beer, you can use a lemon-lime soda, or root beer. There are also lots of devices made specifically for vertically cooking poultry. You can also use a bundt pan.
This can also be done in the oven, Preheat the oven to 350°F bake for 1 - 1 1/2 hours or until internal temperature reaches 165°F.