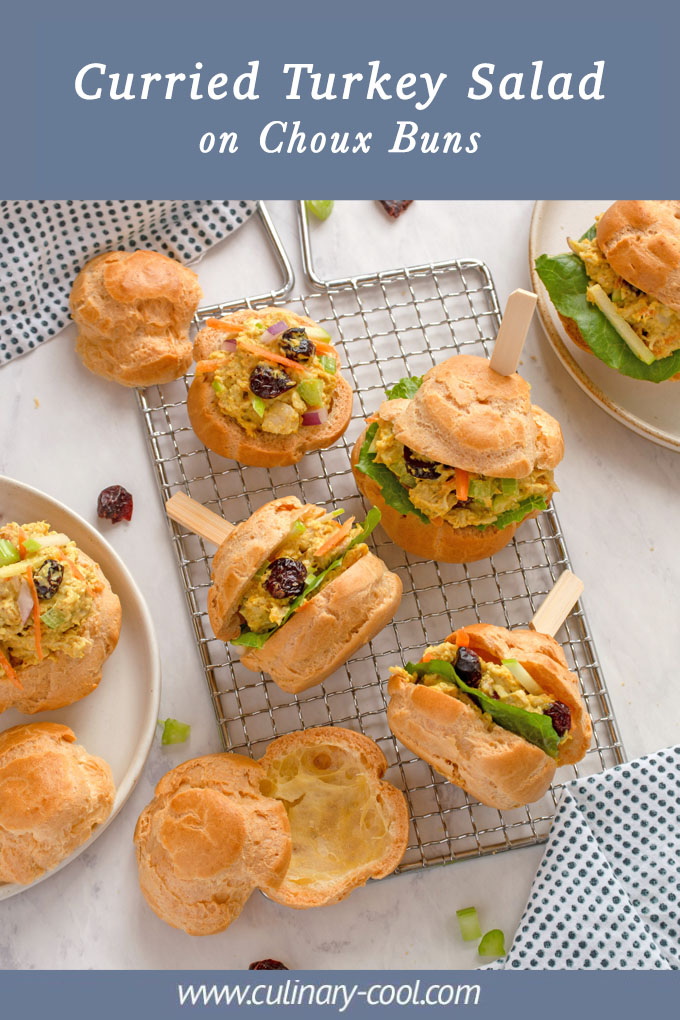 A classic French pastry is baked up light and airy, and filled with a sweet and savoury curried turkey salad. The perfect finger food for the holidays, brunch, or just because.
This post and recipe are sponsored by Turkey Farmers of Canada. As always, all opinions are my own.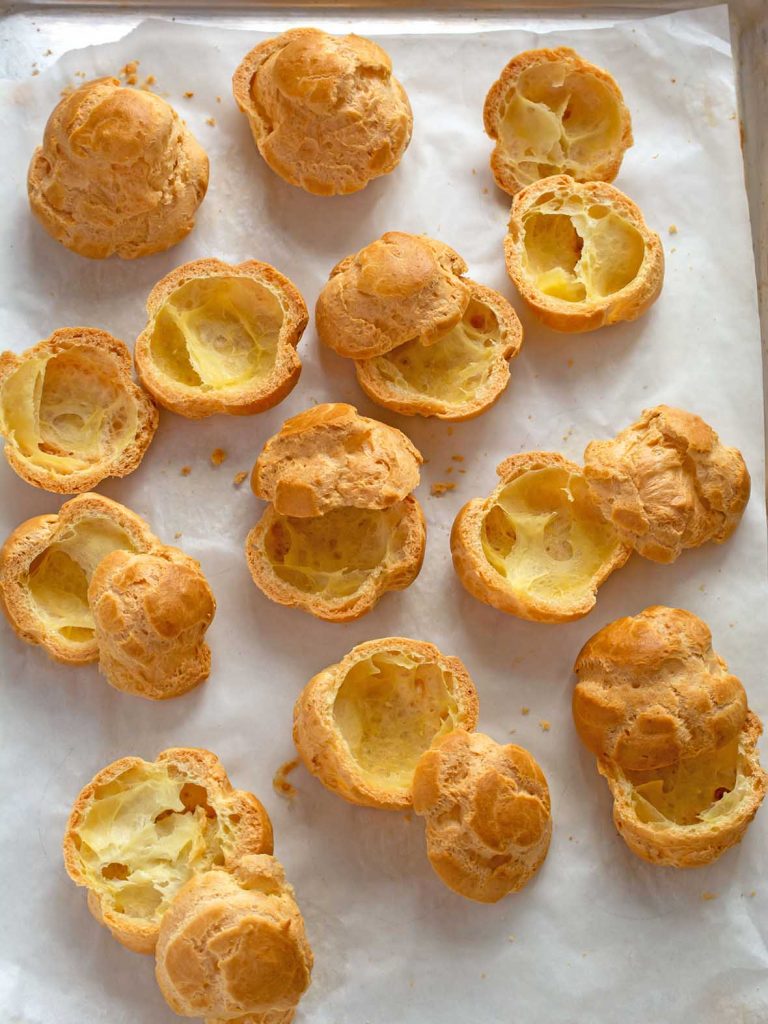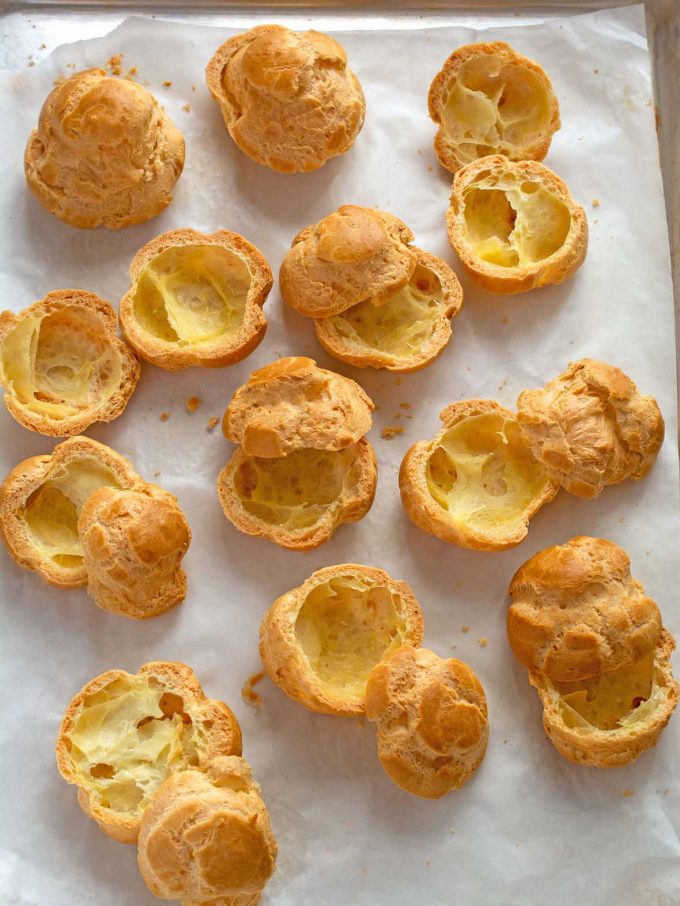 Choux pastry is my favourite party trick. It's deceivingly simple to make, and can transform into countless treats, both sweet and savoury. We can all agree that the holidays are going to look very different this year, but that doesn't mean you can't impress your friends and family with party food!
Every year just after Christmas and the holiday buzz has died down, my girlfriends and I spend a Sunday afternoon at High Tea. It's usually three courses of incredible food, the most amazing tea and the best company. That won't be happening this year for obvious reasons, so my plan is to bring a holiday High Tea to my girlfriends in their respective homes. While I love all the sweets that come along with High Tea, I equally, if not more, love the savoury snacks. I also love serving familiar things in new ways, which is exactly what I've done here. I've taken the classic choux dough, made a traditional puff, but instead of filling it with cream, I'm going to use the shell for petit sandwiches.
Choux pastry is the lovely, airy pastry used to make cream puffs, eclairs and crullers. Typically we think of this pastry as a sweet dessert, but in reality, it's just as incredible when paired with savoury ingredients, such as cheese to make gougères, or in this case, filled with a curried turkey salad.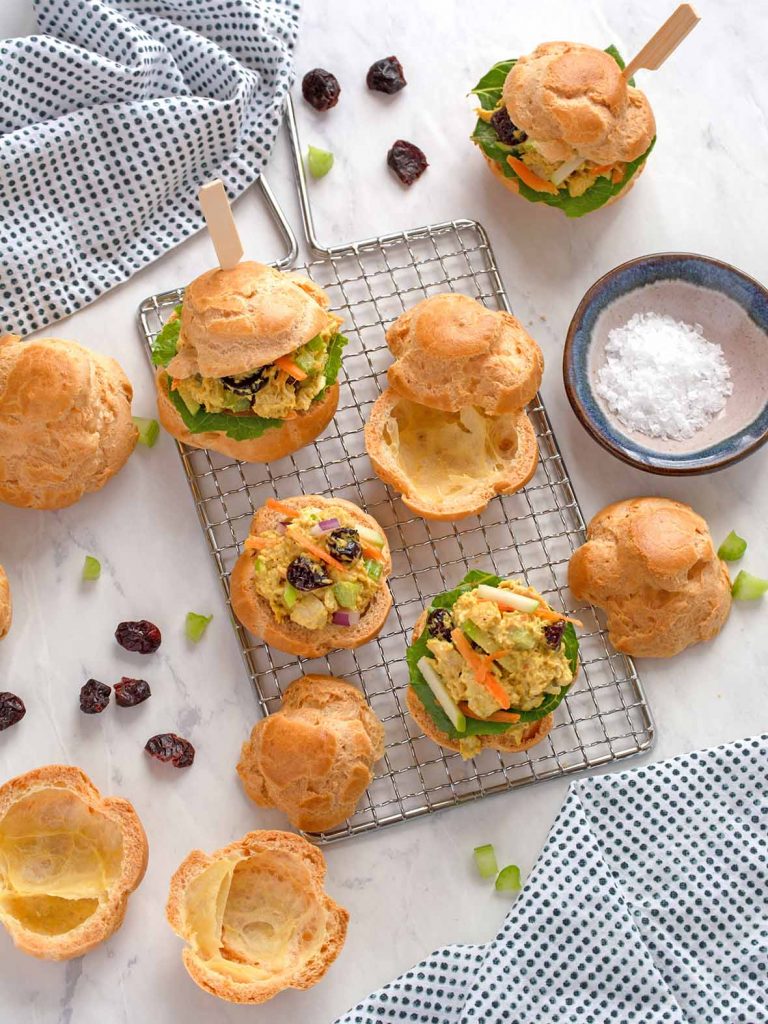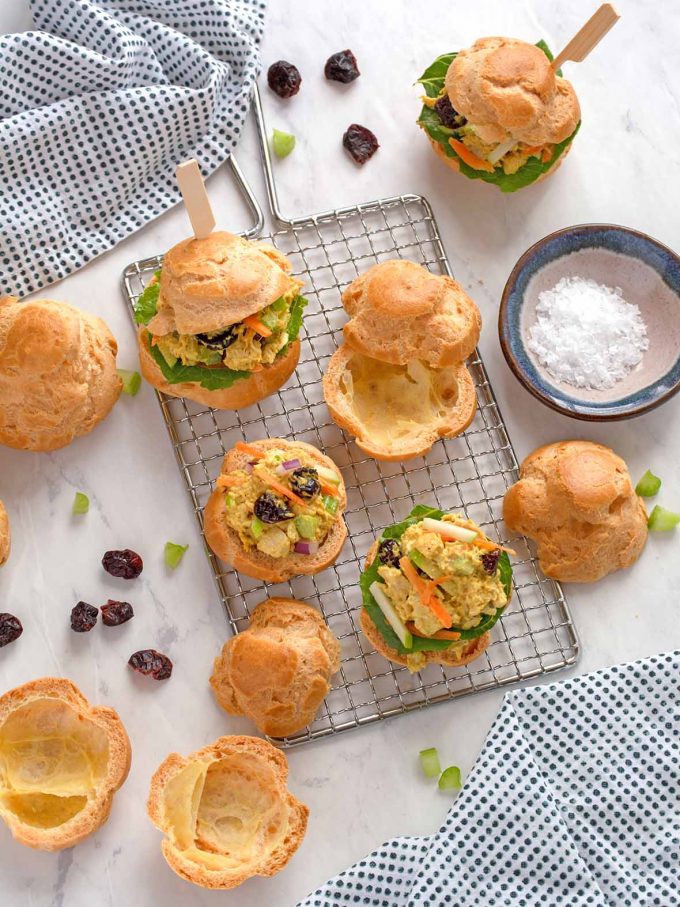 About the Pâte à Choux
Water, butter, sugar, salt, flour and eggs – that's it!
Use All-purpose flour, because other flours, such as bread or pastry, have different protein levels that will affect the final product.
Add one egg at a time and wait until the egg has been fully combined with the flour mixture before adding another. Your batter still needs to be stiff enough to hold a mounding shape when piped. If too much egg is added, and the batter becomes too fluid, it won't rise as nice. Still completely edible, just not as round and puffy as you might be expecting. Unfortunately, you can't add more flour to rectify this issue.
Do not open the oven door while baking.
Why Turkey?
We love our turkey around here! Turkey is one of our go-to ingredients for everyday cooking.
It's one of the most versatile proteins because it can be used in just about any dish and can be swapped out for other proteins in your favourite recipes.
Folks tend to think of turkey as the main course for holiday meals, but I wanted to show that you can use it in a variety of applications, including for fancy finger foods like these.
Turkey is a lean protein that is good for you and super delicious. You can use healthy options and still feel like you're indulging!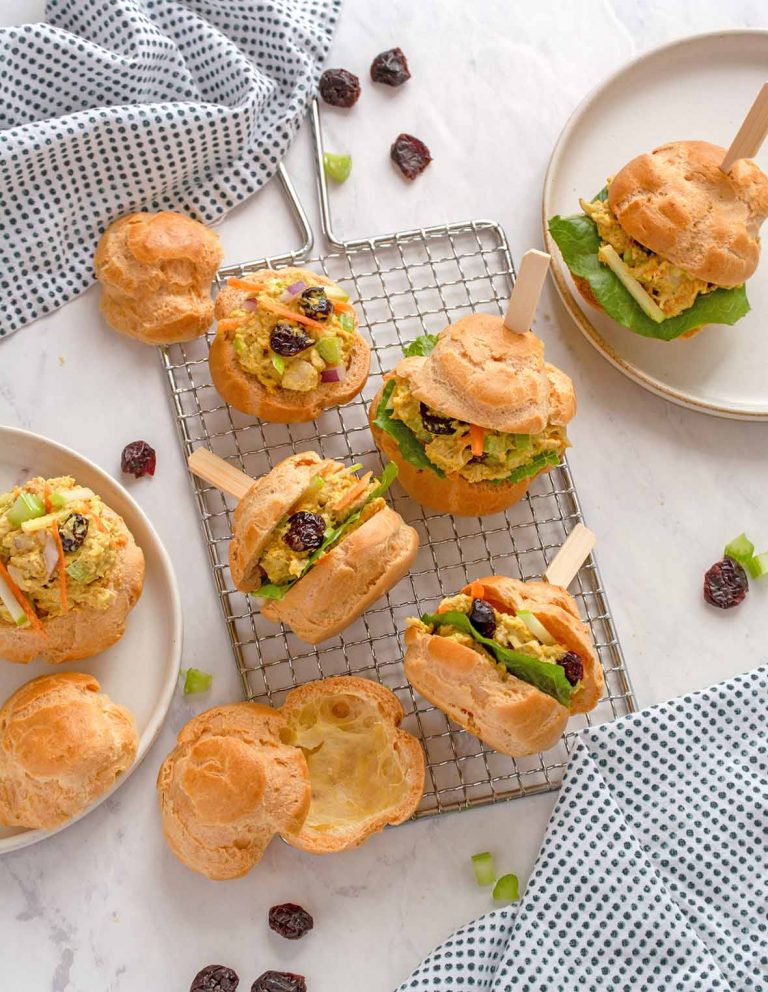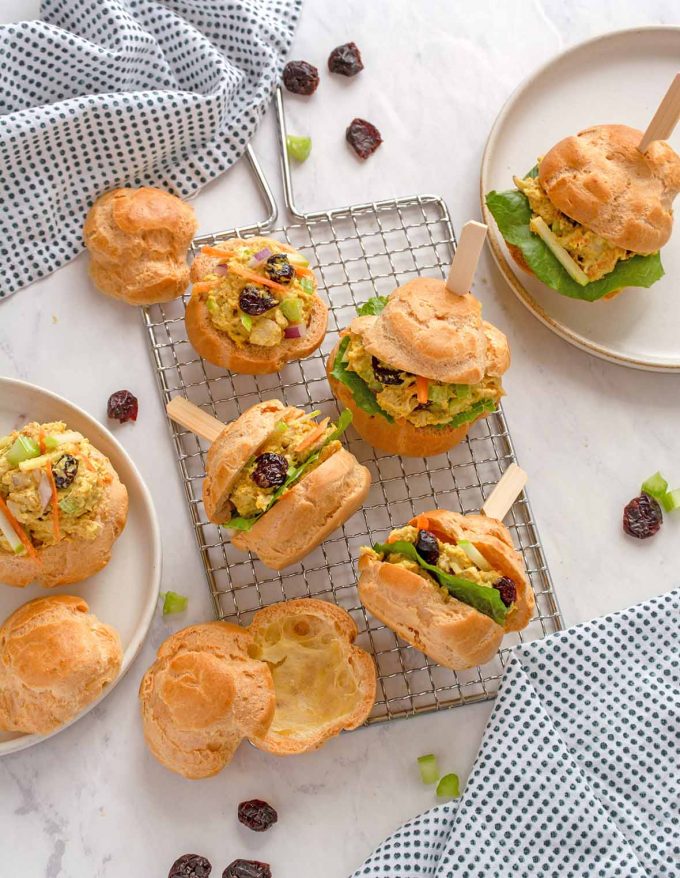 For these cute little finger sandwiches, simply cut the choux buns in half once cooled completely. As much as I love this pastry, the curried turkey filling is my favourite part! This recipe is a great way to use leftover turkey you might still have in the freezer, or you can cook up a turkey roast or turkey breast specifically for this recipe. You can shred or chop the turkey however you like, mix it with some mayo, or even Greek yogurt, a healthy dose of yellow curry and sweeten it all up with some dried cranberries and apple. Secure with a decorative toothpick, pack them up and hand deliver them to your favourite friends and family. My girlfriends will be getting a few of these indulgent Curried Turkey Salad in Choux Buns, along with a mini quiche, classic cream puffs, crème brûlée and lemon meringue tartlets.
This year, we need to get creative when it comes to connecting with friends and family for the holidays. A simple gesture, such as dropping some snacks on a front porch is all it takes. If you find yourself in a position where you can whip up a handful of treats for those you love, make sure you include these Curried Turkey Salad Choux Buns!
Looking for other great Appetizer and Finger Foods?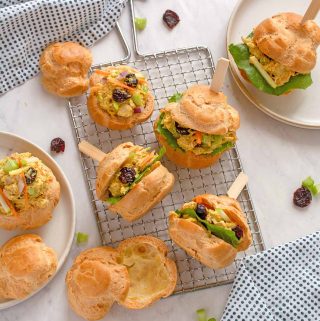 Curried Turkey Salad on Choux Buns
Classic French Pâte à Choux filled with a sweet and savoury curried turkey salad. The perfect finger food for the holidays, brunch, or just because.
Print
Pin
Rate
Servings:
6
servings (makes approx 12 buns, depending on size)
Ingredients
Choux Buns:
1/2

cup

water

1/4

cup

salted butter

cut into cubes

1/4

tsp

sugar

1/8

tsp

salt

1/2

cup

all-purpose flour

2

large eggs

at room temperature
Curried Turkey Salad:
350

g

cooked Turkey

cut into small cubes

½

cup

mayonnaise

1

tsp

Dijon mustard

1-2

Tbsp

yellow curry powder

dependent on your taste

¼

tsp

salt

1/8

tsp

fresh ground pepper

½

cup

finely diced celery

2

Tbsp

finely diced red onion

¼

cup

shredded carrots

¼

cup

dried cranberries

¼

cup

Julienne Granny Smith Apple

you can also grate the apple but you won't get the same crunchy texture

Lettuce or other greens for garnish
Instructions
Choux Buns:
Preheat your oven to 375˚F.

Line a baking sheet with parchment paper. Draw 12 circles on the parchment paper about 3-4 cm in diameter. Flip the parchment over so the ink is facing down.  Set aside.

In a medium size saucepan, over medium-high heat, add water, butter, sugar and salt. Bring to a boil. The butter should be completely melted, and sugar and salt dissolved.

Remove the pan from the heat and dump in all the flour at once. Stir until the mixture forms a paste.

Return the pan to the element, reduce heat to medium, and continuously mix for another 2-3 minutes. The dough will form a ball, and a film will develop on the bottom of the pan. Keep mixing, pushing the dough around the pan, spreading it out and mixing it back into a ball.  You want the dough to dry out slightly and become shiny.

Transfer the dough to the bowl of a stand mixer fitted with the paddle attachment. You can also use a handheld beater. Turn the mixture onto low speed to allow the dough to cool off and release steam.

Once cooled slightly, begin adding the eggs. You only want to add one egg at a time and allow the egg to become completely combined before adding another. The dough should be glossy and pipeable so that it holds the mounds you form them into.

Transfer the dough to a piping bag (a Ziplock bag works, too). Pipe the dough into the prepared circles. If there are any pointy tops, or uneven edges, simply dip your finger into water, and dab the tops and edges until smooth.

Bake for 30 minutes. Do not open the oven during this baking process.

After 30 minutes, turn the oven heat off, open the oven door to allow the steam to escape, and close it again, leaving the choux buns in the oven. Let the choux buns sit in the oven with the heat off for another 15 minutes. This will help the shell harden and prevent it from being too soft.

Remove from the oven and transfer to a cooling rack to cool completely.
Curried Turkey Salad:
In a medium bowl, combine all the ingredients (except the lettuce or other greens). Stir until fully combined. Keep in the fridge until ready to assemble the buns.
To Assemble:
Cut each choux bun in half through the middle horizontally.

Scoop 1 Tbsp of Curried Turkey Salad into the bottom half of the bun.

Place a small leaf of lettuce or other greens on top of the Curried Turkey Salad.

Scoop another 1 Tbsp of Curried Turkey Salad on top of the greens.

Place the top of the bun on top and secure with a decorative toothpick.
Nutrition
Nutritional calculation was provided by WP Recipe Maker and is an estimation only. For special diets or medical issues please use your preferred calculator