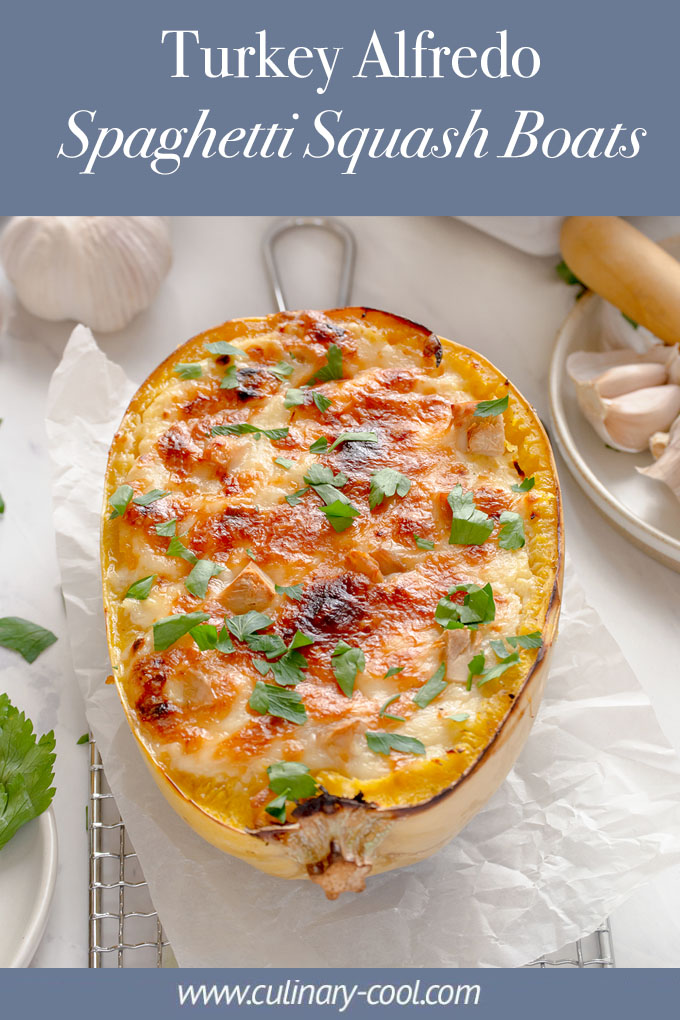 A lighter and healthier version of a classic comfort food just in time for the colder weather. Turkey Alfredo Spaghetti Squash Boats is big on flavour and packed full of the stuff your family loves like cheese, a creamy sauce and turkey!
This recipe and post are sponsored by Turkey Farmers of Canada. As always, all opinions are my own.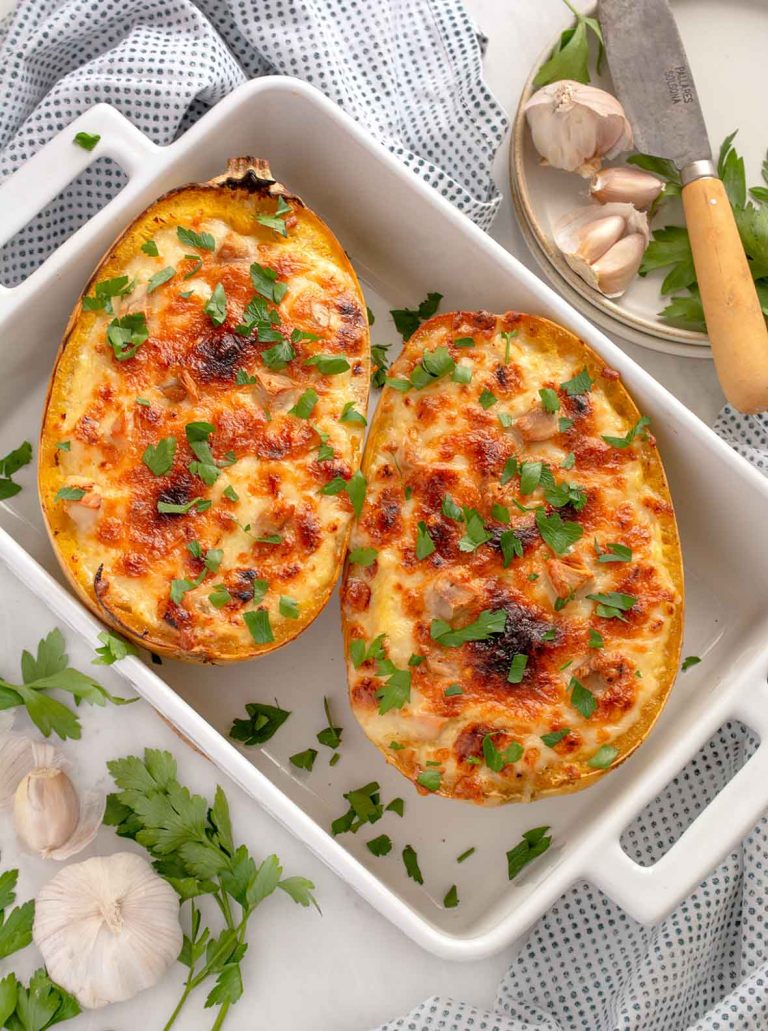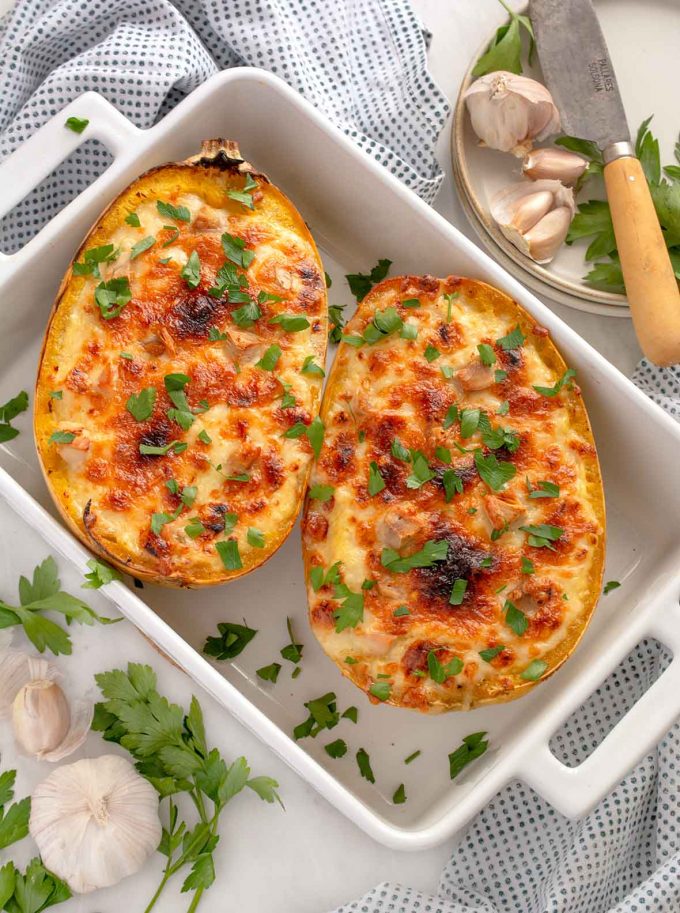 It's well documented that I'm not a fan of the cold. Any recipe that I've posted from September onwards usually has some mention to the dread of autumn, the sadness of saying goodbye to summer and that I am vehemently in favour of wearing my Birkenstocks until the snow is here to stay. I'll wear gloves, a warm jacket, maybe a toque, but my feet will be bare until absolutely necessary. Flipflops 'till it snows, y'all.
Admittedly, the change of seasons does bring some good. The holidays, for example, and the ever-present need for warm, hearty comfort food. These are some things I can really get behind, especially the food part. With autumn, comes squash season, and sure, that means pumpkins, but I'm a fan of other varieties, particularly spaghetti squash.
Let's Talk Ingredients
Creamy, homemade Alfredo Sauce:

Most folks make this sauce entirely with heavy cream, but in the name of smarter choices, I like to make mine with whole milk and just a splash of cream. I still use a generous dose of cheese and loads of garlic.

Protein of choice – Turkey:

Perhaps my favourite way to switch-up this pasta dish (other than swapping noodles for squash) is to add leftover turkey. If you're anything like me, you popped a load of leftover turkey into the freezer after the holidays to use at a later date. Well friends, today is that later date.

Spaghetti Squash:

The most common way to use spaghetti squash is as a low-carb pasta substitute, which is my favourite way to enjoy it. It allows us to indulge in rich comfort foods in a smarter way. Plus, with this recipe, the shell of the squash also acts as the vessel to serve the meal in. Fewer carbs and fewer dishes = win-win.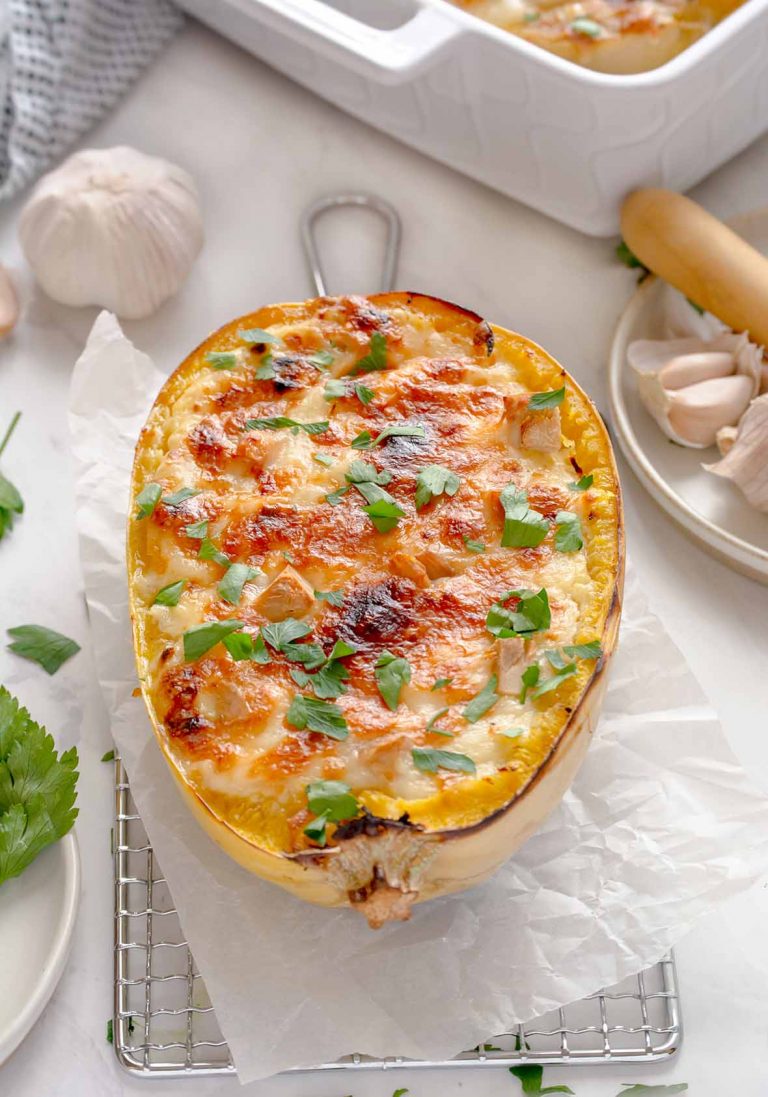 Tips for making Turkey Alfredo Spaghetti Squash Boats
The first step is to roast the spaghetti squash in the oven. Cut the squash in half lengthwise, brush the insides with oil and roast in the oven cut side down. Roasting this way will prevent any moisture from pooling in the bottom of the squash which can make things soggy.
It should come as no surprise that we love turkey around here. It's our protein of choice when we want to add some variety to old favourites, and because it's a delicious lean protein. Adding leftover turkey to this alfredo spaghetti squash also helps make it extra filling and nutritious. And since it's leftovers (read: already cooked) it cuts down on prep time, which is huge for me, because my daughter is a little ball of energy and I'd rather spend my time playing with her, than spending hours and hours in the kitchen for one meal.
Speaking of time, if you want to speed things up at dinner time, a little planning ahead the night before is all it takes. The spaghetti squash can be roasted the night before and stored in the fridge. All you'll have left to do is make the sauce, stuff the shells and bake until heated through.
Colder weather means comfort food, and this lightened up Turkey Alfredo made with spaghetti squash checks all the boxes. Low-carb, fewer dishes and loads of cheese and lean, delicious turkey. It has quickly become my family's favourite lightened up comfort food and I'm sure it will be yours, too.
Looking for other Turkey recipes?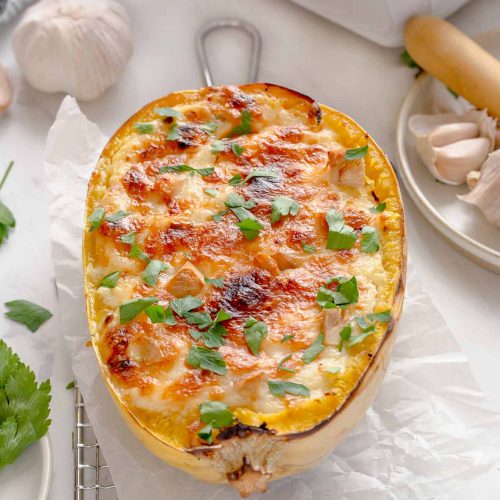 Ingredients
1

medium spaghetti squash

about 2.5-3 lbs, cut in half lengthwise, and seeds removed*

1

tsp

olive oil

divided

1/8

tsp

salt

1/8

tsp

pepper

1 1/2

Tbsp

butter

1

Tbsp

minced garlic

1 1/2

Tbsp

all-purpose flour

1

cup

whole milk

1/4

cup

heavy cream

33% or higher

3/4

cup

grated Parmigiano-Reggiano cheese

1/2

tsp

salt

1/8

tsp

fresh pepper

2

cups

diced cooked turkey

about 10 oz

1

cup

grated mozzarella

2

Tbsp

chopped parsley

for garnish
Instructions
Preheat oven to 400°F. Line a baking sheet with parchment.

Brush the inside of each half of squash with 1/2 tsp of olive oil, and sprinkle evenly with salt and pepper.

Place the squash cut-side down on the prepared baking sheet and bake for 30-40 minutes, or until the inside of the flesh is tender when pierced with a fork. Check the squash after 20 minutes to gauge how fast it's roasting. You don't want to over do it, or else the squash can be mushy.

Set aside to cool until it can be handled.

Reduce oven temperature to 350°F.

Meanwhile, in a medium skillet over medium heat, melt butter and add the minced garlic. Cook for about 1 minute.

Whisk in the flour and cook, whisking constantly, for 1 more minute.

Slowly pour in the milk and cream, whisking constantly. Keep whisking until the cream comes to a gentle simmer and has thickened slightly.

Stir in the Parmigiano-Reggiano cheese and continue to whisk until the cheese has melted and the sauce has thickened further, about 3-5 minutes.

Season with salt and pepper.

Stir in cubed turkey and mix until well coated. Remove from the heat.

By this time, the squash should be cool enough to handle. Using a fork, gently shred the flesh into spaghetti-like strands (be sure to shred widthwise and not lengthwise. This will help keep the squash in long strands. Working lengthwise could break the spaghetti strands apart). Be careful not to pierce through the skin of the squash.

Transfer the shredded squash into the pan with the cream sauce and stir until well combined. If your squash is on the smaller size, reserve some of the cream sauce before adding the squash to ensure you're not over-dressing the squash in sauce. You can always add the reserved sauce if needed.

Transfer the sauce and squash back into the empty shells evenly.

Place the filled squash back on a parchment lined baking sheet (or you can place them in a casserole dish) and top with mozzarella cheese.

Bake for 10-15 minutes, or until the cheese is melty and bubbly. Then broil for about 5 minutes, or until the cheese is brown. Remove from the oven.

Top with parsley and serve immediately.
Nutritional calculation was provided by WP Recipe Maker and is an estimation only. For special diets or medical issues please use your preferred calculator
Notes
*Squash can be hard to cut in half. To make it easier, cut 4-5 small slits (like a dotted line) along where you plan to cut the squash in half. Then, microwave for 5 minutes. Once cool enough to handle, cut in half along those lines. If you microwave the squash, cut the baking time down by 10-15 minutes. You don't want it to over cook, or else it can be mushy.