Making pretzels at home is super easy, especially when you don't fuss with forming them into the classic pretzel shape. Pretzel bites are supremely easier, and just as soft, chewy, and crunchy as their full-sized cousins. Plus, they're better for dipping in a spicy, Korean cheese dip.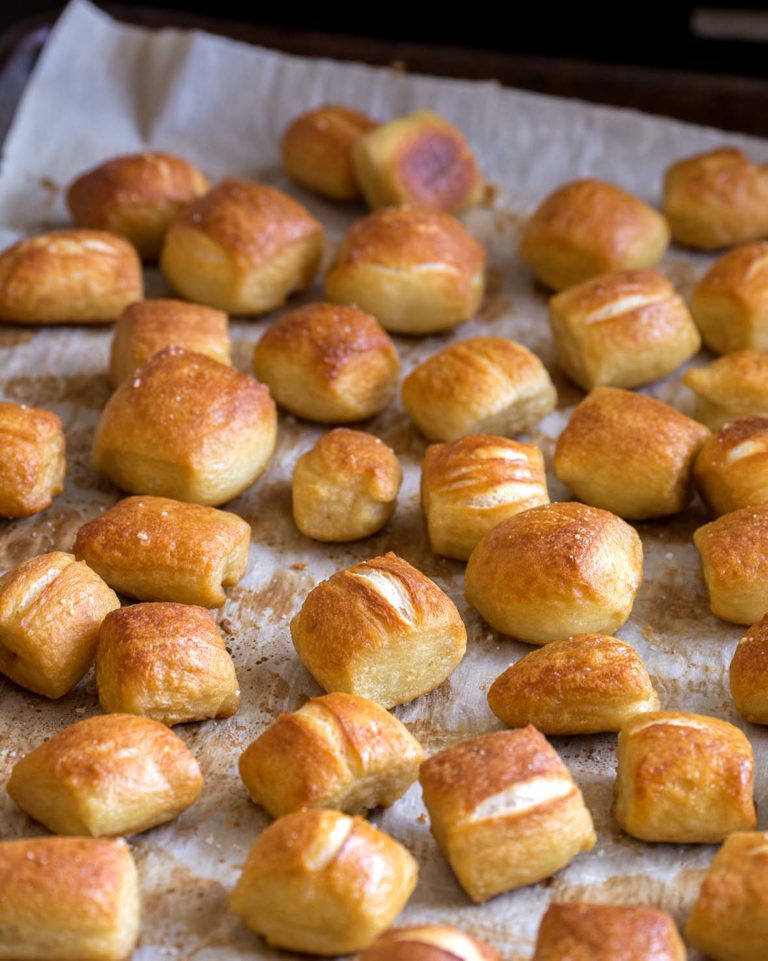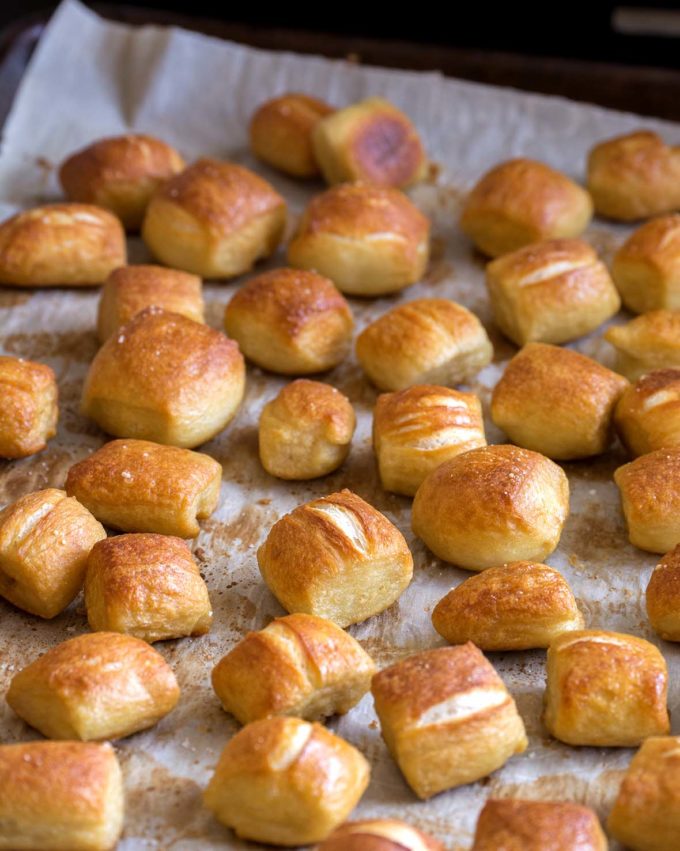 I can never pass up a pretzel, which is why I couldn't let another National Pretzel Day go by without sharing one of my all-time favourite ways to enjoy them – Pretzel Bites.
Does anyone have unusual food memories? I have a weird memory association with pretzels. I always think of shopping at outlet malls in the States. When shopping, or rather, once I'm all shopped-out, I always have to get a giant pretzel from those Aunty Annie type places. It's almost an unspoken tradition, especially if I'm with my mom. So now, if I see pretzels on a menu in a restaurant, I immediately have the urge to go shopping. In Vegas.
Don't judge.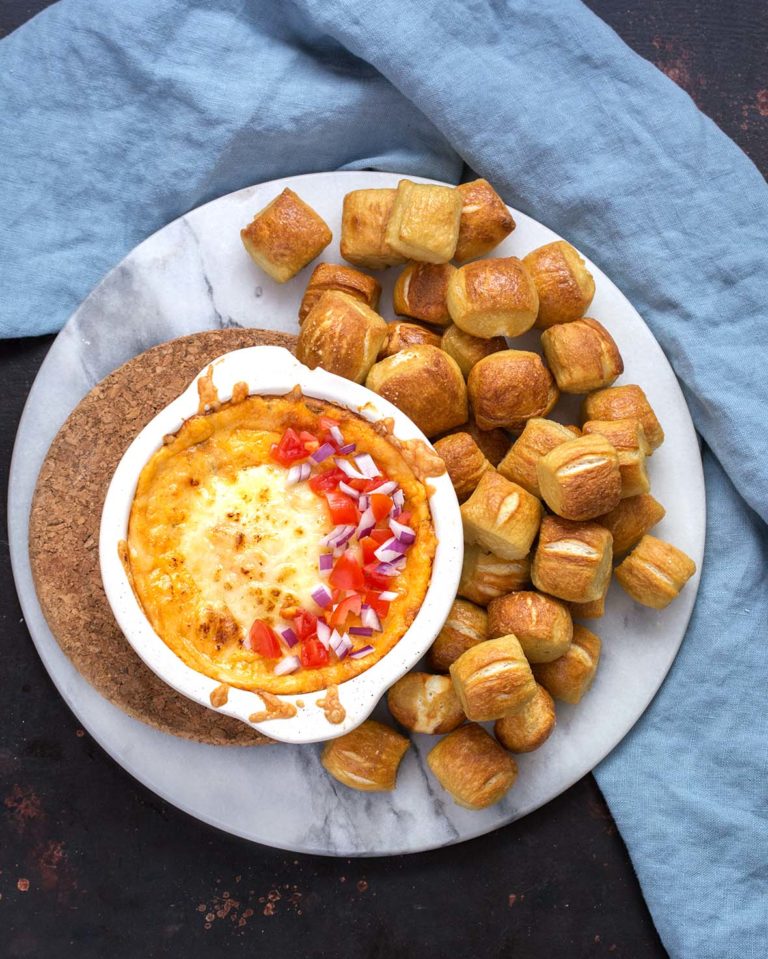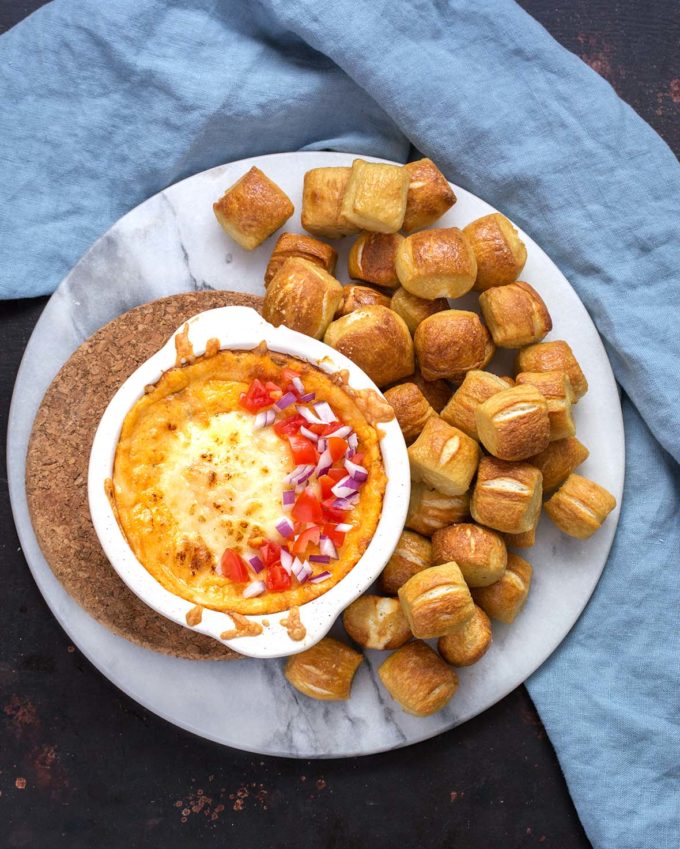 Even more than pretzels, I'm totally addicted to cheese.
I posed a question to Scott about pretzel dip preferences. His instinct was to suggest some sort of mustard dip, but we agreed it was unoriginal. His second idea was buffalo dip, which I just couldn't get behind, partly because I was jonesing for something cheesy, and partly because I don't really enjoy buffalo flavoured things. At all.
So, we compromised. I got cheesy and he still got spicy.
We are a household that loves spicy sauces; we've got about 5 or 6 different kinds in the kitchen at any given moment. Right now, we're crushing hard for gochujang. It's a Korean red chili paste/condiment, that offers up some kick and depth to whatever you're cooking. It goes great in soups, with meat and noodles, and as it turns out, it goes phenomenal with cheese.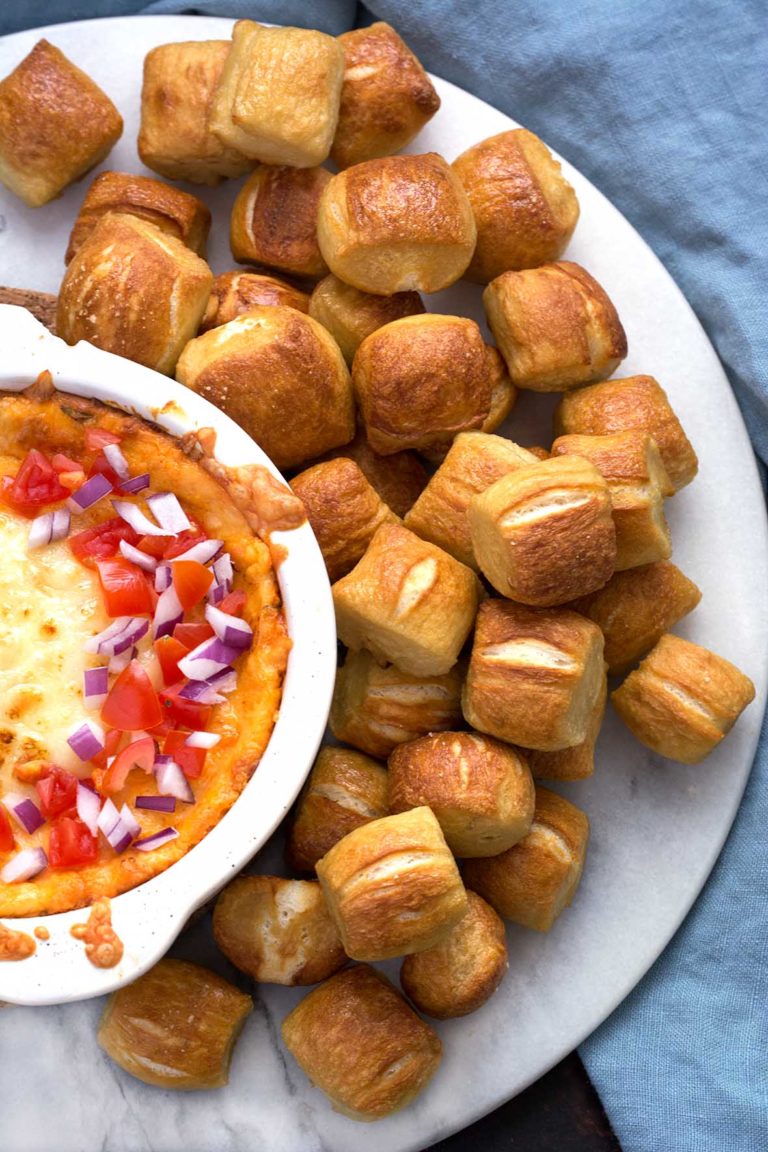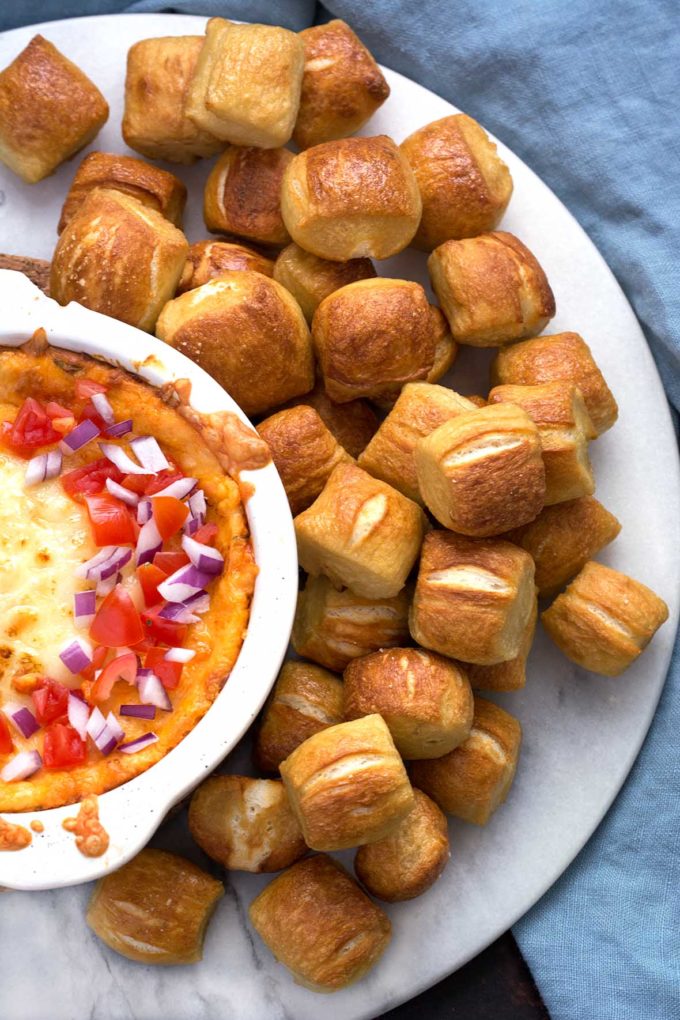 I've made my fair share of pretzels, and while I like them in their traditional form, I'm also super lazy sometimes. So, to solve the problem of, wanting pretzels but not wanting to shape pretzels, I just roll the dough into 1-inch thick logs, and cut them into bites. The pretzels then go for a quick dip in some boiling water with baking soda, which helps the pretzels stay chewy, and also aids in turning them the most perfect, golden brown. Sprinkle a little salt on those little guys, and send 'em for a quick bake, and in no time, you have the ideal dipping vessel for a spicy Korean flavoured cheese dip.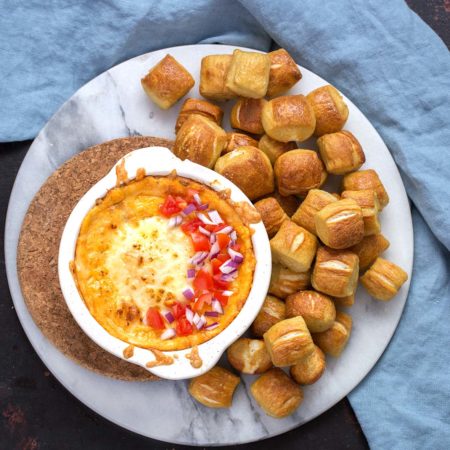 Pretzel Bites with Korean Cheese Dip
Germany meets Korea, when classic pretzels are turned into bites, and dipped in a spicy Gochujang cheese sauce.
Print
Pin
Rate
Servings:
5
dozen pretzel bites, approx
Ingredients
Pretzels
2 1/2

cups

all-purpose flour

1/2

tsp

salt

1

tsp

sugar

2 1/4

tsp

instant yeast*

1

cup

very warm water

coarse salt

optional

1/4

cup

baking soda

4-5

cups

water
Korean Cheese Dip
1-8

oz

package of cream cheese

softened

2

tbsp.

gochujang

1

cup

shredded mozzarella

plus more for sprinkling on top

1

tbsp

minced garlic

3

green onions

finely chopped
Instructions
Pretzels
Whisk together the flour, salt, sugar and yeast in a large bowl.

Add in the warm water and mix with a spoon until a shaggy dough is formed. Then, turn the dough out onto a clean work surface, and knead for about 5 minutes, or until a soft and smooth ball of dough is formed. Transfer to a lightly oiled bowl, and cover with a tea towel or plastic wrap.

Let the dough rise in a warm location until doubled in size, which takes about 1 hr, depending on the temperature of your house.

Once the dough has risen, divide it into 4 or 5 equal pieces, and roll each piece into a long rope, about 1 inch thick. Allow these ropes to sit and rest for 3-4 minutes.

Meanwhile, bring the 4-5 cups of water to a boil in a medium saucepan, and add the baking soda.

Once the ropes have rested, cut them into bite sized chunks, about 1-inch long.

Transfer the cut dough into the boiling water, and allow them to boil for about 30 seconds, then transfer them to a parchment lined baking sheet. Sprinkle lightly with coarse salt, if desired.

Bake the pretzel bites in a 400 degree F oven for 8-10 minutes, or until golden brown.

Once baked, allow them to cool slightly on the baking sheet, and enjoy warm, or cool completely and store in an airtight container for about 3 days.
Dip
Mix together the softened cream cheese and gochujang in a large bowl until smooth and fully combined.

Stir in the shredded mozzarella, minced garlic, and green onions.

Give this mixture a taste, and add more gochujang if you want some extra heat.

Transfer the cheesy dip into a small oven safe baking dish, and generously top with more shredded mozzarella.

Bake the dip for 10-15 minutes in a 350 degree F oven, or until the cheese is brown and the dip is bubbling.

Serve with the pretzel bites.
Nutritional calculation was provided by WP Recipe Maker and is an estimation only. For special diets or medical issues please use your preferred calculator
Notes
*I use instant yeast, which means I can add it right to the flour without having to proof it in warm water with sugar. If you have dry-active yeast, you will need to proof the yeast with the water and sugar until bubbly.