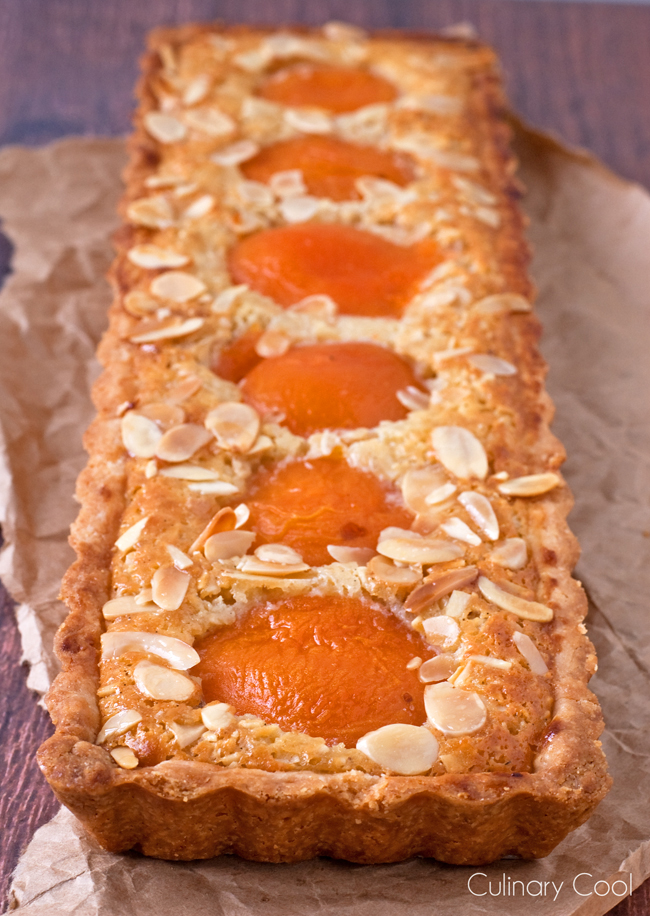 There's a posh little French bakery in town that makes the most wonderful pastries. I used to work right beside their shop and I found myself in there more often than I would like to admit. They have all sorts of tarts, danishes and of course macarons. One morning, I was hoping for a danish or muffin of some sort and all they had left was a petite square pastry sprinkled in almonds with a plump, orange apricot in the middle. It was love at first bite. Now, it goes without saying, that buying these little pasties can be quite pricey, so I decided I needed to make something like it at home. I've had this idea sidelined for awhile, but was instantly reunited with it when I recently bought a cute rectangle tart pan.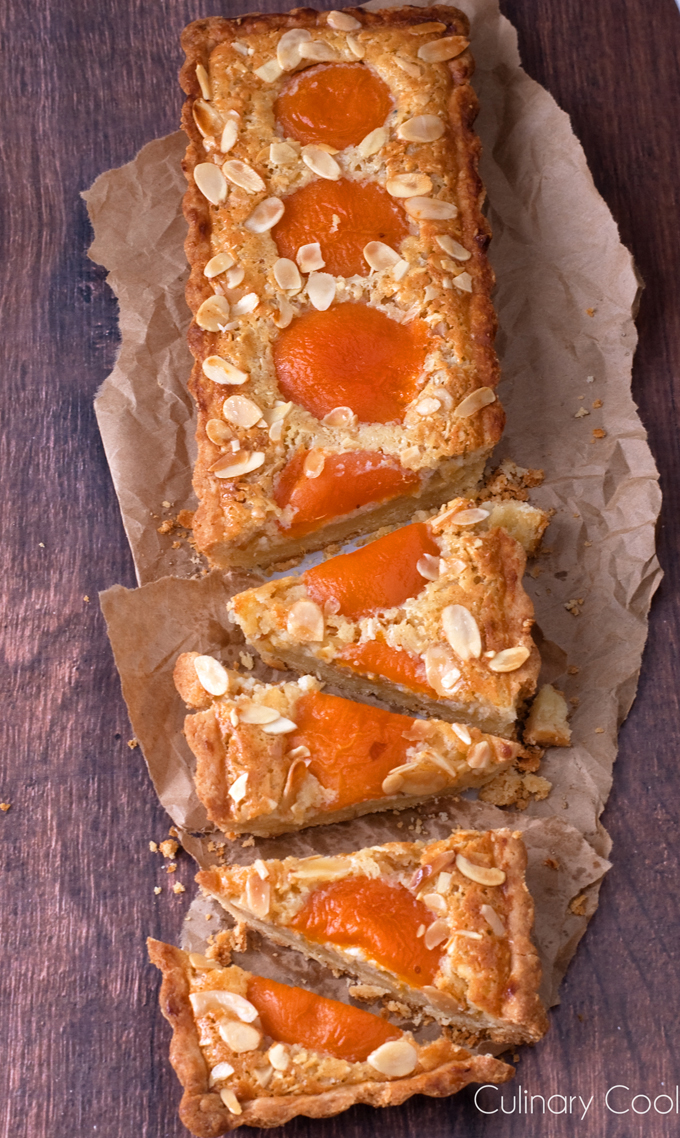 I couldn't think of a better dessert for the inaugural bake than this almond apricot tart. The pastry I used is Pâte Sucrée, which has a cookie-like texture and is sweeter than a standard pie pastry. The recipe for dough provided yields more than what is necessary for this recipe (if using the same pan I used). The dough freezes remarkably well and you can keep it for up to 3 months in the freezer. The filling is known as Frangipane. It's a sweet almond custard mixed with an almond cream composed of almonds, icing sugar, butter and eggs. Finally, to top things off, I placed plump apricot halves down the center of the tart and sprinkled with more almonds.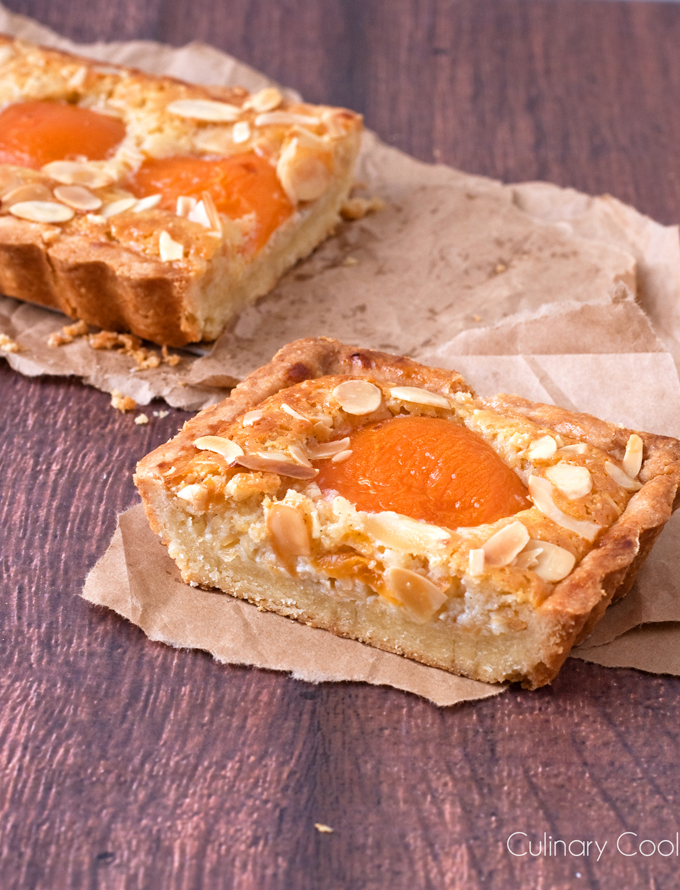 Whether it be breakfast or dessert, this tart is the main attraction. I'm an adult and I make my own rules and I totally ate two slices for supper the other night. Best decision I made all day!
Apricot and Almond Tart
Ingredients
Pastry
2

cups

all-purpose flour

1/3

cup

sugar

1

tsp

kosher salt

1

cup

chilled unsalted butter

cut into cubes

3

large egg yolks

beaten to combine
For the Filling
2/3

cup

whole milk

1/2

of one vanilla bean

1

large egg yolk

3

tbsp

sugar

1

tbsp

cornstarch

1

tsp

almond extract

3/4

cup

slivered almonds

toasted, plus extra for garnish

1/4

cup

icing sugar

1/4

cup

butter

1

egg

1/8

tsp

kosher salt

1-14

oz

can unpeeled apricot halves

honey or agave for brushing the finished tart
Instructions
For the Pastry
Mix flour, sugar, and salt in a large bowl. Add butter; cut butter with the flour using a pastry knife, or by using your fingers, until mixture resembles coarse meal.

Add egg yolks and mix with a fork until dough beings to clump together.

Shape dough into ball; flatten into a disk.

Wrap in plastic wrap and chill for at least 30 minutes. Dough can made up to 2 days in advance. Let soften slightly at room temperature before rolling out

Roll out pastry between two sheets of parchment. Transfer to tart pan with removable bottom.

Press crust into the bottom and up the sides of the pan. Trim dough overhang to 1/2 inch; fold in and press, forming double thick sides.

Freeze crust until firm; about 30 minutes.
For the Filling
Pour milk into small saucepan.

Scrape in the seeds from vanilla bean; add bean.

Bring to a simmer. Remove from heat.

Whisk egg yolks, sugar, cornstarch and almond extract in a bowl to combine.

Gradually whisk milk mixture into yolk mixture. Return saucepan to heat.

Whisk over medium heat until custard thickens and boils, about 2 minutes.

Discard vanilla bean.

Transfer custard to a bowl and place plastic wrap directly onto surface of custard; cover and refrigerate until cold, about 4 hours.

Preheat oven to 350 degrees F.

Combine almond slivers and powdered sugar in a small bowl.

With a fork, blend in the butter, then the whole egg and salt.

Add this mixture to the cooled custard and mix until well combined.

Pour into cooled crust; smooth top.

Arrange apricot halves, round side up, atop the filling.

Sprinkle with slivered almonds.

Bake tart until filling is set and golden, about 45 minutes. Remove from oven.

Brush with honey or agave and return to the oven for 3 minutes.

Cool tart completely in pan. Remove from pan and transfer to a plate.
Notes
The Pastry recipe makes enough for one 11-inch tart crust. It will also make enough for 2-13x4x1 rectangle tart pans such as the one I used for this recipe.
Recipe adapted from Bon Appetit Desserts