Morning Buns are the sophisticated cousin of everyone's favourite, Cinnamon Buns. The dough for Morning Buns is enriched with eggs and butter, slowly risen in the fridge overnight, rolled up with cinnamon, brown sugar and slivered almonds, and baked in a muffin tin for perfectly portioned rolls.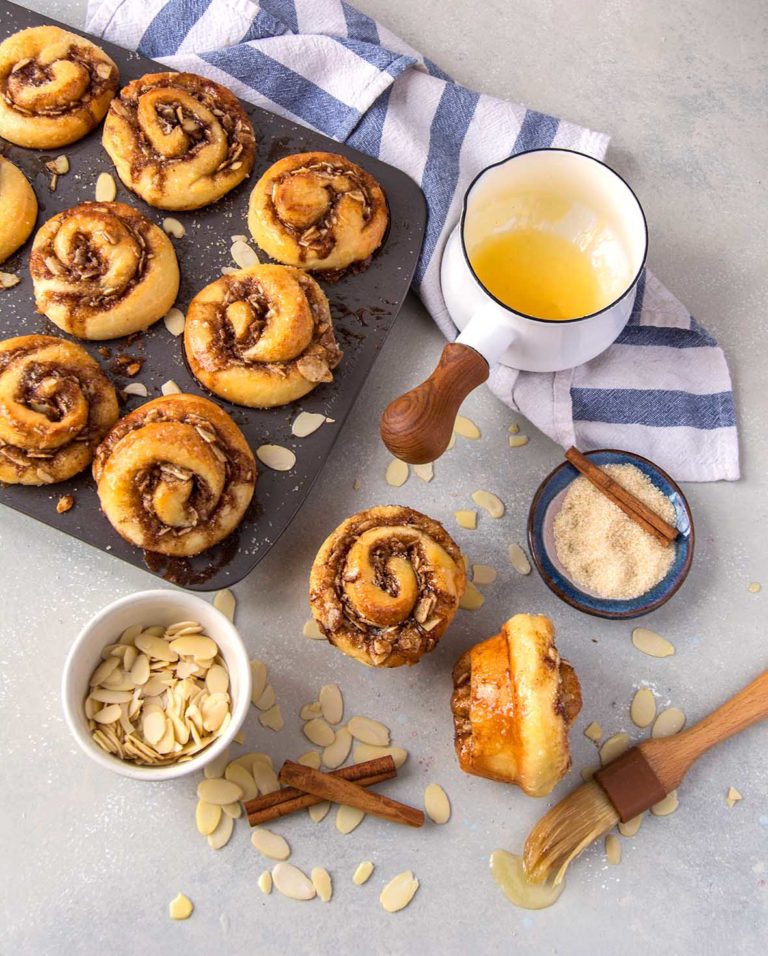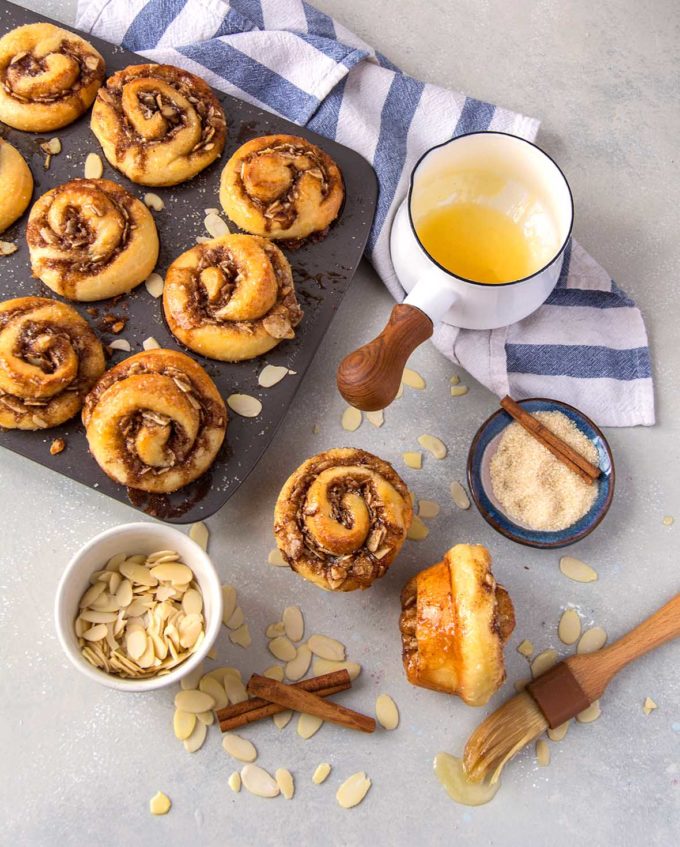 What, you might ask, is a Morning Bun, exactly? They're similar to cinnamon buns, but typically made with a croissant dough. That means, lots of buttah, and lots of waiting while you laminate the dough (folding and rolling to create layers of dough separated by butter). Morning Buns were made famous by Tartine Bakery in San Francisco, but they originated in Wisconsin. I was able to get my hands on one from Tartine and it was buttery, flakey, and slightly citrusy. Purely heaven. Ever since then, I've wanted to make my own at home, but don't always (pretty much never) want to make croissant dough, because it takes so darn long to be ready to use.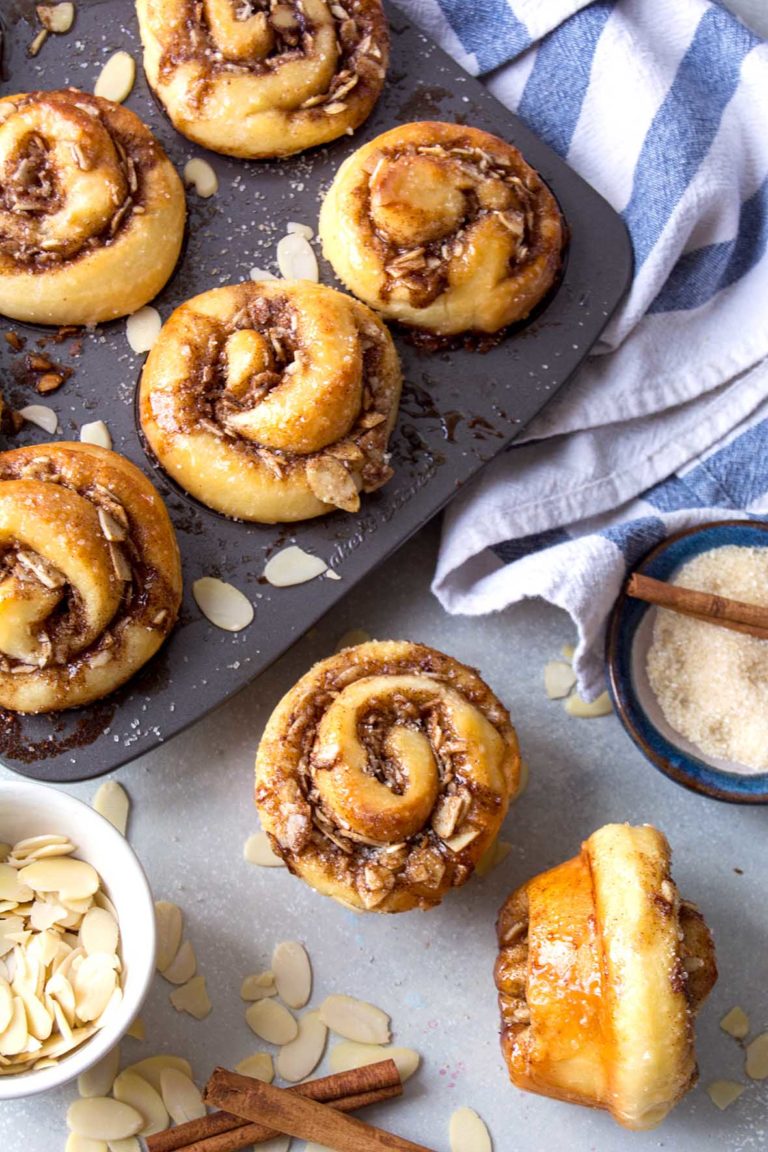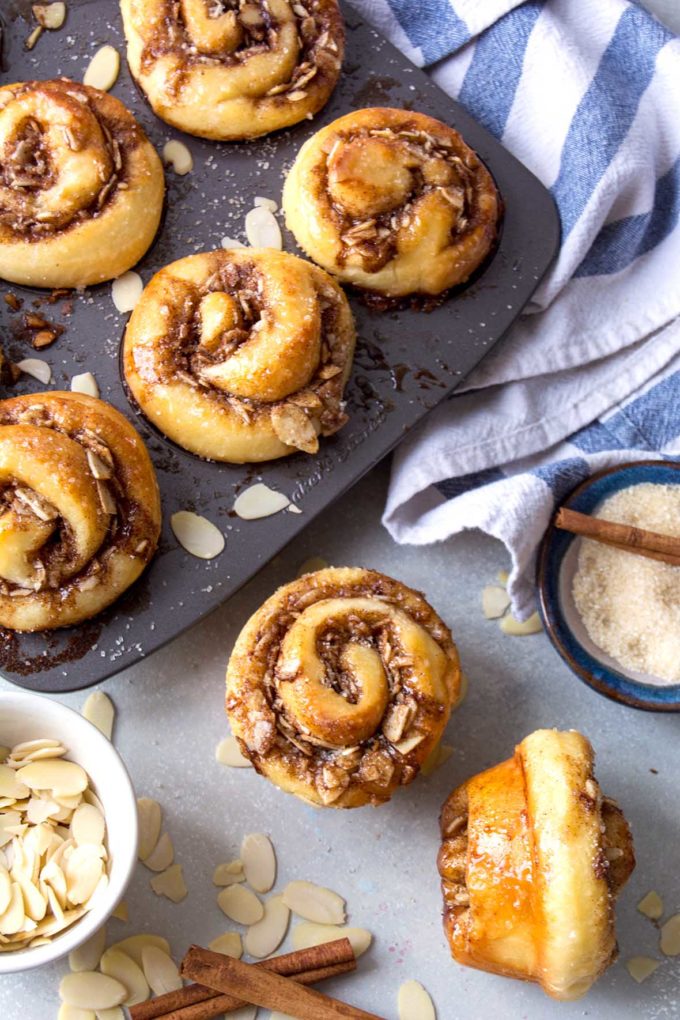 So when a video from Bon Appetit appeared on my Facebook feed with an easier way to make Morning Buns, sans the croissant dough, it instantly grabbed my attention. The first time I made the buns as written by BA, except I used all-purpose flour because that's what I always have on hand. Instead of using a croissant dough, this recipe employs an enriched dough, like Brioche, which means it has a higher fat proportion than a typical yeasted dough. In this recipe, you will use eggs, butter and whole milk, which result in a gloriously rich, buttery (obviously), and very tender dough. A tradition Morning Bun would use a laminated croissant dough, and have flakey layers, but this version has a soft and chewy texture, similar to cinnamon buns – but better!
As for the filling, just cinnamon and sugar wasn't cutting it for me; it reminded me too much of a basic cinnamon bun. After perusing my pantry, I decided to sprinkle on some slivered almonds. The slight crunch they offered paired perfectly with the fluffy buns, so I made one final batch with the almonds on the inside, and the rest is history.
I'm not lying when I say I've been eating Morning Buns every day for the last 3 weeks or so. Sticky, sweet, tender, crunchy; these Morning Buns hit on so many textures, it's no wonder I'm absolutely addicted to them. Step aside cinnamon buns, there's a new morning pastry in town and she goes by the name of Almond Morning Bun. Perfect for brunch during the Holiday's or any day, really.
One thing to keep in mind when making these Almond Morning Buns, is that you should start the dough the evening before you plan to bake them, as the dough is required to rise in the fridge overnight. The morning of baking, you will need to roll out the dough, prepare the filling and chill the dough again before the buns can be cut and placed in the muffin tin. Once in the tin, they need to sit and rise at room temp. I've been joking around that these should actually be called "Afternoon Buns" because I've never actually eaten a batch fresh in the morning. This is attributed to me sleeping in instead of getting up early to bake off the buns. Regardless of the time of day, these buns hit the spot!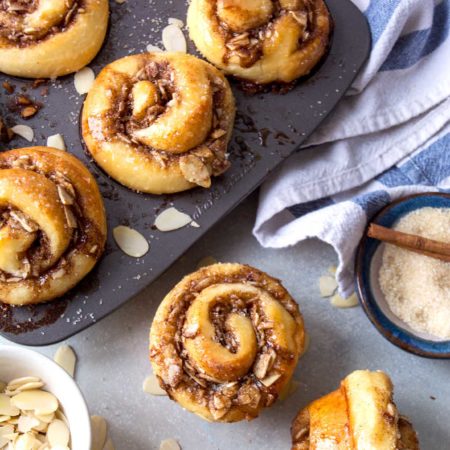 Almond Morning Buns
I highly advise that you read through this recipe IN FULL before you start baking. This recipe requires a rest in the fridge overnight, then some chilling time again in the morning once the dough has been rolled up.
Print
Pin
Rate
Ingredients
Dough
1 1/4

tsp

instant yeast*

1/2

cup

warm milk + 2 tbsp chilled

2

tbsp

honey

2

eggs

separated

2 1/4

cup

flour

divided

1

tsp

vanila

1/2

tsp

salt

1/2

cup

butter

at room temperature, cut into chunks
Almond Filling
1

cups

slivered almonds

1/2

cup

white sugar

1/2

brown sugar

3/4

cup

butter

2

tsp

cinnamon

1/8

tsp

salt
Glaze
2

tbsp

butter

2

tbsp

honey

coarse sugar for sprinkling
Instructions
Dough
In the bowl of a stand mixer fitted with the paddle attachment, add the yeast*, 1/2 cup warm milk, honey, egg whites and 1 1/4 cups of the flour. Reserve the additional 1 cup for later. Beat on medium-high for about 3 minutes, or until the mixture is smooth and light, but thick.

Remove the paddle, and scrape down the sides of the bowl. Sprinkle the remaining 1 cup of flour on top of the mixture, but DO NOT STIR. Cover with a tea towel and place the bowl in a warm location and let it sit for about 30-40 minutes, or until the yeasted mixture has started to bubble through the flour that was sprinkled on top.

Return the bowl to the stand mixer, and attach the dough hook. Add the egg yolks, vanilla, salt and remaining 2 tbsp of milk and mix on low until a shaggy dough forms. Increase the speed to medium and beat for 8-10 minutes, or until the dough is soft and smooth. It should clear the sides of the bowl, but stick slightly to the bottom.

Reduce mixer speed to medium-low, and add one piece of butter at a time, letting the dough and butter fully combine before adding more. This process can take some time, so be patient. The dough should be very smooth and slightly tacky once all the butter has been incorporated.

Cover and chill in the fridge for at least 8 hours, or up to 16 hours.
Almond Butter Filling
Melt the butter, and stir in all remaining ingredients. Mix well and set aside to cool.
Assembly
Punch the dough down and turn it out a lightly floured work surface. Roll the dough out into a rectangle about 16x12 inches.

Spread the filling mixture over the dough, making sure the longest side of the dough is closest to you, then roll the dough up like you would with a regular cinnamon roll. Place the roll seam-side down on a cutting board, or other transportable flat surface, cover with plastic wrap, and place in the fridge to chill for at least 20 minutes.

Preheat the oven to 350 degrees F. Grease a 12-cup muffin tin and set aside.

Once chilled, remove the dough from the fridge, and trim about 1/2 inch from each side. Cut the log into 12 equal pieces. Place each piece, cut side up, into the prepared muffin tin. Cover loosely with plastic and allow to rise for another 15 minutes, or until the dough has puffed up to the edges.

Bake the buns for 20-25 minutes, or until golden brown all over.

Meanwhile, heat 2 tbsp of butter and 2 tbsp of honey in a small saucepan over low heat. Set aside.

Remove the buns from the oven, and brush the tops with the butter and honey mixture. Sprinkle with coarse sugar and transfer to a cooling rack immediately. Best if eaten warm. Buns keep in an airtight container for up to 5 days.
Nutritional calculation was provided by WP Recipe Maker and is an estimation only. For special diets or medical issues please use your preferred calculator
Notes
*I use instant yeast so that I don't have to wait for the yeast to proof in warm milk with honey - I can just add it right to the flour and start working it. If you are using dry-active, you will need to proof the yeast for about 5 mins in the warm milk and honey before adding the flour.
Dough recipe adapted from Bon Appetit