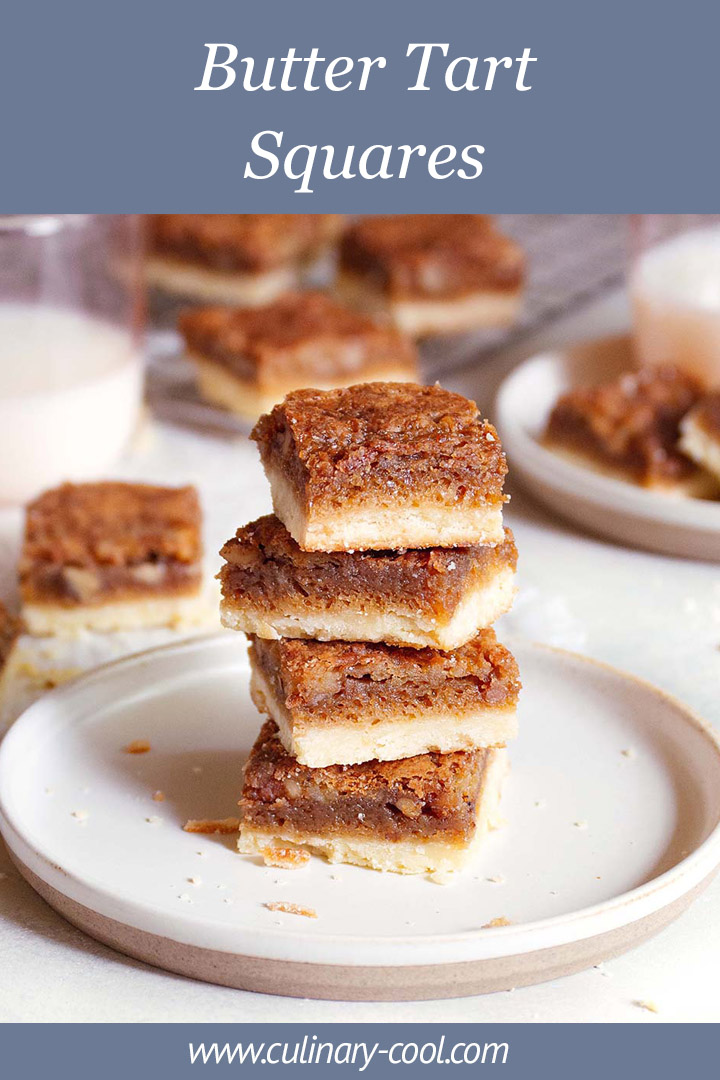 A classic Canadian dessert, revisited to make it quicker and easier than ever!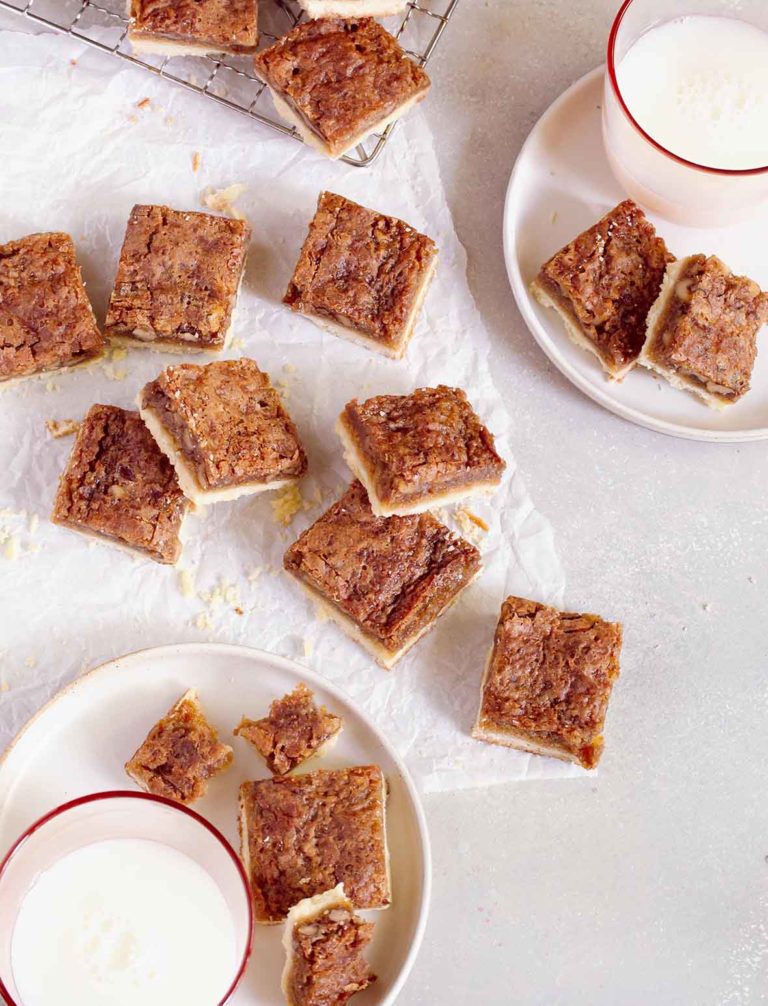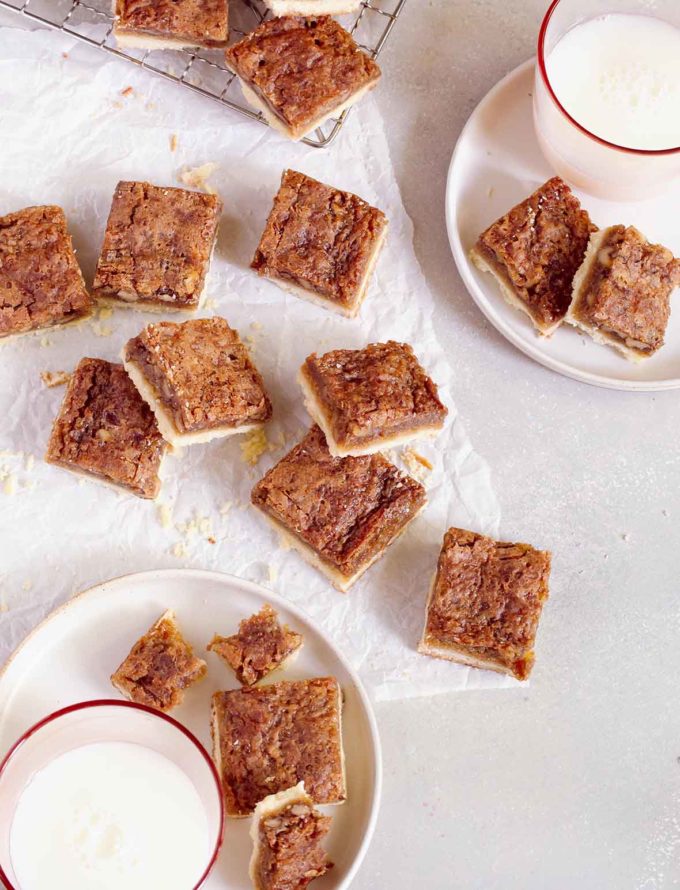 With a 3-month old baby, I'm still finding it hard to get a lot of things done – especially cooking big meals and baking. And I love baking, so it's killing me a little that I can't do it as often. But Isla's at the point now where she can sit up with some assistance, so earlier this week, I stuck her in the Bumbo, put her on the counter next to me, and I made Butter Tart Squares.
To Raisin or not to Raisin?
Butter Tarts are the epitome of classic Canadian desserts. There's great debate over these little tarts, too – raisin, no raisins, nuts, nothing at all. It's a very heated argument that divides families and I do dare say, the country. I'm whole-heartedly against raisins or currants in my tarts. They just don't belong. That being said, I will still begrudgingly eat one (or two or three) with raisins if it's the only option. I'll probably make a remark about them (ewww raisins!), but still pop them back like they're going out of style. My mother-in-law loads her with currants, which I find absolutely vile. There's hardly any good, gooey filling – it's all just currant. I usually pass on these ones. No thank you! In recent years, we've convinced her to make us some with pecans instead, which pleases both myself and my hubby, cause he hates that damn dried fruit, too.
Now, I don't have anything against raisins in general. In fact, I quite enjoy them. But in butter tarts? Jog on, friend!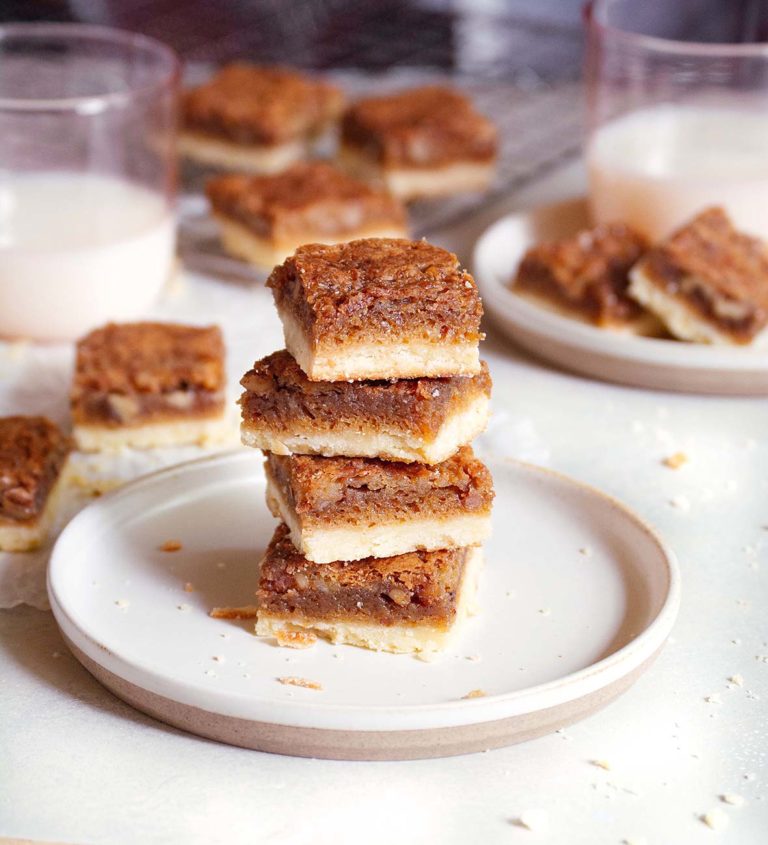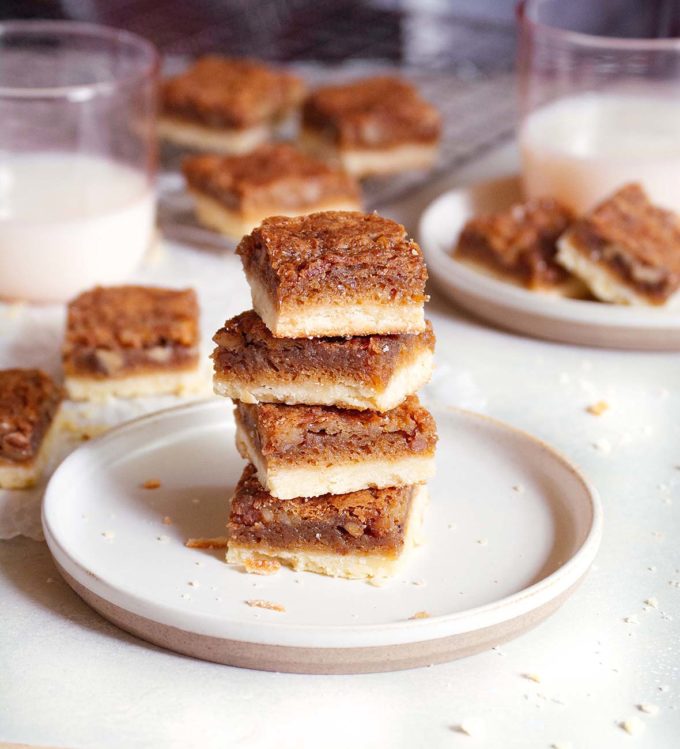 Butter Tart meets Shortbread
So, with little time on my hands, I find it easier to just make butter tarts into squares than to actually take the time to fill a million little tart shells (store-bought, naturally, cause this girl ain't got the time for homemade). It all starts with a shortbread crust, and the gooey filling is poured on top. I like to add some pecans to my butter tarts instead of raisins. I like the flavour and the texture a lot better. The addition of either is completely optional – these tarts are still insanely good without them. Regardless of your stance on filling ingredients, this recipe is still super quick and easy, and just as satisfying as the tart version.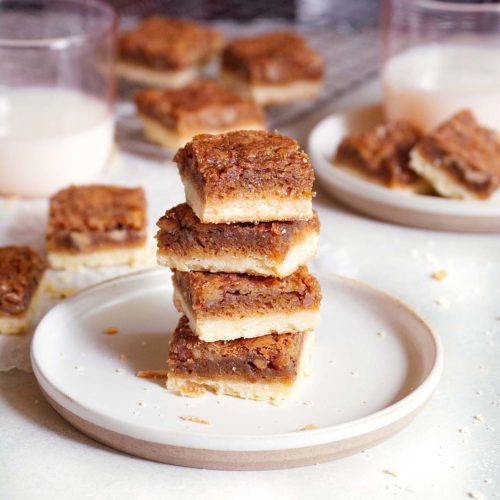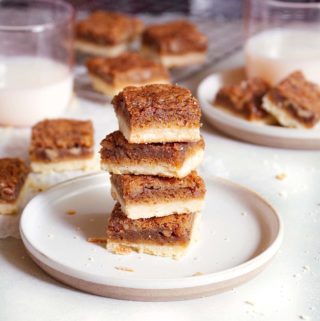 Butter Tart Squares
A quick and easy twist on a Canadian classic
Print
Pin
Rate
Ingredients
Crust
1

cup

flour

1/2

cup

butter

2

tbsp

powdered sugar
Filling
2

eggs

1

cup

brown sugar

1/4

cup

butter

melted

1/2

tsp

baking powder

1/4

tsp

salt

1

tsp

vanilla

1/2

cup

chopped pecans, or raisins

optional
Instructions
Preheat oven to 350 degrees F

Line an 8x8 inch baking pan with parchment. Set aside
Crust
In a large bowl, combine flour, butter and powdered sugar until crumbly. When squeezed in your hands, the dough should hold together. Transfer to the lined baking pan, and press the dough into the pan evenly.

Bake for 15 minutes. Remove from oven and set aside.
Filling:
Combine eggs, brown sugar, melted butter, baking powder, salt and vanilla in a large bowl (use the same bowl as the crust - it saves dishes!). Whisk until combined.

Pour over crust, and sprinkle with pecans or raisins, if using, and bake for another 20-25 minutes, or until the filling has set and the top has browned.

Allow to cool completely in the pan before removing, and cutting into bars or squares. If you pop them into the fridge, they're easier to cut.
Nutritional calculation was provided by WP Recipe Maker and is an estimation only. For special diets or medical issues please use your preferred calculator