Last weekend, we hosted a Turducken Festivus and invited our nearest and dearest friends. Festivus for us is all about having a celebration with friends and family. If any of you are Seinfeld fans, you'll know all about it. While there were no Airing of Grievances, Feats of Strength, or an aluminum pole, we had good company, great food, and lots of liquor. Donny even passed out on our couch.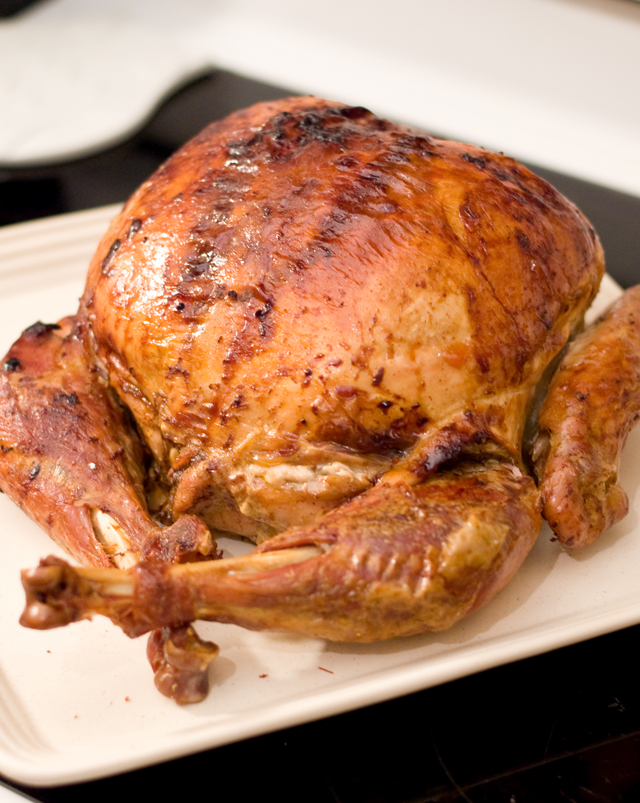 Echelon Foods offered to send me one of their Turduckens to try and I jumped at the chance. For those of you living under a rock, a Turducken is duck and chicken breasts, stuffed inside a de-boned turkey. All the birds are de-boned except for the wings and drumsticks. Don't forget the stuffing, it's got that too. I chose the Italian sausage stuffing and it was phenomenal. I find that normally stuffing doesn't add to the flavor of the bird, but the spices in the Italian Sausage stuffing really contributed a lot the overall flavor. We were actually a little surprised by how much flavor it added and we loved it!
I thawed the turkey for 2 days; overnight in the sink with some cold water, then the rest of the time in the fridge. I roasted it at 350 degrees for about 4 hours, until the internal temperature reached 165 degrees. Let me tell you, as it cooks, the Turducken smells way better than just a turkey! Way, way, better! I added some white wine, coarsely chopped carrots and onions to the roasting pan, and basted every 30 minutes or so. Man, the skin came out crispy and incredibly flavorful. The skin was so fantastic, that my friends were ready to fight each other to get it!
Carving the Turducken was a breaze! I just cut it right down the middle to divide it in half, then cut it crosswise so that each slice had a little bit of everything in it.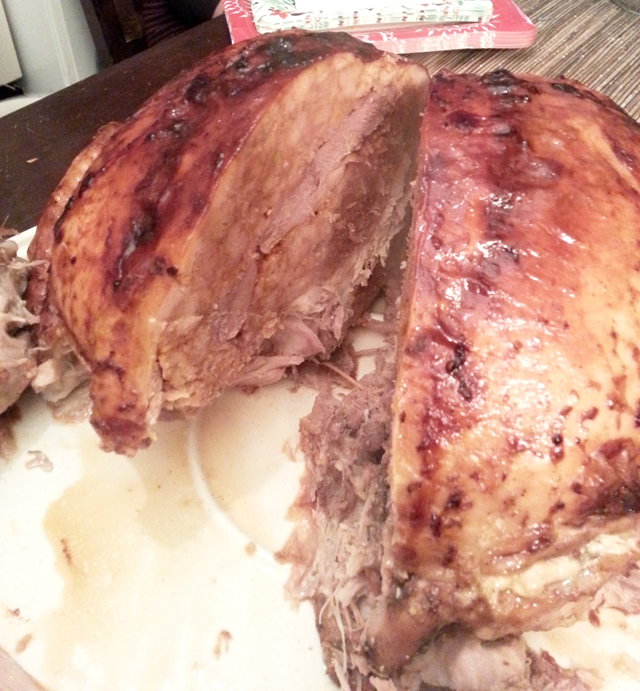 Overall, we loved the Turducken and would recommend it to anyone who's looking to change up their holiday feast. It was so easy to prepare and the flavors were impeccable. There's no need to wash, brine or make stuffing. The turkey, chicken, and duck are all de-boned except for the wings and thighs, it comes pre-stuffed, and all you need to do is thaw and roast it. The simplicity of it all is perfect for hectic days, especially around the holidays. I will say, I wish there was a little less stuffing, and more duck, cause I really like duck.
In addition to Turducken, we had lots of little appys such as wonton wrappers, avocado salsa, bacon wrapped smokies, Phyllo cups with baked brie, spinach salad, hot crab dip, apple tarts, and pomegrante sangria. We enjoyed visiting with our friends all night, eating great food, and you better believe we'll be doing it again next year!