Sometimes I feel like white chocolate gets overlooked, don't you think? This holiday season, white chocolate totally redeems itself in these fudgy Chestnut Praline White Chocolate Brownies.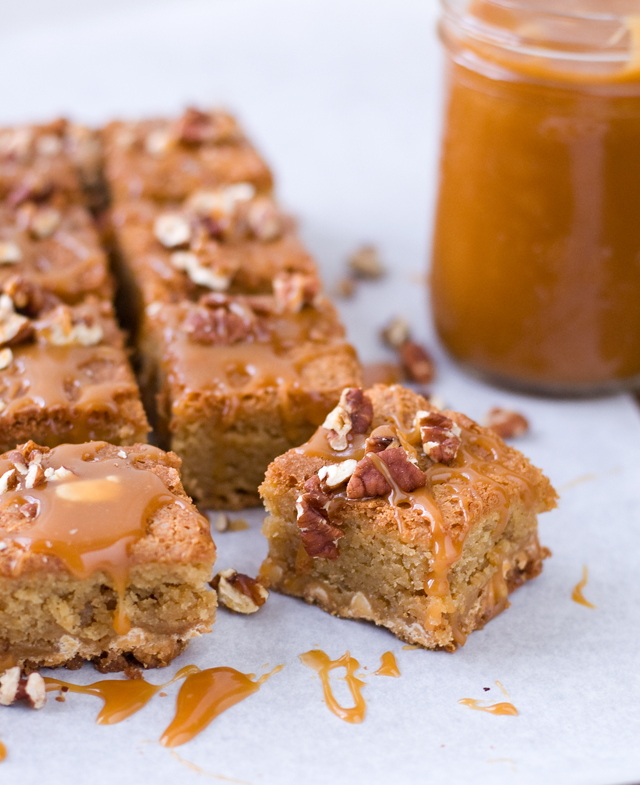 Now that December is in full swing, I've found it totally acceptable to buy 5 lbs of butter at one time and just bake all weekend. No one gives me weird looks at the grocery store, and when I tell friends I've just spent 12 hours in the kitchen, no one judges. They just want samples. I happily oblige. Except with these Chestnut Praline White Chocolate Brownies. I ate the first batch all by myself, and then proceeded to make a second batch to "share". 'Tis the season, right?
Recently, a giant box of Hershey's Chipits made it's way to my doorstep and I've been planing festive holiday recipes using Chipits! There are infinite ways to use Chipits in baking, and sometimes it just feels right to eat a handful to curb that chocolate craving. But I wanted to create something mind blowing and totally festive. Anyone else obsessed with those Chestnut Praline Latte's that are uber popular right now? Yeah me too, and that's were the inspiration for these festive brownies came from.
Everyone loves a good fudgy brownie, but have you ever had a white chocolate brownie? Gah! Life changing! I like my brownies to be on the fudgy side, opposed to cakey. To get that super fudgy center, I use melted white chocolate, such as Hershey's White Chocolate Chipits, and as little flour as possible. The resulting brownie is buttery, dense, fudgy, full of white chocolate flavor, reminiscent of a butter tart with a crispy top and sweet, caramel filling, and just as irresistible as a regular chocolate brownie – but more festive!
You don't get a more classic holiday flavor than Chestnuts. I roasted up some fresh chestnuts using this method. Have you ever roasted chestnuts? They're actually pretty easy, but I found shelling them to be a bit time consuming. I've been told you can find roasted chestnuts pre-shelled at Italian or Asian grocers, which might be a bit easier, but less nostalgic.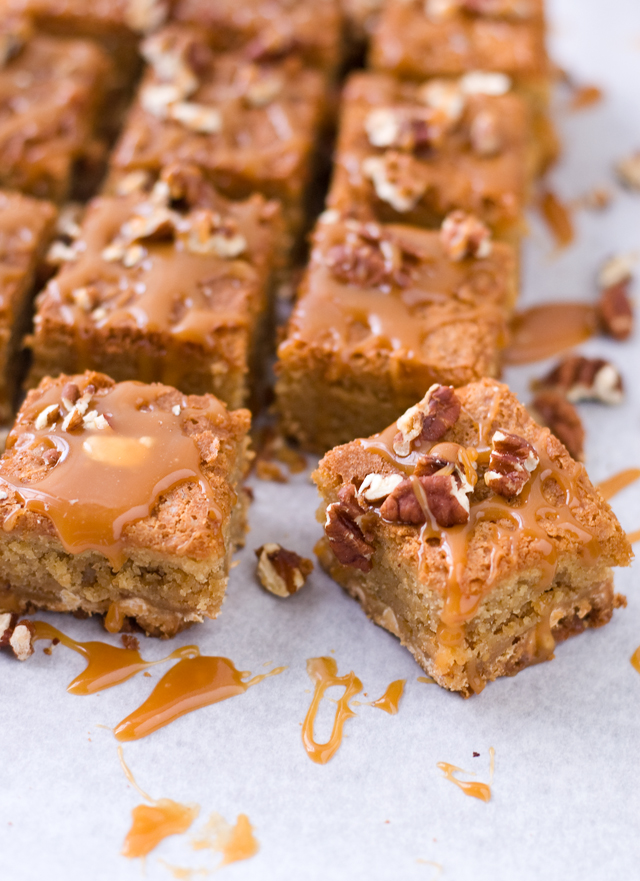 White chocolate fans rejoice, for I give you your new favorite brownie recipe! These Chestnut Praline White Chocolate Brownies are for anyone who has a major sweet tooth or white chocolate addiction. They are topped with caramel sauce and pecans and I just….can't…..stop….eating… Instead of shoveling snow, I'm shoveling brownies into my mouth. Someone help me!
Thanks to Hershey's, it's been a Chipits Holiday for me this season. I've been baking up a storm using a variety of Chipits flavors and we're spreading the love by giving away 20 bags of assorted Chipits to one of my lucky readers! Enter for your chance to win 20 bags of Chipits to finish up your holiday baking! Must be a Canadian resident to enter.
*Giveaway is now closed*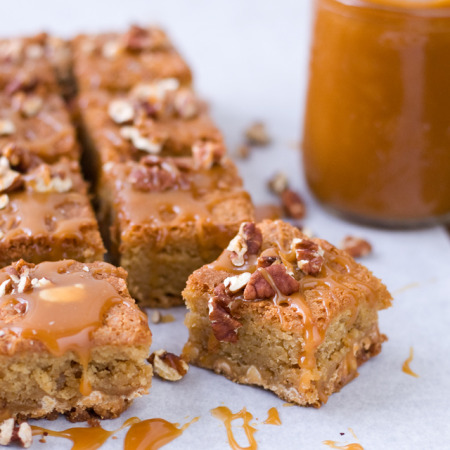 Ingredients
8

oz

white chocolate such as Hershey's Chipits

1/2

cup

butter

3/4

cup

brown sugar

1/4

cup

granulated sugar

3

eggs

1

tsp

vanilla

1/2

tsp

salt

1/2

cup

ground

roasted chestnuts

3/4

cup

all-purpose flour

1

cup

white chocolate chips such as Hershey's Chipits

Caramel sauce

toasted pecans
Instructions
Preheat oven to 350 degrees F. Spray the sides and bottom of an 8x8 inch baking pan with cooking spray, and line with parchment paper.

In a microwave safe bowl, melt the 8 oz white chocolate and butter, in 20 second increments, stirring after each 20 seconds, up to 60 seconds total. The residual heat should melt the chocolate while you are stirring. Allow the chocolate and butter to cool slightly.

Add the brown and granulated sugar to the melted chocolate and butter and mix until well combined.

Add one egg at at time, whisking until each is fully incorporated.

Whisk in vanilla and salt.

Fold in the chestnuts and flour. Add the white chocolate chips.

Pour the brownie batter into the prepared baking pan. Bake for 35-40 minutes or until a tooth pick inserted in the middle comes out clean.

Allow the brownies to cool completely in the pan.

Top with caramel sauce, toasted pecans. and white chocolate drizzle. Vanilla ice cream goes great with them too!
Nutritional calculation was provided by WP Recipe Maker and is an estimation only. For special diets or medical issues please use your preferred calculator
Notes
Culinary Cool Original Recipe
If your feeling wild, feel free to add in up to 1 cup of chopped pecans to the batter.
This post has been sponsored by Hershey's Canada.