Breakfast for dinner is arguably the best meal concept of all-time. Skip the pancakes and french toast, and do yourself a favour, and make Mini Shakshouka Galettes.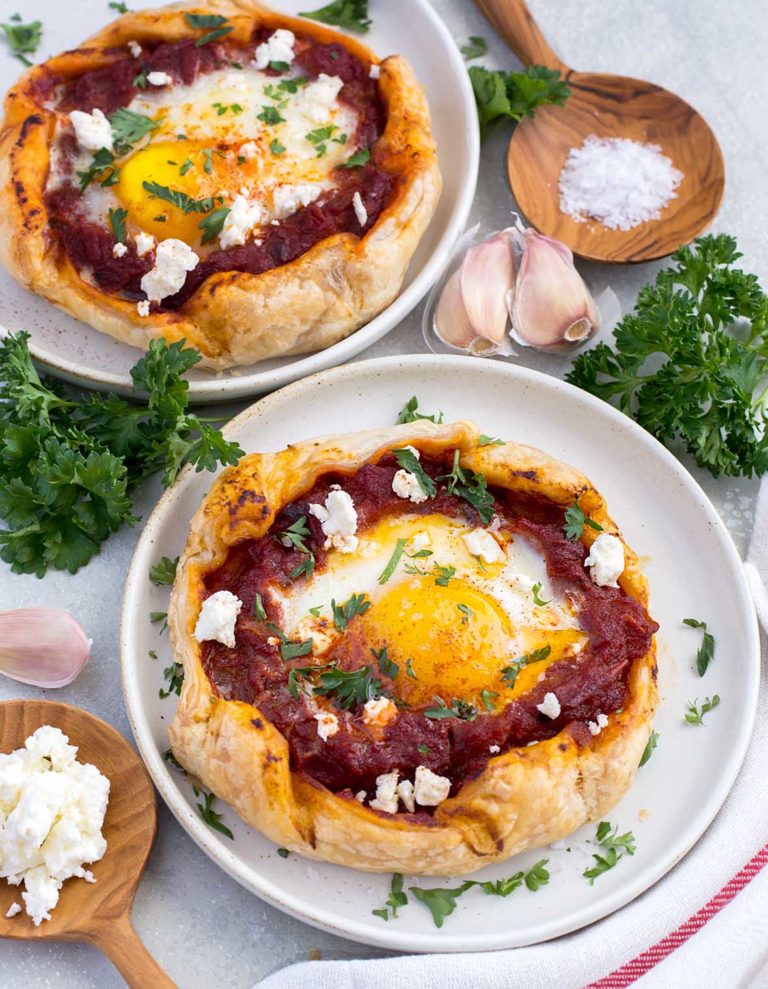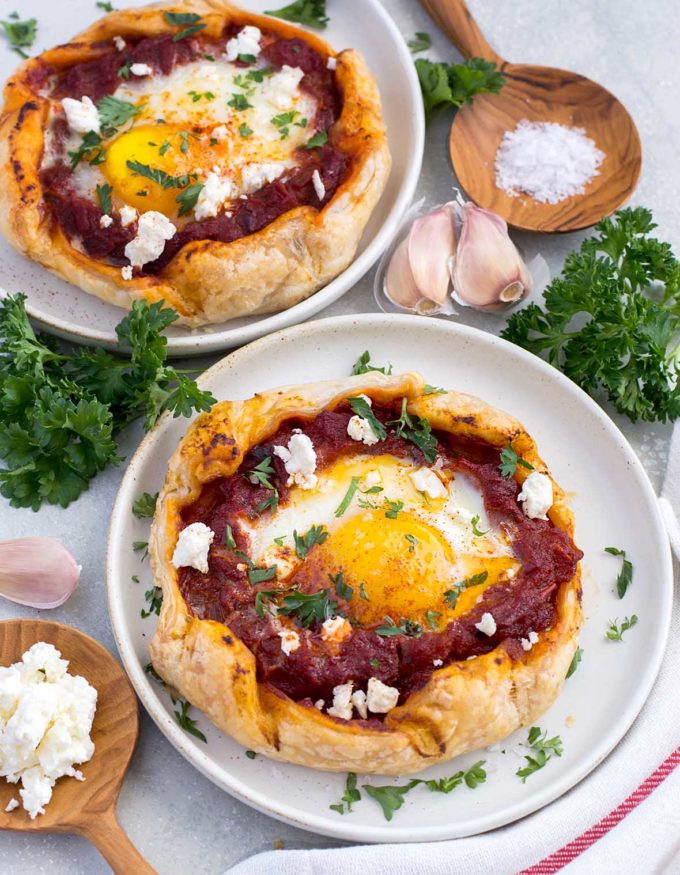 If there's a dish that deserves to be the champion of "Breakfast for Dinner", it would have to be Shakshouka. Eggs poached in a smoky tomato sauce hits the spot every! single! time! The salty feta is certainly a bonus. And crusty bread is the perfect vessel for dipping into, and scooping up, all those lovely eggs. Quite frankly, it's the perfect meal to have in the morning, or in the evening, and I find myself making it a few times a month. It's easy, healthy and incredibly filling. What more could you ask for?
Recently, I was faced with a brunch conundrum – do I make Shakshouka or not? And the answer to this question is always a resounding yes, however, I had just realized I had no bread in the house. The grocery store is a few short blocks away, so popping over there was an option, but I had zero interest in getting dressed and going out. You see, this winter has been particular bone chilling, so I opted not to venture out for some.
So, what does a girl do when she needs a carby accompaniment to her shakshouka? Well, she uses puff pastry instead, obviously. Because in her world, she seems to have more puff pastry rations than bread (and she always has butter in the freezer, except for that one time).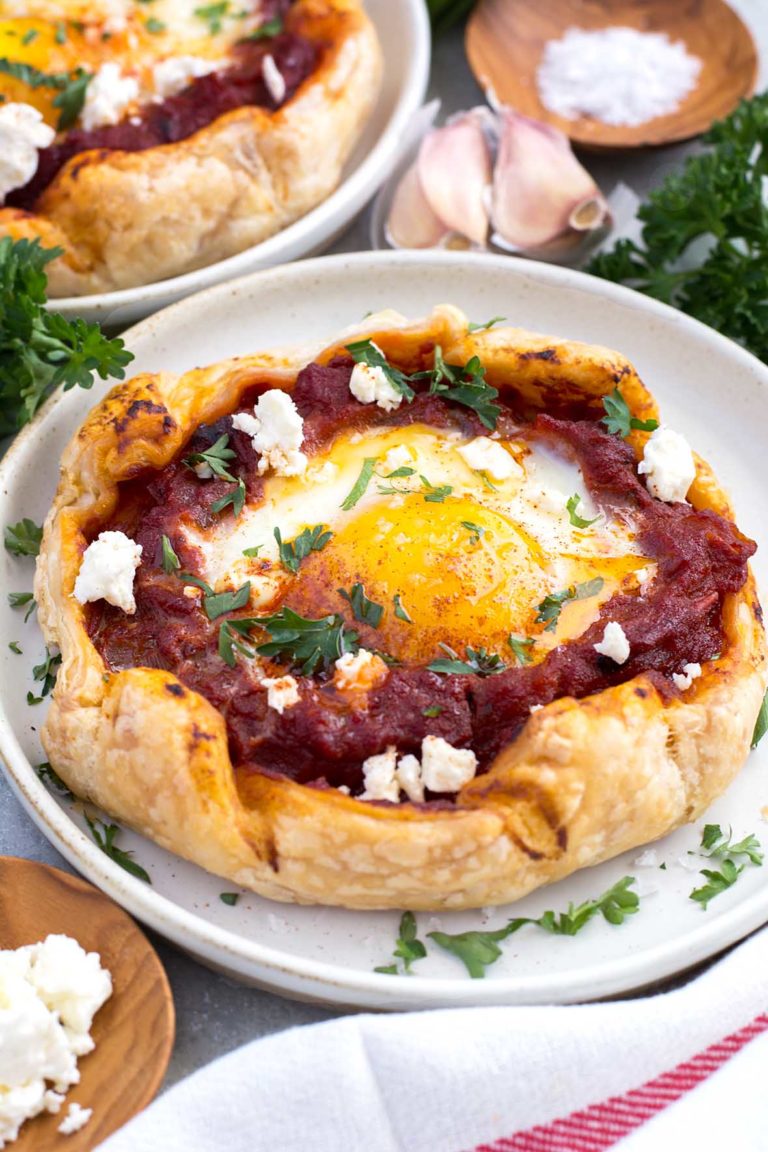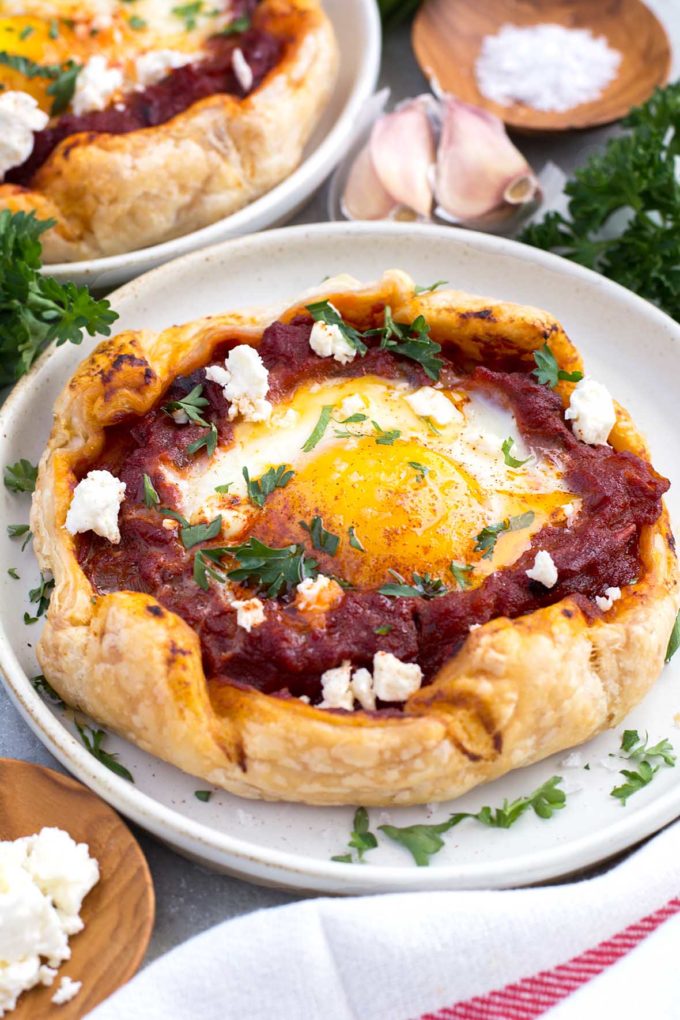 Mini Shakshouka Galettes are the result of a bread-less house and an insatiable craving for eggs poached in tomato sauce. The first few were a little messy (and a little ugly), but delicious nonetheless. After some trial and error, I found that removing some of the egg white before putting the egg into the galette was the way to go. I prefer a runny-yolk over egg whites any day! The puff pastry is perfectly fluffy and crispy and makes for an incredible meal, due to the delicious, buttery carbs you get in every bite.
Shakshouka isn't new to the blog, however my eating habits have changed since I first posted the recipe. My original Skakshouka recipe boasts chorizo, but I often omit it now, and lean towards green lentils and other veggies in lieu of the sausage. I've been known to use potatoes, red peppers, chickpeas and cauliflower in the mix when I need to get them used up. Cooked green lentils, however, make their way into my Shakshouka more often than not. I cook 1/2 cup green lentils until tender (8-10 minutes), and then add them to my Shakshouka towards the end. Any veggies I use go in once the onions have softened.
Do yourself a favour, and make some Mini Shakshouka Galettes the next chance you get. Individually portioned, easy to make and hella delicious – you will not be disappointed.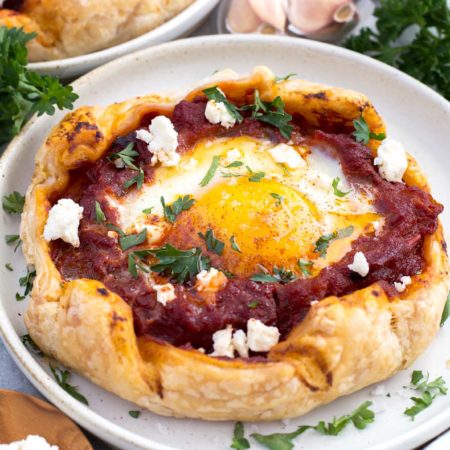 Shakshouka Galette
A fun, individually portioned version of eggs poached in a fiery tomato sauce.
Print
Pin
Rate
Ingredients
canola oil

one small onion

finely diced

2

cloves

garlic

minced

1

tsp

cumin

1

tbsp

smoked paprika

1/2

tsp

salt

1-28

oz

can diced tomatoes

2

tsp

sugar

1

pkg of puff pastry sheets

mine contain two rolls of pastry, 10x10inches each, thawed

1

egg

beaten with 1 tsp water (for egg wash)

4-6

eggs

parsley

feta

crumbled

pepper to taste
Instructions
In a large skillet over medium heat, add oil and saute the onions until soft and translucent. Add in the garlic, and saute until fragrant, about 1 minute.

Stir in the cumin, paprika, and salt and cook for another minute.

Pour the can of tomatoes (including juice) and sugar into the pan. Bring to a simmer over medium heat. Reduce to medium low, and simmer until thickened, about 15 minutes. Remove from heat and cool slightly.

Preheat oven to 400 degrees F.

Line a baking sheet with parchment

Unroll the puff pastry sheets and cut into 4 equal squares. Transfer to the parchment lined baking sheet.

Fill each pastry square with a few generous spoonfuls of tomato filling, leaving about a 1- inch border on all sides. I liked to make the filing a bit higher in the middle.

Once filled, gently fold the edges onto the filling, overlapping slightly. Brush the puff pastry with the egg wash.

Bake for 15-20 minutes, until the pastry has puffed up and golden.. Remove from the oven, and using the back of a spoon, make a large well in the center of the filling.

Crack an egg into each well. I found that some of my eggs were too large, so I tried not to use all the egg white. I achieved this by cracking each egg, individually, into a bowl, then pouring some of the egg white out before transferring to the galette.

Bake for 8-10 minutes and remove from the oven. The eggs might not look done, but once you take them out, they firm up. If you leave them in too long, the yolks are solid.

Top each galette with feta and parsley, and a sprinkle of smoked paprika.
Nutritional calculation was provided by WP Recipe Maker and is an estimation only. For special diets or medical issues please use your preferred calculator