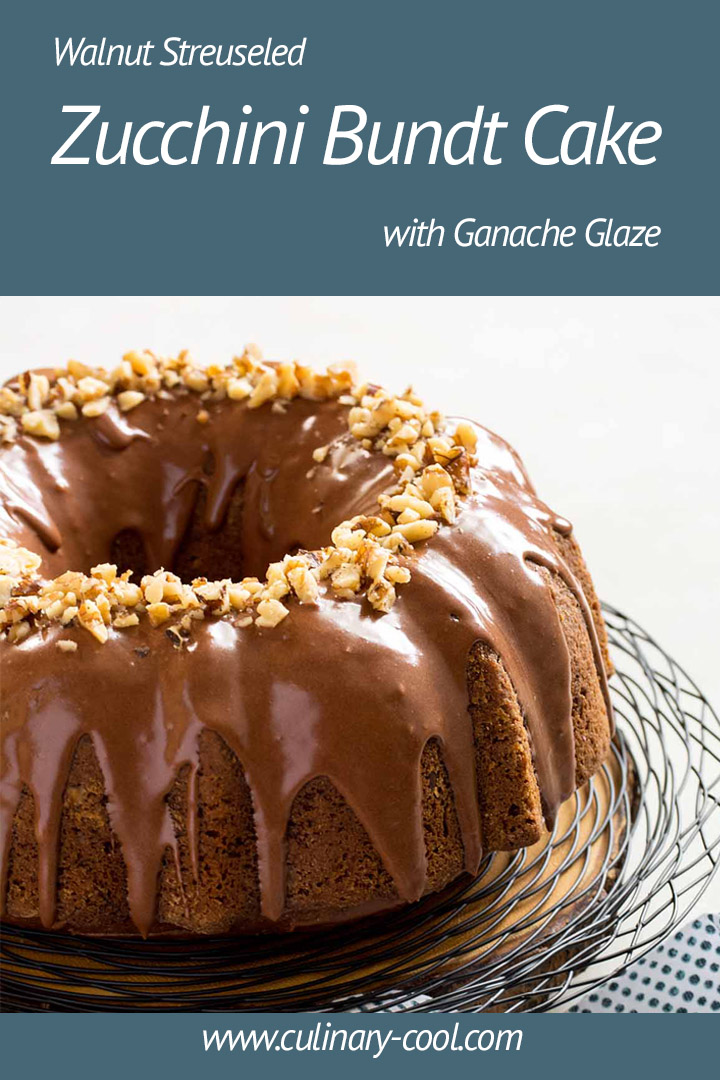 With the end of summer, comes a bounty of fresh garden veggies, including zucchini. Forget about zoodles, make this cinnamon laced Streuseled Zucchini Bundt Cake instead.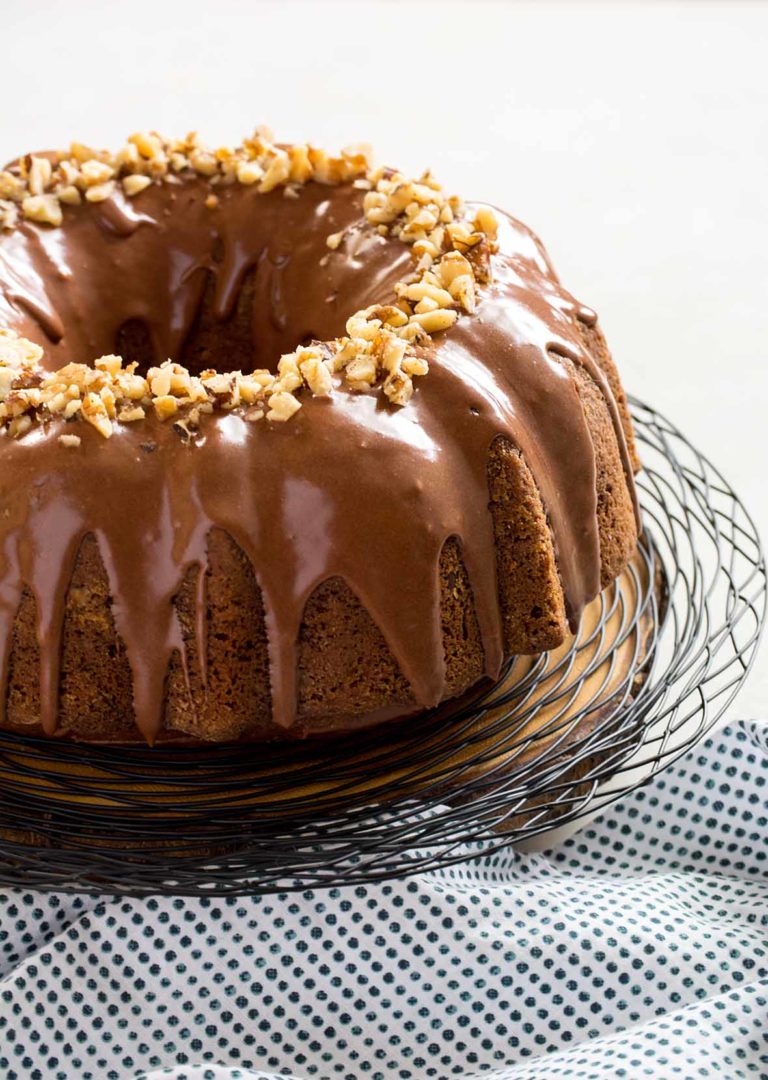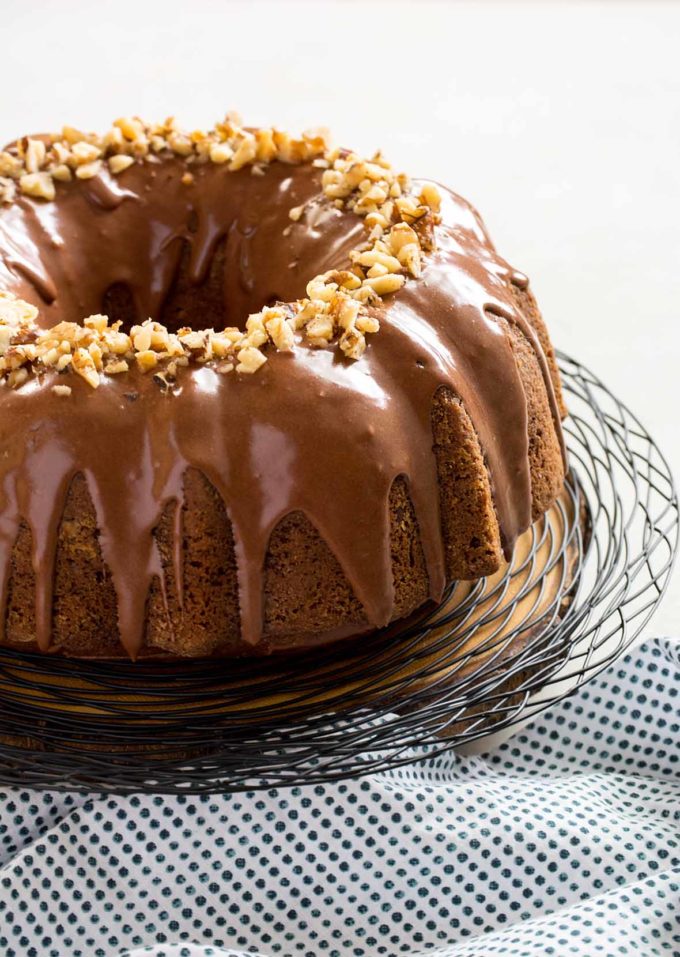 I firmly believe the best expression of a zucchini is through cake. Whether it's a bundt, a loaf, or muffins, it's my favourite way to use it up. I have no shame in admitting I grow zucchini specifically so I can bake with it at the end of summer.
Anyone else with me?
If I think back on my childhood, we only consumed zucchini when it took the form of a cake or loaf. It was never roasted with other veggies, or turned into noodles, or made into fries. It was always just grated into a cinnamon laced cake batter. Sometimes the batter was chocolate, other times it was studded with chocolate chips and walnuts. I've always been partial to the cake with walnuts.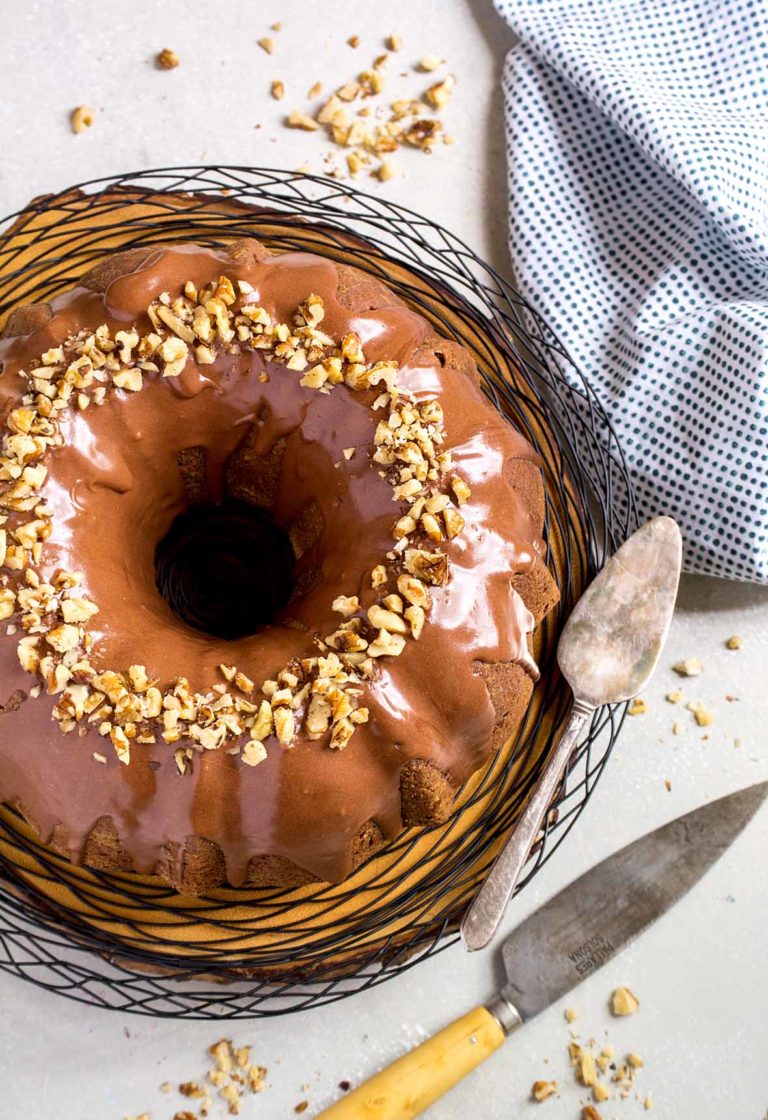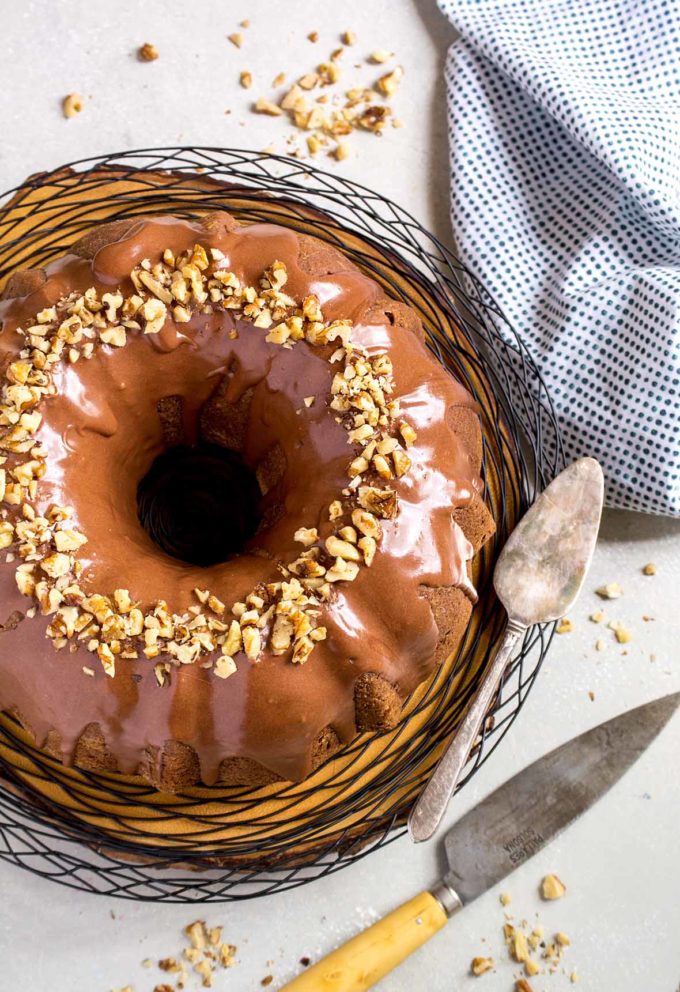 Let's Talk Ingredients for Streuseled Zucchini Bundt Cake
Walnuts: I love walnuts in my zucchini bundt cake, and in zucchini cake in general. It adds a lovely crunch and great nutty flavour. If you're not a walnut fan, pecans would be a great substitute.
Applesauce: Applesauce is a great ingredient to use in place of oil in baked goods. It measures cup for cup with oil and reduces the amount of fat and calories you consume when you're indulging in a sweet treat. It also keeps this cake moist and tender without sacrificing flavour.
Streusel: This recipe has you make a streusel with brown sugar, walnuts, flour and melted butter. This creates a concentrated layer of crunchy texture in the middle of the cake.
Zucchini: This recipe is a great way to use up any fresh zucchini from the garden. Use the big holes on a box grated and keep all the liquid that comes with it! It's well known that zucchini plants generally product an abundance of squash, so I like to grate and freeze it at the end of the season so I always have it on hand. And don't bother squeezing out all the liquid, just add it all in.
Chocolate Ganache: If you want the chocolate ganache glaze to retain it's gorgeous, glossy sheen, mix in 2 Tbsp of corn syrup. This trick works great when you can't be bothered to properly temper chocolate.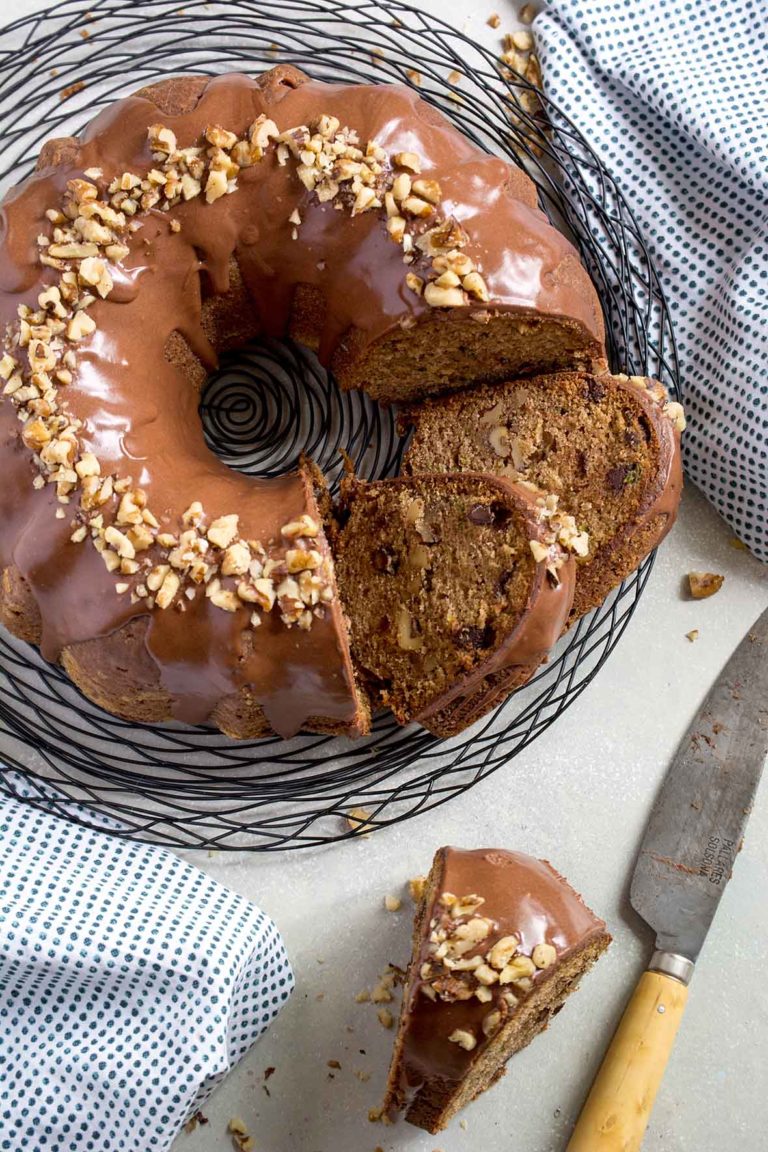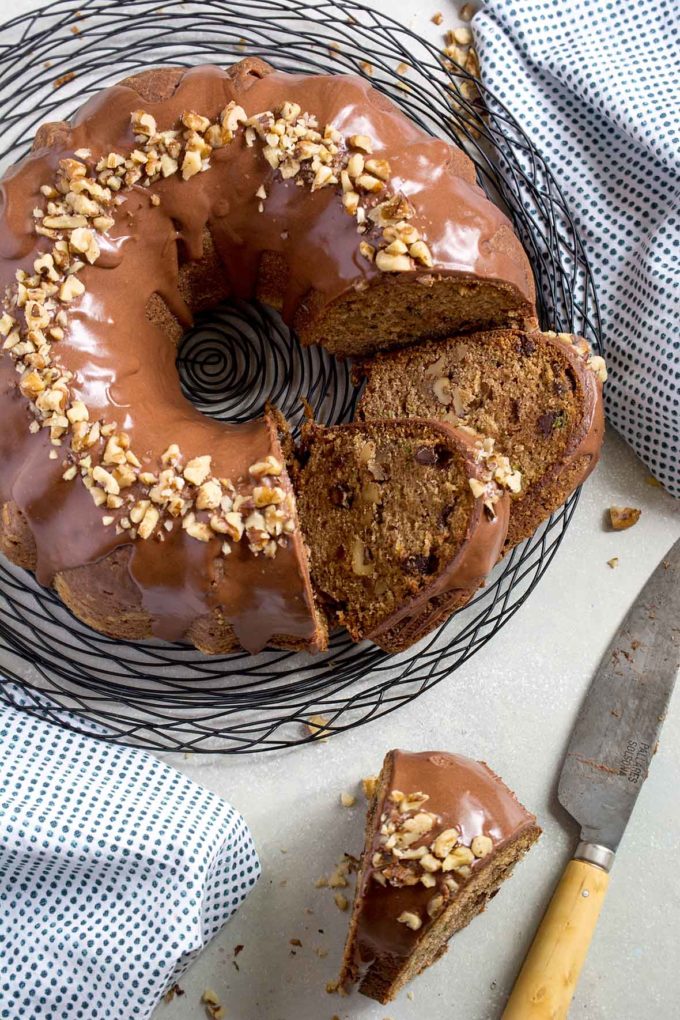 How to Prepare a Bundt Pan
Bundt pans make visually intriguing cakes, but they're not without their challenges. There are few things you will want to keep in mind when it comes to using bundt pans.
Grease the pan: and I mean, really, really well. Use a neutral oil or you're favourite cooking spray and use it liberally. Get in all the nooks and crannies.
Place the bundt on a baking sheet: Since bundt pans have ornate and often uneven shapes, it may not sit nicely on the oven racks. This could result in a uneven bake, or cause the cake to bake over the edge and cause a mess in your oven. Placing the bundt pan on a baking sheet will keep it flat and even.
Loosen the cake from the pan: Once the cake has cooled slightly, run a knife gently between the cake and the pan to loosen it. Be careful not to scratch the bundt pan while you're doing this. Alternatively, you can gently pull the cake away from the pan with your fingers.
Flip the bundt: Once you've loosen the edges, it's time to flip the pan over to release the cake fully. Once you flip it, allow it to sit upside down for a few minutes, which will give it a chance to fully release.
Looking for more dessert recipes?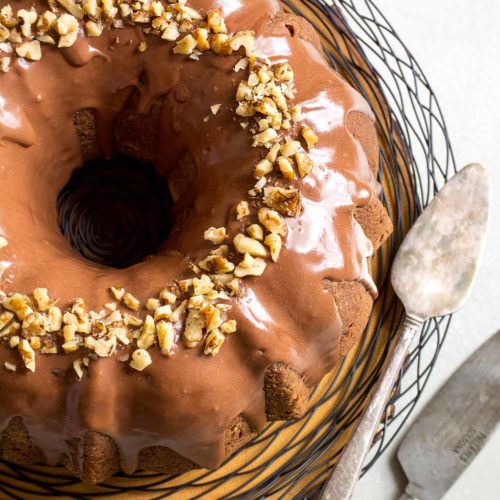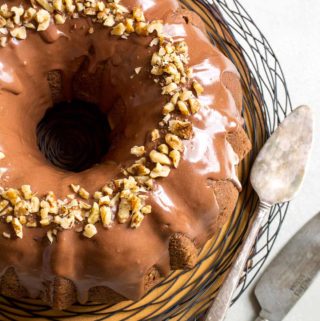 Streuseled Zucchini Bundt Cake with Ganache Glaze
A cinnamon laced zucchini cake, with a swirl of crunchy, sweet walnuts in the middle
Print
Pin
Rate
Ingredients
Streusel
½

cup

chopped walnuts

1/2

cup

brown sugar

2

tbsp

all-purpose flour

2

tbsp

melted butter
Zucchini Cake
3 

eggs

½

cup

unsweetened applesauce

1/4 

cup

canola oil

1 

cup

brown sugar

1/2

cup

granulated sugar

2 

tsp 

vanilla

3 

tsp 

cinnamon

2 

cups 

grated zucchini

3 

cups 

all-purpose flour

1 

tsp 

salt

1 

tsp 

baking soda

1/4 

tsp 

baking powder

1 

cup 

semi-sweet chocolate chips
Ganache Glaze
½

cup

heavy cream

8

oz

semi-sweet chocolate chips

or chopped quality chocolate

2

tbsp

corn syrup
Instructions
Streusel
Mix together walnuts, brown sugar, flour and melted butter in a small bowl. Set aside.
Zucchini Cake
Preheat oven to 350°F

In a large bowl, whisk together eggs, applesauce, oil, vanilla, and cinnamon.

Add in grated zucchini and stir to combine.

In a medium bowl, whisk together flour, salt, baking soda, and baking powder.

Stir the dry ingredients into the wet ingredients until only a few streaks of flour remain. Stir in the chocolate chips until everything is well combined.

Grease a bundt pan very well with a neutral oil or cooking spray, and then lightly flour the pan.

Fill the bundt with half the batter, then sprinkle with the streusel. Top with remaining batter.

Bake for 50-60 minutes, or until a toothpick comes out clean. Let cool for 10 minutes, then remove cake from the pan, and transfer to a cooling rack.
Ganache
Heat the cream in a small saucepan until just simmering. Pour over chocolate and allow to sit for 1-2 minutes. Add in the corn syrup. This will help the glaze stay shiny. Whisk until smooth.

Allow the ganache to cool at room temperature for about 10 minutes, then whisk vigorously until it thickens and coats the back of a spoon. You want the ganache to be thick enough to have a good layer on the cake, but thin enough to still drizzle down slowly.

Pour over a cooled bundt cake and garnish with chopped walnuts.
Nutrition
Calories:
560
kcal
|
Carbohydrates:
82
g
|
Protein:
9
g
|
Fat:
22
g
|
Saturated Fat:
10
g
|
Polyunsaturated Fat:
4
g
|
Monounsaturated Fat:
7
g
|
Trans Fat:
1
g
|
Cholesterol:
46
mg
|
Sodium:
253
mg
|
Potassium:
362
mg
|
Fiber:
5
g
|
Sugar:
41
g
|
Vitamin A:
277
IU
|
Vitamin C:
5
mg
|
Calcium:
75
mg
|
Iron:
5
mg
Nutritional calculation was provided by WP Recipe Maker and is an estimation only. For special diets or medical issues please use your preferred calculator