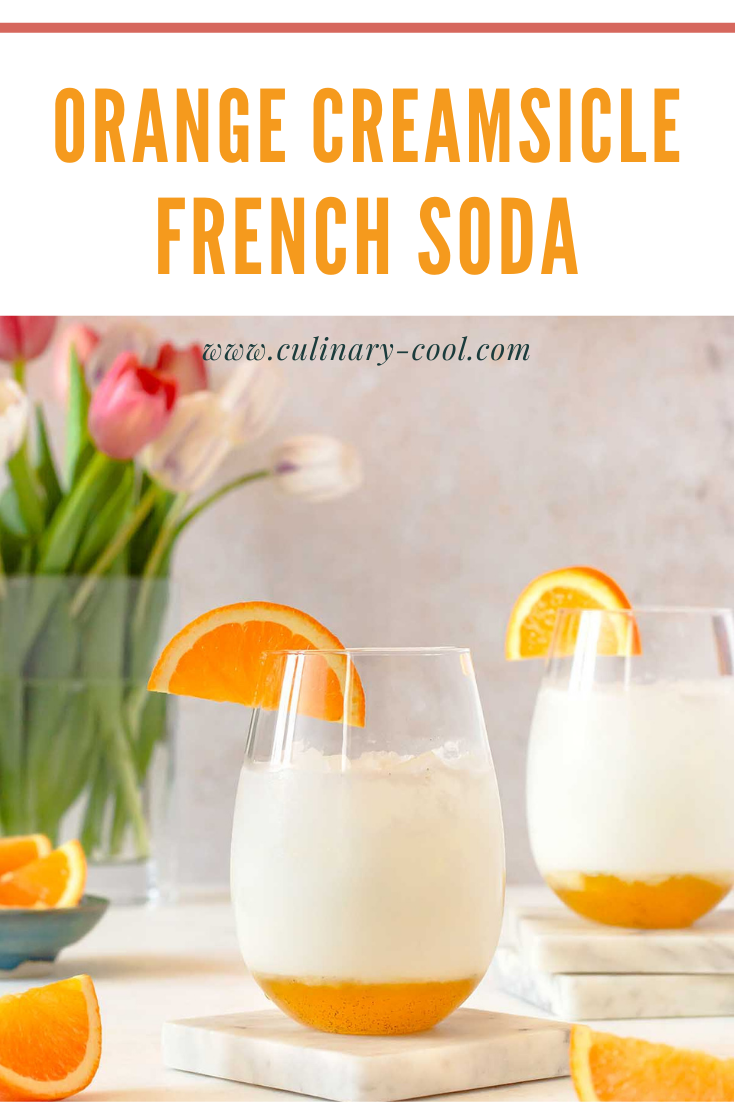 Orange Creamsicle French Sodas are the liquid version of the classic frozen treat. Fresh orange syrup, fizzy sparkling water, and a splash of cream make for a refreshing and smooth mocktail. Nothing says spring like an orange creamsicle drink recipe!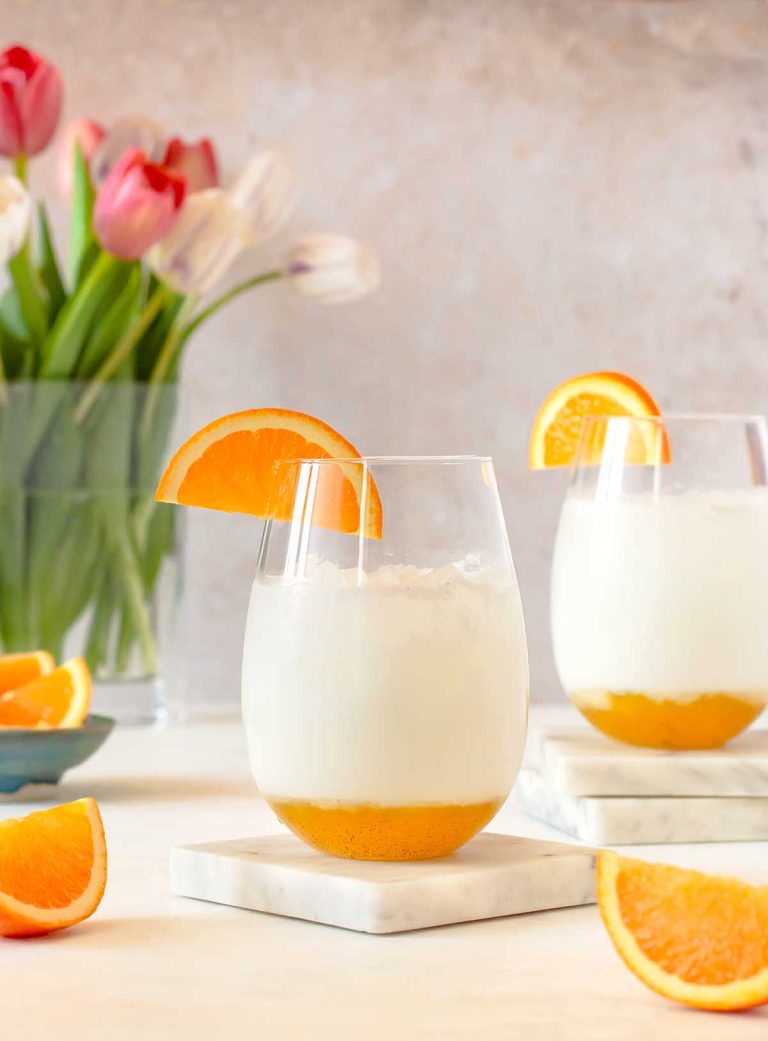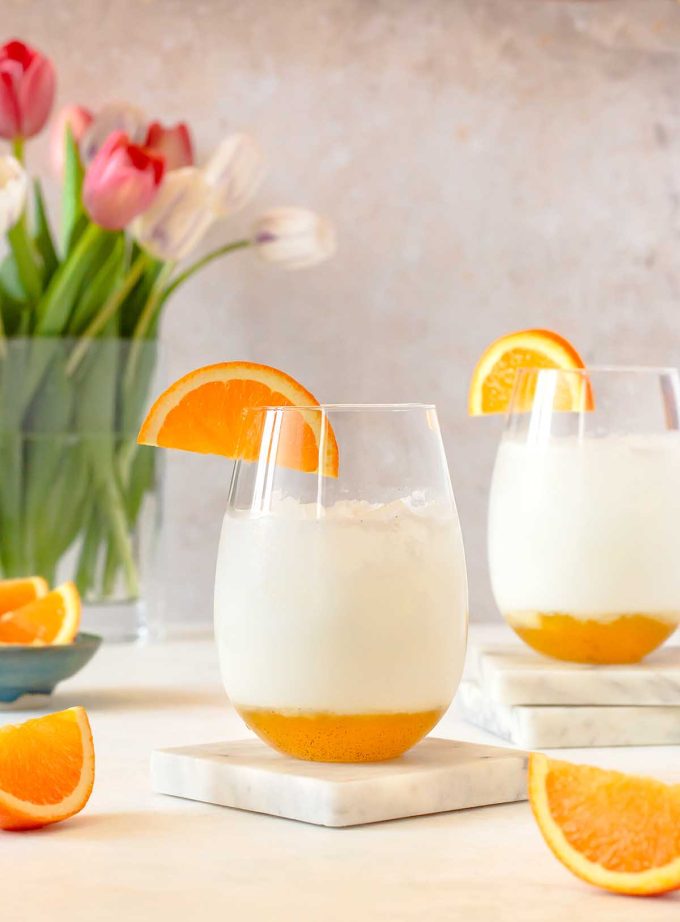 It's technically spring, but the current weather, as well as our forecast, is very much saying winter. I just heard a new term on the Weather Network – Thundersnow. Like, excuse me? Thunder and snow? I think Mother Nature is drunk. She needs ones of these bright and fresh Orange Creamsicle French Sodas to encourage her to bring on the warmer and sunny weather – and sober her up.
This orange creamsicle drink recipe is a mocktail, meaning no alcohol! I like the occasional cocktail as much as the next girl, but mocktails make an appearance around here more often than not. When I was pregnant, I experimented with all the mocktails and this recipe was my go-to. And now that my daughter is almost 3, she always wants to have whatever I'm having, so it's fun to mix up a glass for each of us to share together.
Lets Talk Ingredients
Oranges: I tested this with both tangelo oranges and large navel oranges. I would say the best flavour came from the Navel oranges. While I prefer tangelo oranges for snacking, I was able to obtain a more distinct and classic orange creamsicle flavour using the navel oranges. Also, the navel oranges I used were larger, and produced more juice per orange when compared to the tangelo.
Sparkling Water: I used unflavoured San Pellegrino in this orange creamsicle drink recipe. Any unsweetened sparkling water will do the trick. You can also use a vanilla or orange flavoured sparkling water to amp it up if you wish, just make sure whatever you use is unsweetened. The orange simple syrup this recipe makes is the perfect sweetness.
Vanilla Bean Paste: Vanilla is a key component in orange creamsicle. I chose to use vanilla bean paste to add little visual flair. Vanilla bean paste lends big vanilla flavour while adding real vanilla beans to the mix. It's also less expensive and easier to use than using the actual vanilla bean. You can also use pure vanilla extract in the same measurement listed in the recipe.
Cream: Using cream and not milk makes for a creamy and indulgent orange creamsicle drink. My recommendations are to use coffee cream (18% MF) or half and half cream (10-11% MF). Regular milk, even whole milk, is not ideal for this recipe. That's because when a low fat milk is mixed with an acid (in this case a fresh orange syrup) it tends to curdle.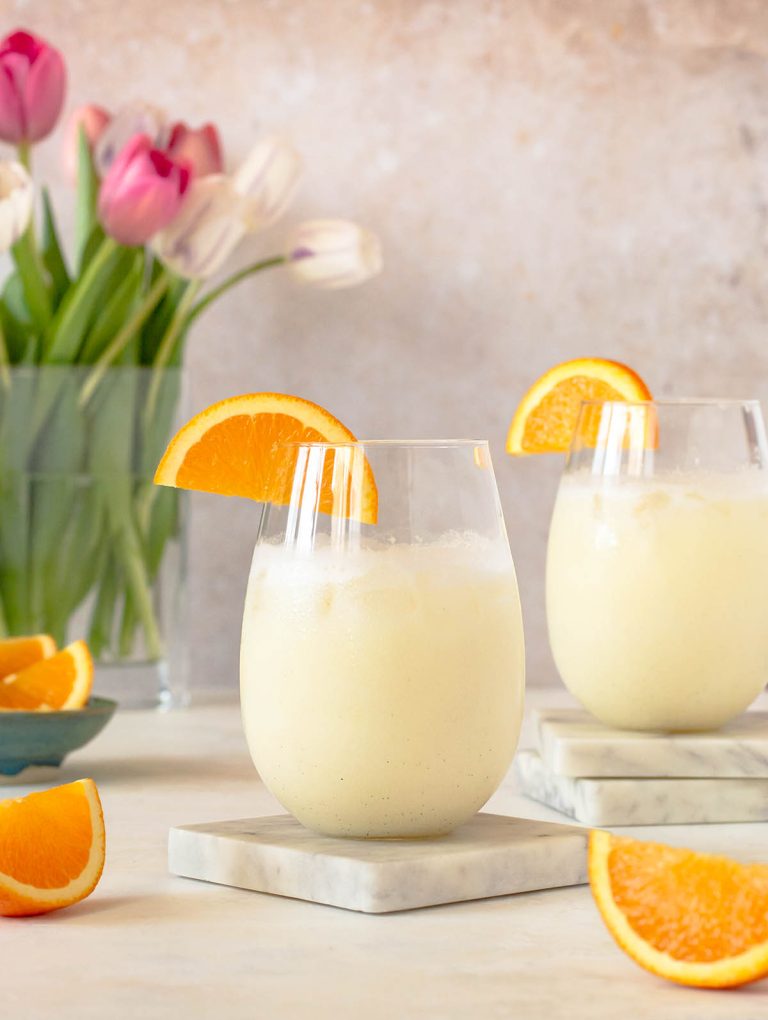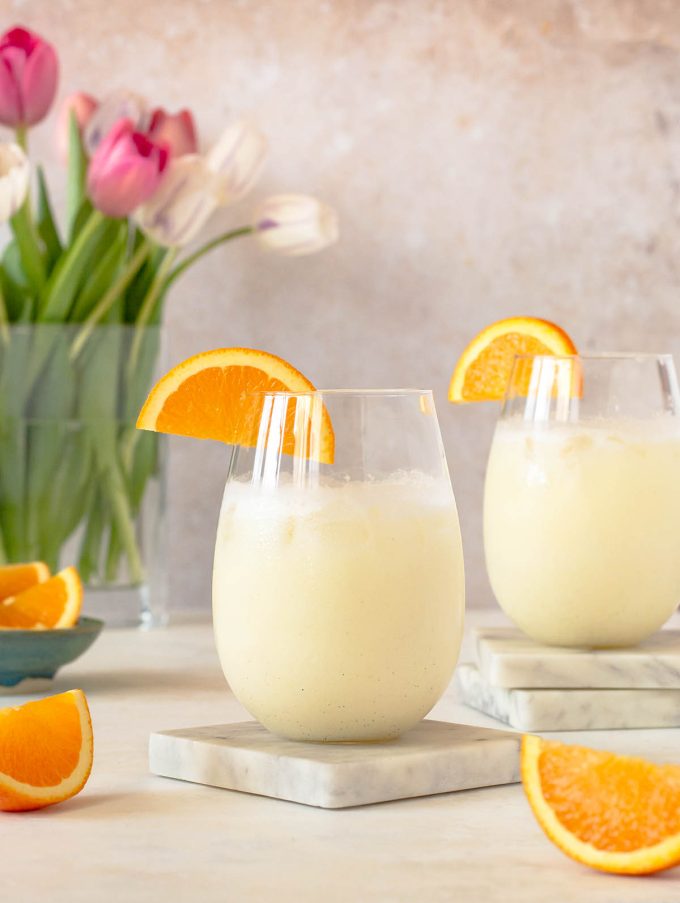 How to make French Soda
Step 1: Make the orange simple syrup. Making simple syrup is so easy! All it takes is equal parts water and sugar, a quick simmer to dissolve the sugar and thicken slightly. For this recipe, I used fresh orange juice, and add just enough water to bring the fresh juice up to the 1 cup mark. Using fresh orange juice is key to making an orange creamsicle drink recipe taste like the classic frozen treat. Add in granulated sugar, a small amount of vanilla bean paste (a little goes a long way) and thin strips of orange rind. Let is simmer for a few short minutes. Strain the syrup through a mesh sieve to catch the orange rind, and any bits of orange flesh that made its way into the mix. Add a few strips of orange rind back to the syrup while it cools to keep infusing the syrup.
Step 2: Let the syrup cool completely. Once you've added one or two thin strips of rind back into the hot syrup, set it aside to cool completely before using. Once cooled, remove the rind and discard. The syrup will keep in the fridge for up to 2 weeks.
Step 3: Add ice to your favourite cocktail glass. Add enough ice to fill it at least half way. I like smaller ice cubes for this.
Step 4: Add the orange syrup and cream. Pour the cooled orange syrup over the ice, followed by the cream. It helps to stir the mixture constantly while adding the two together. This will help prevent any coagulation.
Step 5: Mix in the sparkling water. Slowly pour your favourite sparkling water into the glass and stir gently to combine.
Step 6: The fun part! Serve immediately with some fresh slices of orange. Serve this orange creamsicle French soda at brunch, or anytime you want a fun non-alcoholic treat!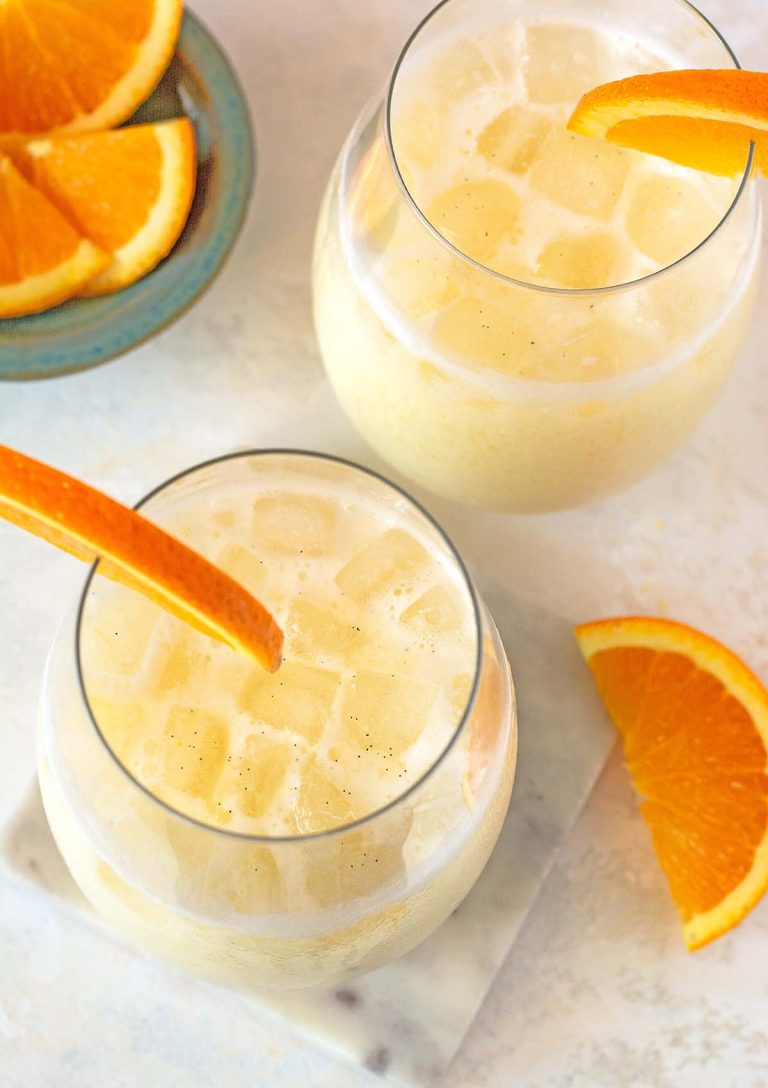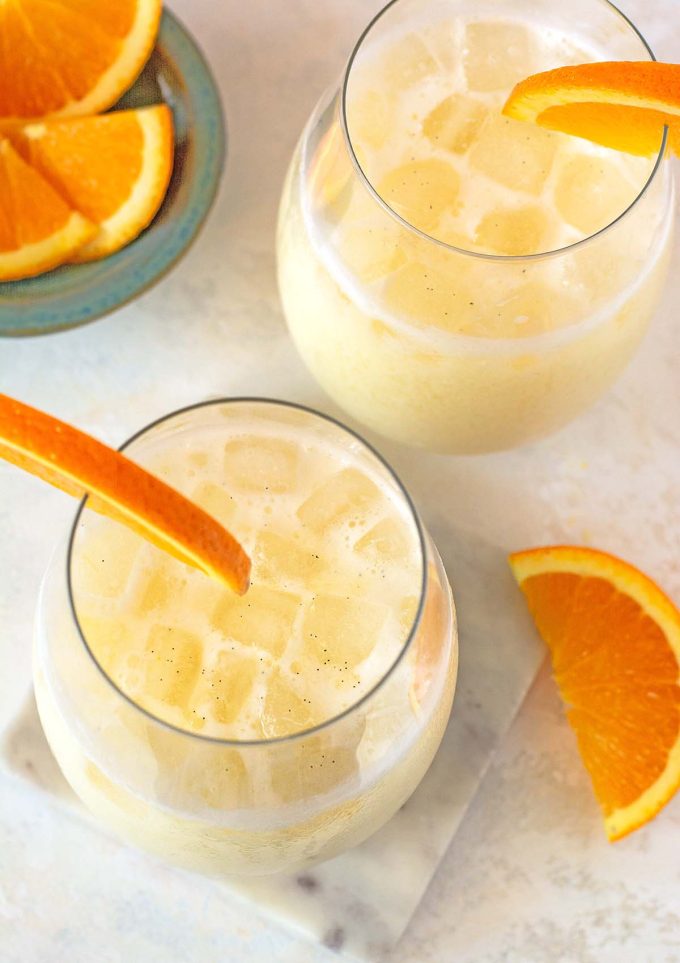 Tips for making Orange Creamsicle French Soda
How do I prevent the drink from curdling (aka coagulation)? The key to making sure it doesn't curdle is to use a high fat milk or cream. I recommend half and half cream (10-11% MF) or coffee cream (18% MF). Do not use regular milk, even whole milk poses the risk of curdling. If you're not afraid of a little indulgence, I recommend going with the coffee cream (18% MF) which will definitely increase the odds of a perfectly emulsified drink.
Can I make this alcoholic? Yes, absolutely. I would recommend vanilla vodka for this orange creamsicle drink recipe. With the addition of alcohol, I would definitely recommend using the coffee cream. I'd be inclined to stick with 1/2 to 1 oz of vodka per drink. The addition of alcohol increases the changes of coagulation (see tip #1).
What other flavours can I make? You can make almost any fruit flavour work for this recipe. Strawberry, raspberry, even rhubarb would be excellent.
How do I serve this? This orange Creamsicle French soda is perfect for brunch, Mother's Day, Easter, or anytime you want a fancy non-alcoholic beverage.
What dairy-free alternatives work instead of cream? If you're dairy-free, you can substitute your favourite non-dairy creamer. The folks over at Bon Appetit (via the now closed Bellecour restaurant) recommend almond or macadamia milk. I personally have only used dairy so I cannot vouch for their success.
Looking for other beverage recipes?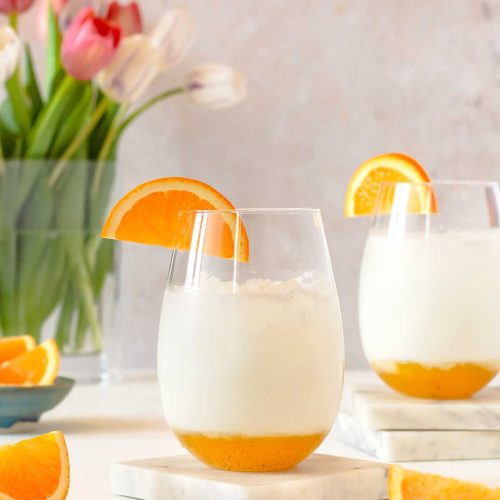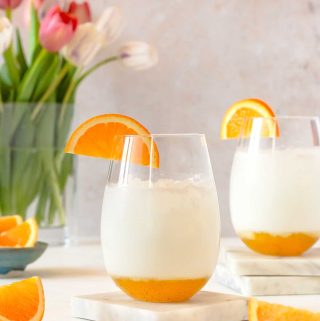 Orange Creamsicle French Soda
Fresh orange syrup, sparkling water and a splash of cream make the most refreshing and smooth Creamsicle mocktail.
Print
Pin
Rate
Ingredients
Vanilla Orange Simple Syrup
2/3

cup

freshly squeezed orange juice

will require 2 large navel oranges

enough water to bring the juice up to 1 cup of liquid

3/4

cup

granulated sugar

strips of orange rind from one navel orange

1

tsp

vanilla bean paste
French Soda
ice

1

oz

coffee cream (18% MF)

or half and half cream (10-11% MF)

1 1/2-2

oz

Vanilla Orange Simple Syrup*

6

oz

sparkling water

such as San Pellegrino or Perrier
Instructions
Vanilla Orange Simple Syrup
Using a vegetable peeler, remove the rind (just the orange parts) of one orange in thin strips.

Juice two large navel oranges into a measuring cup. You should end up with close to 2/3 cups of juice. Add enough water to fill the measuring cup to the 1 cup mark.

Pour into a small saucepan.

Add sugar, strips of orange rind and vanilla bean paste to the saucepan. Stir to combine.

Bring the mixture to a simmer over medium heat and allow to simmer for 2-3 minutes.

Place a fine mesh sieve over a bowl, and carefully pour in the syrup. Add 1-2 small strips of orange rind back into the syrup. Discard the rest.

Allow the syrup to cool completely, then remove the orange strips.

Store in the refrigerator for up to 2 weeks.
French Soda
Fill a glass about halfway with ice

Pour in cream and the vanilla orange syrup

Top with 6 oz of sparkling water.

Stir to combine.
Nutrition
Calories:
210
kcal
|
Carbohydrates:
46
g
|
Protein:
1
g
|
Fat:
3
g
|
Saturated Fat:
2
g
|
Polyunsaturated Fat:
1
g
|
Monounsaturated Fat:
1
g
|
Cholesterol:
10
mg
|
Sodium:
86
mg
|
Potassium:
77
mg
|
Sugar:
46
g
|
Vitamin A:
100
IU
|
Vitamin C:
1
mg
|
Calcium:
46
mg
|
Iron:
2
mg
Nutritional calculation was provided by WP Recipe Maker and is an estimation only. For special diets or medical issues please use your preferred calculator
Notes
*Once the syrup has cooled, the vanilla bean seeds will settle at the bottom of the bowl. Give it a good stir before using to re-incorporate the seeds.
Simple Syrup recipe makes enough for about 6 individual drinks, depending on how much you use in each. 
Inspired by Bon Appetit