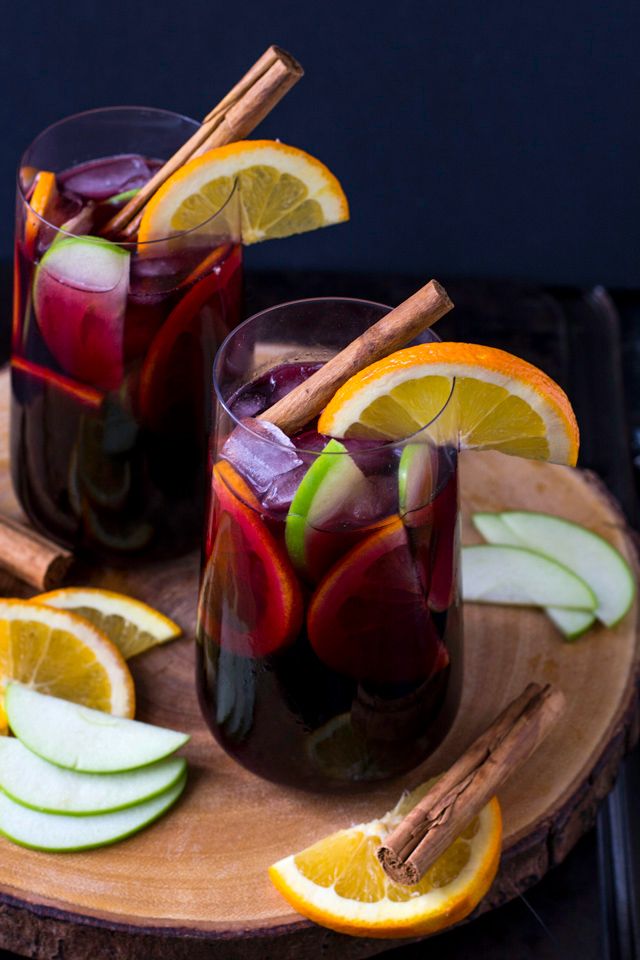 Let it be known that it's November 27th and I'm still wearing sandals when I go outside. Yes, I get weird looks. No, I do not care. I've said it before and I'll say it again – flip flops 'till it snows. Quite frankly, I could easily go without the white stuff. This girl does not need a white Christmas. A brown Christmas works just fine for me. Christmas on a tropical beach would be even better. Sadly, neither scenario will play out as I so desperately want it to. The Weather Network has snow in the forecast for this week, so I best be fishin' out my winter boots and digging deep into the liquor cabinet.
Drinking booze in winter to keep warm is totally a thing – at least according to Mama Kancz (my friend Edith's mom). The topic arose ever so innocently. She had just served me my first ever mug of mulled wine. It was sweet and spicy and took away any chill I had in my body – how was this the first time I'm trying this?! Mama K was just as shocked as I was. She used to drink this all the time back in Hungary. She so eloquently reminded me that "there isn't much to do in the dead of winter and drinking keeps you warm".
I can think of one other thing that both occupies time and keeps you warm…
But I digress.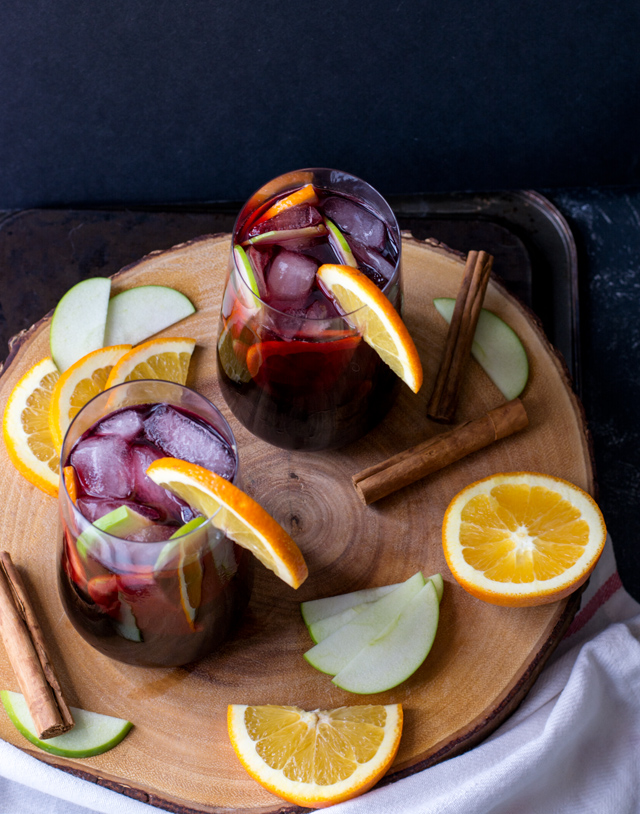 While I do love mulled wine, I prefer cold drinks – even in winter. I have moccasins, fleece lined leggings and a heated blanket, so I don't really need warm booze, although if it's offered to me, I won't turn it down.
I took Mama Kancz's mulled wine concept and turned it into a spiced sangria. Instead of heating the wine with spices, I chilled it with apples, pears, oranges and a touch of homemade spiced syrup. I added a splash or two of Cointreau for good measure. Mix everything together and let it sit overnight – the longer the better. The fruit will sweeten the wine and the warm spiciness will be elevated.
It's basically the holidays in a glass. It's also what's gonna get me through the cold, dank winter. Cheers!
Ingredients
Simple Syrup
1

cup

water

1

cup

sugar

2

cinnamon sticks

3

whole black peppercorns

3

whole cloves
Sangria
1 750

ml

bottle red wine

preferably Spanish (I used Le Petit Bonnhome)

1

Granny Smith apple

thinly sliced

1

orange

thinly sliced

1

pear

thinly sliced

1/4

cup

Cointreau or Grande Marnier

1/4

homemade spiced simple syrup

2

cinnamon sticks

you can use the two from the simple syrup
Instructions
Simple Syrup
Combine all ingredients in a small saucepan. Bring to a simmer over medium heat. Simmer for about 5 minutes. Remove from the heat and let cool completely. Remove cinnamon stick (keep them handy for the sangria), peppercorns and cloves.
Sangria
In a large pitcher, add red wine, apple, orange, pear, Cointreau/Grand Marnier, and cinnamon sticks.

Add about 1/4 cup of the spiced simple syrup.

Mix the sangria and chill in the fridge overnight. The longer it sits, the fruitier the sangria.

Serve over ice, with apples, pears and oranges in each glass. Garnish with cinnamon sticks if desired.
Nutritional calculation was provided by WP Recipe Maker and is an estimation only. For special diets or medical issues please use your preferred calculator
Notes
The simple syrup makes more than what is required for one recipe of sangria. The leftovers work great in coffee or tea!