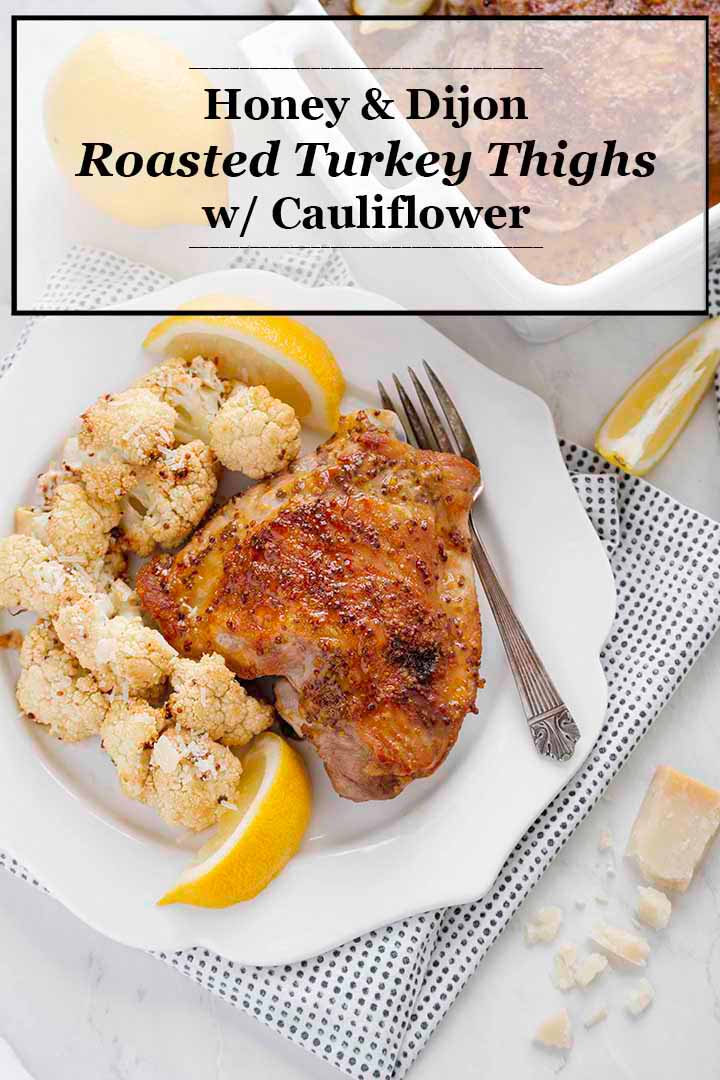 Honey and two kinds of Dijon come together to make an incredible sauce for roasted turkey thighs. Great for small holiday gatherings or any weeknight meal.
This recipe and post are sponsored by Turkey Farmers of Canada and I was compensated for my time. As always, all opinions are my own.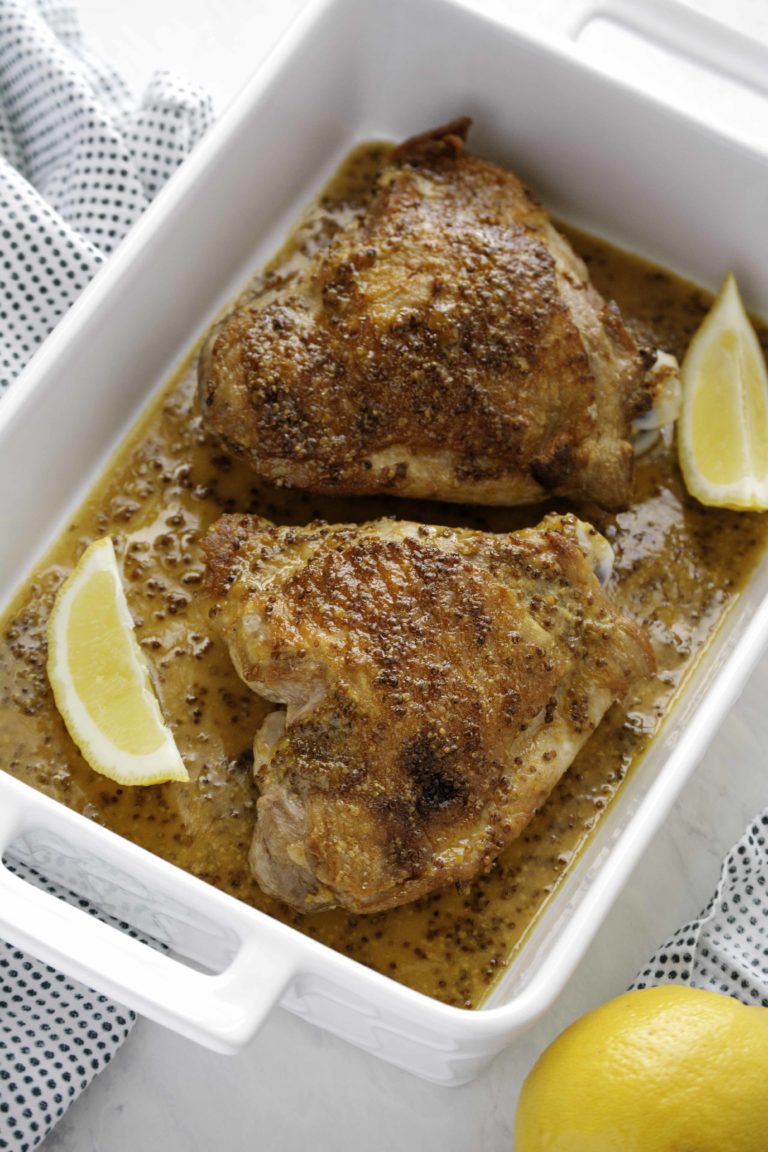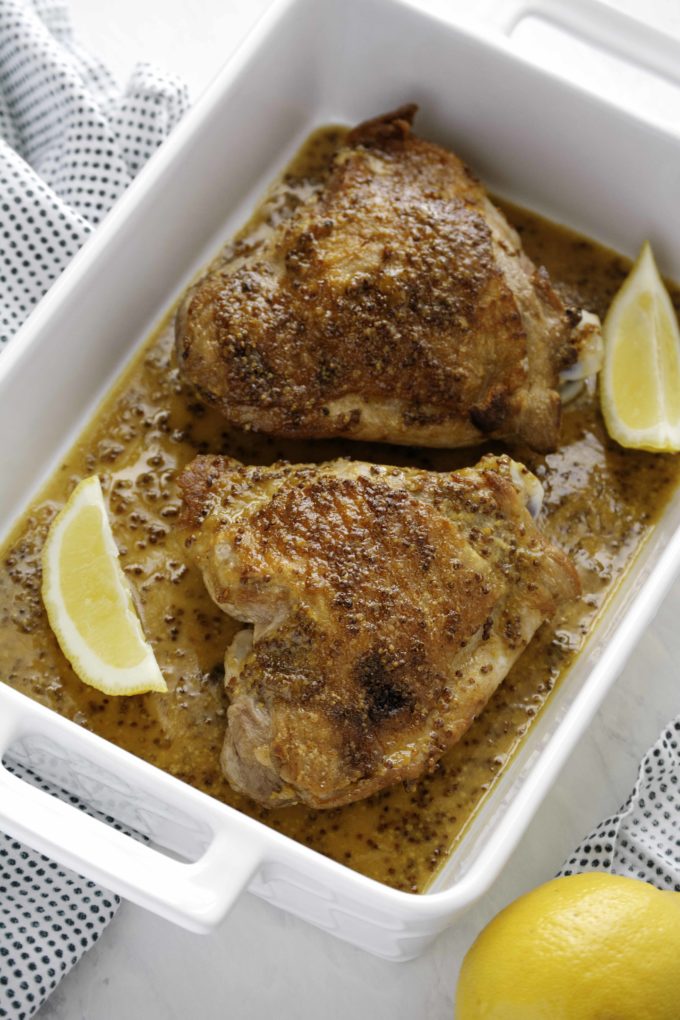 This dish might seem fancy and have the illusion that it takes a long time to make. I get it, we're used to thinking of turkey in terms of "hours to prepare." But friends, I'm not talking about roasting a whole turkey here – just the juicy thighs. The prep is a cinch and you can have a full meal done within an hour. For the last 7 months or so, I've been all about easy suppers. They need to be super flavourful, or the foodie in me has no interest, but they can't be too involved or else they just won't happen, #momproblems.
Ever since Isla was born, I've been hooked on sour, tart, sharp, and bitter flavours, which is likely why I'm obsessed with mustard right now. Yes, I know it's an odd thing to have an obsession with, but here we are. Yellow mustard is fine but I've been leaning towards Dijon (grainy is my favourite), or some fun flavoured ones, like jalapeño, from a company here in Southern Saskatchewan. So, on my hunt to incorporate my new favourite flavour profile into more of our meals, honey mustard was where I began because it's a classic combo, but could use a little work to take it over the top.
We enjoy turkey a few times a week around here because it adds variety to mealtime, and it's easy to incorporate. I've been using deli turkey to make keto egg crepes every morning, and we enjoy different cuts of turkey such as ground and thighs for dinners. Anything you can do with other proteins, you can do with turkey. You name it, I've probably done it. Meatballs, sliders, soup, casseroles – it's all easy and delicious.
This recipe uses two turkey thighs that are smothered in an incredible honey Dijon sauce, roasted to perfection in less than an hour, and served with roasted cauliflower that is tossed in some of the Dijon sauce. It. Is. Bomb! It's indulgent without being heavy and checks all my craving boxes.
Why use turkey thighs? Well, they yield juicy dark meat, and are a great dinner solution for when you're craving variety.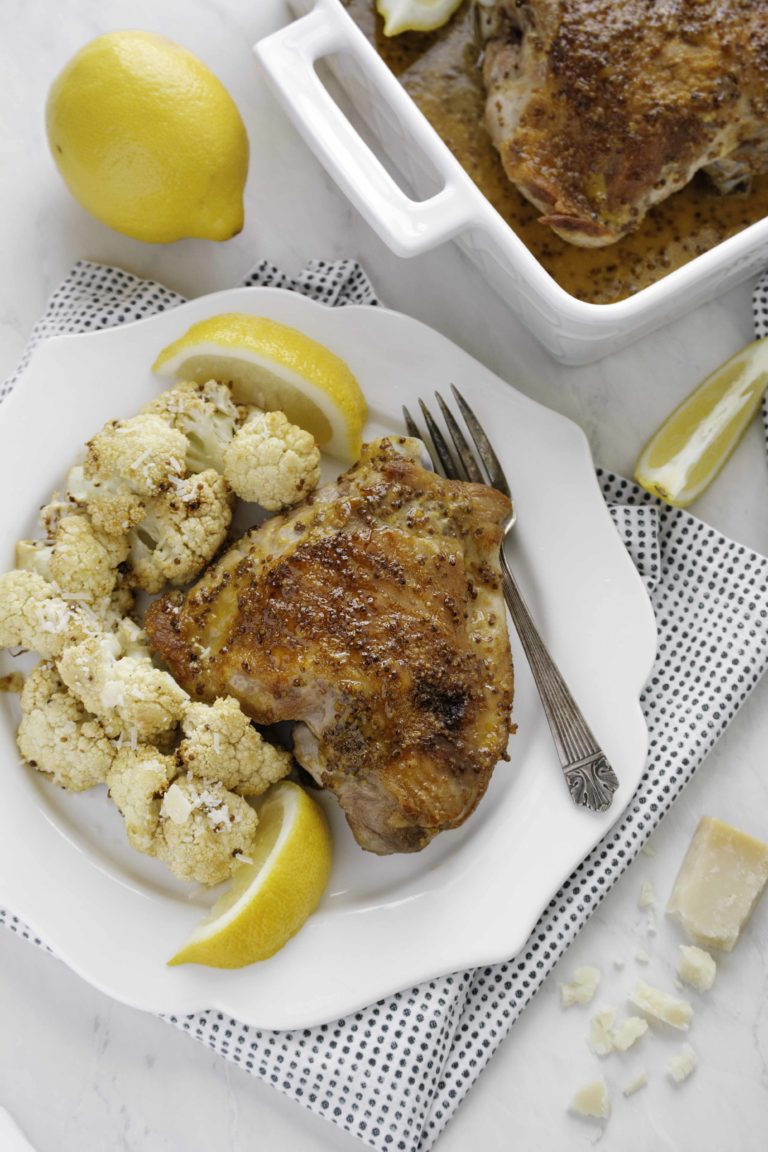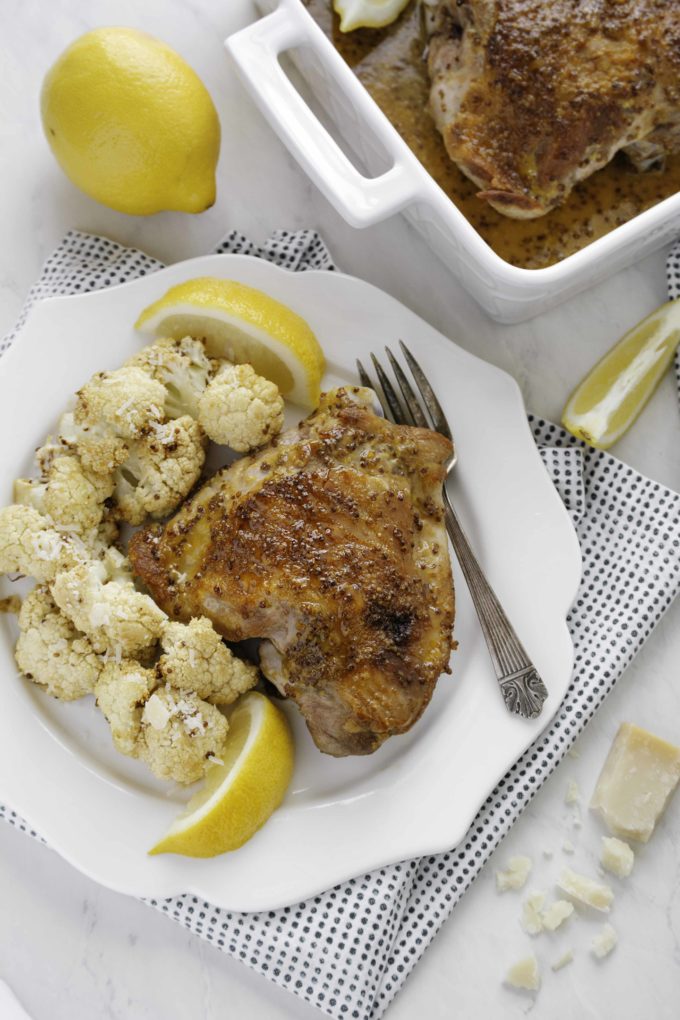 The sauce is pretty incredible and comes together in less than 5 minutes. I used both grainy and smooth Dijon in the sauce. They have slightly different flavours and the grainy Dijon adds a nice texture and visual appeal. The smooth Dijon makes things creamy and luscious. Add in some honey and poultry stock and we're in business. If you want to use the honey Dijon sauce as a dip for something else, just leave out the stock, and season with salt and pepper.
Roasting turkey thighs is always a great option. Not only are they great for small holiday gatherings but they work all year round for tasty weeknight meals and are a great way to add variety to mealtimes.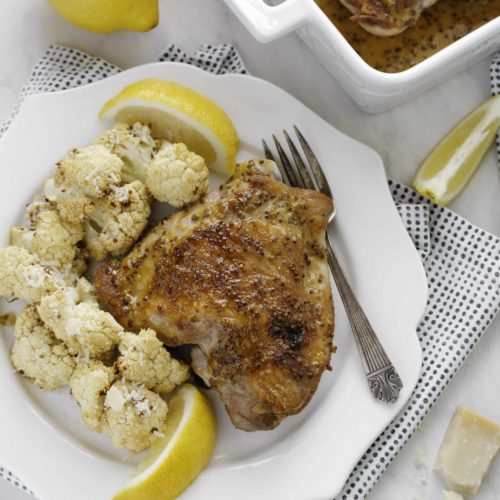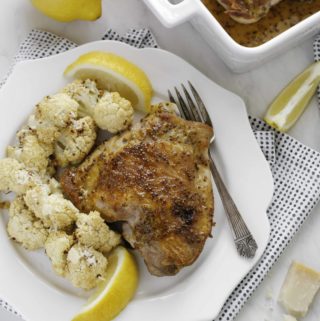 Ingredients
4

tbsp

grainy Dijon mustard

3

tbsp

smooth Dijon mustard

3

tbsp

liquid honey

1/8

tsp

garlic powder

¼

cup

plus 2 tbsp poultry stock

2

turkey thighs about 1 lb each

skin on and bone in

1-2

tbsp

canola oil

700

grams

cauliflower

about one head, cut into 1 inch florets

2

tbsp

grated parmesan cheese

2

tsp

fresh lemon juice
Instructions
Preheat oven to 350 degrees F.

In a small bowl, combine grainy and smooth Dijon mustards, honey, garlic powder and stock. Mix until well combined.

Pat turkey dry with paper towel. Season each turkey thigh with 1/4 tsp of salt.

Heat 1 tbsp canola oil in a medium skillet over medium high heat.

Place the turkey thighs in the hot pan, skin side down, and cook until the skin is golden brown, about 2-3 minutes. Flip and sear other side as well. Do not crowd your pan. You may need to do the turkey thighs individually depending on your skillet size. If you need to do them individually, then use 1 tbsp of oil per thigh.

Transfer to a baking dish, or if you have a cast iron skillet, you can do everything in it instead.

Pour the Dijon sauce over the turkey. There should be enough sauce to create a thin layer on the bottom of the pan. Add more poultry stock if you don't have enough. Note: If you do not have enough sauce on the bottom of the pan, it will dry and burn during baking.

Bake for 45-50 mins or until a thermometer registers 165 degrees F.

Remove from the oven and remove 3 tbsp of the sauce from the pan to use for the cauliflower. Cover the turkey and set aside.

Turn the oven to 400 degrees. Line a baking sheet with parchment.

Place the cauliflower florets on the baking sheet and toss with the 3 tbsp of Dijon sauce you just removed from the turkey pan.

Bake for 8 mins, remove from the oven, sprinkle with parmesan, and bake for another 2 minutes. Remove from the oven.

Drizzle lemon juice over the cauliflower.
Nutritional calculation was provided by WP Recipe Maker and is an estimation only. For special diets or medical issues please use your preferred calculator
Notes
Tip: If you have a cast iron skillet, you can sear the turkey in it, add the sauce, and bake it all in one dish. No need for a separate baking dish.