Quick story about my zucchini plant this year:
I have never grown them before, so I limited myself to only 4 seeds and I was totally bummed out when only ONE sprouted. Seriously guys, only one came up. Little did I know how HUGE these things get, so after about a month, I was pretty happy only one came up, because there was no room for more than one plant. Anyways, the other night, I went to pull out the wilting plant, and as I was moving some of the leaves out of the way I found the biggest zucchini yet. I don't even know how I missed it! So now I had this huge zucchini that I needed to use up and I knew exactly what I was going to make!!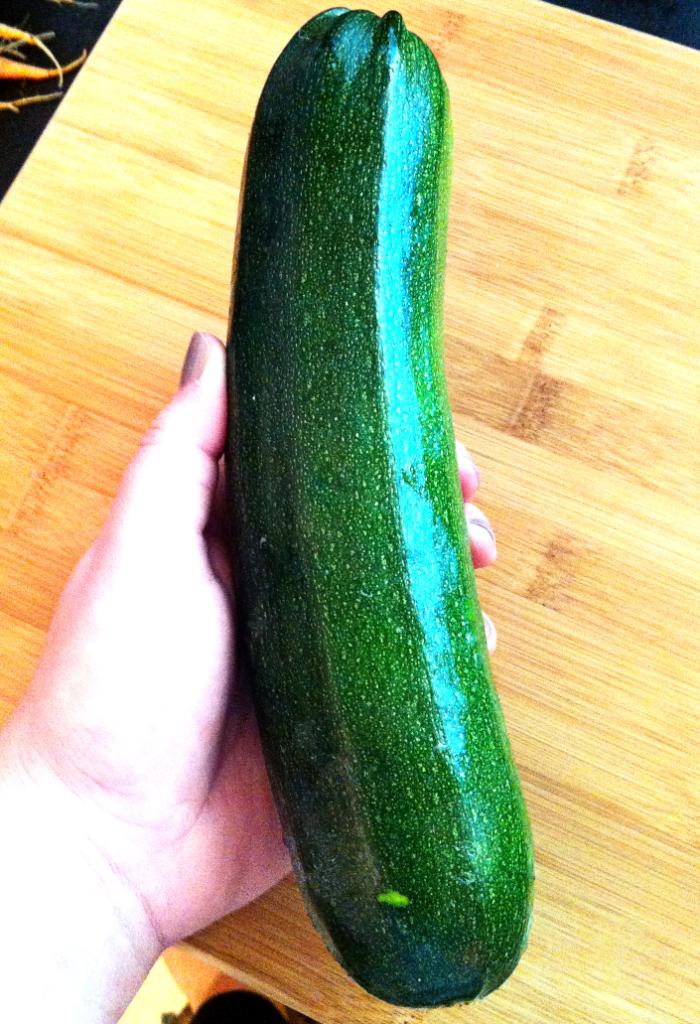 What else could I make other than chocolate zucchini cake with chocolate chips baked inside and for an added bang of chocolate, why not just top it off with some chocolate ganache. I didn't even have to think twice. This was the perfect recipe to use up my last "surprise" zucchini of the year. Just a side note about the ganache: the recipe included makes more than you will likely need to top the cake with. Place the remaining ganache in the fridge, and once it's firm, you can make chocolate truffles!

Chocolate Zucchini Cake
2 cups all-purpose flour
1/2 cup cocoa powder
2 tsp baking powder
1 tsp baking soda
2 tsp cinnamon
1/2 tsp salt
3 eggs
1 cup granulated sugar
1/2 cup vegetable oil
1 tsp vanilla
2 cups grated zucchini (leave the peel on)
1 cup semi-sweet chocolate chipsGanache
1 cup heavy cream
9 oz dark chocolate, chopped or broken into small pieces
Directions
For the Cake
Line 9×5 inch loaf pan with parchment paper, set aside. Preheat oven to 350 degrees.
In large bowl, whisk together flour, cocoa, baking soda, baking powder, cinnamon and salt. Set aside.
In the bowl of a stand mixer fitted with the paddle attachment, beat eggs with sugar until light and fluffy; beat in oil and vanilla.
Slowly add dry ingredients and mix until moistened. Stir in grated zucchini and chocolate chips. Pour into prepared loaf pan. and smooth the top.
Bake for 350 degrees until cake tester inserted in center comes out clean, about 1 hour. Transfer to rack and let cool.
*Make ahead: Wrap in plastic wrap and store at room temperature for up to 2 days or overwrap in heavy-duty foil and freeze for up to 2 weeks.
For the Ganache
Place chopped chocolate into heatproof bowl. Set aside
Heat cream in saucepan over medium heat. Bring to a boil and remove from the heat immediately. Pour hot cream over the chocolate and allow to stand for a minute or two to allow the chocolate to heat and melt.
Whisk the chocolate until smooth, and continue whisking until it becomes a thick.
Let cool slightly before pouring over the cake.
Recipe adapted from The Complete Canadian Living Baking Book