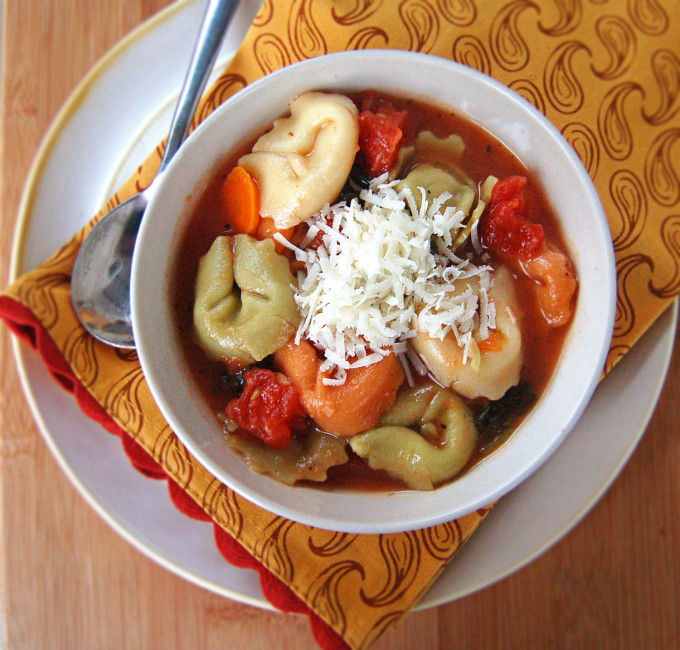 You can't fight it. Autumn is here. I've been in denial for the last month but I just can't turn a blind eye anymore. Maybe it's because the mornings are cold, or maybe it's because my backyard has two feet of crunchy leaves that need to be raked. I'm thinking it's the latter.
Along with my denial that it's autumn, comes the refusal to make any warm, hearty, cold-day suppers. But Sunday was cold and rainy, and I caved. I made soup, and not the kind you get from a can (come on people, who do you think I am?). I made homemade tortellini soup. The great thing about this soup is that most items are staples in your pantry or fridge. Keep in mind that soups are versatile, and you can add any additional ingredients, such as veggies and beans. The only odd-ball item is the rind of one wedge of parmesan. The rind is the harder, darker yellow portion of the cheese that is remaining once all the good stuff is used up. Some people might finely grate the remaining rind, but I prefer to hold onto them, and use them to add an additional flavour to soups. Also, I only buy quality parmesan because the flavour cannot be beat. It is totally worth the splurge.
Needless to say, this soup was a huge hit, and has become a staple for us during the colder months.
Tortellini Soup
1 tbsp olive oil
1/2 cup yellow onion, chopped
2 cloves of garlic, minced
1/2 tsp Italian herb blend
1 (15 oz) can diced tomatoes, with juices
4 cups chicken or vegetable broth
9 oz tortellini, any variety, fresh or frozen (I used three cheese)
3 cups fresh baby spinach, loosely packed
1/2 cup carrots, chopped
Salt and pepper
Rind of one wedge of quality Parmesan (optional)
Grated Parmesan, for serving
In a large pot, or Dutch oven, heat the olive oil over medium-high heat. Add the onions to the pan and cook until beginning to soften, about 3-4 minutes. Add in the garlic and cook, stirring frequently, just until fragrant, about 1 minute.
Mix in the diced tomatoes and Italian herbs. Add the broth to the pot. Place the parmesan rind into the pot. Bring mixture to a boil. Remove the rind, and add the carrots. You can keep the rind in until the very end if you wish, it will just be harder to find it because it may melt down a bit.
Add the tortellini to the pot and cook according to the package directions. One minute before the tortellini is fully cooked, stir in the spinach.
Remove from heat. Season with salt and pepper to taste. Serve warm with grated parmesan as desired.*This soup keeps well for about two days. The problem with soups with pasta, is that the pasta will absorb all the broth, and you may have to add some additional water, which can dilute the flavour.