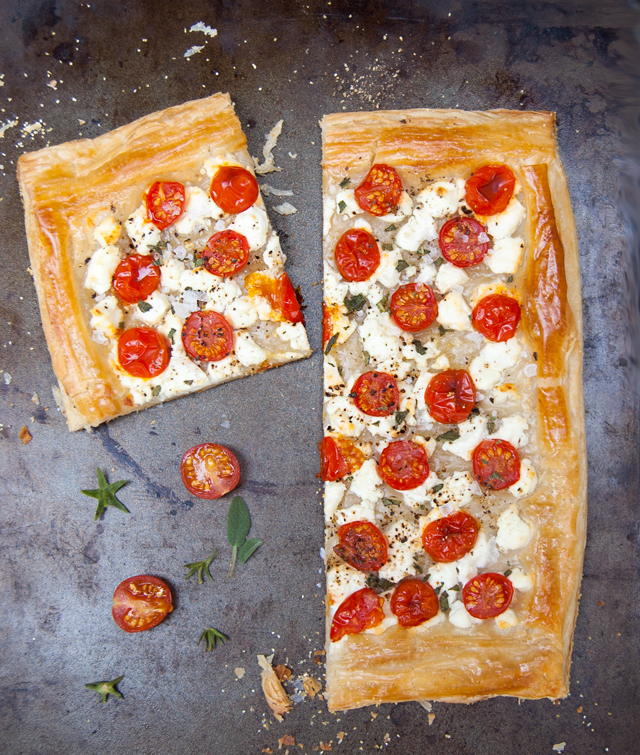 This tart has been eaten on the regular in our house ever since the tomatoes started turning red. I've legit bought 6 packages of puff pastry solely for the purpose of making this tart. A girls gotta have a package or two on standby just in case, right? The reason we've eaten it so often is because, quite frankly, it's hella easy, and obviously, it's delicious.
Dare I admit that there was a time where I hated tomatoes? Honestly, I still don't have the palate for raw tomatoes, and I definitely pick them out of my food if I see them, but I really enjoy them once they've been heated up slightly. Weird, right? But hey, at least I eat them now!
There's something about roasted tomatoes that I can't get enough of, which is probably why I make this tart about once a week. On second thought, it's probably the trifecta of silky-smooth goat's cheese, flaky puff pastry, and the roasted tomatoes that drives me to whip this tart up so often.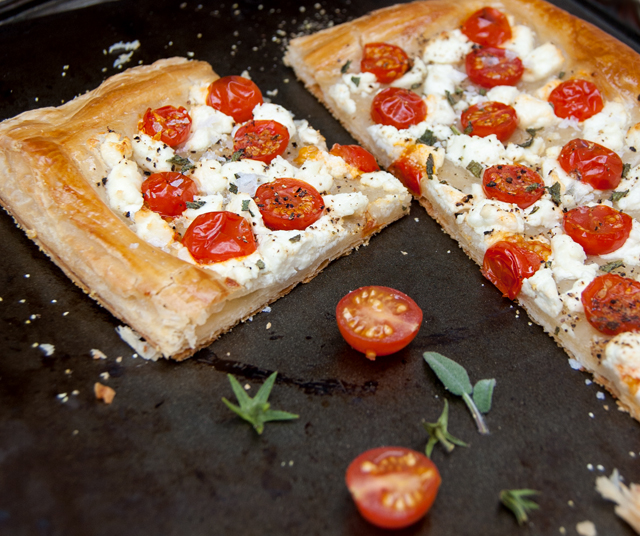 My garden was super slow to start this year, despite getting everything into the ground in a timely manner. I replanted my carrots twice, and they never came up. I planted 10 cucumber seeds, and only 6 came up. Of the 6 vines, I only managed to get two damn cucumbers! Two!! Brutal! My tomatoes however, are doing fantastic. I always plant at least one variety of tiny tomato, and we affectionally refer to them as our Tiny Thao's (pronounced like cow, except with a T). This is because my bestie Thao, loves cherry tomatoes, so I always grow her a bunch. Except this year, I might end up eating them all myself by way of this Tomato Goat Cheese Tart.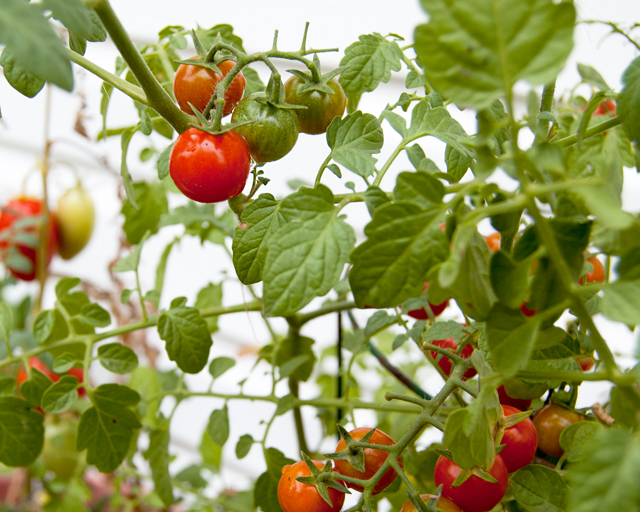 Truthfully, there really isn't a recipe for this, per se. I usually just add enough cheese to cover most of the bottom, and enough tomatoes to ensure you get a few in each bite. Salt, pepper, and sage are all to taste. We have a great local supplier of goat's cheese, called SalayView Farms and I use it exclusively at home. I just love how tangy and smooth goat's cheese is, but if you have a strong aversion to it (I'm talk about you, Judy) then use a little cream cheese, or even feta.
Don't forget about the cornmeal and flaked salt that give this tart a nice crunchy texture to contrast the plump roasted tomatoes and soft cheese. If you don't have flaked salt, any coarse salt will do the trick. Even better, try a smoked salt, which will really add a different element of flavour to the mix.
I'm going to take advantage of my fresh garden tomatoes as much as possible, because like all good things, the tomato season will soon come to an end.
Tomato Goat Cheese Tart
This tart is the perfect way to use up your fresh garden tomatoes.
Print
Rate
Ingredients
1

pkg puff pastry* cut in half

1

tbsp

cornmeal

1

egg

beaten

1/4

cup

crumbled goat cheese

about 15-20 cherry tomatoes

or any tiny variety, cut in half

pepper to taste

fresh sage

minced

Maldon salt to taste

or any flaked salt
Instructions
Preheat over to 400 degrees F.

Line a cookie sheet with parchment. Sprinkle 1 tbsp of cornmeal onto the parchment to cover a 9x9 inch square section.

On a lightly floured surface, roll out the puff pastry into a 9x9 inch square.

Transfer the puff pastry to the parchment with the cornmeal. Using a knife, lightly score a 1-inch border round the edge. Using a fork, prick the bottom of the tart in several places.

Using a pastry brush, brush the whisked egg all over the pastry.

Sprinkle the crumbled goat cheese over the tart, making sure to stay within the scored lines of the border.

Evenly place the cut tomatoes on top of the goat cheese.

Sprinkle pepper to taste.

Bake for 15 minutes. At the 15-minute mark, sprinkle the minced sage on the tart and return to the oven.** Bake for another 5 minutes, or until the pastry is golden brown.

Remove from the oven and sprinkle with Maldon sea salt.

Cut into squares and serve warm.
Nutritional calculation was provided by WP Recipe Maker and is an estimation only. For special diets or medical issues please use your preferred calculator
Notes
*I used Tenderlake puff pastry (the 397 gram package), which comes in a rectangular brick, with a perforated line to divide the brick into two equal squares. I used one square for this recipe.
**I add the sage towards the end because I find it burns quickly. For even more flavour, add the sage once the tart has baked the full 20-minutes and has been removed from the oven.
Culinary Cool Original Recipe