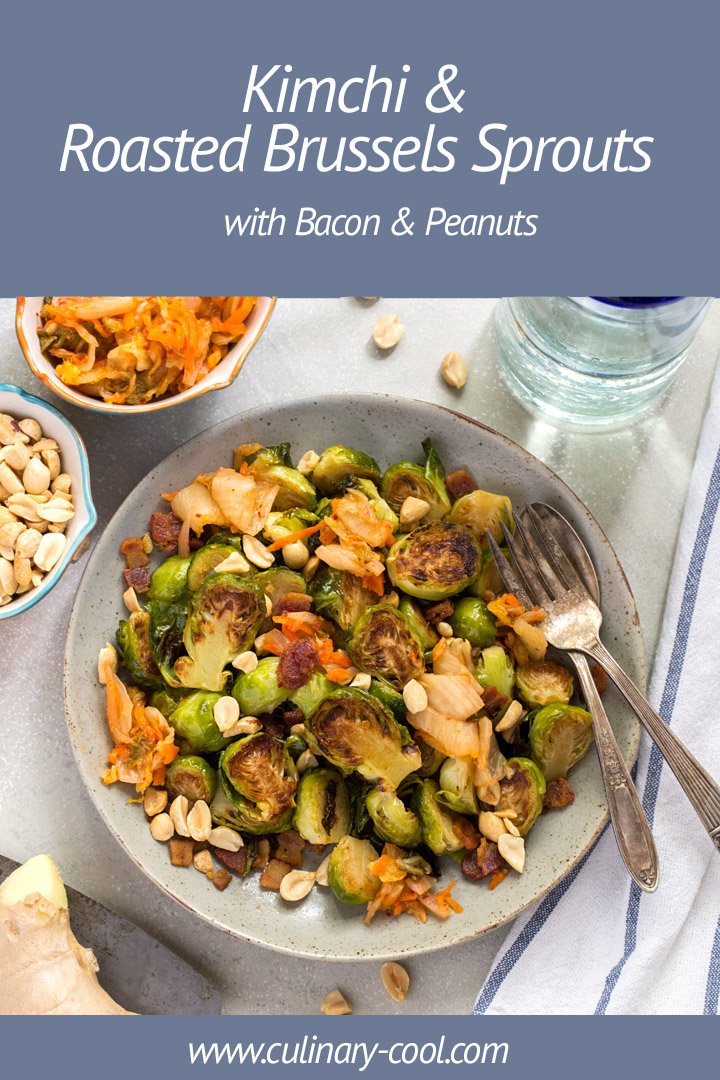 Roasted brussels sprouts are a classic side dish. This version gets a punch of flavour from fresh ginger and kimchi.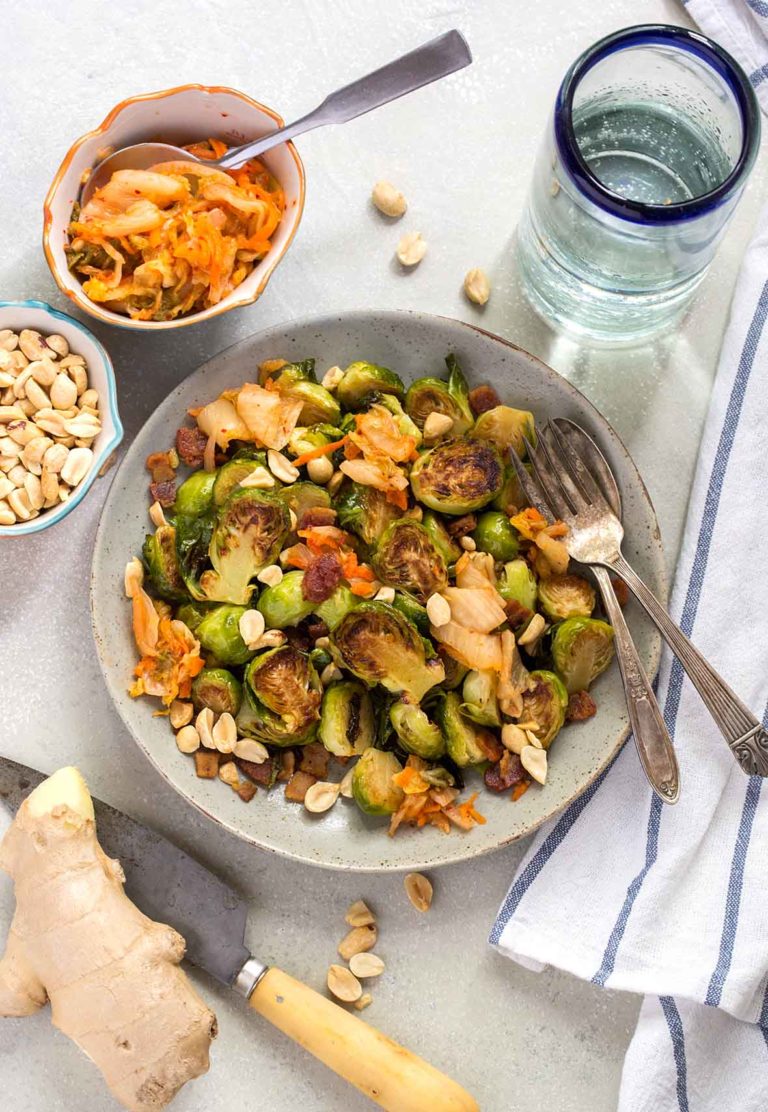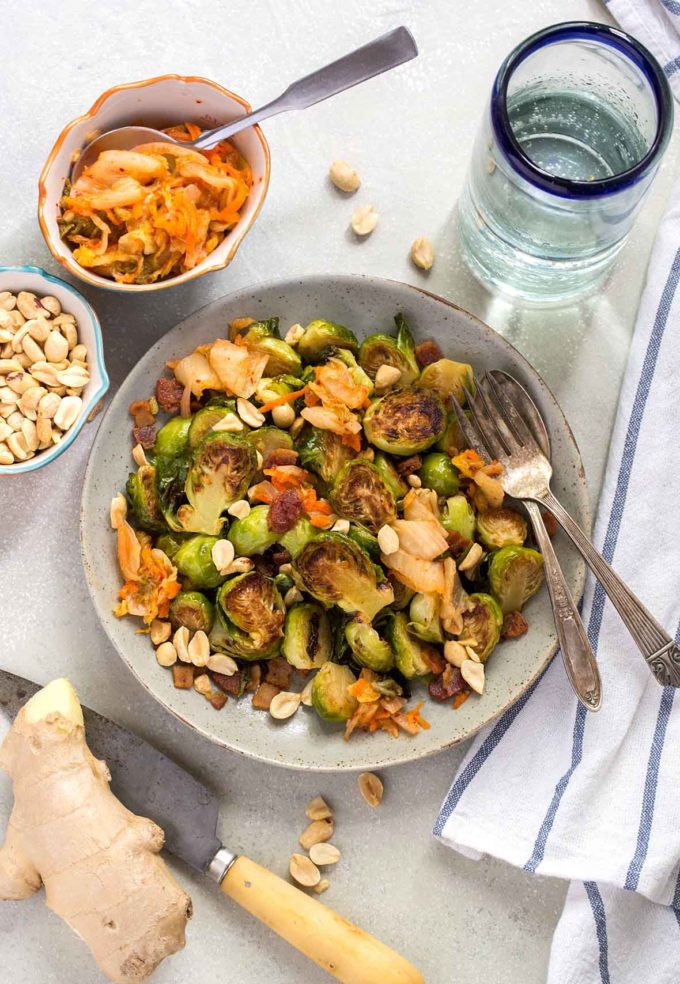 I haven't always been a lover of brussels sprouts. The one and only time I remember having them as a kid, they were boiled nuggets of mush, and served with Cheez Whiz. I'm fairly certain I was forced to choke them down, and refused to eat them again. Then, sometime during my Food Network addiction, I saw an episode of Laura Calder's, French Food at Home, where she made sautéed brussels sprouts with bacon. The key being, that the brussels sprouts were fresh, and not those heinous frozen ones. I went out on a limb, bought a big 'ole bag, made her recipe, and from that point forward, I was hooked.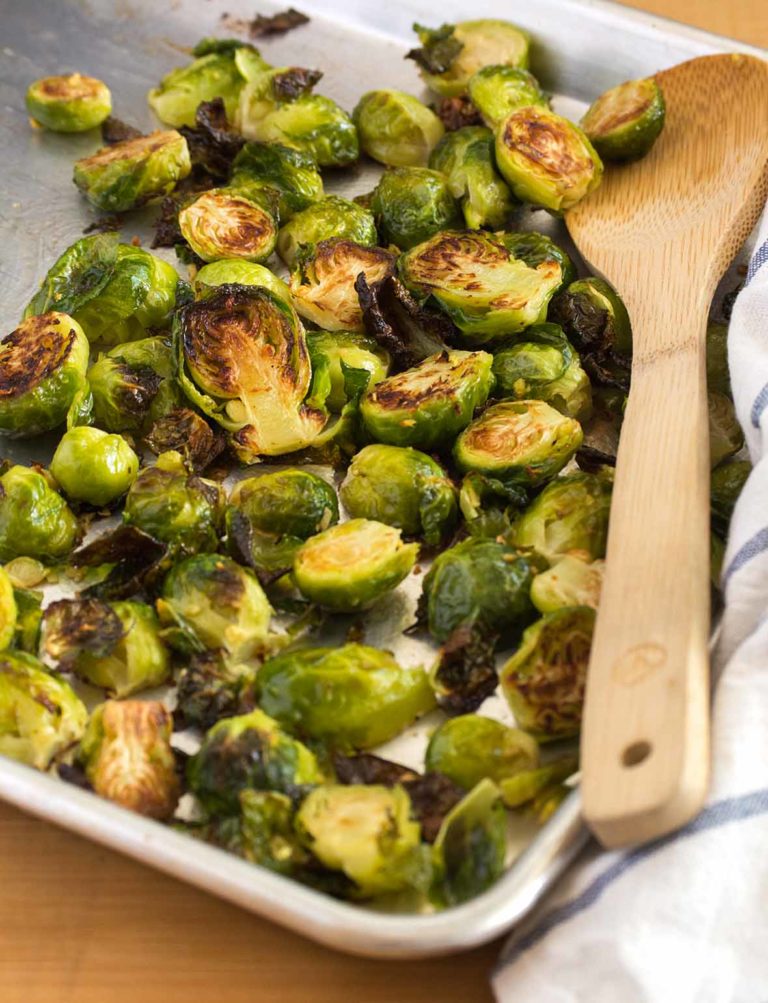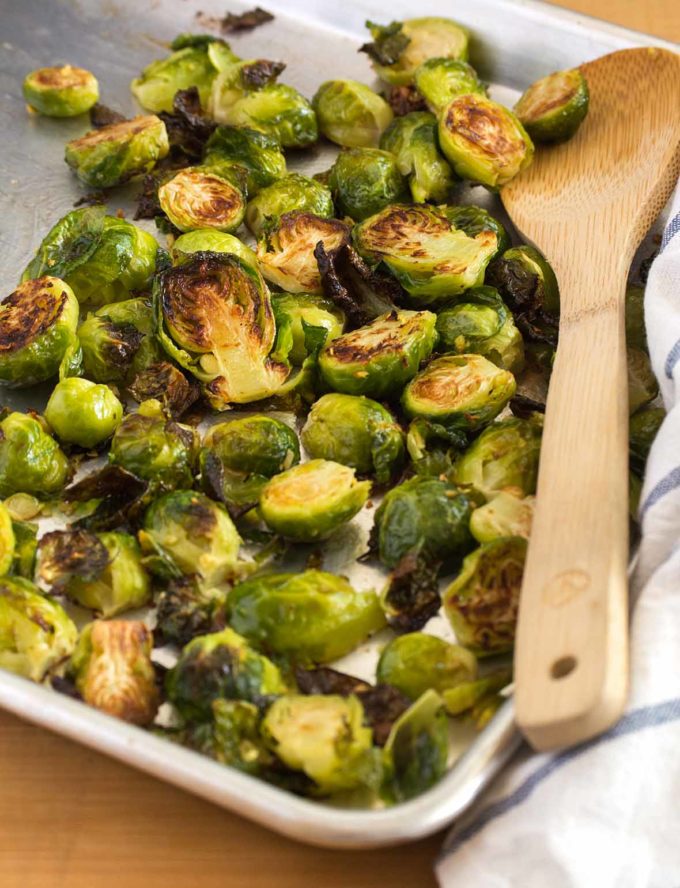 Laura Calder's version has been a staple in my kitchen ever since that episode aired on the Food Network. I've played around with different flavours, and I'm yet to find a way I don't enjoy brussels sprouts, aside from using the frozen ones, because those are nasty. I love having them as a side to risotto (or more often, just mixed right in), or roasted and tossed with a little balsamic vinegar, or even with some dijon and lemon.
So, when a friend of mine approached me to try out her Kimchi, and asked me to come up with some approachable, easy ways to incorporate it into everyday cooking, I was up for the challenge, and already had a few ideas in mind. I wanted to combine kimchi, which for some, is an unfamiliar ingredient, with some familiar, and already much-loved flavours. Queue brussels sprouts and bacon. I also wanted to borrow more Asian flavours, so I used fish sauce (which is delicious and adds show-stopping sweet/salty seasoning, ), ginger (fresh is the only way to go), and a little rice wine vinegar. The pairings are certainly unlikely, but truly work incredibly together. I spent about three days testing this recipe, and was not bummed to be eating a variation of this recipe for three days in a row.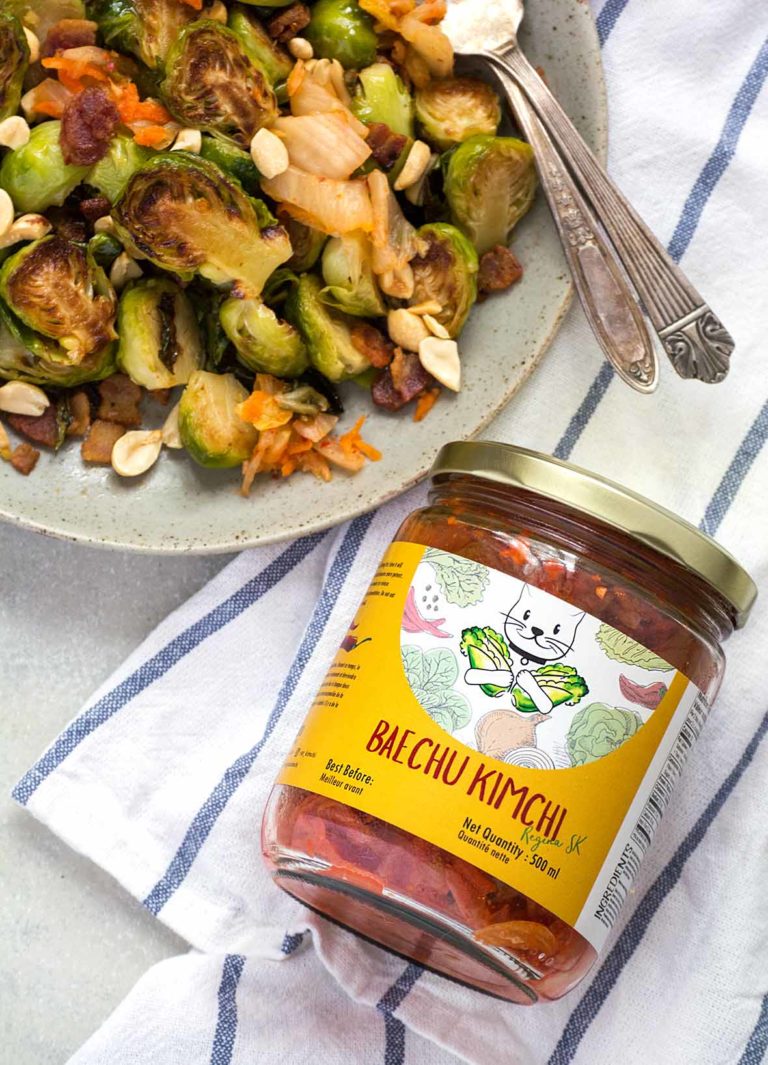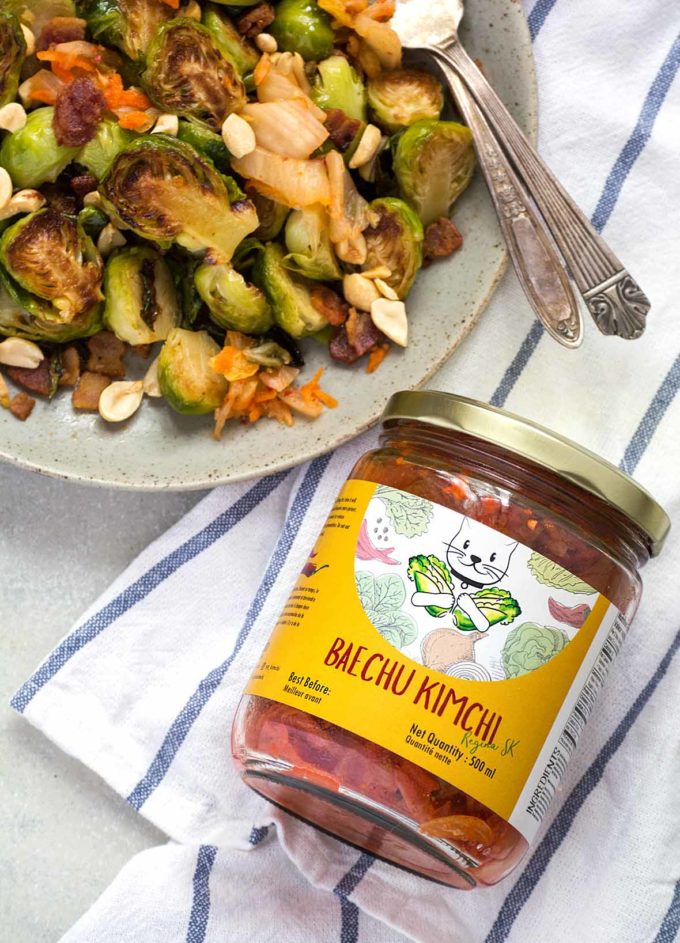 Kimchi is fermented cabbage (along with some other vegetables, like carrots, scallions and daikon radish), and is a staple in Korean cuisine. It's pungent, spicy, sour, and full of umami; truly an incredible ingredient to work with. As foreign as kimchi might seem to some people it's actually quite familiar to me. I liken kimchi to sauerkraut, an ingredient used extensively in Eastern European cuisine. My Baba used to make it, and my sister and I buy the stuff in the jar to make periske for holidays. Lots of folks around here like it with sausage, and on hotdogs. I was a judge recently at a Mott's Clamato Caesar competition, and one guy made a German influenced Caesar using homemade sauerkraut, and topped the whole thing off with a homemade pretzel and some sausage. It was wicked good!
So basically, kimchi is sauerkraut on steroids. Spicy, pungent steroids.
The kimchi I used is Baechu Kimchi (@yqr_kimchi on instagram), from right here in Regina, SK. They make spicy and vegan versions, so they have something for everyone. You can find a jar of this fermented goodness at Local & Fresh, Northside Market and More, and the Regina Farmer's Market.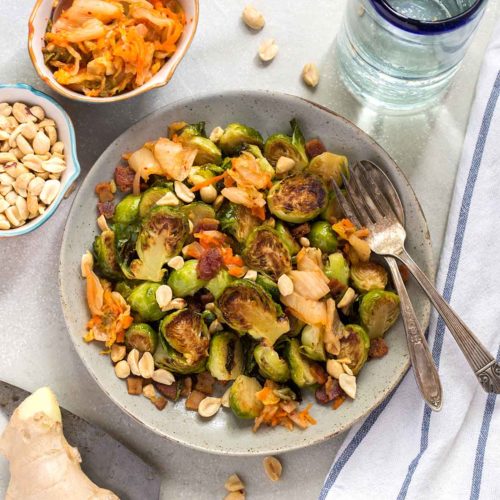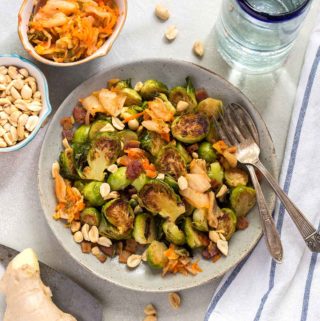 Roasted Brussels Sprouts with Kimchi and Bacon
A Korean inspired take on roasted brussels sprouts
Print
Pin
Rate
Ingredients
1

lb

brussels sprouts

trimmed and cut in half

2

tsp

minced ginger

2

tbsp

olive oil

2

tsp

fish sauce

4

strips thick cut bacon

chopped into large pieces

1

cup

kimchi

drained,and roughly chopped

1

tbsp

rice wine vinegar

1

tbsp

honey

peanuts for serving
Instructions
Preheat the oven to 400°F

In a medium bowl, toss the brussels sprouts with olive oil, fish sauce and ginger. Transfer to a baking sheet, and arrange so that the cut side of each brussels sprout is down.

Roast for 15 minutes.

In a medium skillet, fry bacon until crisp. Drain on paper towel.

Meanwhile, in a small bowl, mix together the rice wine vinegar and honey. Set aside.

Once the sprouts have roasted, transfer to a bowl, toss with the honey and vinegar mixture, then the bacon and chopped kimchi.
Nutritional calculation was provided by WP Recipe Maker and is an estimation only. For special diets or medical issues please use your preferred calculator
Notes
Adapted from Serious Eats