Rich and fudgy brownies, made with black beans, loaded with chocolate and cherries, are a healthier take on the classic Black Forest Cake.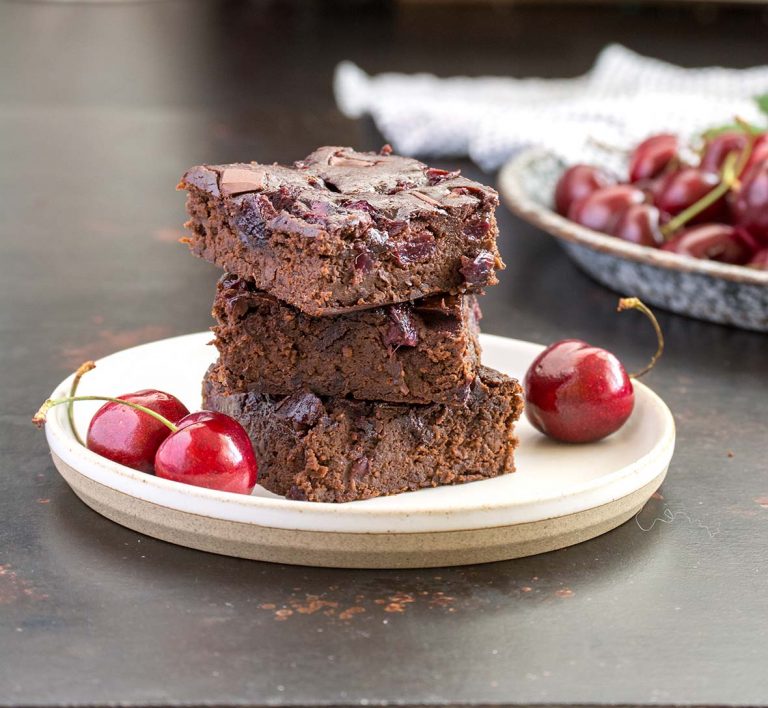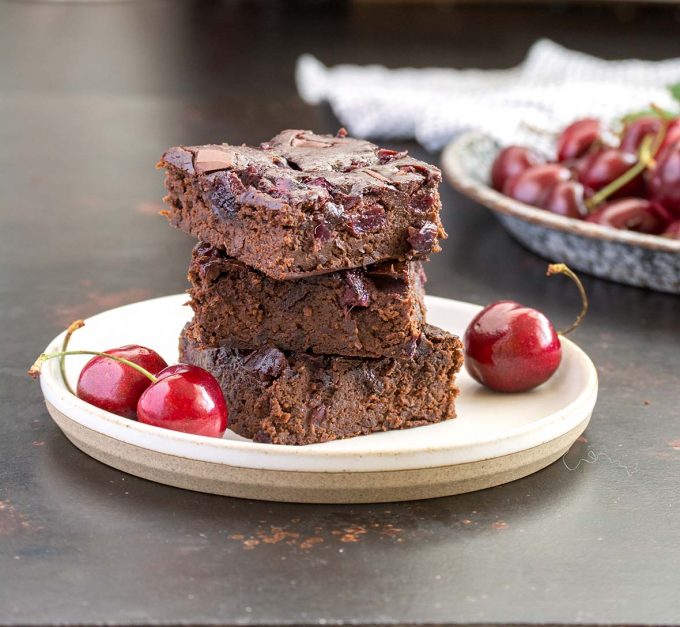 This is my favourite time of year in Saskatchewan. The weather is perfect, almost always sunny, and I'm soaking it in as best I can. I've spent a great deal of time outside in the yard these past few months, and almost no time in my kitchen, and honestly, it's been wonderful! I finally built (re: Scott finally built) two raised garden beds, which doubled the space I have available to grow my own food. I religiously tend to those beds, willing my beans, tomatoes, brussels sprouts, zucchini, peppers, and carrots to grow quickly so I can enjoy them. All the while, wishing and hoping for a bronze tan, but only being bestowed more freckles, and a rosy red hue.
You win some and you lose some.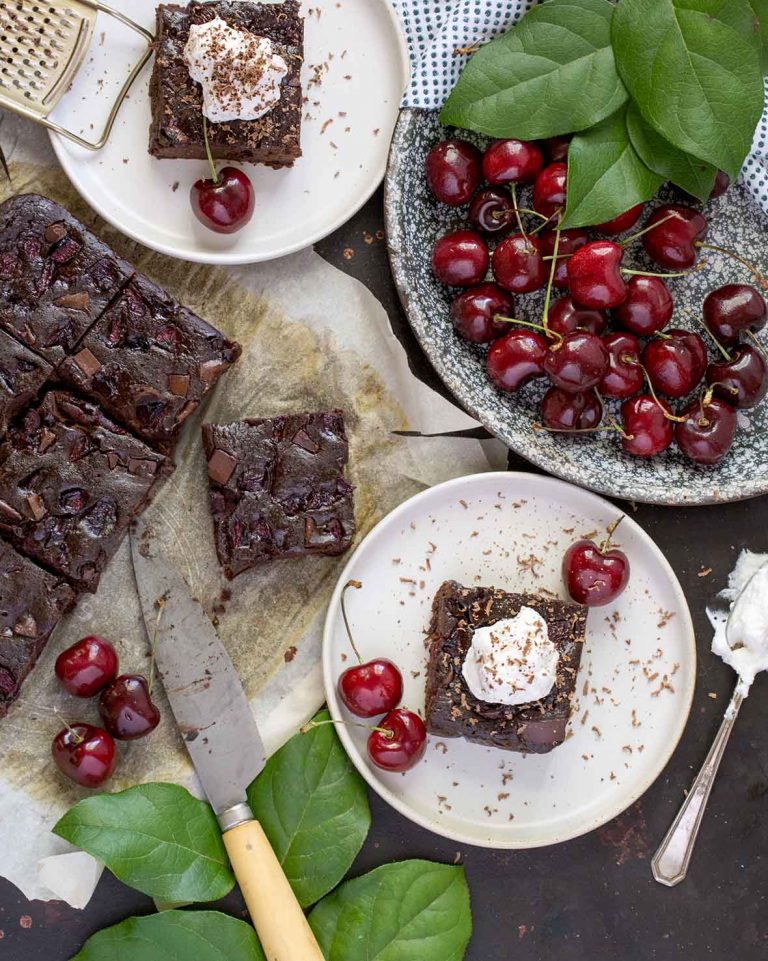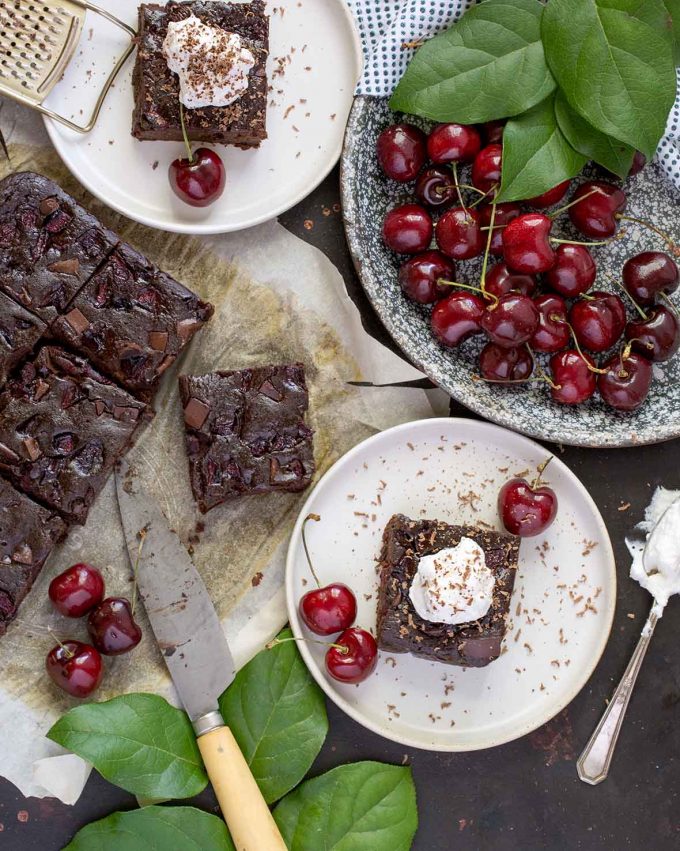 A few weeks ago, Scott was out of town for 5 days, and I planned on sitting under our gazebo, reading a book or two on my Kobo, and the occasional evening float around our pool. The first few days he was away, the weather wasn't ideal, it stormed a bit, and was chilly, so I resolved to hang out inside and I started binge watching The Handmaids Tale. Needless to say, I'm fully hooked, and spent several evenings watching T.V. well past midnight, which is not ideal on a work night.
With this cooler weather, I'm willing to turn the oven on, and thought perhaps it was in my best interest to pull myself away from the dystopian life of Offred, and bake something. When Scott is away, I try to get my fill of foods he doesn't like, such as potatoes (I totally ate potato salad for dinner one night), and cherries. I just picked up a bag of gorgeous B.C. cherries earlier in the week, and had Black Forest Cake on the mind.
I love the combination of chocolate and cherries, especially Black Forest Cake. I can't say for sure, but I think it's my Baba's favourite, because if you give her the responsibility of picking up a cake, you can almost guarantee she's coming home with Black Forest. I'm 100% fine with this, because I only seem to get Black Forest Cake at her house these days. So, with Scott away, I figured I should make a "black forest something" to get the craving out of my system. I've had a recipe for black bean brownies for a while now, and I knew this recipe was the vessel to bring Black Forest brownies to life.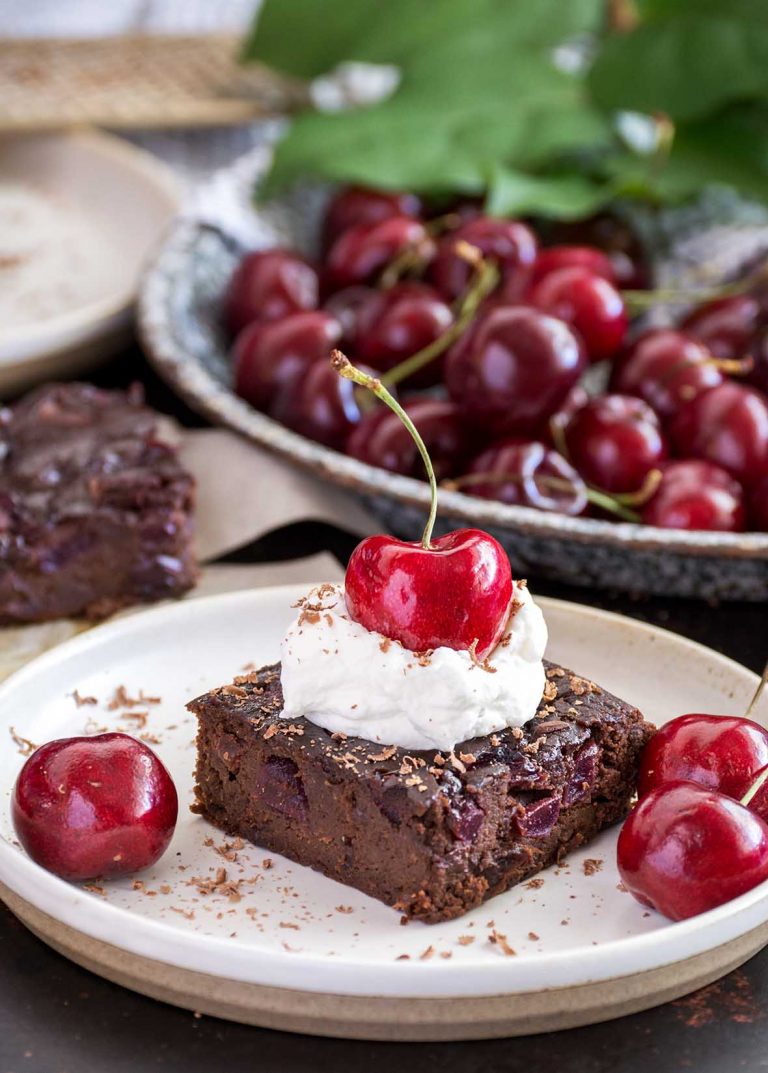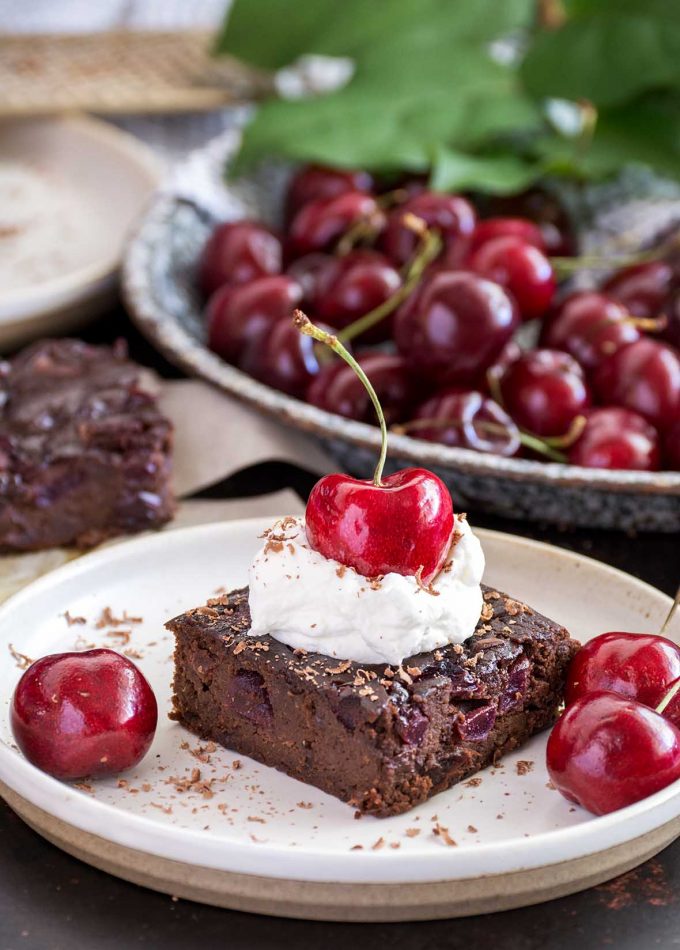 Now, I know what you might be thinking, black beans in brownies? Yes, black beans in brownies, and they're awesome, and if you gave these to someone and didn't mention the black beans, they would have no idea. NO idea! I'm not always one for healthy baking alternatives (because, ya'll know my love for butter runs deep), but these brownies totally have me convinced. They're rich and fudgy, which is my ideal expression of a brownie. Cakey brownies are just cake, thank you very much, and if I wanted cake, I would have picked cake!
Black bean brownies are great on their own, but when you add ruby red B.C. cherries, and chocolate chunks, they're elevated to heavenly status. I soaked my cherries in some amaretto (totally optional), which lends a subtle flavour, and topped them off with some almond whipped cream and chocolate shavings. Real talk: the pictures above showcase a delicate dollop of cream, but as soon as the shoot was done, I added so much more, that you could hardly see the brownie.
You only live once, right?
I would also like to mention, that the self-proclaimed cherry hater, came home and ate up the last of my brownies, cherries and all!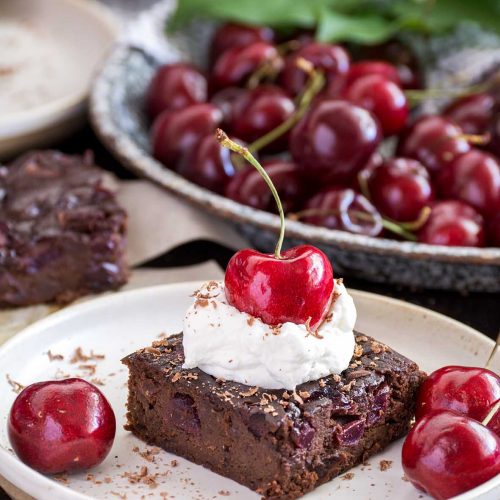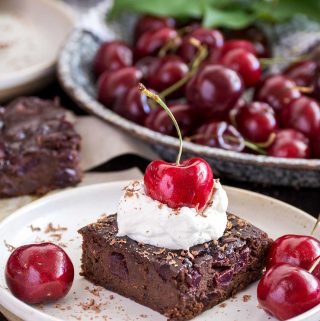 Black Forest Black Bean Brownies
A healthier take on classic Black Forest Cake. These brownies are made with black beans, are gluten free, but still rich and fudgy.
Print
Pin
Rate
Servings:
9
Individual Servings
Ingredients
1

cup

cherries

1/4

cup

Amaretto or cherry liqueur *

optional

1 1/2

oz

dark chocolate

1 398

ml

can black beans

rinsed

3

eggs

1/2

cup

honey

1/4

cup

unsweetened applesauce

2

tbsp

canola oil

or sub vegetable or melted coconut oil

1

tsp

vanilla

1/4

cup

cocoa powder

1

tsp

baking powder

1

tsp

instant espresso powder

1/4

tsp

salt

1/4

cup

chocolate chunks

1

cup

whipping cream

chilled

1

tbsp

powdered sugar

shaved chocolate

optional
Instructions
Pit the cherries, and then cut into quarters. Transfer the cherries to a small bowl, and add the amaretto. Let sit at room temperature for an hour, or longer if you have the time. Give the cherries a quick stir every once in awhile.

Preheat oven to 350°F.

Lightly oil an 8x8 baking pan, and line with parchment. Set aside.

Melt the dark chocolate over a double boiler, and set aside to cool slightly.

In a blender or food processor, combine rinsed black beans, eggs, honey, applesauce, oil, vanilla, cocoa powder, baking powder, instant espresso powder, salt and melted dark chocolate.

Blend until the batter is smooth.

Pour the batter into the prepared baking tin.

Drain the cherries, and sprinkle over the batter evenly.

Sprinkle the chocolate chunks over the top of the batter as well.

Bake for 60-70 minutes, or until the center is set.

Whip cream with powdered sugar. Feel free to add a splash of almond or vanilla extract if you wish.

Cut cooled brownies into 9 squares. Dollop cream onto brownies, add shaved chocolate and a cherrie, if desired.
Nutritional calculation was provided by WP Recipe Maker and is an estimation only. For special diets or medical issues please use your preferred calculator
Notes
*Amaretto lends a subtle flavour.  If you want a boozier cherry, I would recommend using something stronger, such as rum or whisky.   If you're in Saskatchewan, Last Mountain Distillery makes a wicked Cherry Whiskey that would be great for this.