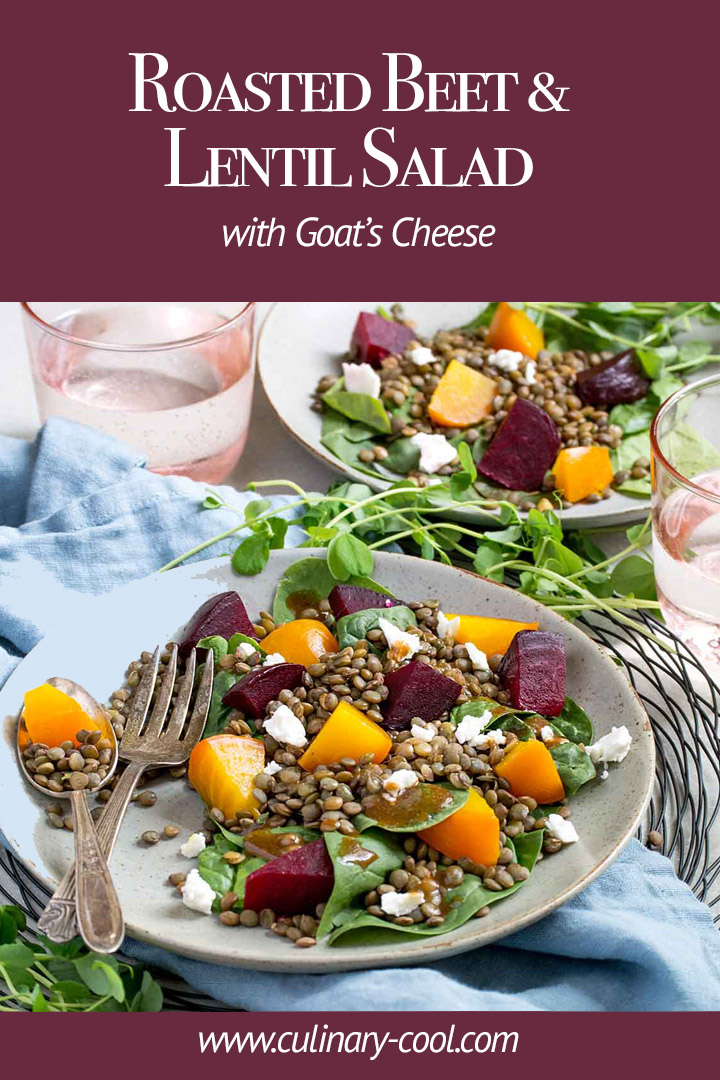 Roasted beets and French lentils make the perfect hearty fall salad. Earthy beets and lentils are complimented by tangy goat's cheese, and a balsamic vinaigrette. I can't get enough, and neither will you.
This post is in collaboration with Local and Fresh. We created a promotional video together, which you can view below, along with a discount code if you're in Regina, White City/Emerald Park, Pilot Butte or Weyburn.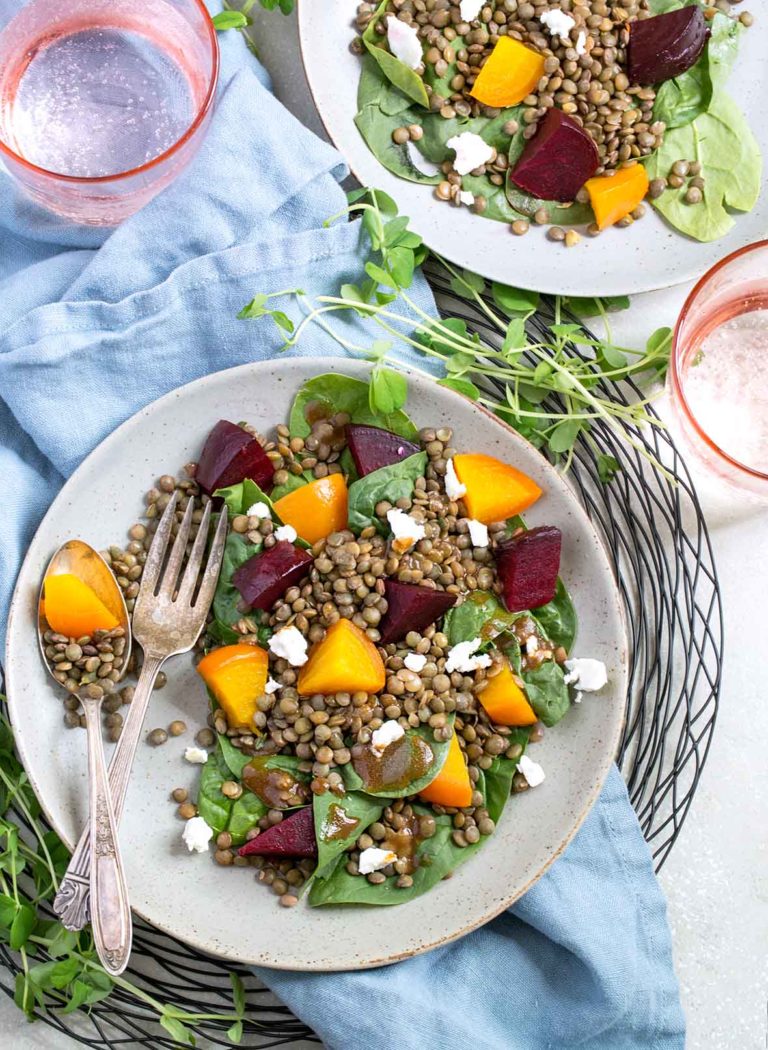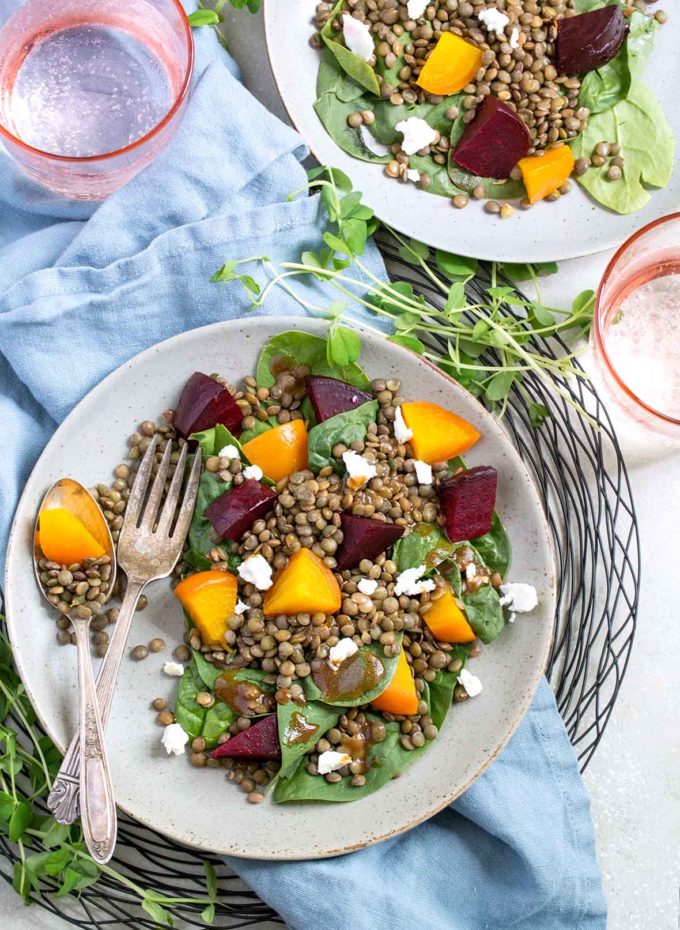 It's sad times, my friends. Summer is in the rearview, and the chill of fall is upon us here in Sask. There are only two good things about this time of year; all the garden fresh produce, and the fact that I can wear comfy-cozy sweaters and leggings again.
In summer, I live in dresses, but by the end of August, I'm craving my fall outfits again, complete with boots and scarves. I do not, however, find fall or winter all that enjoyable. The cold is not my friend. I don't enjoy bulky winter jackets, touques or mittens as a requirement in my wardrobe.
Cute ankle boots? Yes, please.
A cozy poncho or blanket scarf? Absolutely!
Knee length parka, toque on, hood up, and two pairs of mittens on at the same time? Hell, no!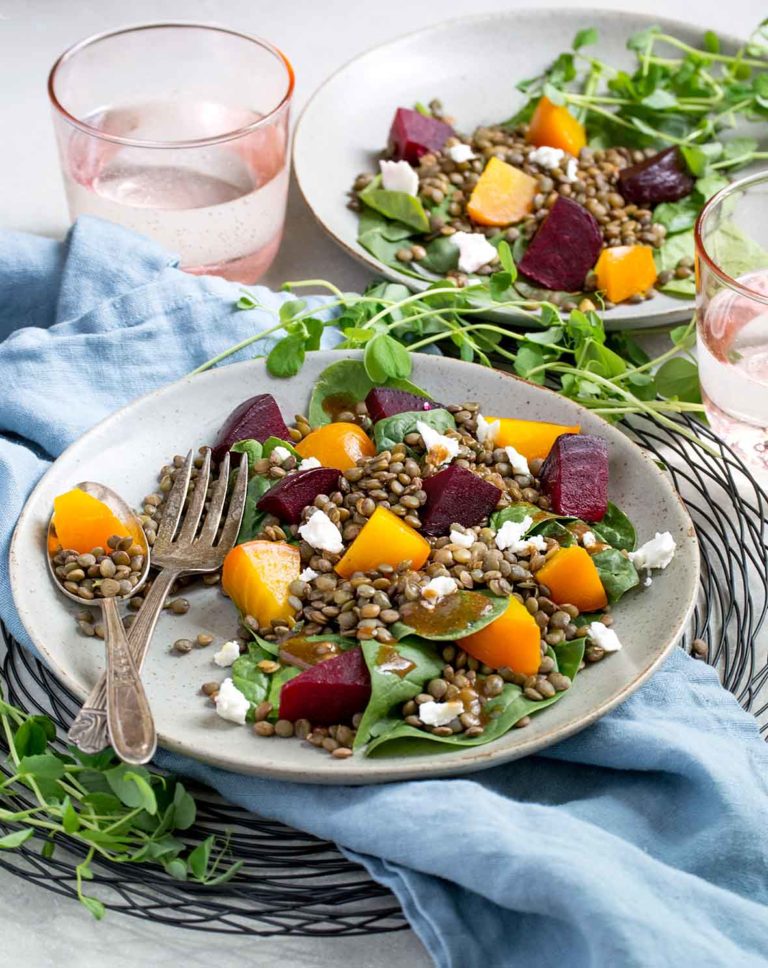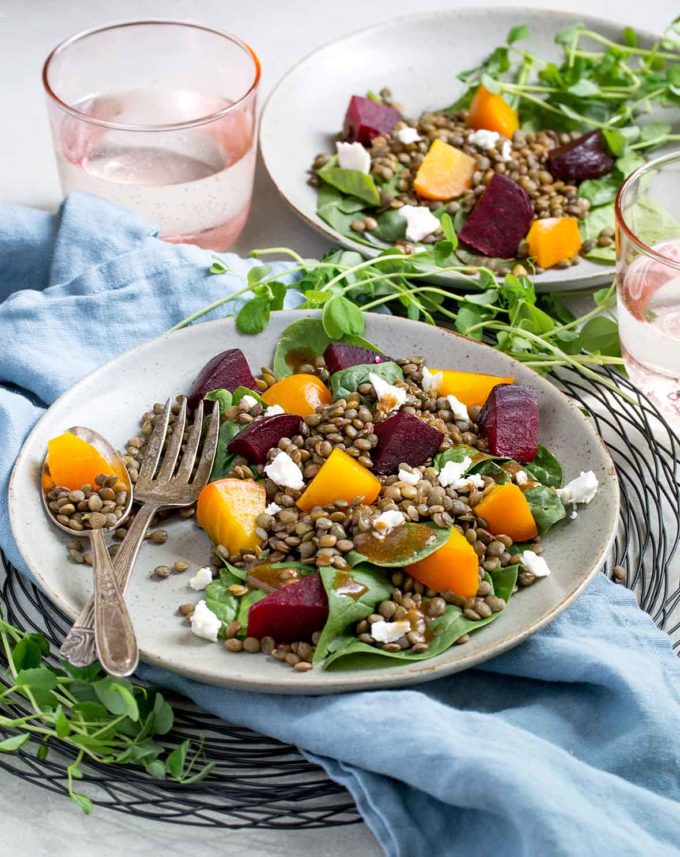 The best part about this time of year, is the abundance of amazing, fresh produce. All the good stuff is in season right now – stone fruit, brussels sprouts, cauliflower, beets, carrots, cabbage, corn, tomatoes….the list is virtually endless. I have a small garden and managed a small bean crop earlier in the year, my beets and carrots are looking pretty darn good, and I have enough tomatoes to make sauce to see me through to spring.
My garden is small, but mighty, yet I can't grow all the vegetables I love, so I lean on the farmers market and a great local business called Local and Fresh to supply me with everything else.
If you follow me on Facebook, you would have seen the video I made with them. One major reason I adore Local and Fresh is that they give me easy access to locally grown produce. The cauliflower you see in the video was fresh from the field THAT DAY! How fricken awesome is that?
Let's talk about the amazing local products I used to make this Roasted Beet and Lentil Salad that you see me preparing in the video, and recipe below.
Candy Cane and Golden Beets, Pioneer Gardens, Lumsden SK
French Lentils from Presto Farms, Grand Coulee, SK, a 100 yr old, family-run farm!
Camelina Oil from Three Farmers, Midale, SK – an ancient oilseed in the mustard family, and actually tastes a little bit like asparagus! You may have seen them on Dragons Den!
German Style Dijon Mustard, Gravelbourg Mustard, Gravelbourg, SK – also on the Dragons Den!
Spinach, Floating Gardens, Osler, SK
Pea Shoots, Acre 10 Gourmet Greens, Pilot Butte, SK
This salad isn't a science, it's more of a guideline. I encourage you to make it your own! Love beets? Add more! I personally like mine heavy on the lentils, so I usually make double what this recipe calls for. Pea shoots are totally optional, but I like to use them when I'm feeling…as the kids say these days…extra!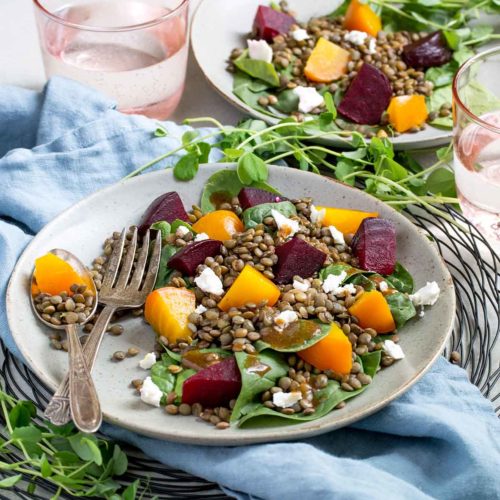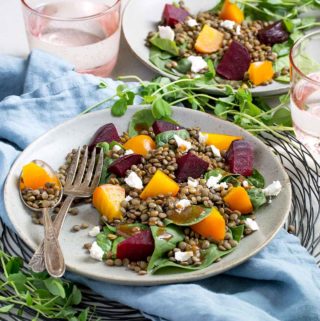 Roasted Beet and Lentil Salad with Goat's Cheese
A simple, hearty salad using fresh beets and lentils
Print
Pin
Rate
Servings:
2
meal sized, or 4 side salads
Ingredients
Salad
3

cups

water

1/2

cup

French or green lentils

rinsed, and picked through for debris

1

bay leaf

sprig of fresh thyme

1 1/2

lbs

beets

assorted varieties, such as red, golden, candy cane

3-4

handfuls mixed greens
Vinaigrette
1/4

cup

Camelina or olive oil

2

tbsp

balsamic vinegar

1

tsp

Dijon

such as Gravelbourg German Style Dijon

salt and pepper to taste

goat's cheese

pea shoots

optional
Instructions
Preaheat oven to 400°F.

Cut off the leafy beet greens, and scrub them under running water. Wrap the beets in foil individually, however, smaller beets can be wrapped up together. Place on a baking sheet.

Roast for 45-60 minutes, depending on the size of your beets, and check on them every 20 minutes or so. They are done once they are fork tender.

Let them cool before rubbing with a paper towel to remove the skins. If the skins don't come off easily, you can use a vegetable peeler to help the process along.

Cut the beets into wedges, or bite sized pieces.

Meanwhile, in a medium saucepan, add water, lentils, bay leaf and thyme. Bring to a boil, then reduce to medium and simmer until tender, about 20-25 minutes.

Drain lentils and remove the bay leaf and thyme. Set aside and keep warm.

In a medium bowl, whisk together oil, vinegar, Dijon, salt and pepper. Whisk until the vinaigrette is emulsified. Set aside.

Add the greens, beets, and lentils to a mixing bowl, add the dressing, and toss to combine.

Serve with crumbled goat's cheese and pea shoots. This salad is awesome served warm, or chilled.
Nutritional calculation was provided by WP Recipe Maker and is an estimation only. For special diets or medical issues please use your preferred calculator