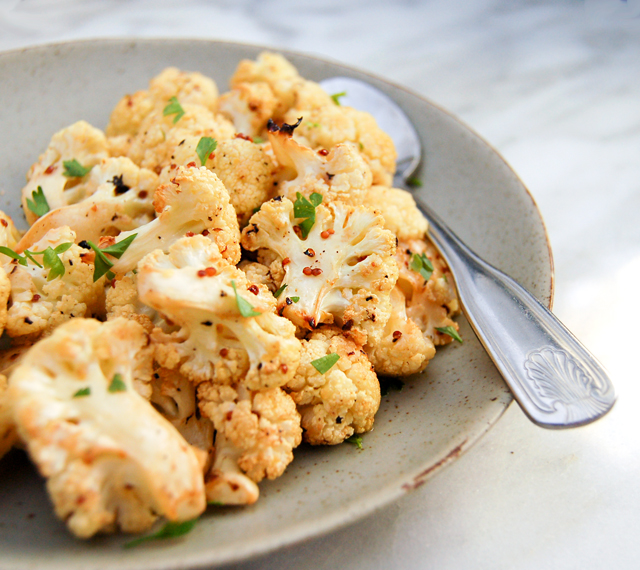 I feel as though a major detox is in order. We just spent the last 10 days on vacation, touring around the South. We spent some time in Georgia, Alabama, Louisiana, Mississippi, and Tennessee. My favourite place was New Orleans, where I ate Beignets every day we were there. Looking back on our meals, we really didn't consume any vegetables. Before we left New Orleans, we stopped in at Whole Foods and grabbed some road snacks, and a quick lunch.
I love their buffet of food! This particular time, I was eyeing up ALL of the vegetables, since I was feeling pretty sluggish after eating deep fried dough for 4 days. One of my absolute favourites turned out to be cauliflower with lemon and mustard. I wasn't too sure about it, but took a small scoop anyways, and it ended up being the best part of the meal. I knew that I had to make it when I got home.
It's quite amazing how 4 simple ingredients can create something so flavourful! As an added bonus, it's super simple to put together. The lemon and dijon butter sauce will tantalize your taste buds. I love using grainy dijon for the added texture and bite, and it adds some visual appeal. Fresh lemon juice is the way to go in this recipe, too. I don't know why, but I find the bottled stuff doesn't taste quite right, but use whatever you've got!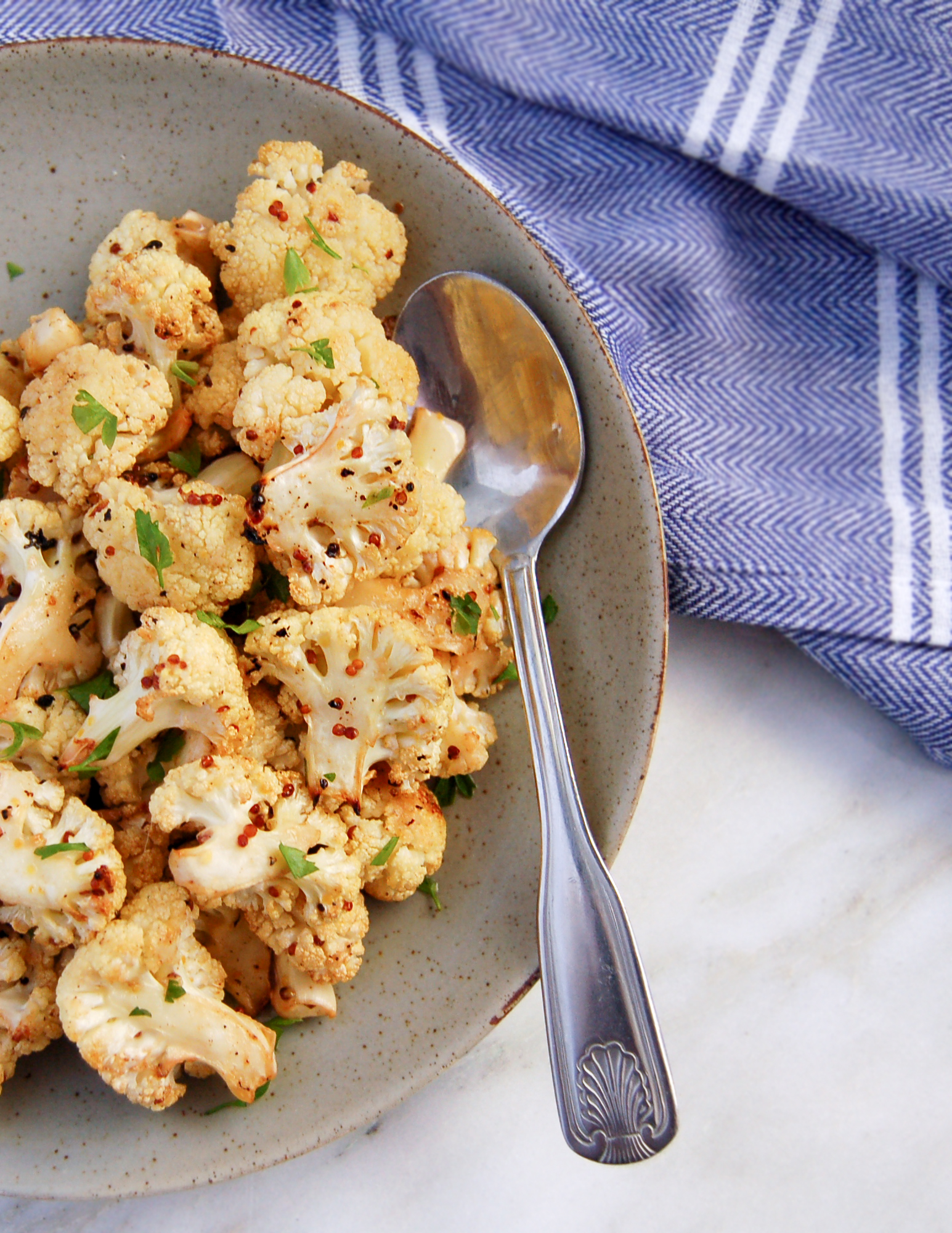 Now that I'm back from vacation, I'm ready to hit the gym for my last month of the GoodLife Fitness 3-month challenge. I put my favourite jeans on for the first time in awhile and had a pleasant surprise – the waist was too big! Say what?! I was pretty excited about that! It's a pretty awesome feeling to see results finally. I wore those same jeans to teach a cooking class this week, found myself constantly having to pull them up. I hate wearing belts, so I may have to retire these jeans. I guess I'll have to go do some shopping. Woe is me.
I still haven't taken a class yet, but I was eyeing up the CXWORX class. It's supposed to help strengthen your core, improve posture, and tone out your butt and legs. I need all of those things! I really like the idea of taking a class because it's structured, and I don't have to plan out a workout routine myself. All I have to do is show up and follow along!
My eating habits have also improved. We try to eat as many veggies as we can, and this Roasted Cauliflower with Lemon and Dijon will be on heavy rotation for awhile. Cauliflower is in season right now, making it the perfect fall side-dish. I'm sure all of us have memories of cauliflower/broccoli topped with melted cheese from when we were kids. Don't get me wrong, I love cheese, but after eating cauliflower like this, I don't think I could ever go back to topping it with cheese.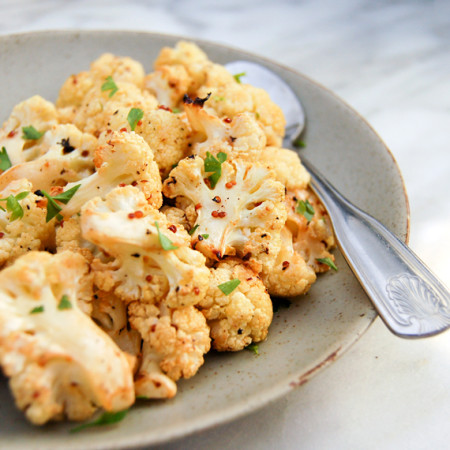 Roasted Cauliflower with Lemon & Dijon
You can do more with cauliflower than just top with melted cheese! Instead, roast the cauliflower, and toss with a zesty lemon and dijon butter sauce. You will never go back to cauliflower and cheese again.
Print
Pin
Rate
Ingredients
1

small head cauliflower

cut into florets

1/4

cup

butter

3

tbsp

fresh lemon juice

1

tbsp

grainy Dijon mustard

salt to taste

parsley for garnish
Instructions
Preheat oven to 400 degrees F.

Cut the cauliflower into florets and place in a medium bowl. Set aside.

Melt the butter, and then stir in the lemon juice and dijon.

Pour the melted butter over the cauliflower florets and toss to coat. Sprinkle with a salt to taste.

Place the cauliflower on a baking sheet, and roast for 20-25 minutes, or until tender and golden brown.

Serve warm and topped with parsley.
Nutritional calculation was provided by WP Recipe Maker and is an estimation only. For special diets or medical issues please use your preferred calculator
Disclaimer: I've been provided a 3-month membership to GoodLife Fitness at no cost, in exchange to write about my experience.