I fell in love with New Orleans the moment I arrived. It's hard to explain why. The whole city resonated with me, like I was always meant to be there. And also like I was never meant to leave.
New Orleans was just a small part of a week long adventure to the South, which started in Atlanta, and ended in Nashville. I'm sure I'll tell you all about those places later, but first, I want to tell you about New Orleans.
I have so much to say, yet don't know where to start. Perhaps it makes most sense to start with the food. I didn't spend much time behind the camera, which is something I don't regret at all. This was a much needed getaway, and I wanted to be present instead of observing through a camera lens.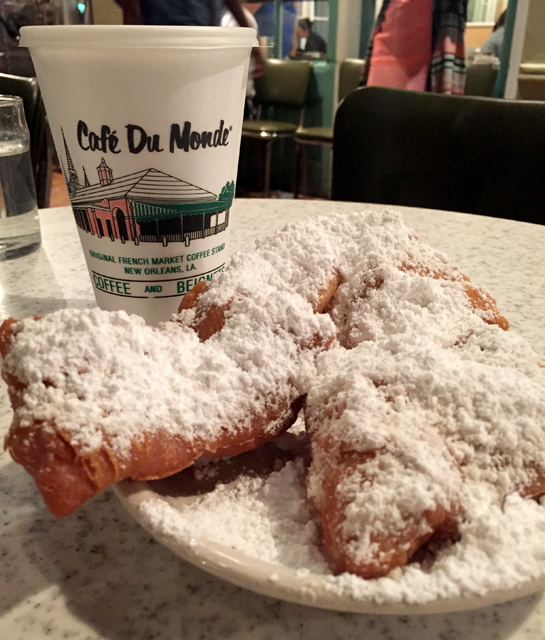 There was very little research and preparation that happened leading up to the trip. I knew for sure though, that three things had to happen – beignets, crawfish, and po' boys. Anything else was just icing on the cake.
To start the trip off on the right foot, our first stop was the famous Café du Monde. We arrived late in the evening, and hadn't had much in the way of good food since leaving Atlanta that morning. Despite the late hour, the cafe was bustling, alive with chatter, and the sounds of a trumpet filled the streets. This was it, we were about to enjoy our first taste of beignets, and they did not disappoint. The fried dough was heavily dusted with icing sugar – may I suggest you avoid wearing anything black in colour if you plan on eating here. The iced cafe au lait was perfectly refreshing, although I do prefer to brew it a bit stronger at home.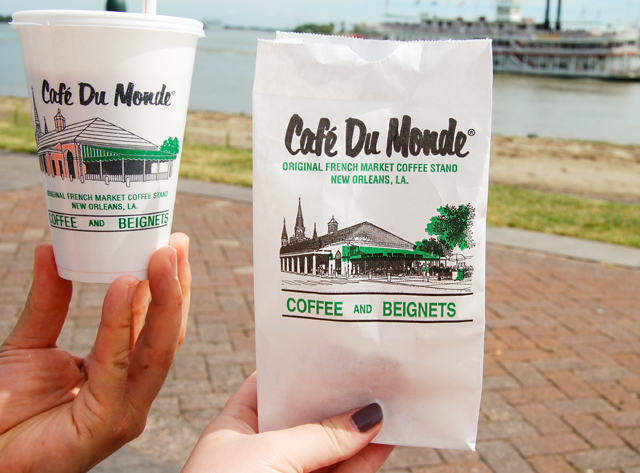 We met a Marine in San Francisco back in September at a bakery, and we got to chatting. He was stationed in New Orleans for a number of years and suggested we take our coffee and beignets to go, (the line up sucks, by the way) and enjoy them on a bench by the Mississippi river, which is what we did on our last day. It was far less busy, a bit quieter, and we got to see the famous Natchez Steamboat paddle down the river. We sat side by side, enjoying our little indulgence, chatting about how we didn't want to leave, and about how one day we would live there.
Café du Monde just happened to be the first and last thing I enjoyed in New Orleans. I think I will make it a tradition.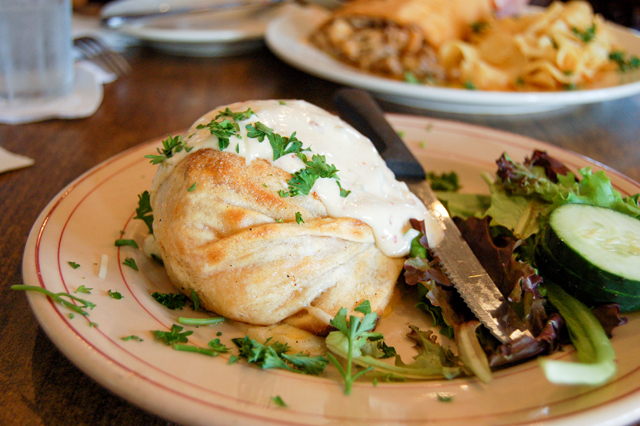 So with the classic beignets out of the way, there were two more things on my food bucket list; crawfish and po' boys. Now, coming across crawfish was going to be difficult, seeing as it wasn't crawfish season, but we lucked out.
I took to google and found a place called Katie's that had a decently looking menu. We ordered the Crawfish Beignet, which is a beignet filled with crawfish, jalapeno peppers, onions, and three kinds of cheese. It's then fried, and topped with a jalapeño aioli. It set the bar pretty high.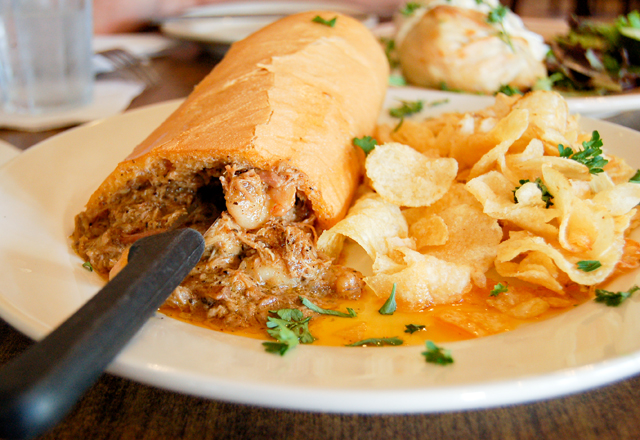 We also ordered a po' boy called "The Legend" which is made with cochon de lait and bbq shrimp. Cochon de lait is a suckling pig that is used in cajun cuisine, the texture is just like pulled pork, and it's flippin' amazing. The Legend po' boy is said to be one of the best po' boys in the city, and the restaurant was featured on Diners, Drive-ins, and Dives.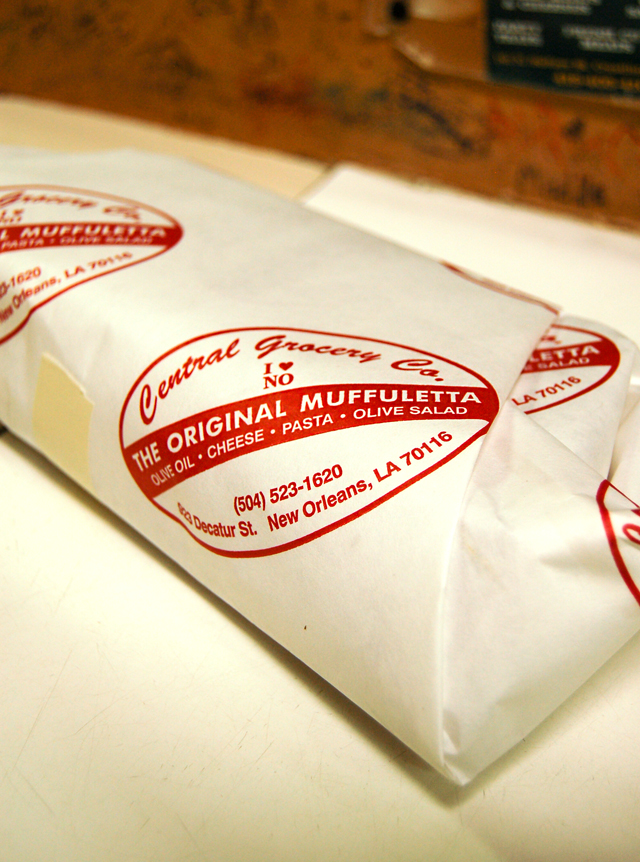 Sometimes the best things just fall into your lap. We actually stumbled upon Central Grocery, which invented the Muffuletta sandwich. We were just strolling down the street, and I happened to look up and see their sign. Initially, all I wanted to do was peruse the isles of their tiny store and see what kind of unique foodstuffs I could find. We weren't particularly hungry, but instead we decided to sample the Muffuletta. Best. Decision. Ever.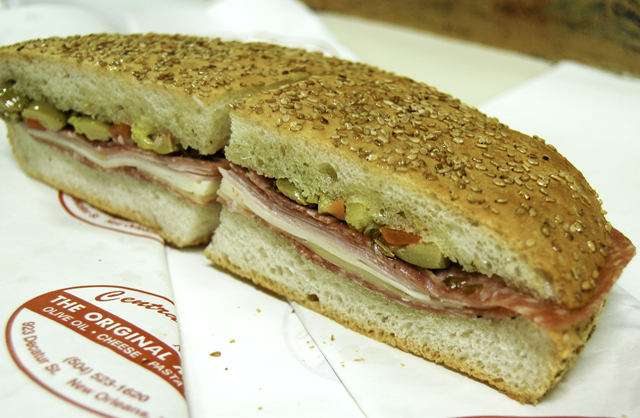 A Muffuletta is a sandwich made from a round, dense bread, similar to focaccia, and filled with mortadella, salami, ham, mozzarella, and a delicious mixture of marinated olives and veggies. I'm not the biggest fan of olives, but this sandwich was phenomenal. I didn't pick a single olive out!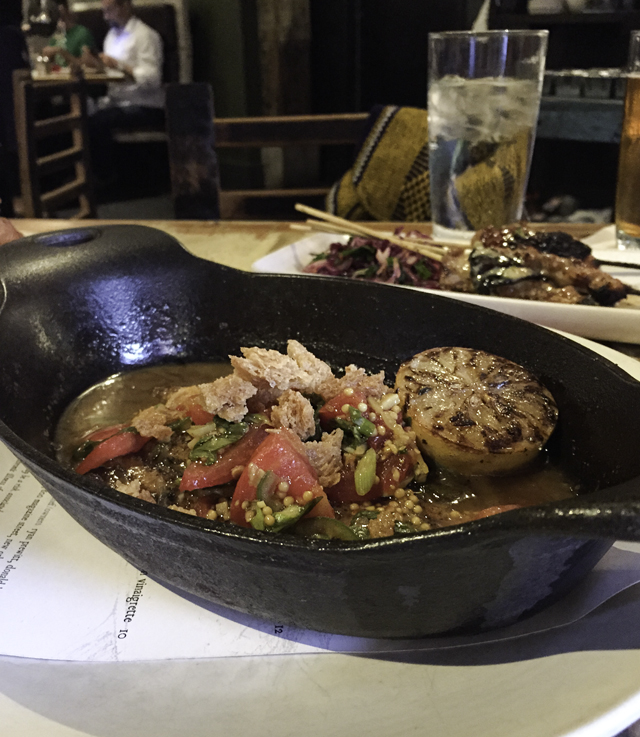 The best meal of our whole trip came by recommendation from a super cool dude we met while I was buying turkish textiles near Magazine Street. He said his favourite date-night restaurant is a place called Pêche Seafood Grill which has won two James Beard Awards. We showed up around 5 and the place was pretty much packed. They graciously made room for us even though they were completely booked with reservations.
Our server, John, was fantastic and made a few recommendations. We ordered the Bake Drum with calas and mushroom broth. Drum is a white fish with a mild flavour. I'm not the biggest fan of fish, but I could eat this everyday. The Drum in this dish was tender, and all kinds of amazing. Calas is basically croutons, which were added for texture, and it was all topped with confit tomatoes. It was completely sublime and we will be ordering this again.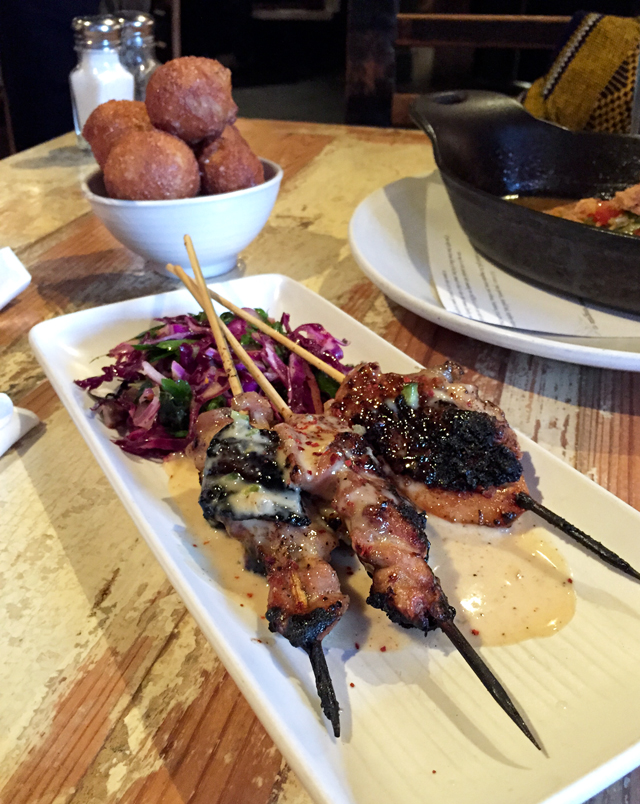 We also ordered the Chicken Skewers with a white bbq sauce. Holy. Man. Soooo delicious. John suggested we order the hushpuppies to scoop up all the leftover sauce from both dishes. Both plates went back completely free of any food or sauces; we may have used our fingers once we ran out of hushpuppies. It was that good!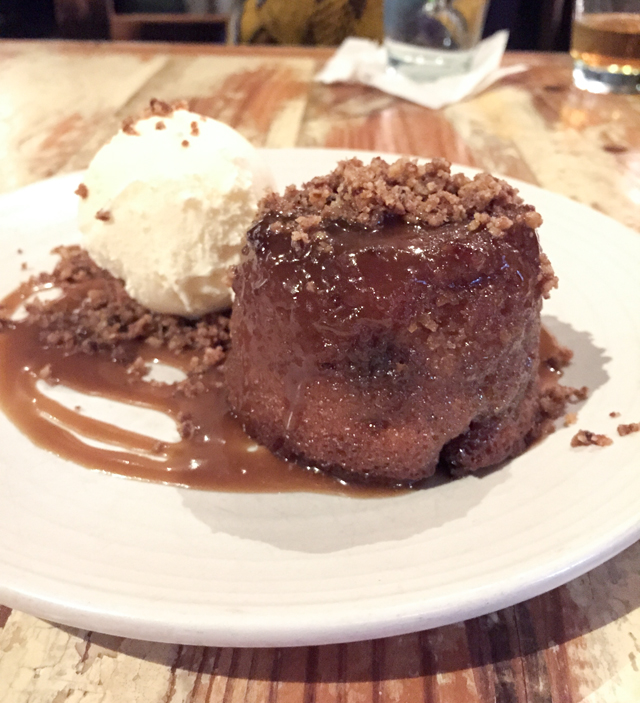 After that stellar meal, we knew we had to get dessert. We chose a Toffee Apple Cake which was served with a tangy sour cream ice cream. It was very similar to sticky toffee pudding, which is one of my favourite desserts ever. We may have fought over who got the last bite of ice cream. Spoiler alert, it was me! It was the perfect way to end our meal at Pêche.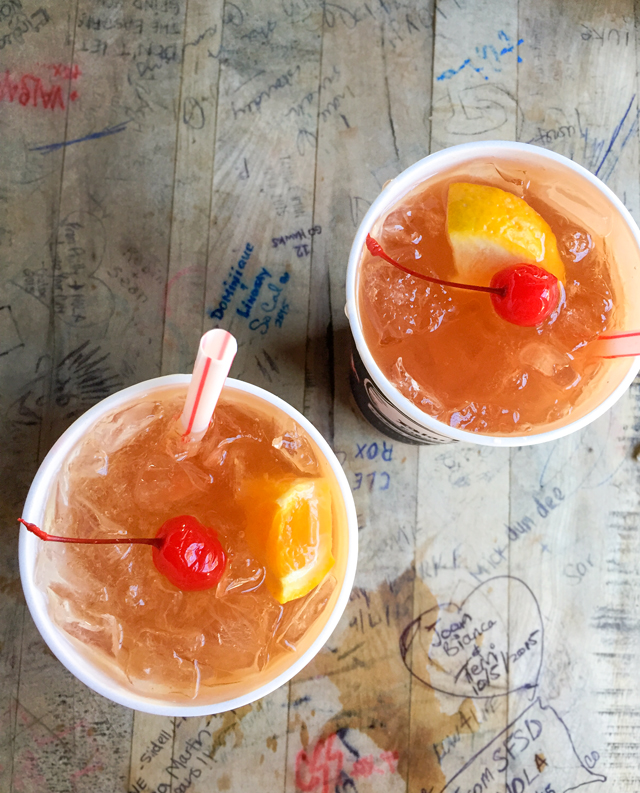 The Marine we met in San Francisco also made a few other recommendations. One of them was to go to Lafitte's in the French Quarter and have a Hurricane. Lafitte's is said to be the oldest building being used as a bar in the United States and they are known for their killer Hurricane. I asked, and the secret is that they add passionfruit juice. I may have indulged a little too much and required an afternoon nap shortly thereafter. My sister may or may not have received drunk texts from me at 4 in the afternoon.
All in all, the food in New Orleans was outstanding. I particularly loved that we ate at all local restaurants, who served local food. We were never disappointed (except for when were were turned away from Brennan's because of our tank tops – boo, hiss), and we enjoyed every last bit of creole and cajun goodness. Food was only part of the reason why I love New Orleans and I can't wait to share the other adventures we had.