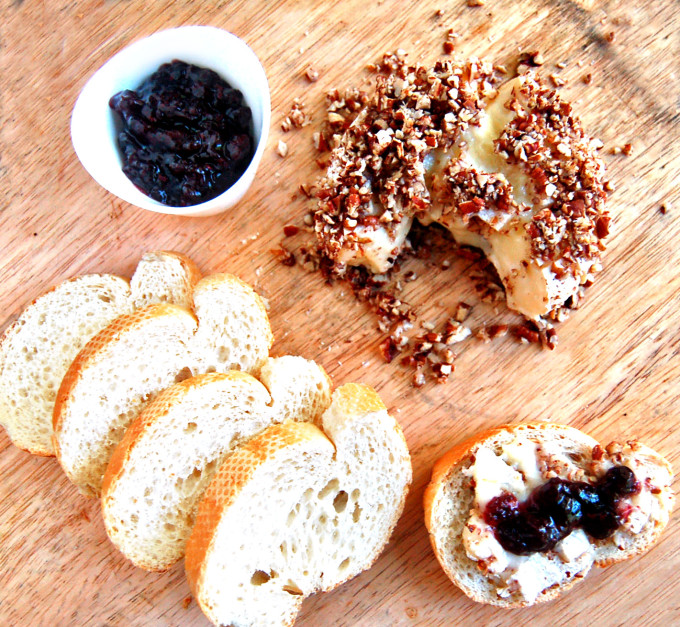 I've had the biggest craving for baked brie ever since I got back from a little vacation in Calgary. Then a lovely blogger commented about how she wished she had somewhere nearby that served up a version of the magnificent brie I mentioned. Well ladies and gentlemen, it's really not that hard to make at home….really, I promise you. In fact, I encourage you to give it a try. It's a great item to make as an appetizer for parties, and it's sure to impress all your guests. Or, you can keep the whole thing to yourself. Trust me, it disappears quickly. But I wouldn't know from experience…..Shamefully, I do know from experience. The night I made the brie, my sister posted a picture on instagram of a lovely fruit platter for her "movie night at home with the hubby"… Well my movie night at home consisted of a whole wheel of baked brie…. There's a reason why she's the skinny one 😉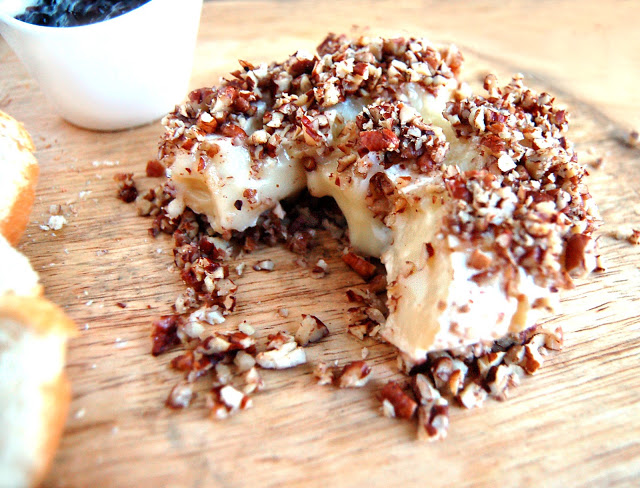 My version of baked brie is a marriage of rich, melty, pecan crusted cheese, and a sweet summertime favorite – Saskatoon Berry jam. I'm sure Saskatoon Berry jam isn't readily available everywhere, so try another berry jam or compote. Cranberry is another of my favorites. Or try to order it online. It's fabulous stuff!
Pecan Crusted Brie
2/3 cup finely chopped pecans
1 wheel Brie cheese, keep the rind on
1 egg
1 tbsp milk
Directions
Preheat oven to 350 degrees.
Finely chop pecans, (or use food processor). Transfer to shallow bowl.
Whisk together egg and milk.
Dip the brie into the egg mixture, coating on all sides. Then dip in the pecans, turning to coat. Gently press the nuts into the cheese to adhere.
Transfer the brie to a baking sheet lined with tin foil, or into a brie baking dish. I used a brie baking dish, and put a layer of the remaining pecans on the bottom the dish, then placed the brie on top.
Bake for 10-15 minutes, or until the cheese is warm and soft.
Serve with toasted baguette and top with jam.