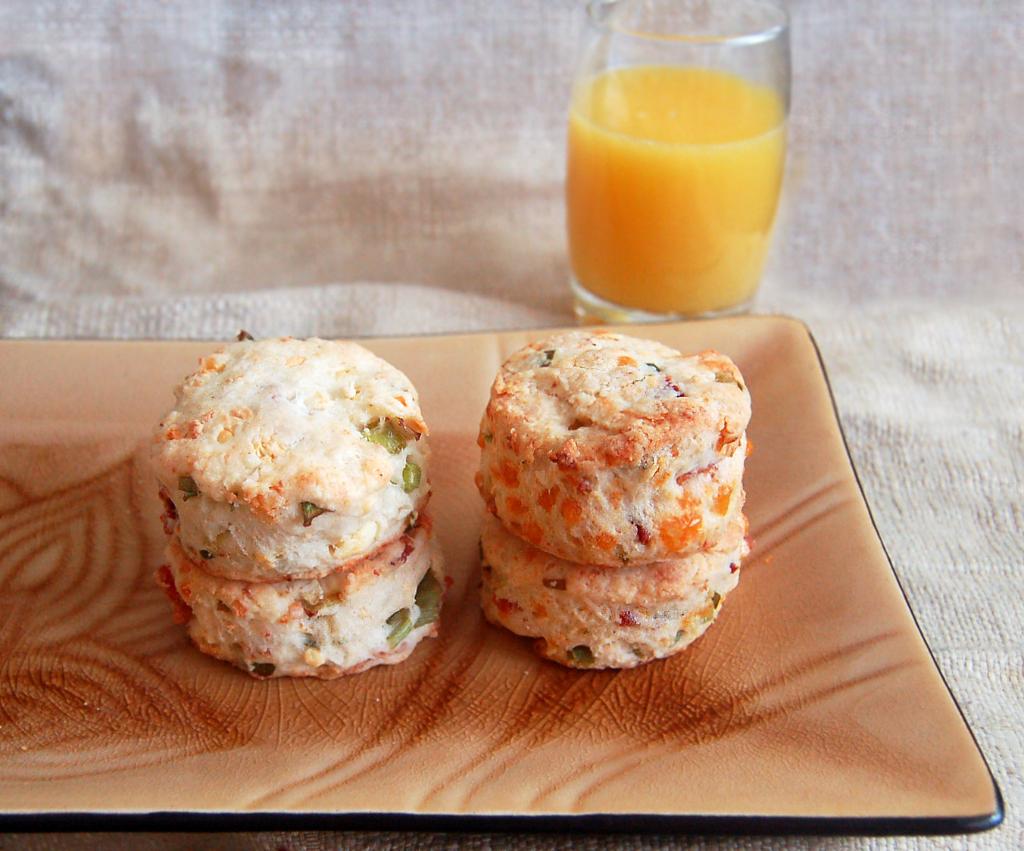 Feta (left) and Cheddar (right) Scones
I present to you, Bacon Scallion Scones – Two ways!
The inspiration for this recipe came from instagram. Someone had posted a picture of a scallion and feta scone, which left me with a major craving for one. Except, I wanted one with bacon….lots and lots of crispy bacon.
Upon review of my cheese drawer (yes, I have a drawer in my fridge dedicated to cheese) I noticed I probably didn't have enough feta for the recipe, so I decided to use half feta and half cheddar. So here we have bacon and scallion scones – 2 ways! Variety is the spice of life, right?
These scones are melt-in-your-mouth wonderful, especially when they are right out of the oven. Not to mention, fluffy and tender. These savory scones are so versatile they would make a great addition to your breakfast, or as a side with your supper.
Bacon Scallion Scones
3 cups flour
1 tbsp baking powder
1 tsp kosher salt
1 tsp ground black pepper
1/2 cup cold butter, cut into small cubes
4 green onions, thinly sliced
10 strips of bacon, cooked and chopped into small pieces
1 cup heavy cream
1 cup feta, crumbled
1 cup cheddar cheese, shredded
Preheat oven to 400 degrees.
In the bowl of a stand mixer, fitted with the paddle attachment, combine flour, baking powder, salt and pepper; mix briefly to combine.
Add cubes of butter and mix on low speed until the mixture is crumbly and the butter pieces are the size of small peas. (Alternatively, this can be done in a food processor, which is what I used. Once the butter was pea sized, I transferred the mixture to my stand mixer bowl. Or, you can use a pastry knife to cut the butter into the flour).Mix in the green onions and bacon. Mix on slow until just combined.
**Just using ONE kind of cheese?
If you are going to use just one of the cheeses, then this is the point where you would add the cheese and mix until just combined. Add the cream and mix until combined, then mix with your hands until it forms a ball. If dough is still too dry, add an additional 1-2 tbsp of cream at a time, until dough can be formed into a ball.
***Using TWO kinds of cheese?
If your going to split the recipe like I did, then measure out the flour mixture 1/2 cup at a time until you have an equal amount in two separate bowls. Add feta cheese to one bowl, and cheddar in the other. Start with one of the bowls, return the mixture to the stand mixer, and add 1/2 cup cream until just combined, then mix with your hand until it forms a ball. If dough is still too dry, add an additional 1-2 tbsp of cream at a time until dough can be formed into a ball. Repeat this with the other cheese mixture.
Transfer dough to a lightly floured surface and pat the dough into an 8 inch disk. You can slice the dough into 8-10 wedges, or use a round cookie cutter and cut the dough into circles. Transfer scones to a baking sheet lined with parchment.
Bake for 18-20 minutes, or until golden brown and a toothpick inserted in the center comes out clean.
Recipe adapted from Annie's Eats and What's Megan Making?