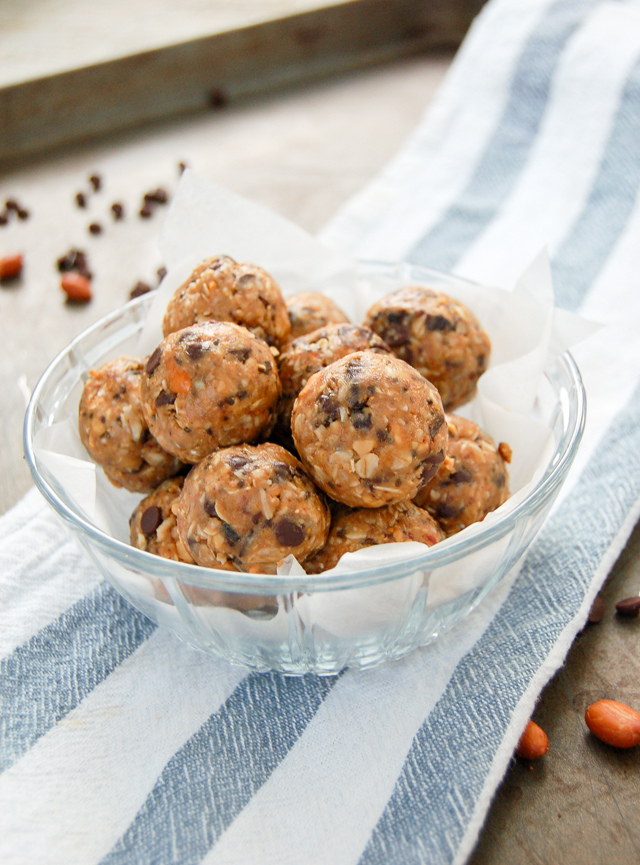 Bonjourno, long time, no see. Life has been a touch busy for me lately; plenty of yard work and teaching. Ive decidedly been laying low.
We took a quick getaway to San Francisco and Napa Valley at the end of July and, no word of a lie, we ate pastries, every. single. day. How could we not? Tartine Bakery. Bouchon Bakery. I simply couldn't say no. And I didn't say no, I said, "one of everything, please."
And then I felt like total garbage.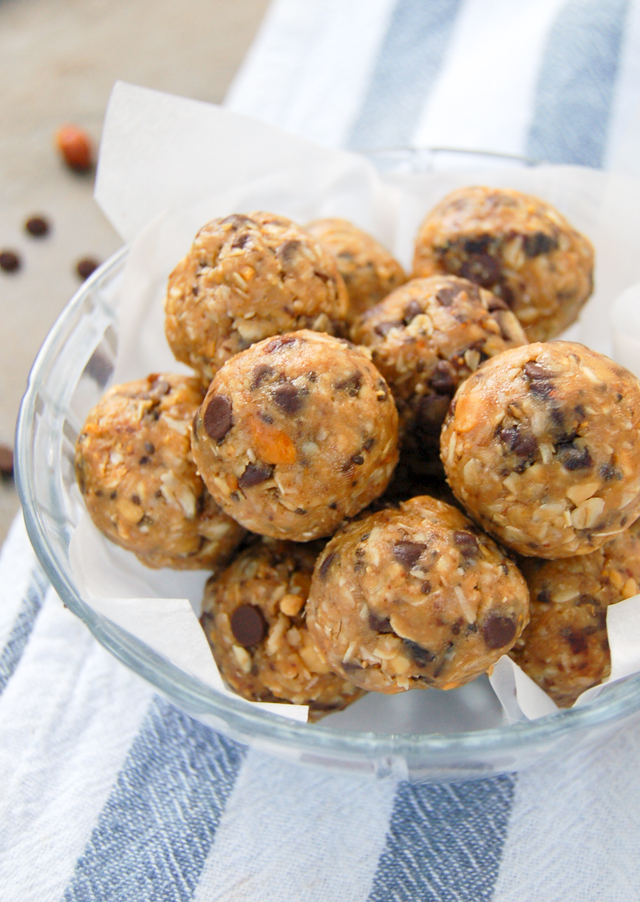 It was time for some kind of detox. Luckily, an opportunity presented itself with GoodLife Fitness, and I've been asked to participate in their 3-month challenge. So a few days after we returned from San Francisco, I had a Life Changer Meeting with Les, the fitness manager at my local gym, and we went over my current health profile. We talked about my goals, current habits, and spent some time out in the gym. I'm super uncomfortable in the gym, and find it to be rather intimidating, but Les made me feel at home.
A large component of this 3-month challenge for me, is going to be watching what I eat. As an instructor in a cooking school, and food blogger, I eat a lot of food. I get my chubby little fingers into most everything that my students make, and if I'm creating a recipe, it might take me three or four tries to get it right. So I figured I should probably make something that isn't full of butter and sugar for a change.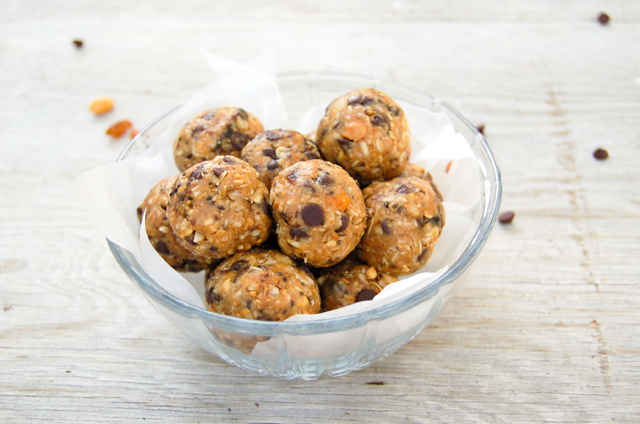 I had a version of these protein balls at my sister's house once. I was probably reluctant to try them, as I am with most of her sugar-free, butter-free baking recipes. But much to my chagrin, I actually enjoyed them. The chocolate chips probably helped. And since they are so easy to make, I figured I would dream up a batch of my own.
I played around with a few options, and the base stayed the same; 1 cup peanut butter, 2 cups of oats, 1/3 cup of honey, and whatever other add-ins you want to incorporate. I'm a fan of some chia seeds, coconut, figs, and chocolate chips. Sunflower seeds, flax, and dried fruit all works, too. If shredded coconut makes you feel like your chewing on hairs, leave them out (cough, cough, Les), and toss in some dried cranberries instead. If you don't want the chance that chia seeds might get stuck in your teeth, use some sunflower seeds instead. It's easy to change it up and make it work for you. Not only are the protein balls easy to make, but they travel remarkably well, too. I've been putting a few into a ziplock bag and taking them to work, and keeping them in my purse for when I'm out doing errands.
I'd love to hear from you if you have any other easy, healthy, snack suggestions. I get bored easily, so I like to have a variety of options in my arsenal.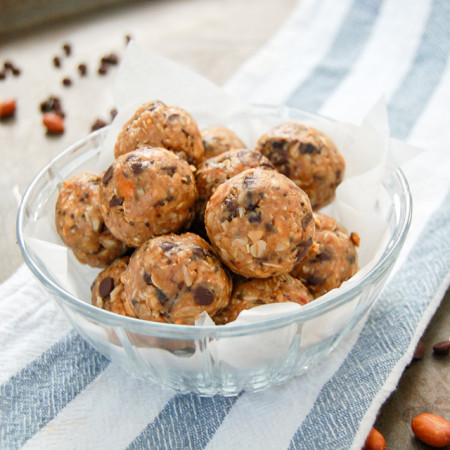 Ingredients
1

cup

peanut butter*

2

cups

old-fashioned rolled oats

1

tsp

vanilla

1/3

cup

honey

2

tbsp

chia seeds

6

dried figs

finely chopped

1/3

cup

unsweetened shredded coconut

1/2

cup

mini chocolate chips
Instructions
Place all ingredients except for the chocolate chips in a food processor, and blend until well combined. Alternatively, you can just put everything into a big bowl and mix well with a wooden spoon.

Add in the chocolate chips and pulse/mix until well combined.

Transfer the mixture into a bowl, and refrigerate for about 1 hour.

Using a 1 1/2 tbsp cookie scoop, measure out the mixture and roll into balls and place in airtight container and store in the refrigerator for 1 week.
Nutritional calculation was provided by WP Recipe Maker and is an estimation only. For special diets or medical issues please use your preferred calculator
Notes
*I used chunky peanut butter because I enjoy the pieces of whole peanut.
You can also add other ingredients such as flax, sunflower seeds, dried cranberries or cherries.
Disclaimer: I've been provided a 3-month membership to GoodLife Fitness at no cost, in exchange to write about my experience.