I just had a birthday and it was a big one. It's the kind you celebrate because it's a milestone. The big 3-0. If you follow me on Instagram, you'll recall I bought some big-ass balloons to let the world know. I brought them to my High Tea Birthday party to spruce up the place. They put some fright into my sweet nephew, but I loved 'em. As a consolation for him being such a champ, I let him keep one of the smaller star balloons.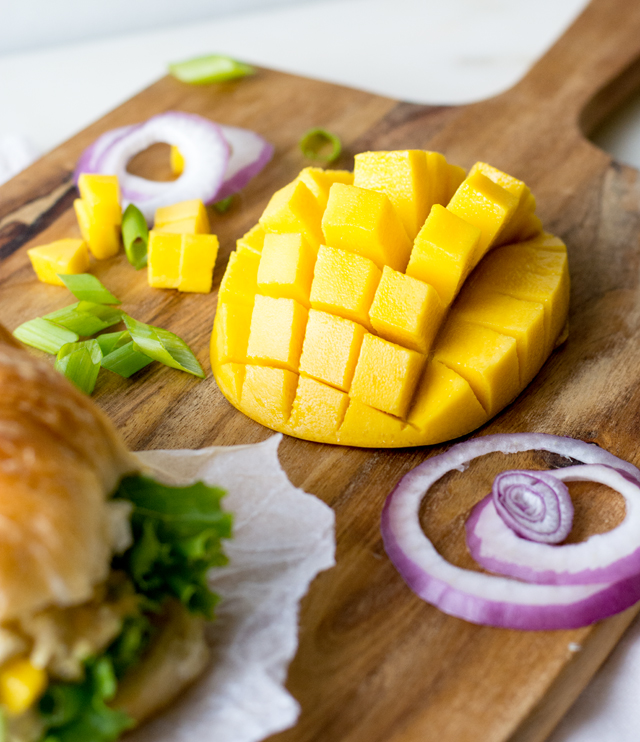 In past years, I get my best girls together for a nice afternoon at Hotel Saskatchewan for High Tea, however this year, they're renovating and not offering tea for awhile. Bummer. Turns out, my sister and I can host a pretty amazing High Tea ourselves. We found an irresistible deal on antique teacups (I'm talking 4 teacups and 4 saucers for a grand total of $8) and raided my embarrassingly large stash of tea. We had quite the spread; palmiers, macarons, and a chocolate fountain for goodness sakes! We know how to party. Sure, the chocolate fountain is always a crowd pleaser, but the first thing to be completely consumed was this delightful sandwich.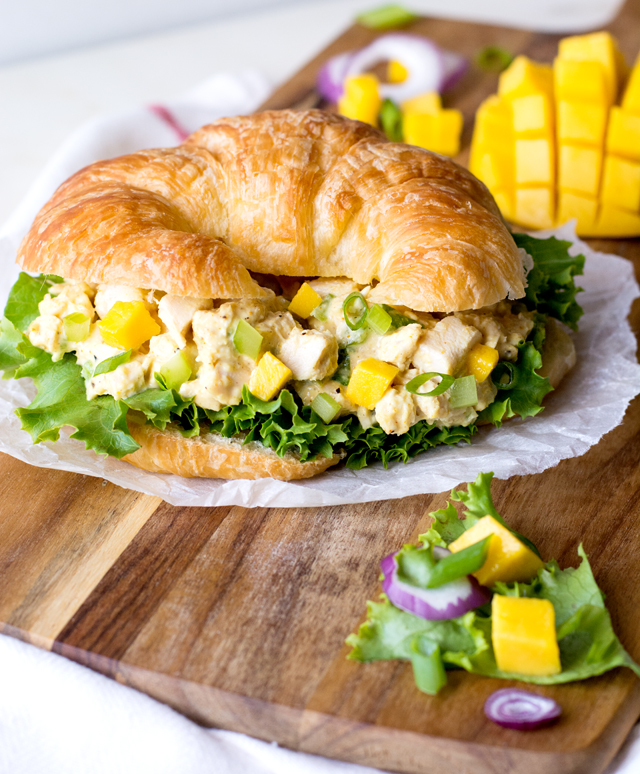 Every good High Tea offers a variety of tea sandwiches. My high tea featured a Curried Chicken Salad on a small croissant. It was undoubtably the favourite of the afternoon. The version I made for my friends was simpler than this one – chicken, mayo, curry powder, salt and pepper. When I make it at home for myself, I jazz it up a bit. I add some celery for texture, onions for flavour, and lots of mango chutney.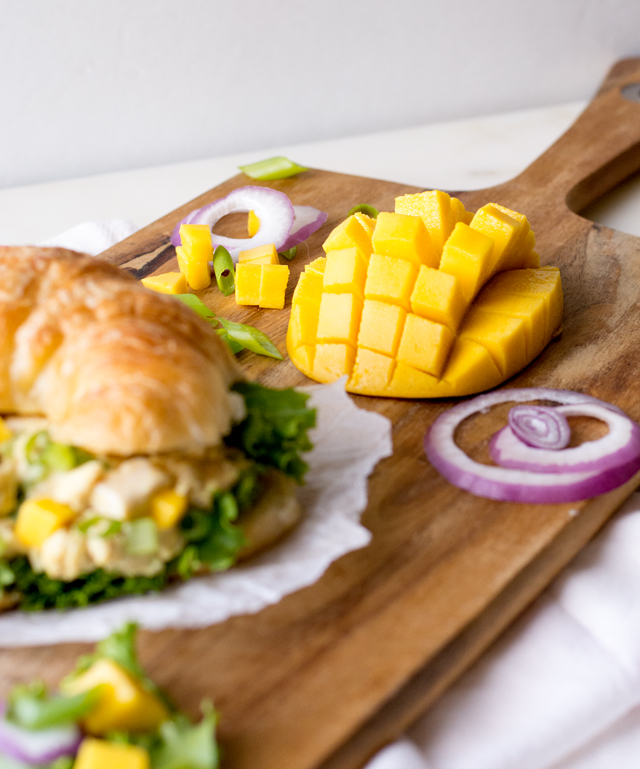 And I mean lots of mango chutney. I can't get enough of the stuff. I even put a generously slathering on the croissant before filling with the chicken salad. I may have a problem. Speaking of problems, you'll have one too after your first bite of Mango Curry Chicken Salad- you'll never be able to go back to the traditional variation.
Ingredients
2

boneless

skinless chicken breasts

1/4

cup

mayonnaise

1/2

tsp

curry powder*

1

celery stalk

finely chopped

1

green onion

thinly sliced

1

tbsp

mango chutney*

salt and pepper to taste

croissants

lettuce, red onion, and mango for serving
Instructions
Preheat oven to 350 degrees. Season chicken with salt and pepper. Cook for 20 minutes, or until chicken is cooked through. Refrigerate for about an hour, and then dice the chicken.

Add diced chicken to a medium bowl and add mayonnaise, curry powder, celery, green onion, mango chutney and mix until well combined. Season with salt and pepper to taste. Adjust all flavours as you see fit - add more mayo, curry or chutney.

Cut croissants in half, fill with chicken salad. Dress sandwich with lettuce, mango and red onion.
Nutritional calculation was provided by WP Recipe Maker and is an estimation only. For special diets or medical issues please use your preferred calculator
Notes
Culinary Cool Original
*I used a medium spice yellow curry powder and a medium sweet and spicy mango chutney.