What I know to be true of Italian food culture is this: expect copious amounts of food. Expect to leave comatose and with enough leftovers to feed you for a solid week. It's so much more than pasta. Southern Italian recipes, such as those featured in Emily Richard's book, Per La Famiglia, are full of bright and lively mediterranean flavours; fresh herbs, ripe tomatoes, local cheeses, cured meats and peppers. Don't forget the wine! The recipes showcase beautiful ingredients, but also represent a love for food and family.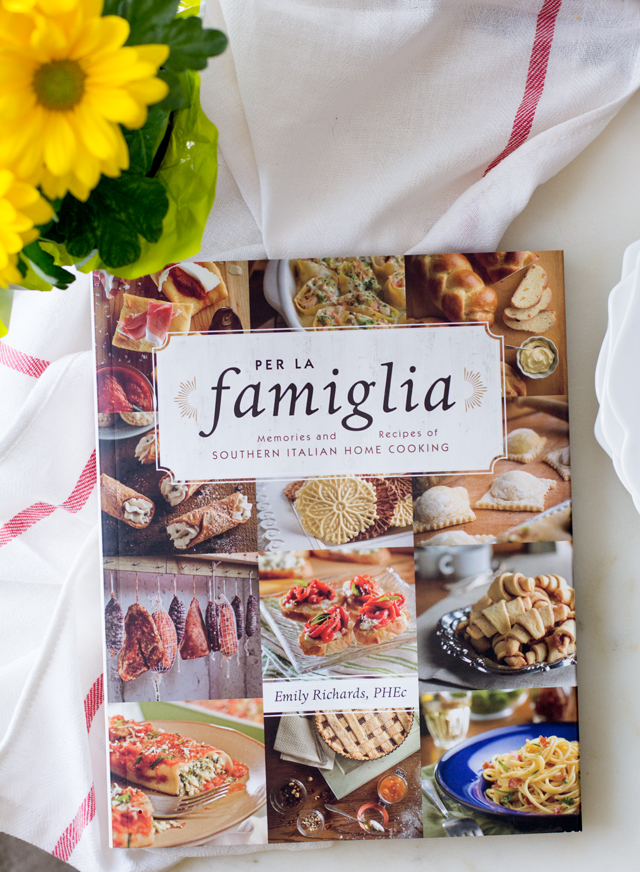 Per La Famiglia translates to "For the Family" which is the theme that flows through the entirety of the book. Emily shares a glimpse into her Italian-Canadian life, how she cooks for her family, and a generous sprinkling of memories of growing up Italian. I can't say I know what it's like to ferment my own grapes to make red wine, and later, red wine vinegar, but Emily describes the "vile stench" coming from the basement during the fermentation process. Sure, it stinks, but the end product was something to be proud of. My Ukrainian/Polish mother has similar memories of sauerkraut fermenting in wood barrels in their cellar.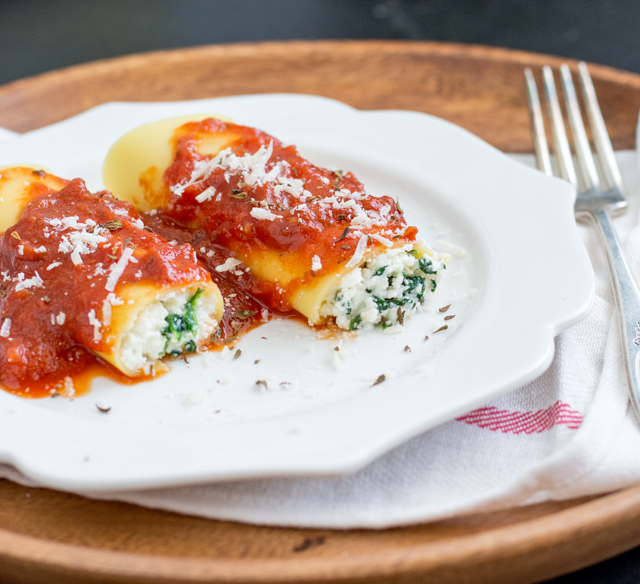 The recipes you're going to find in Per La Famiglia are classic, timeless and often a modern take on a family tradition. Emily wants to preserve her favourite family recipes, but knows that not everyone has the time to spend the whole day in the kitchen preparing a meal. You will find plenty of hearty, wholesome meals; some are even made with clever shortcuts, such as lasagne made with wonton wrappers in place of noodles. Genius!
I've cooked my way through several of Emily's beautiful recipes and love the simplicity of many of them, such as the Spinach Ricotta Cannelloni. The filling comes together in a flash and is a total crowd pleaser. Making your own pasta noodles can be time consuming, but you can always purchase flat lasagne noodles at the grocery store. Definitely try your hand at homemade pasta, but I would highly suggest taking the time to make your own Homemade Tomato Sauce. The recipe in Per La Famiglia is simple and freezes well. Emily suggests to use red pepper flakes to give the sauce a bit of heat! Make a double batch and keep some on hand at all times.
Want to win a copy of Emily Richard's amazing book, Per La Famiglia? Myself, along with several other outstanding Canadian Food Bloggers are hosting a Blog Hop and sharing what we love about Per La Famiglia. Enter below for your chance to win a signed copy of Per La Famiglia, a set of three Microplane Elite Graters/Zesters (Fine, Coarse, and Star Blades), and a Gnocchi Board.
Thank-You to Whitecap Publishing to providing me with a complimentary copy of this stellar book, and offering a complimentary copy to the winner of this give-away. Thank-you to Microplane for the giftset offered to the winner of this give-away.
To enter: 1) Blog comment is mandatory. Please leave me a comment telling me your favourite Italian food. Scroll to the bottom of this page, enter text in the comment box, enter name and email and click Post Comment 2) Use the Rafflecopter widget below to track your entry and earn additional entries.
Be sure to check out the posts from the other beautiful bloggers partaking in the giveaway.
Jenny from The Brunette Baker
Heather from The Tasty Gardener
Britt from My Daily Randomness
Libby from Libby Roach
Kristy from She Eats
Tiffany from Eating Niagara
Nancy from Gotta Get Baked
Amanda from Once Upon a Recipe
Julie from Dinner with Julie
Chrissie from The Busy Baker
Gwen from Devour and Conquer
Carole from The Yum Yum Factor
Kelly from KellyNeil.com
Christina from Strawberries for Supper
This giveaway is open to all legal residents of Canada who have reached the age of majority at the time of the contest in the province or territory in which they reside.
No purchase necessary to enter.
Giveaway will run from

Wednesday, March 23, 2016 at 12:01am

to end on

Wednesday, March 30, 2016 at 11:59pm

. Winner is chosen at random via Rafflecopter. Winner will be contacted via email and given 48 hours to respond.
If not, a new winner will be chosen.
Winner selected MUST correctly answer a skill-testing mathematical question.
Winner's name will be displayed on Rafflecopter widget.
Email address will never be given out to any third party or anyone for that matter.
Prize value is approximately $75CDN.