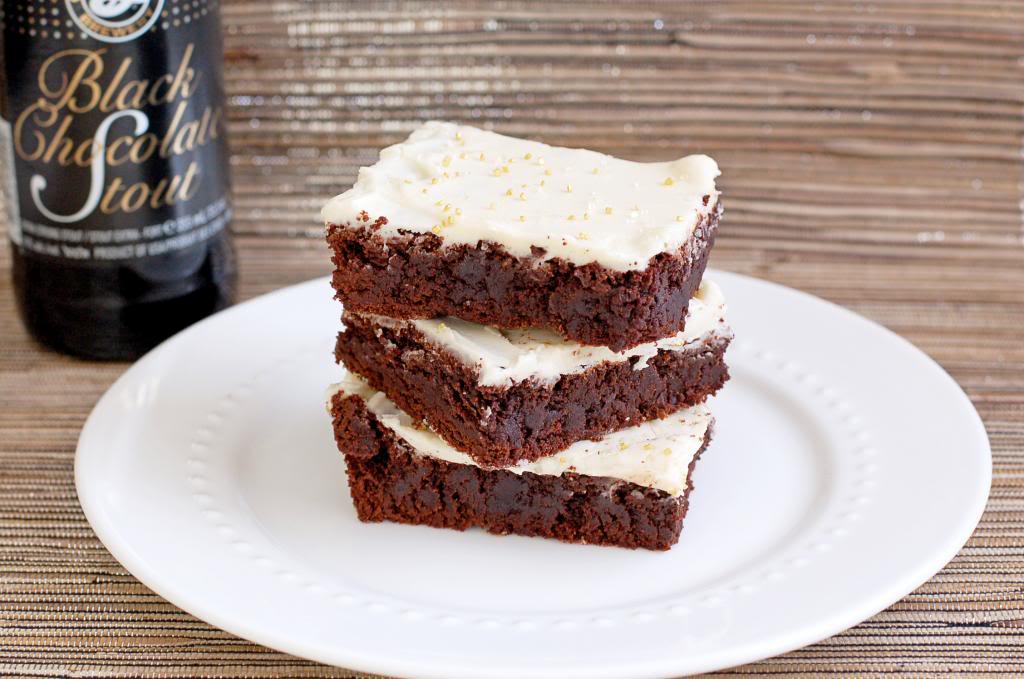 Since it's St. Patrick's Day this weekend, I figured I'd jump on the "baking with beer" bandwagon. I picked up some wonderful chocolate stout while on a recent work trip to Edmonton with these brownies in mind. I cracked a bottle as soon as I had a moment and took a big whiff….and it was heavenly, chocolate beer-y goodness. And then I took a big swig, cause you have to taste test the beer your baking with! Oh baby! I can say at first, I was leery about a chocolate flavored beer, but that first sip converted me to a believer. I used Black Chocolate Stout from Brooklyn Brewers.
Now onto the brownies….sweet, sweet brownies.
I tend to prefer a fudgy, dense brownie over one that is cakey. Cause lets be honest, a cakey brownie is really just chocolate cake. And since we're here celebrating Irish holidays, go ahead and top it all off with a layer of Irish Cream frosting.
Now, you must practice some patience with these brownies. Sure, you can whip 'em up in no time flat, but if you try to cut into them when they're hot, you will be left with a gooey mess. You must let them cool to room temperature so they can firm up. These rich and fudgy brownies are certainly worth the wait.
Ingredients
For the Brownies
3

eggs

1

cup

white sugar

1/2

cup

brown sugar

1

tsp

vanilla

1/2

cup

flour

1/2

cup

cocoa powder

1

tsp

espresso powder

1/4

tsp

salt

1/2

cup

butter

7

oz

dark chocolate

2/3

cup

chocolate stout
For the Irish Cream Frosting
2

oz

cream cheese

at room temperature

1/2

cup

butter

at room temperature

2

tbsp

Irish Cream Liqeuer

3

cups

icing sugar
Instructions
For the Brownies:
Preheat oven to 350 degrees.

In the bowl of a stand mixer fitted with the paddle attachment, beat the eggs, white sugar, brown sugar and vanilla on high for at least ten minutes. You need a meringue type consistency in order to create a crust on top of the brownies.

In a separate bowl, add the flour, cocoa powder, espresso powder and salt. Stir to combine.

In a microwave safe bowl, add the butter and chocolate. Microwave on high for 30 seconds, stir and repeat until chocolate has completely melted and is smooth.

While the stand mixer is on medium speed, slowly add the chocolate until mostly combined.

Add the beer and stir.

Add the flour mixture and stir until just combined.

Grease and flour a 9x13 inch baking dish. Pour batter into dish and smooth out the top.

Bake for 25 minutes or until the top is matte and a bit cracked. Don't over bake. The brownies will set as they cool.

Allow to cool to room temperature.
For the icing:
Beat the cream cheese and butter until fluffy. Add the Irish Cream and mix until well combined. Add in the icing sugar, one cup at a time. Beat until light and fluffy.

Spread icing over cooled brownies.
Nutritional calculation was provided by WP Recipe Maker and is an estimation only. For special diets or medical issues please use your preferred calculator