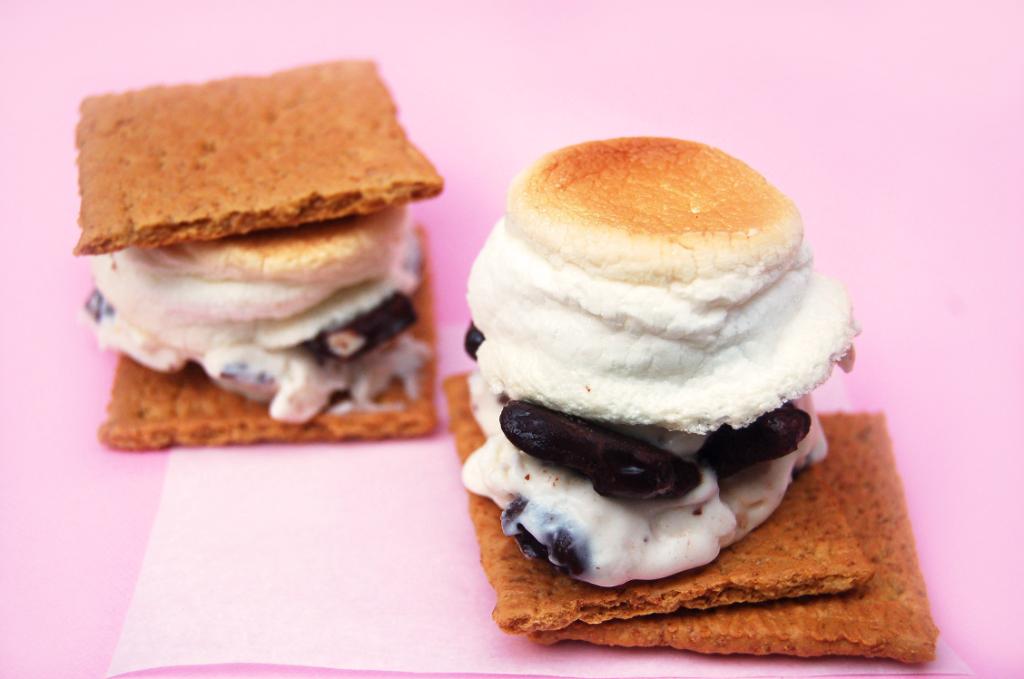 Guess what? July is National Ice Cream Month! And I've got one heck of a fabulous recipe for you. Graham crackers, melty marshmallows and chocolate. Three good things, combined to make one great thing. Sure s'more are delicious, but when it's 100 degrees outside, the last thing I want to do is go out back and start a fire to roast a marshmallow. Instead, I want to enjoy a cold treat (or beverage). So why not have s'more ice cream….then make it into a frozen s'more?!
The vanilla ice cream base has bits of chocolate covered graham crackers mixed in, and it's all topped with a nicely toasted marshmallow. The giant mallow is toasted in the oven under the broiler, and it's perfectly gooey, even when cooled. I'll probably be eating one a day until the ice cream is all gone. Sad I know, but seriously, this frozen version of a summer classic is addicting.
Frozen S'mores
2 cups whipping cream
1 cup 2% milk
1/2 cup granulated sugar
3 tbsp cornstarch
3 tbsp water
2 tsp vanilla
1/2 cup milk chocolate chips
1/4 cup semi-sweet chocolate chips
1 cup graham crackers broken, broken into pieces (do not use crumbs)
Jumbo marshmallows
Graham Crackers
Directions
In a large saucepan, combine cream, milk, and sugar. Heat over medium-high heat until steaming with bubbles forming around the edge of the pan. Remove from heat.
Meanwhile, in a small bowl, whisk together cornstarch and water until smooth. Whisk into hot cream mixture. Return to medium-high heat. Whisk until mixture boils; cook 1 minute longer, whisking constantly. Transfer mixture to a bowl. Place piece of plastic wrap directly on surface of the mixture. This will prevent a skin from forming on the cream. Chill for at least one hour. Place an additional bowl in the freezer to chill.
Line baking sheet with parchment paper. Place both types of chocolate in microwave safe bowl. Microwave the chocolate for 30 seconds at a time, mixing often, until chocolate is completely melted. Stir in graham cracker pieces and mix to coat well. Spread the pieces in a single layer on the baking sheet, separating individual pieces as much as possible. Place in freezer.
Transfer cold custard to ice cream maker and freeze according to machine directions. Transfer soft ice cream to chilled bowl. Break chocolate coated graham cracker pieces apart; fold into soft ice cream. Freeze for 3 hours or until firm.
To Assemble
Line baking sheet with tin foil, and lightly spray with cooking spray. Place jumbo marshmallows on baking sheet. Place marshmallows on foil under the broiler until they have browned on top. Watch the marshmallows carefully, as they can burn fast or start on fire. Let cool.
Scoop ice cream onto one graham wafer, and top with cooled jump marshmallow. Top with additional graham cracker. Enjoy!