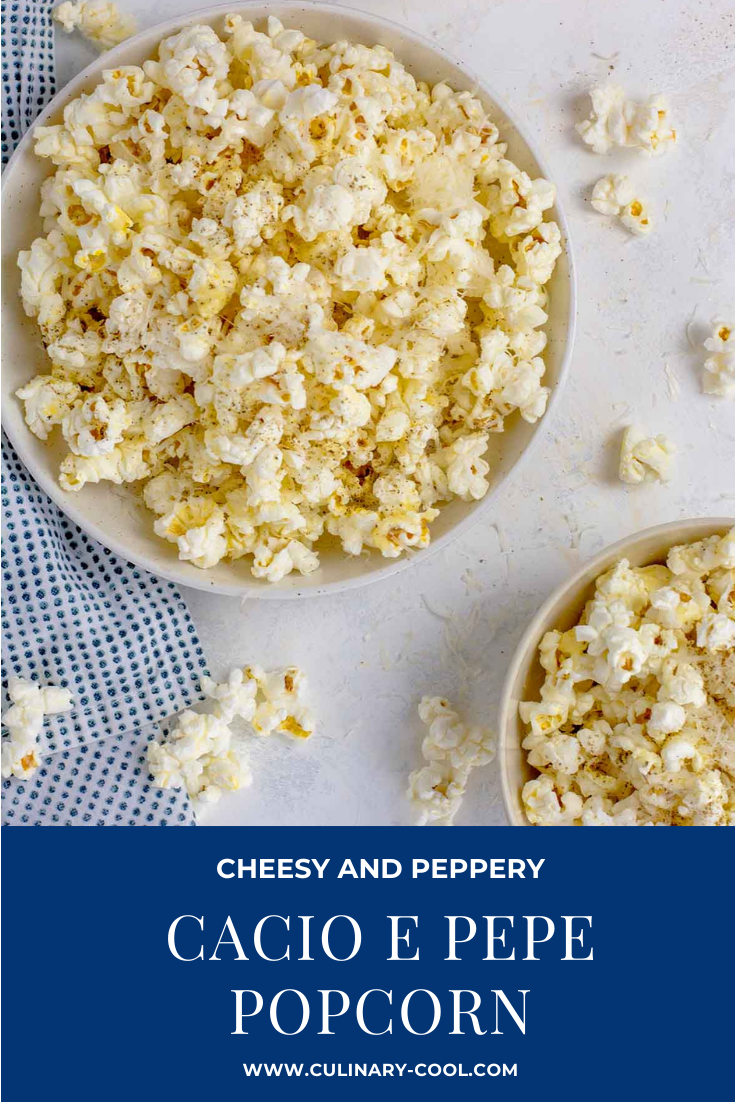 Cacio e Pepe popcorn is the best snack ever! Buttery, Parmesan Popcorn topped with loads of freshly ground black pepper. One batch isn't enough!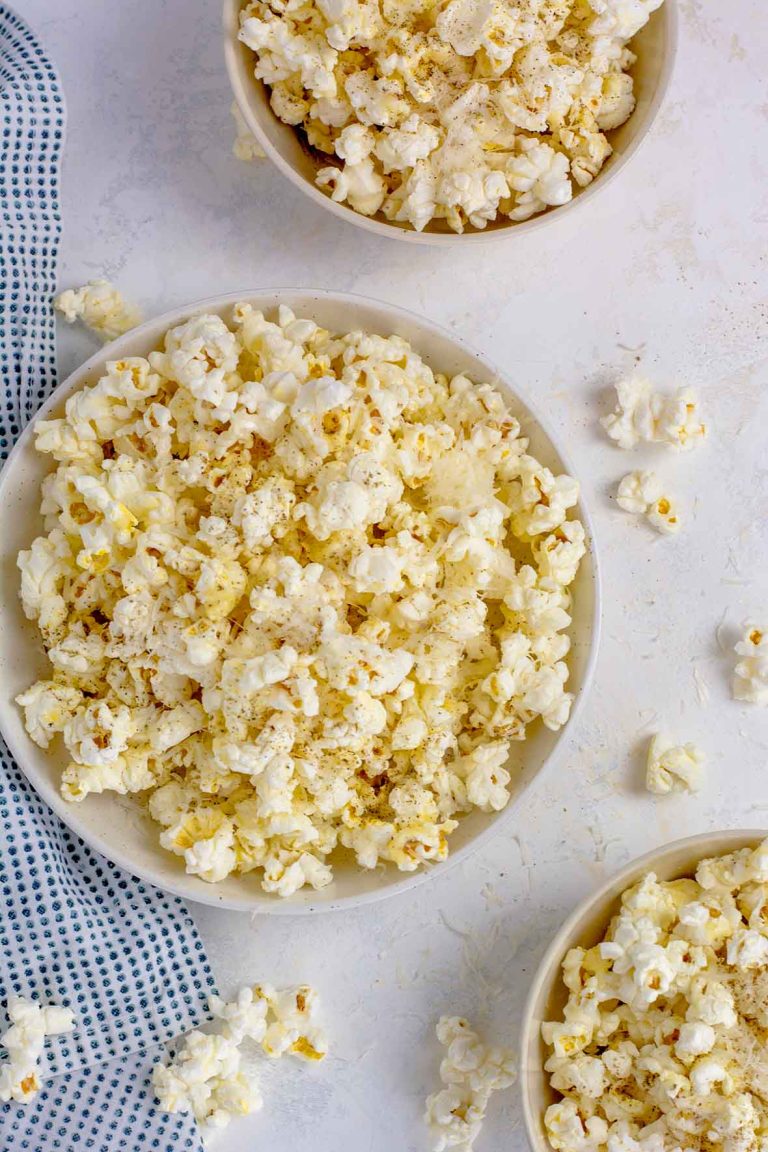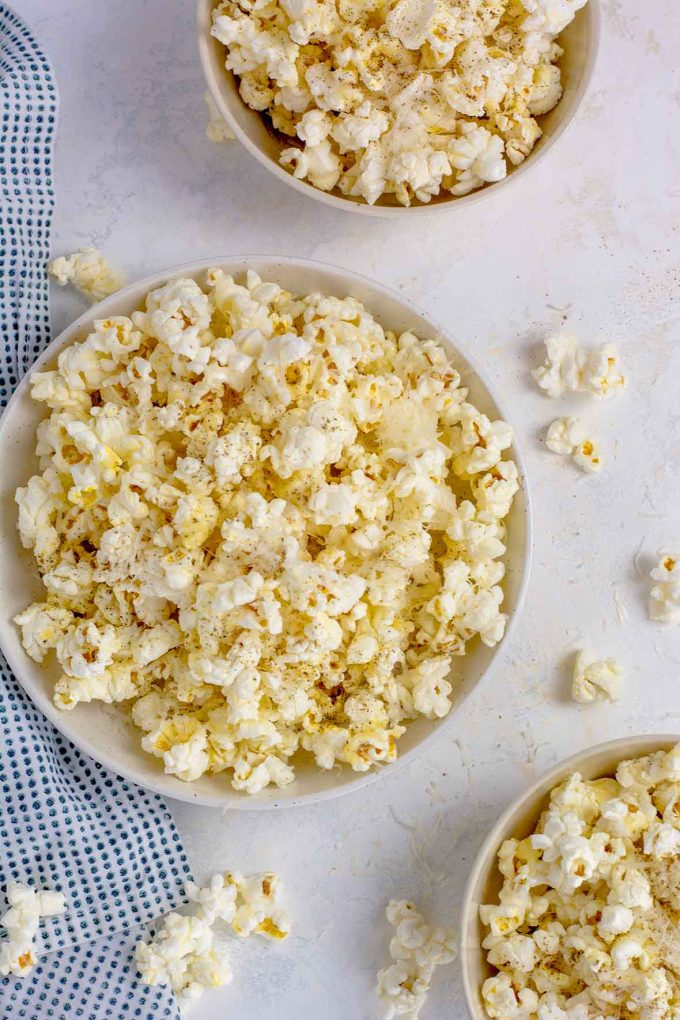 We are a big popcorn family. My kid asks for popcorn as a snack at least once a week. At some point, we got a little bored with just buttered popcorn. Being the cheese fiend that I am, I started sprinkling mine with grated parmesan (Parmigiano Reggiano to be exact), and eventually, freshly cracked black pepper. Woah, like, so darn good. It's the flavours of the widely popular pasta, cacio e pepe (literally meaning cheese and pepper), but make it popcorn! I've always been a fan of the powdered popcorn seasonings however, nothing beats freshly grated real parmesan and cracked black pepper. I'm not kidding when I say one batch just won't be enough.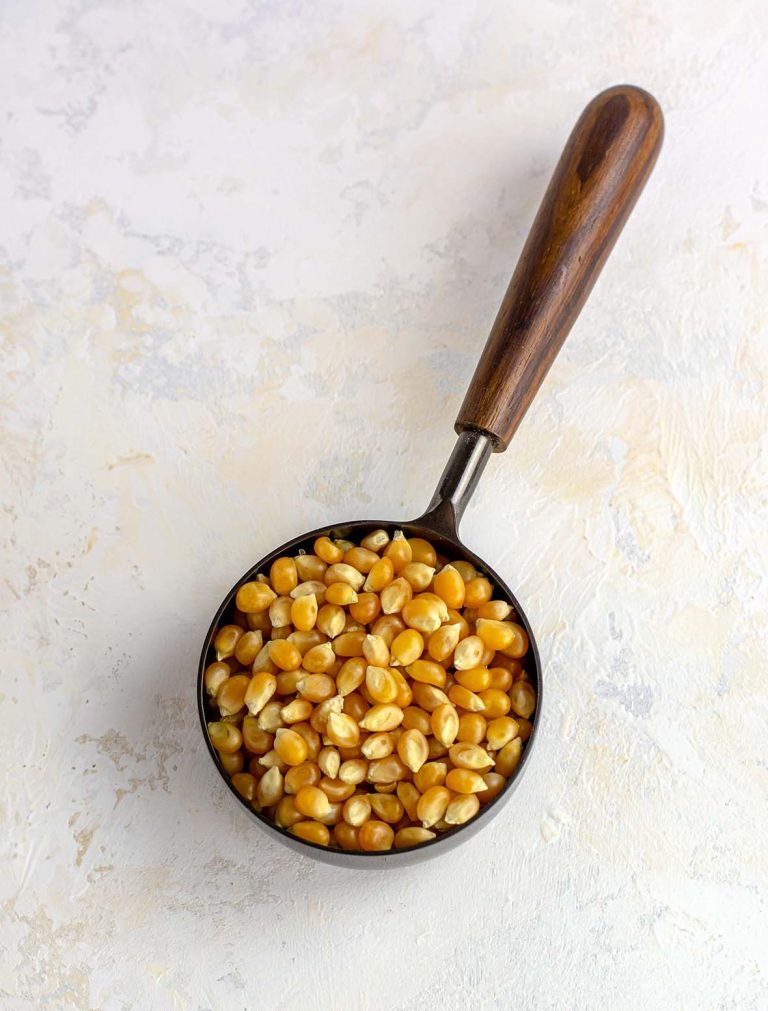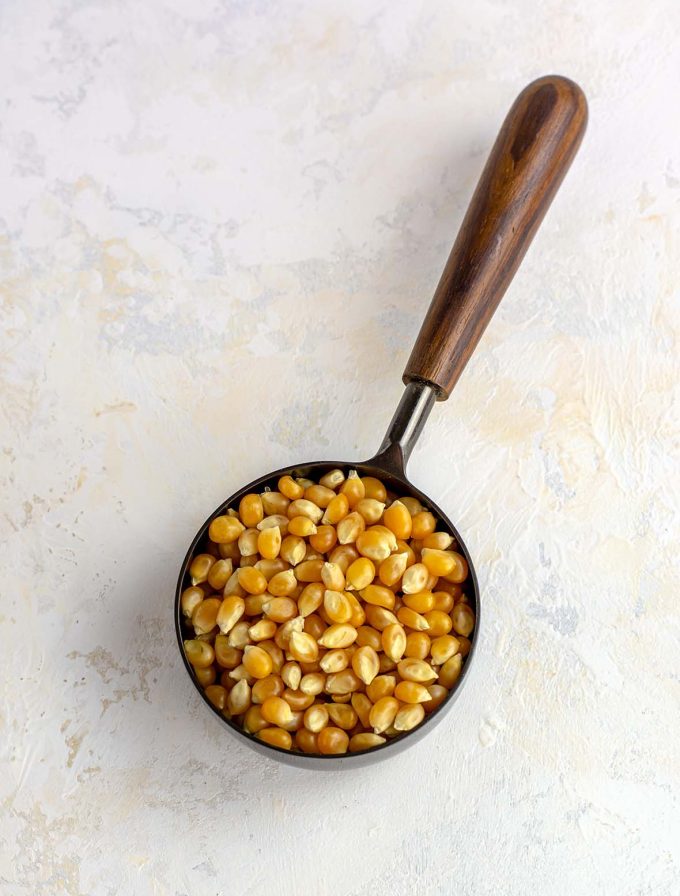 Let's Talk Ingredients
Parmesan Cheese: Cheese is one of my favourite ingredients to cook with and I find that, when it comes to cheese, quality makes a difference. Look for an authentic Parmigiano Reggiano, with the rind still attached. The rind will have an authenticity stamp on it and it apparently helps to keep the cheese fresh. Resist the urge to buy pre-grated cheese as well – buy a small wedge instead and grate it yourself.
Butter: I'm a loyal salted butter fan. I use it for everything, and rarely seek out unsalted varieties unless absolutely necessary. For example, if I wish to venture into laminated doughs, such as croissants or puff pastry, then I would most definitely get unsalted, otherwise, it's the salted life for me.
Popcorn Kernels: There are all sorts of bougie popcorn varieties on the market, but I just buy Orville Redenbacher kernels. It's affordable and gets the job done. Don't use microwave popcorn in the bags, though. The bagged stuff has oils, flavorings and is pre-salted. It's fine for a snack on it's own, but not the best choice for this recipe. We want the parmesan to be prominent and not hidden by the fake buttery flavour of the microwave stuff.
Salt: I use sea salt to salt my popcorn. Any finer grind of salt would work. Pink Himalayan salt would be nice, and I've used smoked fleur de sel a few times, which adds a nice subtle smokiness without overpowering the parmesan.
Black Pepper: This wouldn't be cacio e pepe popcorn without the pepper. I exclusively use freshly cracked black pepper. It makes a world of difference. I find the flavour far better when I grind it fresh from my mill, but if the pre-ground stuff is all you have, it will work just fine!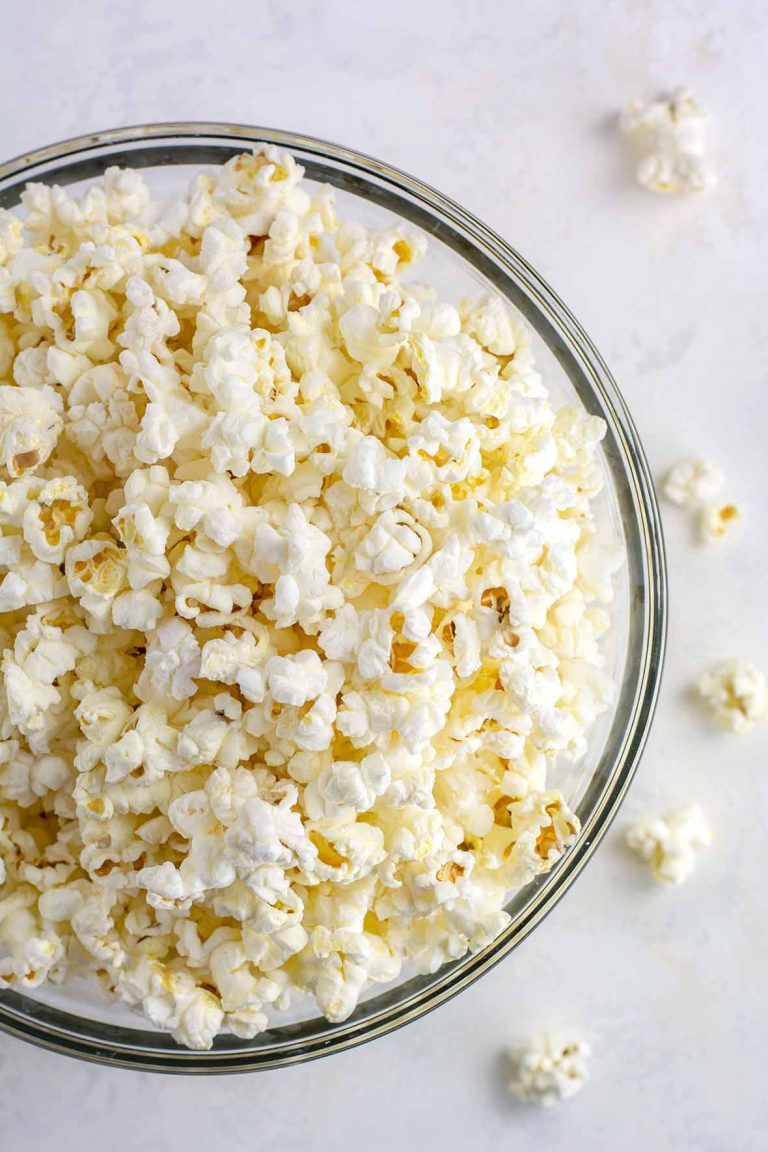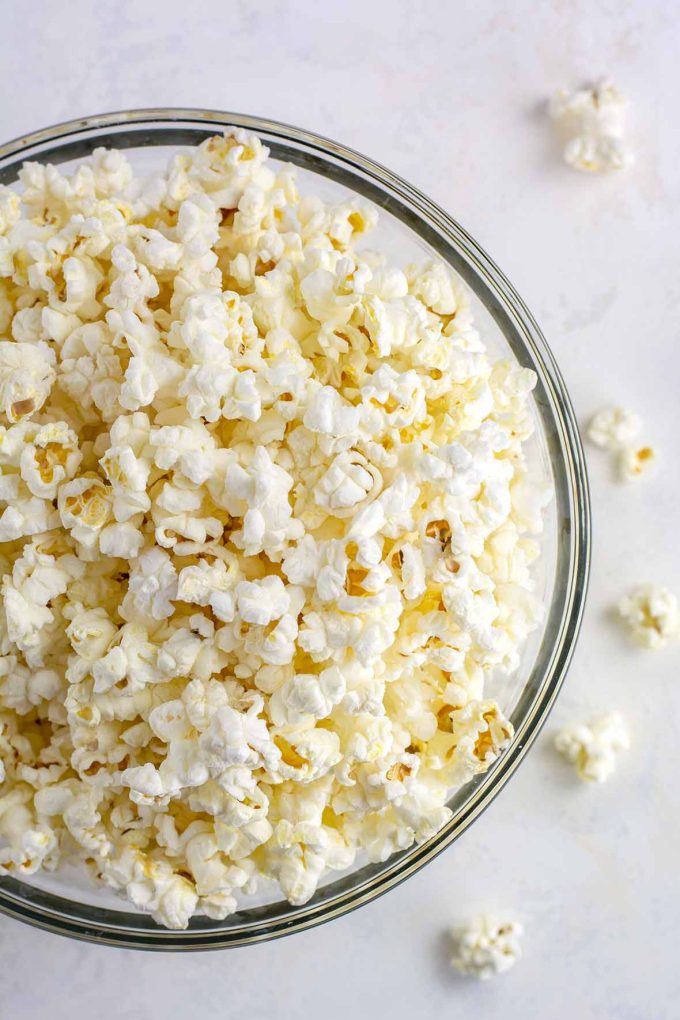 How to Make Cacio e Pepe Popcorn
Pop the popcorn! Do this in whatever manner works best for you. I prefer mine air-popped, as this is how my parents always did it when we were kids. If you don't have an air-popper, you can also use the stovetop method (big heavy pop, oil, and lots of shaking), or even make it in a pressure cooking such as the Instant Pot.
Grate the Parm: It's best to use a microplane to grate your parmesan. A microplane will create a mound of light and fluffy parmesan that incorporates into the butter much nicer than if you used the big holes in a box grater.
Make the topping: The key to getting the parmesan to actually stick to the popcorn is to melt it slightly with the butter and oil. In a small saucepan over low heat, melt butter with some olive oil, grated parmesan and the black pepper. It doesn't take long, but it really helps you keep the parmesan on the popcorn instead of at the bottom of your bowl.
Dress the popcorn: Slowly drizzle the melted butter/oil/cheese/pepper mixture over the popcorn. Drizzle a little, toss it around, drizzle some more. Repeat until it's coated to your liking.
Season the popcorn: Because I've used salted butter, and because the parmesan is inherently salty and full of umami, I leave the salting to the very end. Once you've coated the popcorn with the buttery cheesy deliciousness, taste it. then decide if you need salt. I typically forego the salt completely, but that's a personal preference.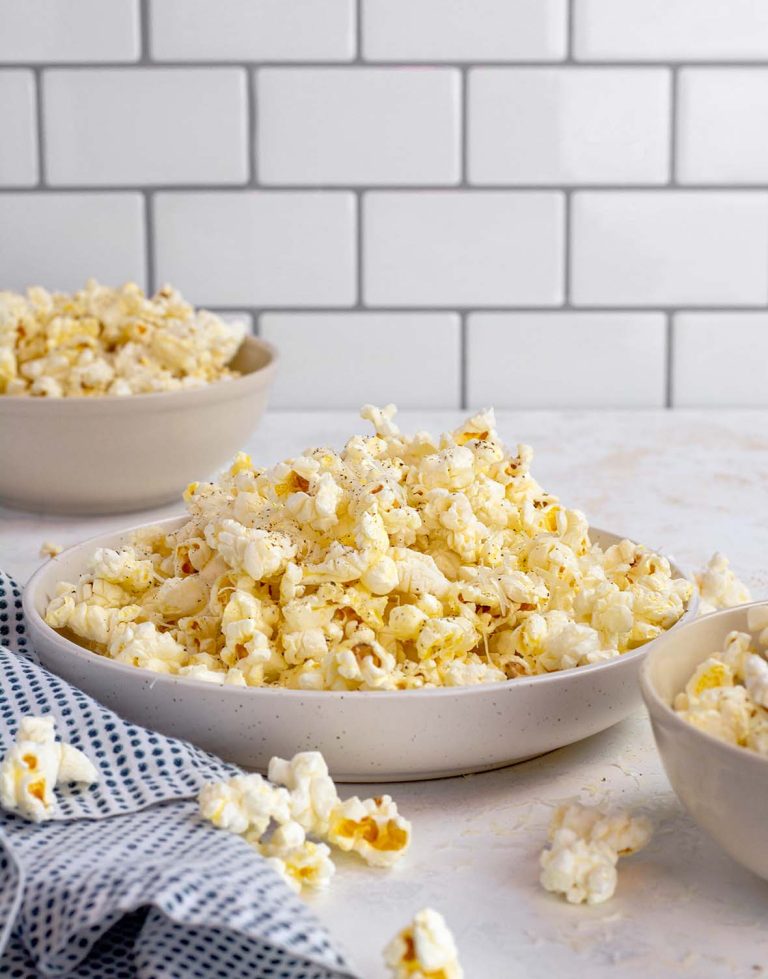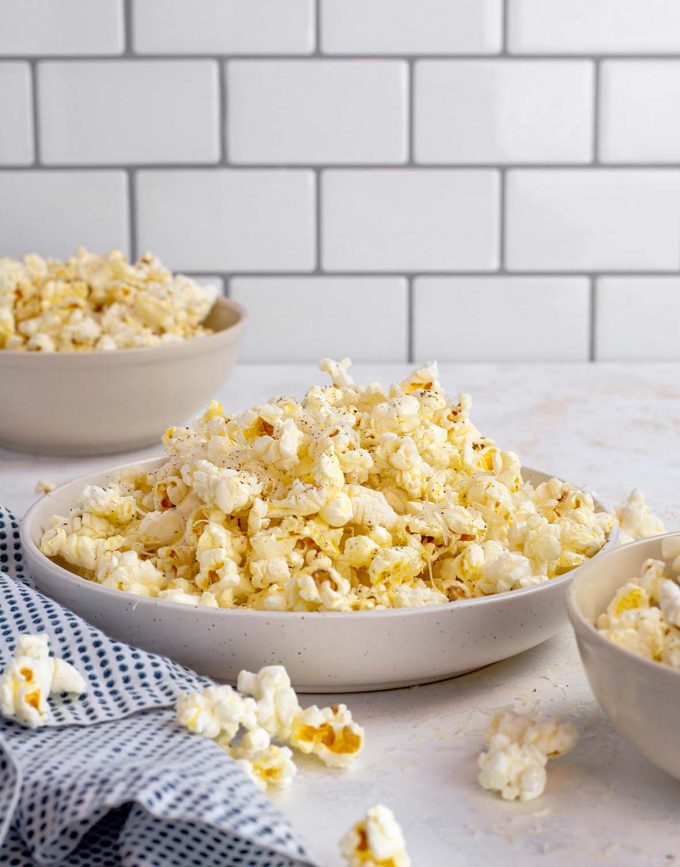 Tips for Making Cacio e Pepe Popcorn
Use real Parmigiano Reggiano for the best flavour and grate it yourself using a microplane. Grana Padano is the next best option.
Melting the cheese a bit into the butter will help the cheese stick to the popcorn instead of falling right to the bottom of the bowl.
If you use salted butter, leave out any added salt until the very end after you've had a chance to taste it.
Looking for more Snack ideas?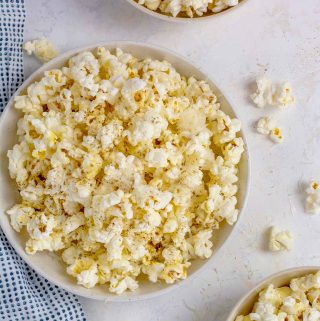 Cacio e Pepe Popcorn
Cacio e Pepe (Italian for, cheese and pepper) popcorn is the best snack ever! Buttery, Parmesan Popcorn topped with loads of freshly ground black pepper. One batch isn't enough!
Print
Pin
Rate
Ingredients
1/3

cup

popcorn kernels

15

grams

finely grated Parmigiano Reggiano*

grated on a microplane, about 1/2 cup

1/4

cup

butter

1-2

Tbsp

olive oil

1/8-1/4

tsp

freshly ground black pepper

or to taste

salt to taste
Instructions
Pop the popcorn kernels using whichever method you desire. I favour air popped popcorn, but you can also do it on the stovetop, or even the instant pot.

Transfer the popcorn to a big bowl. Set aside.

Grate the parmesan cheese with a microplane. The cheese will be very light and fluffy looking once grated. This will allow it to melt in with the butter and ultimately results in a better coated popcorn. Set aside.

In a small saucepan, add butter, olive oil, pepper and grated parmesan. Heat over low heat until the butter has melted.

Pour the melted butter mixture over the popcorn and toss to coat. Season with salt if needed**

Adjust pepper seasoning to your taste, too. You can also add more grated parmesan over the top of the popcorn, however I find that it tends to fall to the bottom of the bowl.
Nutrition
Calories:
93
kcal
|
Carbohydrates:
12
g
|
Protein:
3
g
|
Fat:
4
g
|
Saturated Fat:
1
g
|
Polyunsaturated Fat:
1
g
|
Monounsaturated Fat:
2
g
|
Cholesterol:
3
mg
|
Sodium:
52
mg
|
Potassium:
65
mg
|
Fiber:
2
g
|
Sugar:
1
g
|
Vitamin A:
65
IU
|
Calcium:
42
mg
|
Iron:
1
mg
Nutritional calculation was provided by WP Recipe Maker and is an estimation only. For special diets or medical issues please use your preferred calculator
Notes
*Use Parmigiano Reggiano, Grana Padano, or Pecorino Romano.
**Parmesan is fairly salty, so I like to wait until the very end to salt to taste.