Skip the store and make fluffy marshmallows at home. They're made a million times better with Birthday Cake Vodka and sprinkles.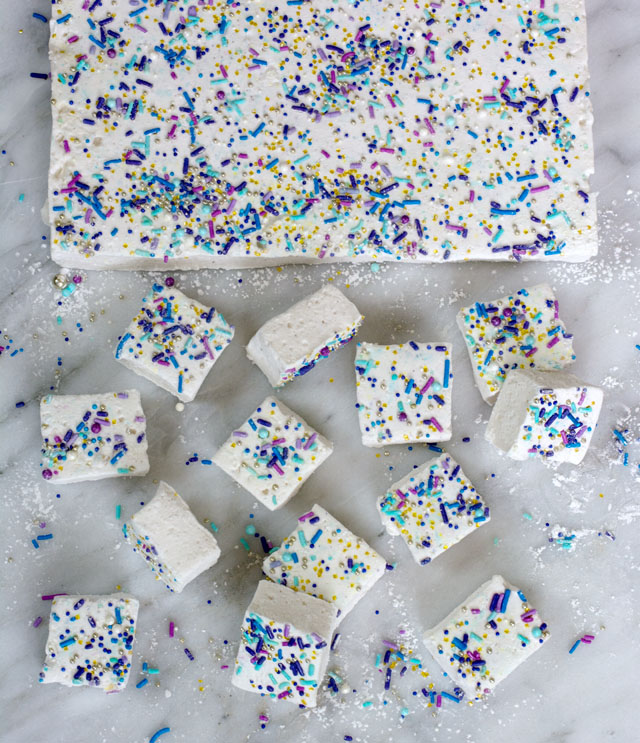 5 years.
That's how old Culinary Cool is.
Seriously. Where has the time gone? I need to know.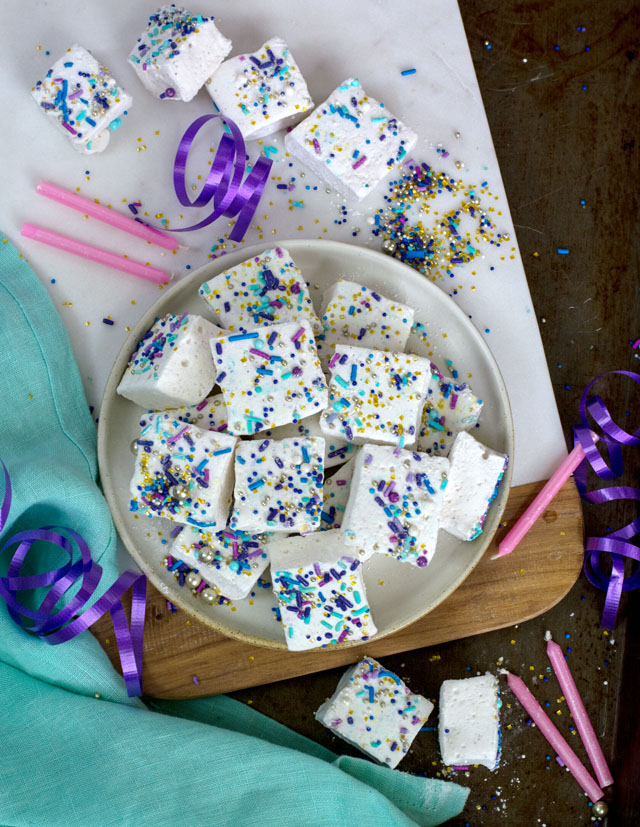 When I started this blog 5 years ago, I had no idea what I was doing. It's pretty evident how clueless I was when I look back on the photography from the first year or so. Man, I need to go do some updates.
But here we are, 5 years later, going strong. And my photography skillz (not a typo) have drastically improved – *Happy Dance*.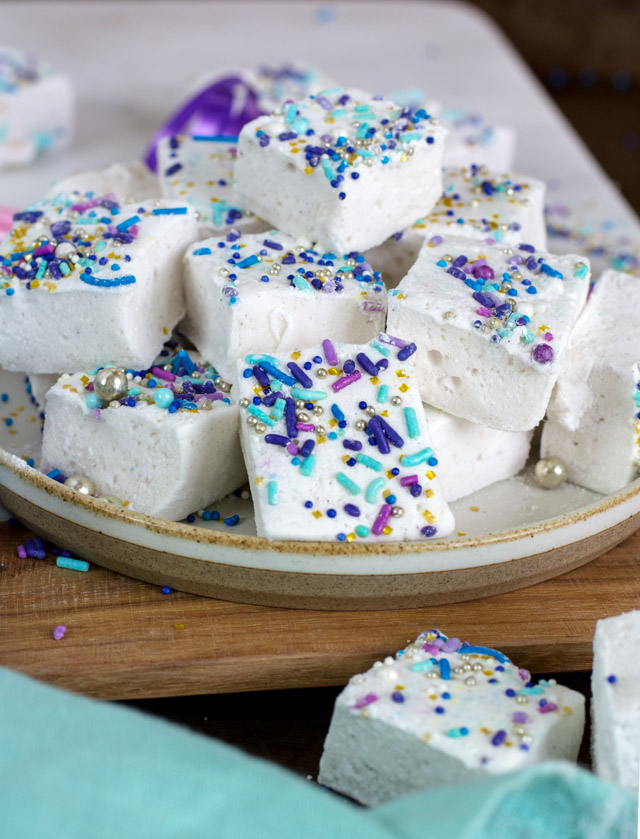 It's been a theme since blogiversary 1 to use sprinkles to celebrate. I almost ditched the idea, but quickly came to my senses.
Also, I felt compelled to use up the Birthday Cake Vodka that's taking up precious real estate in my liquor cabinet. Gotta make room for some Tennessee Moonshine soaked cherries!
If you've never made homemade marshmallows before, you're missing out. They're a bazillion times better than store-bought, they melt just as good and are super easy to make – honest!
And when you add in some booze and top them off with sprinkles, you've got yourself one hell of a treat.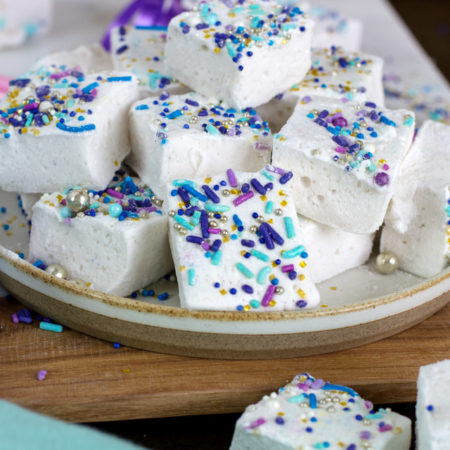 Ingredients
1 1/2

tbsp

canola or vegetable oil

1

cup

cold water

divided

3

tbsp

unflavoured gelatin

typically 3 envelopes

1 1/2

tbsp

vanilla paste or 1 tbsp vanilla extract

2

cups

sugar

2/3

cup

light corn syrup

1/4

tsp

salt

1/2

cup

cake flavoured vodka

sprinkles

1

cup

icing sugar

1/2

cup

corn starch
Instructions
Grease a 9x13 inch baking dish with 1 1/2 tbsp oil. Make sure you oil all the way up the sides.

In the bowl of a stand mixer fitted with the whisk attachment, add 1/2 cup cold water and stir in the gelatin and vanilla. Let sit for 15 minutes

In a medium saucepan, add remaining 1/2 cup water, sugar, corn syrup and salt. Bring to a boil over medium high heat, stirring only until the sugar has dissolved. Attach a candy thermometer to the side of the pan, making sure it does not touch the bottom. Boil for 7-8 minutes, or until the mixture reaches 247-250 degrees F.

Take the pan off the heat and remove the thermometer. Turn the mixer to medium-low speed, and slowly pour the hot syrup mixture into the gelatin in a slow, steady stream down the side of the bowl. Gradually increase the speed to medium-high and whip for about 2-3 minutes (to allow the mixture to cool slightly).

Pour in the cake vodka. The marshmallow fluff with become a little watery and less thick. I like to add the vodka once the syrup has cooled slightly so the booze doesn't all burn off.

Continue to whisk for another 15 minutes or so, or until the mixture is thick.

Using a spatula, pour the marshmallow fluff into the prepared 9x13 inch pan (it should come about halfway up the pan). I find that, with the addition of 1/2 cup extra liquid from the vodka, the fluff pours a bit easier and you don't need to fuss with it as much to get it into the pan evenly. Add sprinkles to the top of the marshmallow fluff.

Let the marshmallows sit, uncovered at room temperature for at least 6 hours (preferably overnight).

Once the marshmallows have set and you're ready to cut them, combine icing sugar and cornstarch in a shallow dish and stir to combine. Lightly dust your work surface with this mixture. Using a spatula, release the marshmallows from the pan and out onto your work surface. Once on the counter, flip it over so the sprinkles are on top. Using a sharp knife, cut into desired shape. Once they are cut, you can toss them in the icing sugar mixture, or (because I like the sprinkles to be visible) just dab the cut edges and the bottom into the icing sugar. Tap off excess.

Keep in an airtight container at room temperature for up to 2 weeks.
Nutritional calculation was provided by WP Recipe Maker and is an estimation only. For special diets or medical issues please use your preferred calculator
Notes
Adapted from All the Sweet Things by Renee Kohlman
You can add the vodka to the saucepan with the sugar/water/corn syrup mixture. It will still taste like birthday cake but the booze will have burned off.