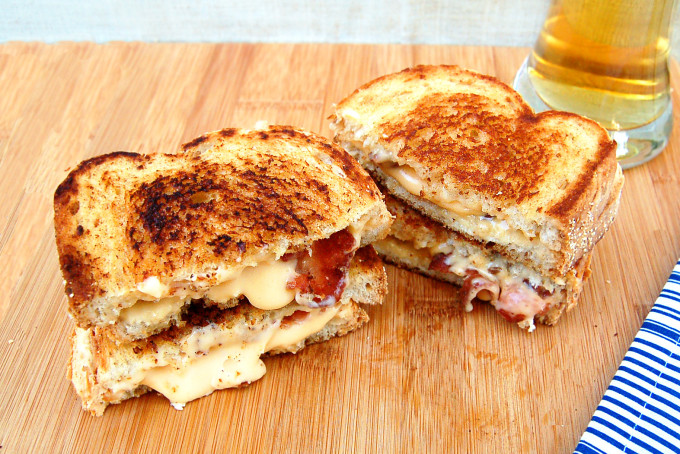 It's ooey, and it's gooey. It's got beer AND bacon. Two of my favorite things, in one place, married together in perfect harmony….in a grilled cheese sandwich. For real guys, this is no joke. Hands down, the best grilled cheese I have ever made.
So, obviously the beer adds a fabulous flavor, but there is one other thing that puts this sandwich over the top.
Brown Butter.
That's right. Brown Butter. Super fast and easy to make, and it adds a great nutty flavor that you cannot do without.
So this recipe was another discovery from Pinterest (follow me
here
). This pinterest discovery led me to a blog that is dedicated to cooking with beer, and it's probably one of my new top favorite blogs to snoop around on. Sooooo many great recipes that I need to try. The blog I'm talking about is
The Beeroness
. You need to check her out! Like seriously, go right now (well, maybe poke around here for a bit longer – but then go!).
I made some tweaks to this recipe based on what I had in my cheese drawer (which I have mentioned before. YES, I have a drawer dedicated to cheese). The original recipe called for cream cheese (which I used up when I made
this
) and I just happened to have
exactly
6 oz. of Velveeta left over, so BAM, that's what I used. And naturally, I was all out of cheddar, so I omitted it, and substituted the mozzarella for Monterey Jack. The result was the perfect grilled cheese sandwich, which will definitely make frequent appearances in my house!
Grilled Beer-Cheese Sandwich
4 tbsp unsalted butter
6 oz processed cheese such as Velveeta
1/2 cup Monterey Jack cheese
1 tsp cornstarch
1/4 cup pale ale – I used Alexander Keith's
4-6 strips bacon, cooked until crispy
8 slices of bread – I used Rye
For the Brown Butter:
Add butter to skillet over medium heat. Once butter has melted, whisk constantly.
The butter will bubble and foam up slightly and then subside. This is when the browning will occur. Watch carefully as the butter browns, as it can burn quickly.
Remove from heat and transfer to a bowl to stop the cooking process. You want the butter to return to a solid state so it's easier to use on the sandwich. I kept mine on the counter for a few minutes, stirring occasionally and then I put it in the refrigerator until it was solid again, about 15-20 minutes.
For the Beer-Cheese
Place the Velveeta, cornstarch, Monterey Jack and beer into a food processor, and wiz until smooth, about 3-4 minutes.
Heat a heavy bottomed skilled over medium heat.
Slather one side of each slice of bread with the brown butter.
Generously slather the un-buttered side of four of the bread slices with the beer cheese. Place 1-2 strips of bacon on the cheese, and top with another slice of bread.
Place the sandwich in the warm skillet and fry until golden brown, then flip and do the same on the other side.