Saying good-bye to summer is hard. I'm in serious denial that it's September and the unofficial end of summer, aka Labour Day weekend, is behind us. Super bummed about it, actually. This girl is not a fan of the cold.
So what did I do?
I booked a last minute vacation to Hawaii with my bestie. We leave in two weeks, and we're counting down the days, hours and minutes to take-off. This vacation is the only thing getting me through the drastic weather cool-down.
That, and maybe these meatballs.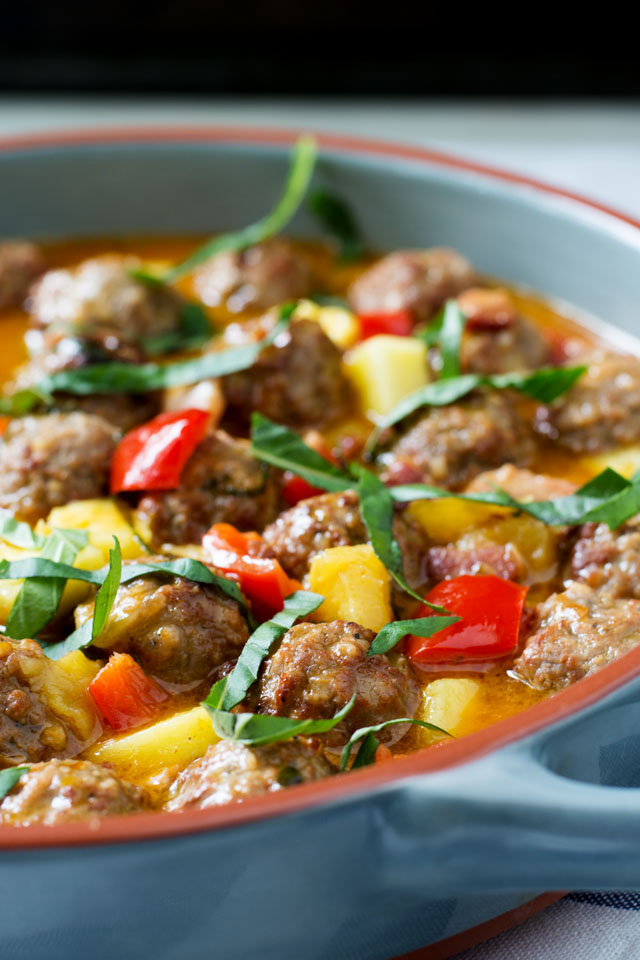 I suppose if I had to pick one good thing about the cooler weather, it's that I'm far more willing to whip up some comfort food. For me, comfort food takes many forms – perogies, cabbage rolls, perishke, tomato soup with grilled cheese, anything with curry, and meatballs with rice. This recipe combines the last two.
I can't get enough curry in my life – especially those of the Thai variety. Lemongrass, chillies, tamarind, coconut – what's not to love? The flavours are fresh, bright, and spicy – often a dance between sweet, salty, and sour. These Coconut Meatballs showcase the best of these Thai flavours. The heat from the red curry is balanced nicely by fresh pineapple and coconut milk. To brighten up boring rice, I used lemongrass, ginger, garlic, and coconut milk in the pot while it's cooking. Not to mention bacon, red peppers and a sprinkling of Thai basil – complete perfection.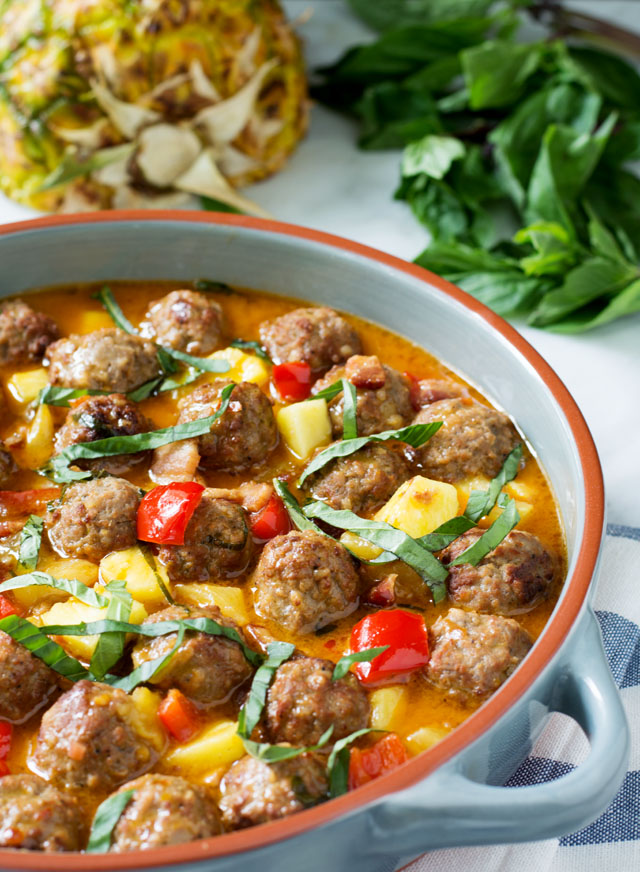 Not only are Thai Coconut Curry Meatballs perfect for a weeknight meal, but they're excellent for potlucks. Let's face it, holiday season is just around the corner, and these meatballs will be the perfect addition to your party. But let's not get too ahead of ourselves here. I'm not ready to think about the holidays. I'm having a hard time dealing with the fact that I have to wear a sweater in the morning, let alone having to wear boots! First, I'm going to try to get through this Fall weather…by getting as far away from it as I can 😉
P.S. I'm wearing flip flops 'till it snows.
Ingredients
1/2

lb

bacon

chopped into large pieces

1/4

cup

Thai red curry paste

1/4

cup

brown sugar

1/4

cup

fish sauce

1 1/2

cans full-fat coconut milk

1/2

pineapple

peeled and cut into uniform chunks

1

red bell pepper

chopped

salt to taste

2

lbs

pre-cooked meatballs

pork or beef, but chicken and turkey work great too * If you use frozen meatballs, make sure you thaw them first.

1/4

cup

thai basil

chiffonade

Rice for serving*
Instructions
In a large skillet, add chopped bacon, turn to medium heat, and fry until crispy. Remove bacon from the pan. Discard all but 2 tbsp bacon fat from the pan.

Add the red curry paste, brown sugar, and fish sauce to the hot bacon fat and cook for about 3 minutes.

Add coconut milk and bring to a simmer. Add cooked bacon, pineapple and red pepper to the pan and cook for about 5 minutes.

Add the meatballs and cook for another 10 minutes. You want to ensure the meatballs are heated through.

Remove from heat and sprinkle with thai basil. Serve with rice.
Nutritional calculation was provided by WP Recipe Maker and is an estimation only. For special diets or medical issues please use your preferred calculator
Notes
*for the rice, I recommend adding a splash of coconut milk, a stalk of lemongrass, a knob of ginger and a smashed garlic clove to the water while steaming.