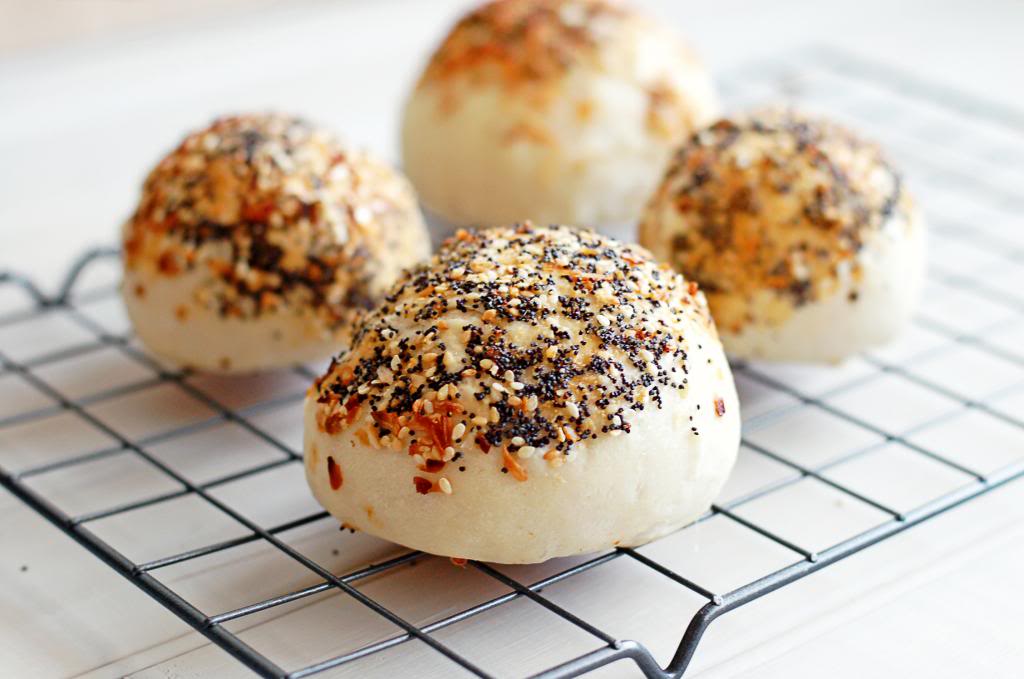 The concept is quite simple, yet the first time I had ever seen it was in the Momofuku Milk Bar book. Essentially, it's cream cheese embraced lovingly by a bagel. Cause really, who wants a bagel without cream cheese, other than my mom? Like, really! The two just go hand in hand like milk and cookies, peas and carrots, grilled cheese and tomato soup, socks and sandals…wait, what?
I think I've made my point.
But I digress.
Bagels and cream cheese. A staple Saturday breakfast for me as I'm usually running late to get to my shop to open for the day. Since I'm saving for an epic trip to Vegas in July for my sisters bachelorette party, I'm cutting back on luxuries such as dining out, whenever possible. That includes my Saturday Tim Horton's stop. I'm honestly not missing it, because I have a stock pile of these Bagel Bombs that feed my bagel and cream cheese addiction once a week.
These lovelies are incredibly simple to make. Aside from the dough, you need to make cream cheese plugs with the fillings of your choice. Make these plugs in advance because you need to freeze them. My bestie Jill and I made two kinds last weekend – bacon and green onion, as well as feta and dill. You can pretty much fill them with whatever variation you want. Since bacon is my kryptonite, I usually stick with the recipe provided by Christina Tosi in the Milk Bar book, and roll the bombs in an 'everything bagel' seasoning mix. For Jill's choice, we rolled the feta and dill bombs in a mix of Italian seasoning and shredded asiago cheese.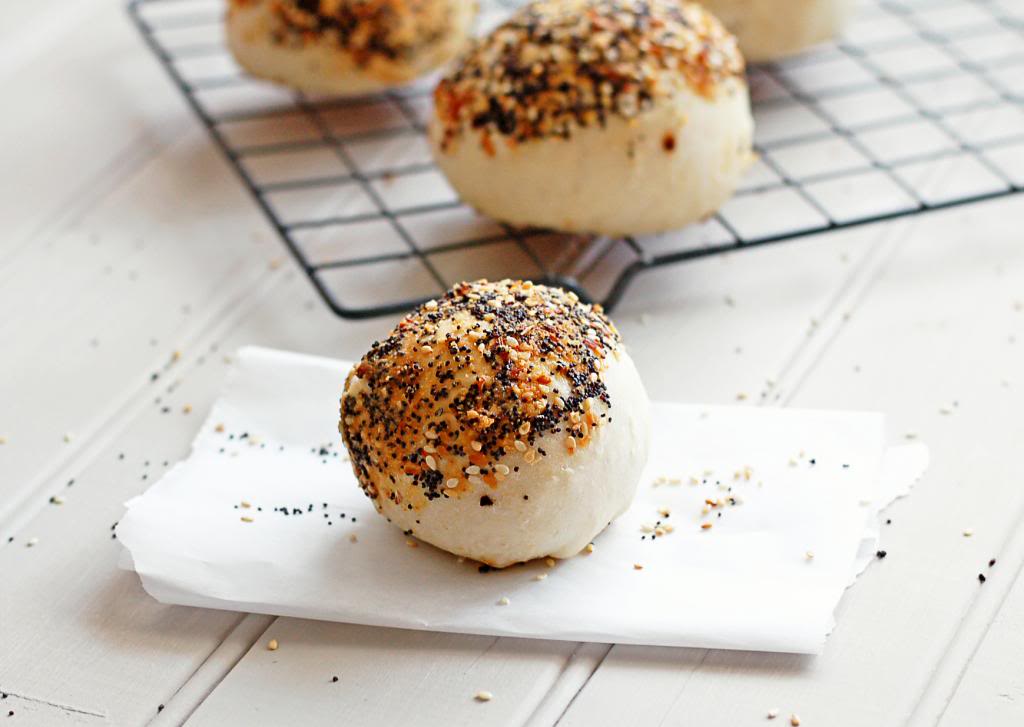 I simply adore the ease in making these bombs, and even more, I love the money I'm saving by not buying bagels every week. My Vegas savings is getting fatter by the week, and I fully plan on using my savings to binge on delicious food and wine while I'm there.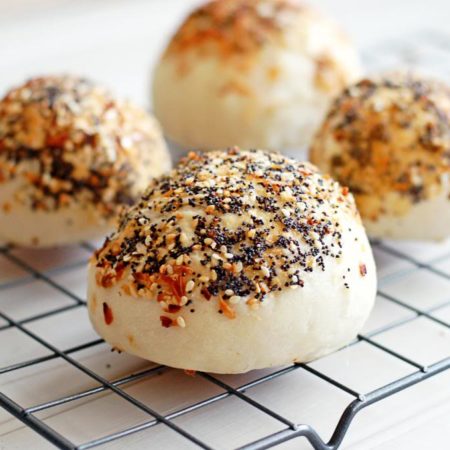 Ingredients
Recipe provided in weight and metric measurements.
For the Cream Cheese Plugs *Make in advance because they need to be frozen
50

g

1 and 3/4 ounces bacon * I think I cooked up about 6 strips

approx 2 tbsp of the bacon fat

200-

g

7 ounces cream cheese

2

g

2 green onions

5

g

1 tsp sugar

2

g

1/2 tsp kosher salt
For the Mother Dough *original recipe calls for half the dough, but I use it all
550

g

3 and 1/2 cups flour

12

g

1 tbsp kosher salt

3.5

g

1 and 1/8 tsp dry active yeast

370

g

1 and 3/4 cups water, at room temperature

grapeseed oil
For the Everything Bagel Mix *I just eyeball the measurements, I like a lot of this mix on mine
3/4

tsp

kosher salt

1

tbsp

white sesame seeds

2

tsp

black sesame seeds

2

tsp

poppy seeds

1

tbsp

dried onions

1/2

tsp

onion powder

1/4

tsp

garlic powder

1

egg

1/2

tsp

water
Instructions
For the Plugs
Cook the bacon in a skillet over medium heat until its brown and crunchy. Remove bacon from the pan and chop into small pieces. Reserve bacon and about 2 tbsp of the bacon fat separately.

Pu the cream cheese into the bowl of a stand mixer fitted with the paddle attachment and cream it on medium speed. Pour in the reserved bacon fat and paddle to combine. Add the chopped bacon, onions, sugar and salt and paddle briefly to incorporate.

Scoop the cream cheese mixture onto a sheet pan lined with parchment paper. Measure out 8 equal lumps and freeze for 1-3 hours, or until rock hard.
For the dough
Stir together all the dry ingredients in the bowl of a stand mixer fitted with the dough hook. Turn mixer to low to mix ingredients. Slowly add the water and keep mixing on low until the mixture comes together. You may need to stop and use your hangs.

Continue mixing on the lowest speed until the ball of dough is smoother and more cohesive. then knead for 4 more minutes on the lowest speed. the dough should look like a wet ball and should bounce back softly when prodded.

Brush a large bowl with oil and dump the dough into it. Cover with plastic and let the dough proof at room temperature for 45 minutes.
For the everything bagel mix
Mix all ingredients together and set aside.
To Assemble
Preheat oven to 325 degrees.

Punch down the dough on a clean counter top Cut dough into 8 equal pieces. Use fingers to gently stretch the dough out into a mini pizza shape.

Put a cream cheese plug in the center of each dough circle. Bring up the edges of each round and pinch to seal so that the cream cheese is completely contained, then gently roll the ball between your palms to ensure the bomb is a nice round dinner roll shape. Arrange the bombs 4 inches apart on a parchment lined sheet.

Whisk the egg and water together. Brush a generous coat of the egg wash on the buns. Sprinkle a heavy even coating of the bagel mix all over the bagel bombs - every inch, except the bottoms. *I just dip the bomb in the egg, then dip it in the bagel mix.

Bake for 20-30 minutes. While in the oven, the bombs will become a golden brown color and there may be a few cream cheese explosions. Continue baking until this happens. Serve as is, or use your fingers to tuck the cream cheese back in.

Bagel Bombs are best if served warm out of the oven - or heated up in the oven later to warm and serve. They keep in the fridge for up to 3 days.
Nutritional calculation was provided by WP Recipe Maker and is an estimation only. For special diets or medical issues please use your preferred calculator