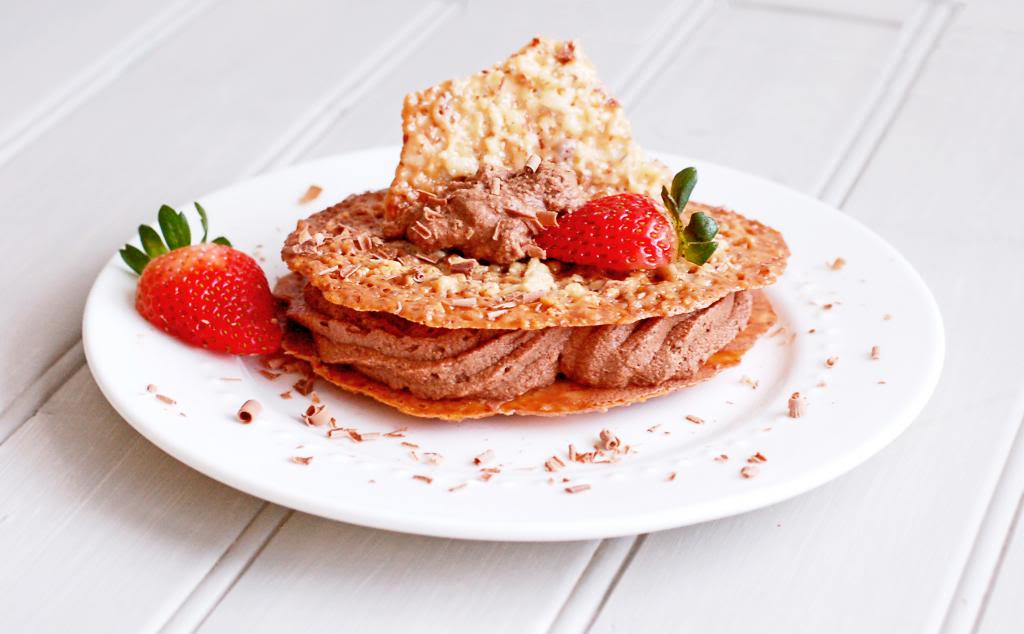 With Valentine's Day around the corner, I'm sure you're looking for a decadent and rich dessert to make for that sweet person in your life. Well my friends, look no further. I've come up with a simple, yet impressive dessert that is sure to please.
The crisps are reminiscent of the fabulous candy, Almond Roca, in that they share the same delectable almond and caramel flavors. The crisps, however, have a much more pleasant and subtle crunch, followed by a melt-in-your-mouth texture what will leave you craving more. Aside from making these individual tortes, you can enjoy these crisps sprinkled over ice cream, or with coffee.
The richness of these tortes comes from the Amaretto spiked chocolate mousse. Honestly, the crisps are fabulous on their own, but why not add mousse? It simply makes the world go round.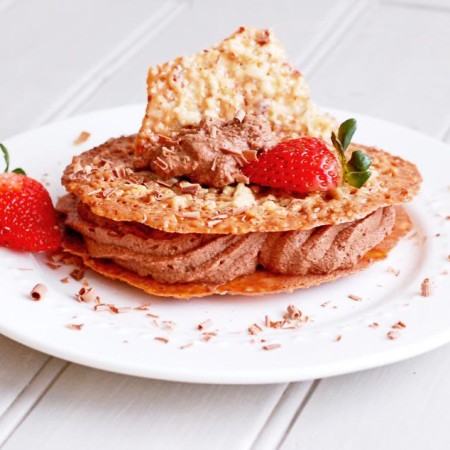 Ingredients
For the Almond Crisps
3/4

cup

finely chopped almonds

I gave mine a quick whiz in the food processor

1/2

cup

sugar

1/2

cup

butter

1

tbsp

flour

2

tbsp

heavy whipping cream
For the Amaretto Chocolate Mousse
300

ml

heavy cream

200

g

premium chocolate

I used Callebaut

1

egg

at room temperature

50

g

sugar

2

tbsp

Amaretto Liquor
Instructions
For the Mousse
In a heavy bottom saucepan, heat the cream over medium heat, to a light simmer. Remove from heat.

Add the chocolate to the hot cream and whisk until the chocolate has completely melted. Continue to whisk until slightly thickened. Transfer the cream and chocolate to a bowl and place in the refrigerator to cool.

In a small bowl, whisk together the egg and sugar until the sugar has dissolved, and the it's silky and smooth.

Transfer cream mixture to the bowl of a stand mixer, fitted with the whisk attachment. Add egg, sugar and Amaretto. Whisk until the mixture thickens and holds medium peaks. Place back in the refrigerator until ready to use.
For the Almond Crisps
Preheat oven to 375°F.

Combine all ingredients in a heavy bottomed saucepan. Heat over medium-low heat until butter and sugar are completely dissolved; set aside to cool for approximately 15 minutes.

Line baking sheets with parchment paper. Drop almond mixture by the tablespoon on baking sheet; allowing 5 to 6 inches between each. Note: use a light colored baking sheet. The crisps will burn if a dark baking sheet is used.

Bake for 8 minutes or until lightly browned. Remove from oven; let sit for 5 minutes on baking sheet before transferring to a cooling rack.

Use these delicate crisps to make individual almond tortes, crumble over ice cream or as a cookie.
To Assemble the Tortes
Pipe or dollop mousse onto a crisp. Top with another crisp, fruit, a dollop of more moose and chocolate shavings. I like to use any broken crisps as garnish as well. Serve immediately.
Nutritional calculation was provided by WP Recipe Maker and is an estimation only. For special diets or medical issues please use your preferred calculator