Simply put, 2014 was amazing. It was filled with new adventures, lots of travel (I visited both coasts this year), meeting so many amazing people and of course, lots of damn delicious food!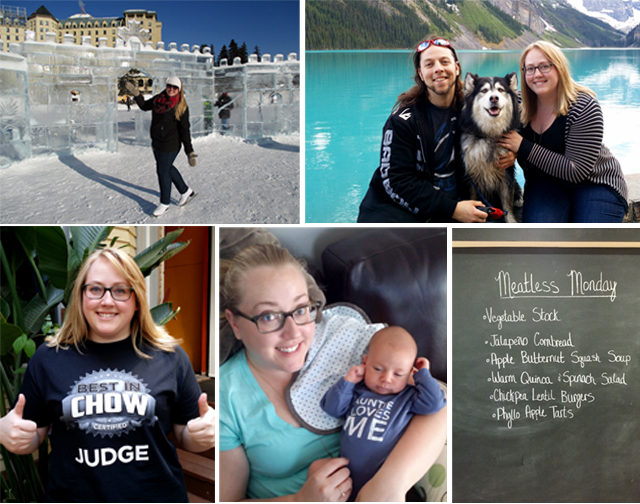 My sister and I spent a weekend in February in the mountains and I did some skating on Lake Louise. The boy and I went back in the summer with the dog for some R&R. The dog took a swim in Lake Louise. I made my television debut! I was a judge on Best in Chow: Pizza Wars Regina. I became an Aunty! A local culinary school asked me to come teach cooking classes to home cooks. It totally put me outside of my comfort zone, but I'm so incredibly grateful for this opportunity. I hosted my first giveaway and it was sponsored by Hershey's Chipits! I'm also proud of an article I wrote for Food Bloggers of Canada called Breakfast in Regina. It was one of their top 10 most read articles of 2014!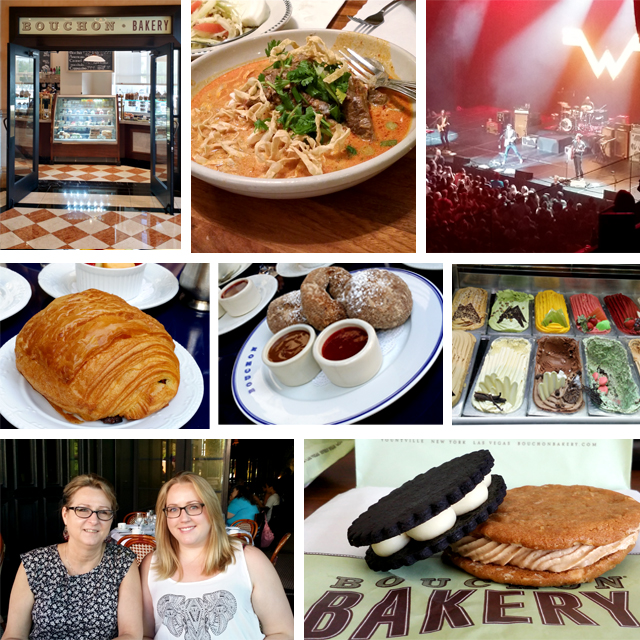 We headed down to Vegas with our moms in July. I'm a fan of Thomas Keller, so we stopped in at Bouchon Bistro and Bouchon Bakery. I've made the Better Nutters before (bottom right) and I can say, they taste the same! Bouchon Bakery is one of my favorite cookbooks, too! I've made a few things from their book, including Poppyseed Muffins. We tried all new restaurants including a highly acclaimed, yet super-cheaply priced, Lotus of Siam. We ordered multiple appetizers and entrees and shared it all, family style. We scored last minute tickets to a Weezer concert, then pulled an all-nighter before catching an early morning flight home. Turns out, our moms pulled an all-nighter too! We all took a snooze on the flight home.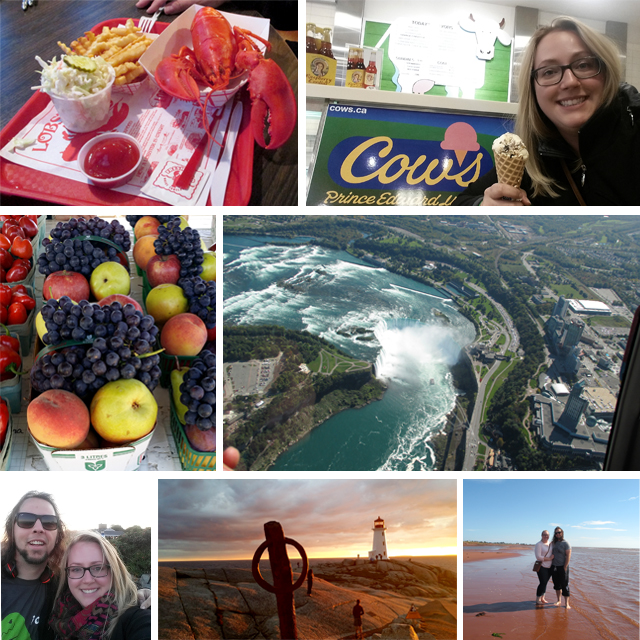 We spontaneously planned an 18-day road trip to the East Coast, and yes, we drove. 6 provinces and 13 states were traveled in 18 short days. I can't even explain how much I fell in love with the East Coast. The further we went, the more I wanted to stay and plant some roots. We poked around Salem Massachusetts and did a witch tour. We found an ocean-front restaurant way off the beaten path on a rocky cliff in Maine and ate fresh, local lobster. We visited most of the touristy places such as Hopewell Rocks, Peggy's Cove , Anne of Green Gables Homestead, and ate Canada's best ice cream at Cows Creamery in P.E.I (Wowie Cowie is to die for). We saw Niagara Falls from a helicopter, picked up fresh fruit from an orchard in Niagara-on-the-Lake, toured a winery and learned about moonshine.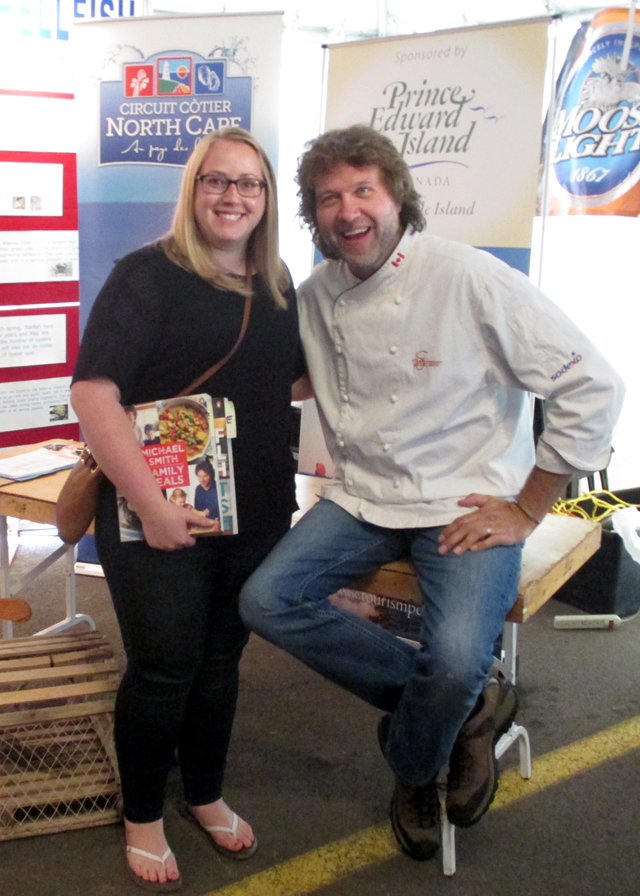 Oh, and I met the super dreamy, Chef Michael Smith, at the P.E.I Shellfish festival in Charlottetown. We chatted about lentils and my face hurt from smiling like a goddamn idiot. Highlight of the whole trip right here!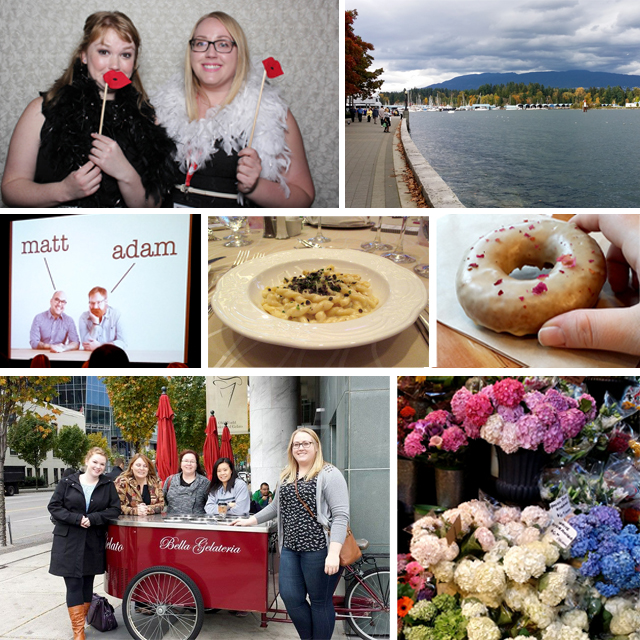 Then there was that time I won a free pass to the Food Bloggers of Canada Conference in Vancouver. My heart stopped when I got the tweet that I won. I believe my exact words were, "Holy shit!' Thank-You again Melissa, Ethan, and Canadian Lentils. I met the most amazing group of food bloggers: Laura, Bernice (thanks for the photo – bottom left) , Heather, Courtney, Laureen, Valerie, Redawna, I can't wait to see you all again! We ate like kings for the whole weekend. The menu was created by Chef Ned Bell and featured Canadian beef, lentils, cheese, and wine. Absolutely outstanding! On my off time, I wondered around the city, took a sea ferry over to Granville Island, sampled some local cuisine, and put thousands of steps on my pedometer. I will definitely be attending FBC 2015 in Montreal.
FBC2014 really solidified it for me – I'm doing what I'm meant to do. My passion for cooking and baking has lead me places I never imagined and 2015 will surely bring bigger and better things! We have some fun things planned already, including a trip to Atlanta, New Orleans, and Montreal. We may even take in a UFC event in Las Vegas. Whatever the year brings, I know it's gonna knock the socks off 2014!