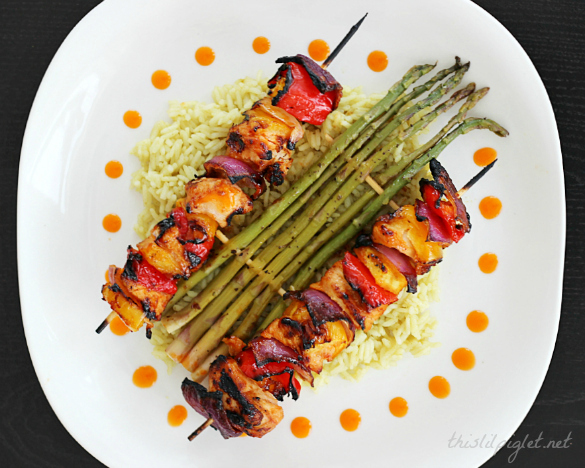 Spicy Hawaiian Skewers from This Lil Piglet
In celebration of 2014's Chinese New Year, 7 Celebrity Food Bloggers have been selected from 7 regions across Canada to compete in a recipe challenge using Thai Kitchen products. In order to discover some truly unique food mashups, Thai Kitchen selected some of Canada's hottest food bloggers and asked them to create 7, one-of-a-kind dishes using Thai Kitchen products. From January 13 through January 26 each blogger's social media audience had the opportunity to vote for their favourite dish.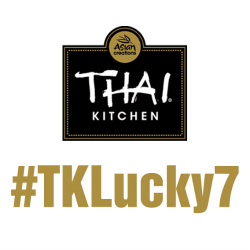 On Chinese New Year, January 31, 2014, each contestant's winning dish will then be entered into a nationwide competition where Canadians will have the chance to decide which will be Thai Kitchen Canada's Best Recipe. The winner of this competition will be crowned Thai Kitchen Canada's brand ambassador.
There are some amazing prizes up for grabs, too. Head over to
Thai Kitchen's website
and vote for your favourite creation. Just by taking the time to vote, you are entered to win some outstanding prizes, including a
$1500 Air Canada Gift Card
,
$1000 Apple Gift Card
or a
Jamie Oliver Professional Series Cookware Set & Hard Anodized Frying Pan ($1000.00 Retail Value).
You can return to their site and vote daily in order to increase your chances of winning!
You can follow along on Twitter using the hahstag
#TKLucky7
,
Pinterest
or on each participants Facebook pages.
Saskatchewan's own Stacey Martin of This Lil Piglet is participating in the challenge and says it's truly an honor to have been chosen to compete. "I love supporting brands I'm passionate about, brands that my family loves and uses regularly," Martin said in a recent interview with Regina's Leader Post. "What I love about Thai Kitchen is that anyone can take one or two of their products, create a simple, easy and flavour-packed meal in under 30 minutes."One of Stacey's favorite aspects of Thai cuisine is that it screams healthy. "The colours of ingredients are beautiful and the flavours explosive; when I cook Thai, I know my family is eating foods that are both nutritious and flavourful."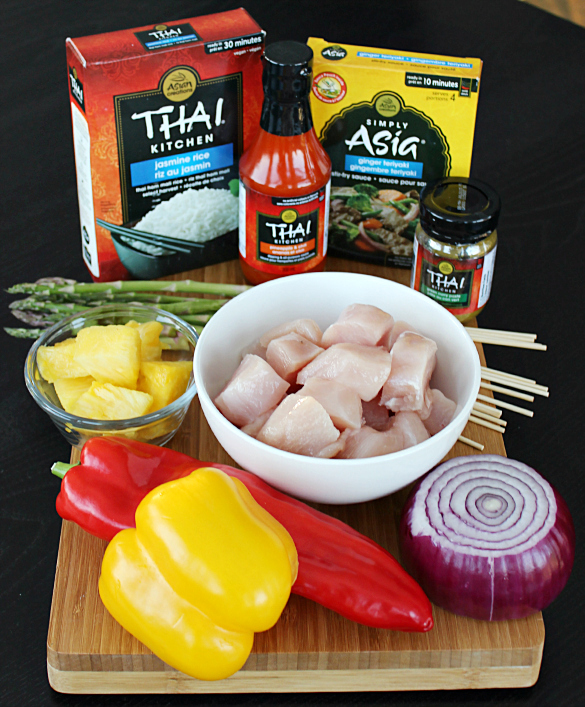 Stacey's favorite Thai Kitchen product is the Coconut Milk, largely due to it's versatility. She's incorporated coconut milk into soups, casseroles and desserts because it's a healthier alternative to the usual creamy ingredients. Stacey's second favourite would be the Sweet Red Chili Sauce because she loves the mix of spicy and sweet; no matter the meat, this sauce makes a perfect combination. And third would be the Red Curry Paste. Stacey says it adds a little kick to any meal and is perfect for a meat rub or just added right into your rice. She's even made a vinaigrette salad dressing with it and it was amazing.
Be sure to check out Stacey's site for photos and recipes for all her creations.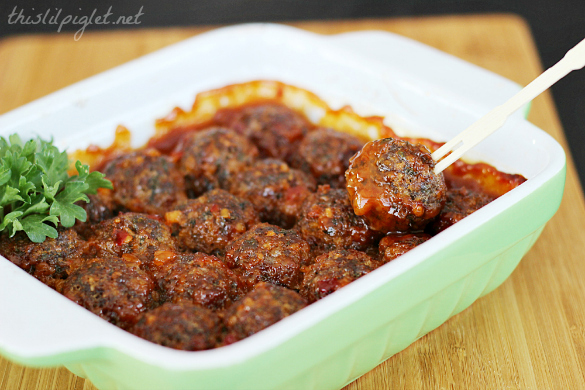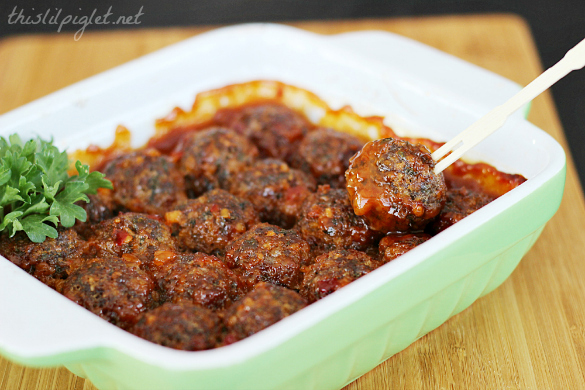 Ingredients
2

lbs

lean ground beef

1

can

16 oz cranberry jelly

200

ml

Thai Kitchen Sweet Red Chili Sauce

1

package Simply Asia Mandarin Orange Stir-Fry Sauce

1

tbsp

lemon juice

2

eggs

1

cup

crushed corn flakes

1/3

cup

Club House Parsley Flakes

2

tbsp

Club House Dehydrated Minced Onion

1/2

tsp

salt

1/2

tsp

Club House Black Grond Pepper
Instructions
Preheat oven to 350 F.

In a medium sauce pan combine cranberry jelly, sweet red chili sauce, 1/2 mandarin orange sauce and bring to boil. Stir until smooth and set aside.

In a large bowl, combine eggs, cornflakes, 1/2 mandarin orange sauce, parsley, dried onions, salt, pepper and beef and mix well.

Shape meat mixture into 1 " balls and place in a 9? X 13? baking pan.

Pour sauce over the meatballs and bake for 40-50 minutes.

Serve hot. These freeze well and can be reheated for a tasty snack or appetizer.
Nutritional calculation was provided by WP Recipe Maker and is an estimation only. For special diets or medical issues please use your preferred calculator
Notes
Recipe and all photos are from This Lil Piglet. Thanks you Stacey for taking the time to answer a few questions for me.
This is a sponsored post. All opinions are my own.