This trip happened quite spontaneously. While looking for flight deals to Texas, I happened upon a seat sale to Hawaii. So I texted my friend, Thao, and thankfully she was on board immediately.
It's always fun going on adventures with friends, but what I appreciate most about travelling with Thao, is her love for food. She's the only person I know who takes more pictures of food than I do, and isn't embarrassed about it. So, obviously we're best friends and travel well together.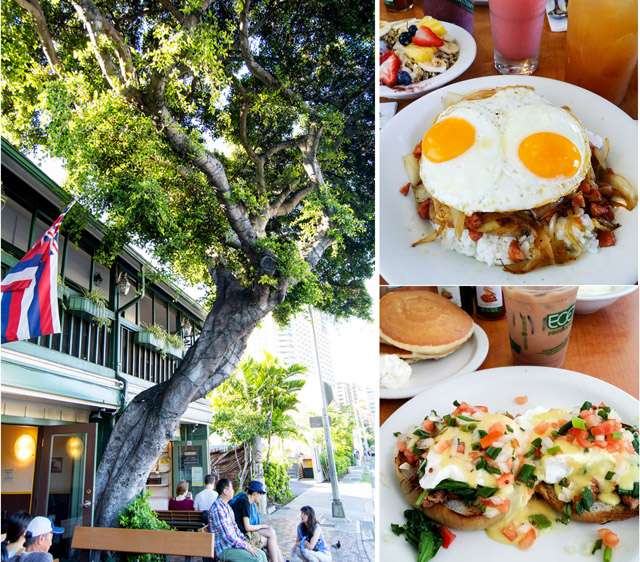 For the first three days of the vacation, we had breakfast at Eggs'n Things. Thao ordered the Fresh Island Ahi and Eggs (Cajun style), all three days – it was THAT good. I suggest trying the Hawaiian Loco Moco (beef patty over rice, with Portuguese sausage, sautéed onions, and mushrooms) with an iced Kona Mocha Latte. The macadamia pancakes are overrate, however, once doused in their coconut syrup, they come to life. If you happen to be there on a Friday, you should definitely order the Eggs'n Things special: Hawaiian Eggs Benedict. It all starts with a Taro bun (you don't see that everyday. Unless you live in Hawaii, in which case, you probably do). That fluffy purple bun is then topped with pulled pork, spinach, onions, and tomatoes. SO totally awesome!
The wonderful servers (Markus and Nicole – you ROCK) remembered us every day, and seated us in a great spot each time. They gave us some stellar recommendations on what to do and where to go that did not disappoint.
Our first supper was at the Cheesecake Factory for two reasons: 1. I got a sunburn despite wearing sunscreen and was rather tired, thus, I didn't care where we ate, and 2. It was across the street from our hotel. Subpar meal, as chain restaurants tend to be.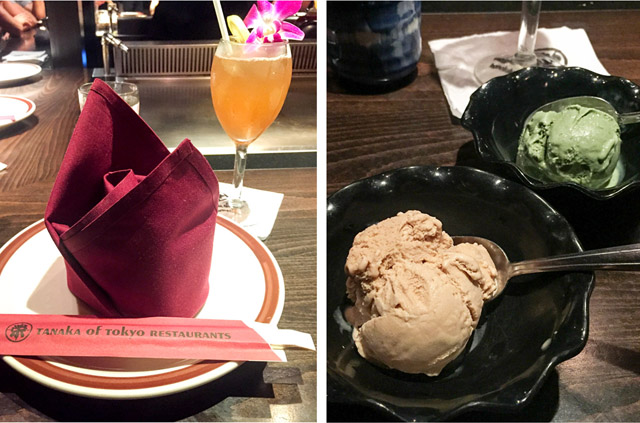 Tanaka of Tokyo East is a Japanese Steak House and we had a fun evening there on our second night. Our chef showcased some wicked skills flippin' shrimp tails into his chef's hat, and my favourite part, when he tossed a fake egg at Thao because she wasn't paying attention.
Thao had the salmon and I went with chicken and steak, which was good but nothing spectacular. The ice cream at the end was probably the best part of the meal. The Kona coffee flavour was fab, but the green tea was far superior. Fair warning, you do leave the restaurant smelling like smokey fried food, so don't wear something you intend to wear again on that trip.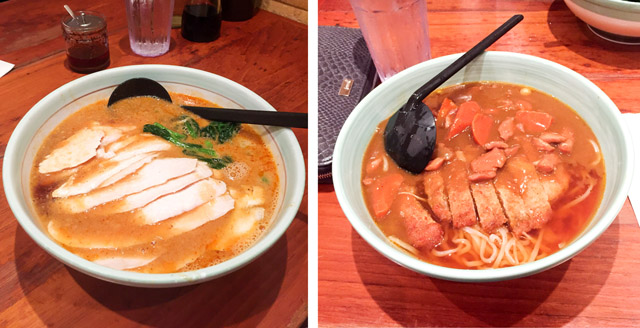 We knew we had to get our hands on some ramen while in Hawaii, so we asked Markus (our server from Egg's n Things) for a few recommendations. We ultimately settled on Goma-Tei and were not disappointed. The restaurant at the Ward Centre was tricky to find, but worth it. I would highly recommend any of the Tan Tan style ramen bowls (left picture above). The broth is liquid gold; rich sesame flavour and perfectly seasoned. The Katsu Curry Noodle Bowl was good, but the Tan Tan is better. If you want to try some of the best ramen on the island of Oahu, you must come here!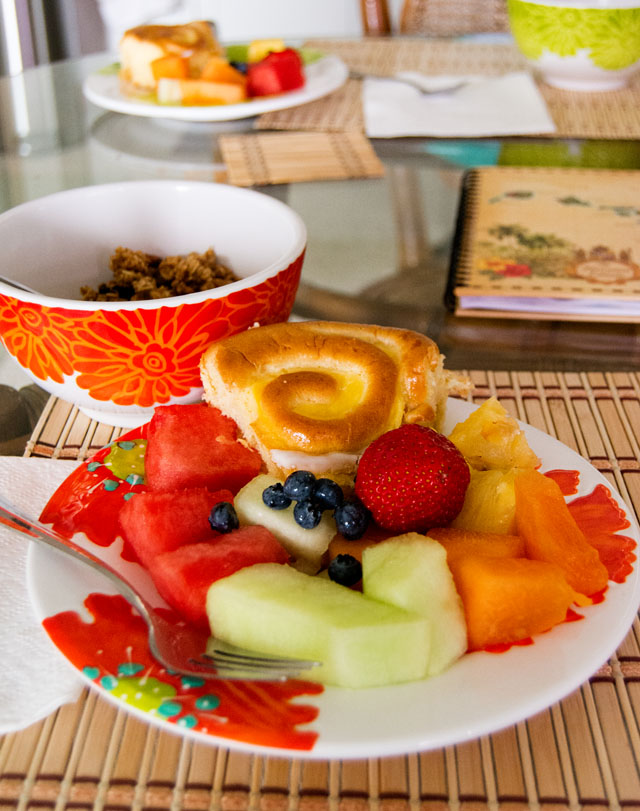 For the last two nights of our trip, we rented an Airbnb, which allowed us the ability to store food and make our own breakfast. We hit up Whole Foods and got a fruit platter, yogurt, granola, and some heavenly brioche custard buns. Thao legit made me breakfast every morning. In turn, I did the dishes, and I'm totally cool with that.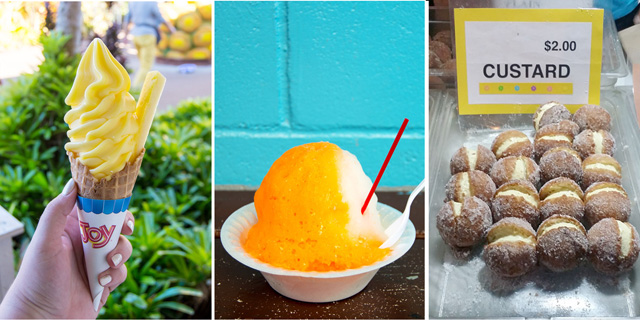 One night, while aimlessly wandering around Waikiki, we stumbled upon the Kings Village Farmers Market. We dubbed it a "street smorg" because it was just small vendors serving up local food. I picked up a coconut custard filled Portuguese donut (far right photo above), and I'm still kicking myself for not getting a papaya salad. Ah well, next time!
On our way to the North Shore, we made a pit stop at the Dole Plantation for Dole Whip – a pineapple soft-serve frozen dessert type concoction (far left photo above). I've enjoyed Dole Whip in Disney World on several occasions, but Thao was a Dole Whip virgin and I had to do something about that. We sat outside, so it melted hella fast, and we were super bummed that the "stick of pineapple" was actually the tough core cut to look appealing and not what we expected. As an added bonus, the plantation had a gigantic gift shop and a bunch of chickens roaming around outside, which kept us entertained for about an hour.
And what would a trip to Hawaii be without Shave Ice? We enjoyed it on two occasions, but my fave was from Waiola Shave Ice (middle photo above). Since we had a rental car, we decided to hit up the original location, which was…I'll say….rough around the edges. The service was lacking, but the actual Shave Ice was fabulous. After we were told to "hurry up" because they were closing (in half an hour), I settled on the Ice Cream Bowl – a generous serving of soft serve topped with shave ice. I chose Lychee and orange Creamsicle as my two flavours. Lychee was the best of the two, and next time I think I'll add Li Hing powder and some condensed milk.
Our trip was short, but sweet. Ultimately, we didn't get to eat everywhere on our list, so we're planning a trip back next year. Wanna join us?