This luscious Sweet Corn and Roasted Tomato Gnocchi is a wonderful end of summer dish, and a great way to utilize all that fresh, local corn.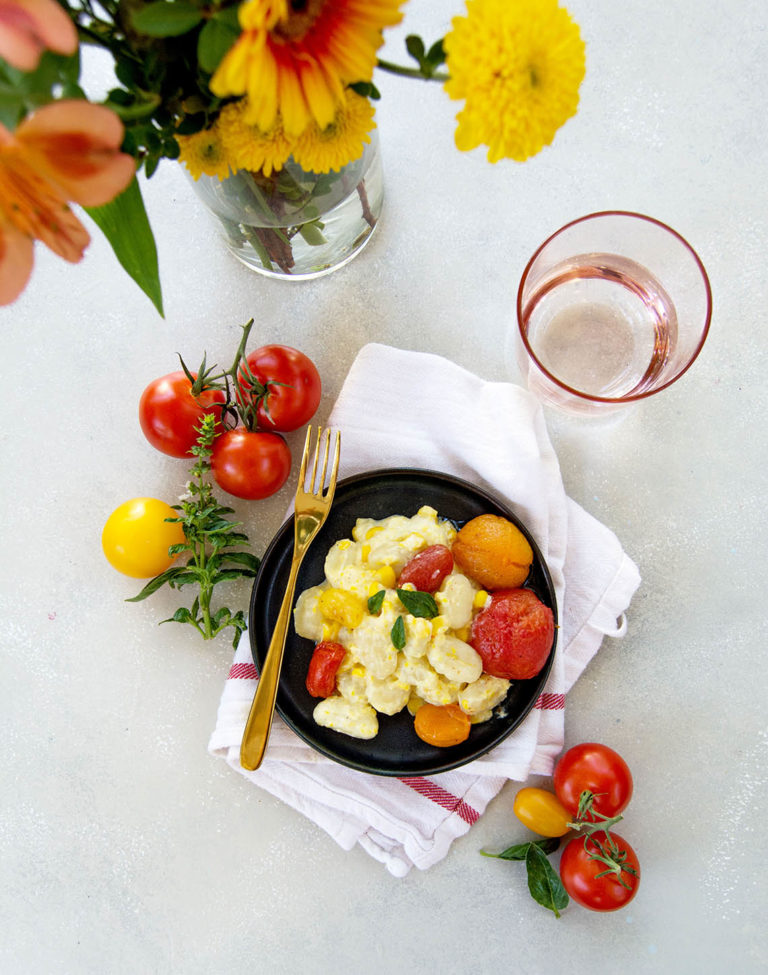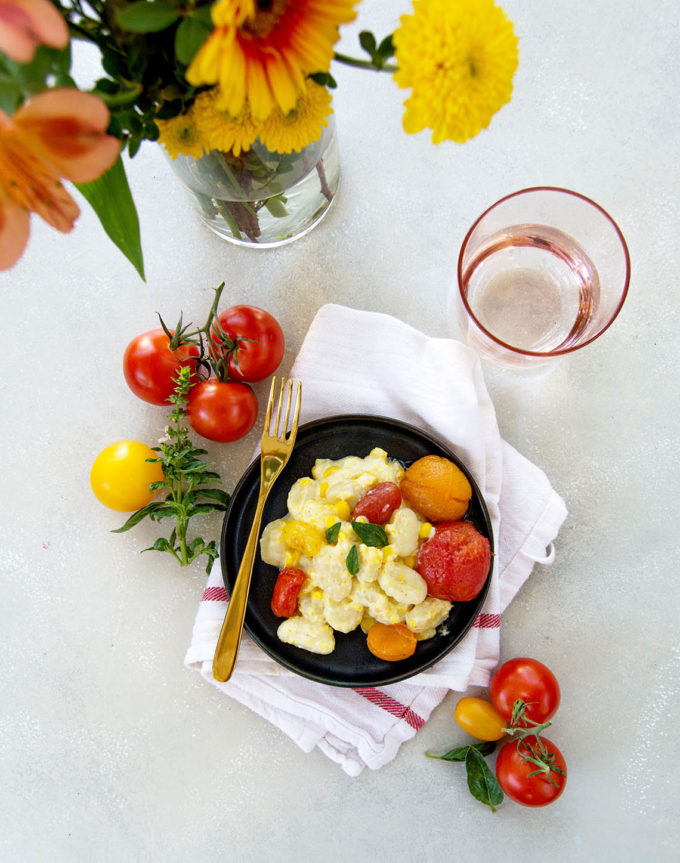 When I was a kid, I had horribly crooked teeth that made eating corn on the cob a nightmare. Instead, I would cut the kernels off the cob and eat them with a spoon. Effective? Yes. Embarrassing? Also, yes. People give you weird looks and silently judge you when you require a knife to eat corn.
All I have to say is, thank God for braces.
Now, on to more important things , like eating corn in a respectable manner – without the knife.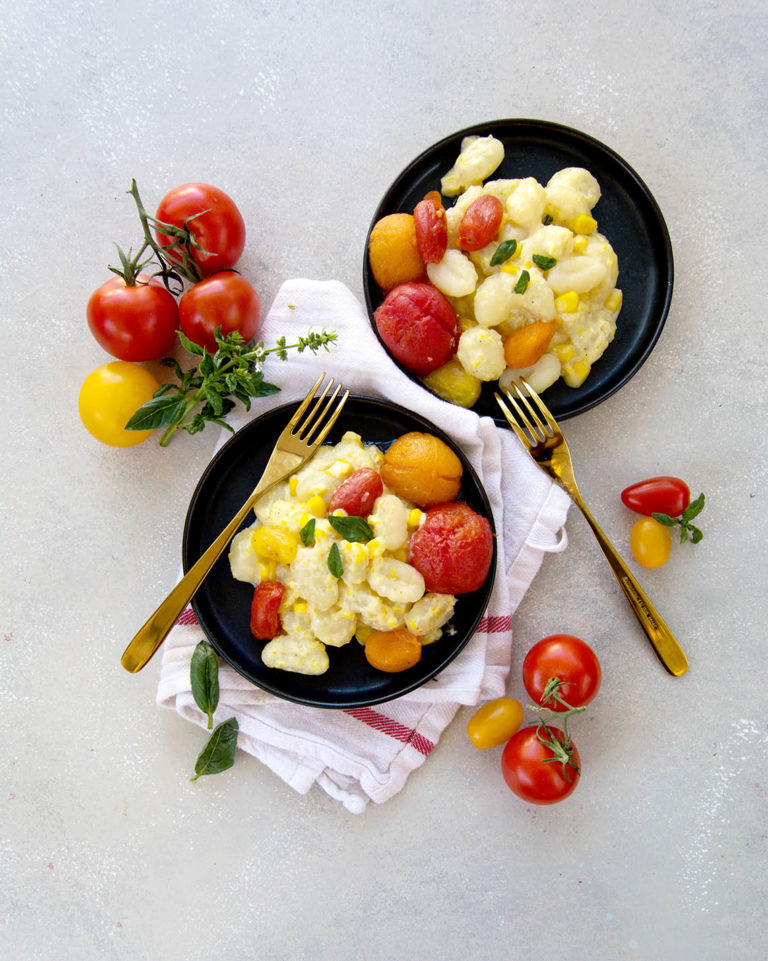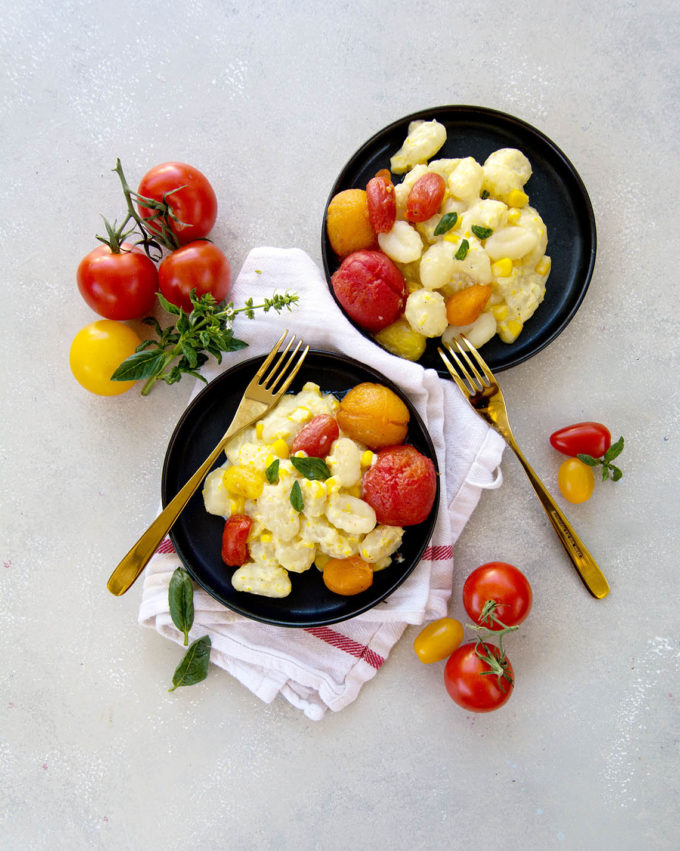 A couple summer's back, I spent a long weekend in Napa Valley. On our last evening, we headed into Sonoma to peruse the shops and have dinner. We looked at a few menus and ultimately landed at The Girl and the Fig, thanks in large part to their incredible cheese selection. Everything was top notch, but the sweet corn gnocchi has never left my mind. Those pillowy potato dumplings were phenomenal, but this dish went over the top with a creamy sweet corn sauce studded with roasted heirloom tomatoes. I simply could not. get. enough.
And I still can't, which is why I replicated the recipe at home.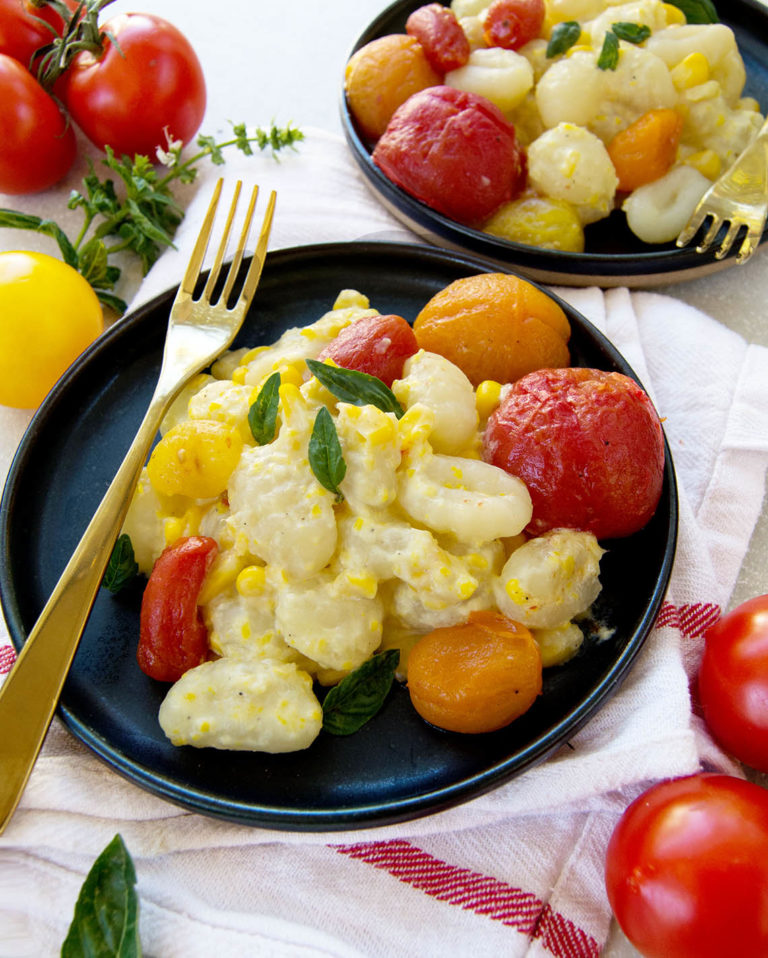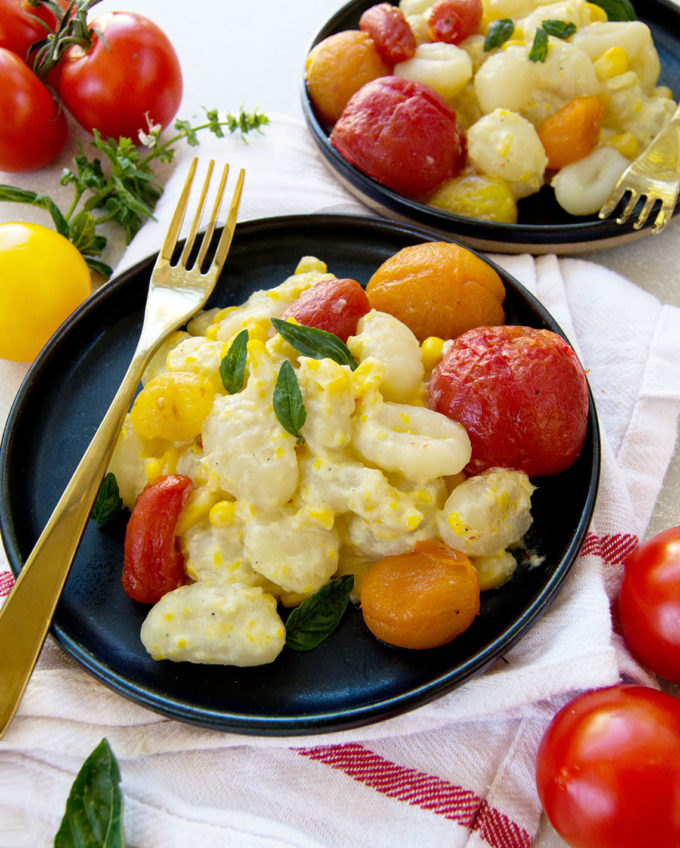 This dish is the epitome of summer. Fresh, juicy garden tomatoes, plucked at their peak and roasted to perfection. Cobs of local corn, freshly shucked and oh so sweet. Basil leaves, snipped from the garden, and still warm from the sun. The sauce is creamy, decadent and incredibly easy to put together. Also, it's super addicting – I found myself eating the sauce with a spoon. THAT good!
Eating corn like an adult has never been more delicious – and no knife required.
Sweet Corn and Roasted Tomato Gnocchi
Pillowy gnocchi is at it's best when tossed with a creamy corn and tomato sauce.
Print
Pin
Rate
Ingredients
500

grams

store-bought or homemade gnocchi

3/4

cup

whole milk

1/4

cup

cream cheese

1/2

tsp

salt

pepper to taste

1

clove

garlic

minced

2

cups

fresh or frozen corn kernels

2

cups

tomatoes* + 1 tbsp oil for roasting

basil for garnish
Instructions
Preheat oven to 400 degrees F.

On a baking sheet, toss tomatoes with olive oil. Roast in the oven until the skins begin to wrinkle and shrivel. Remove from the oven, and cool slightly, then, peel skins off the tomatoes. If you want to keep the skins on, continue to roast until the skin has charred slightly.

Meanwhile, in a medium saucepan, combine milk, cream cheese, salt, pepper and garlic.

Cook over medium heat, stirring constantly, until thickened, about 8-10 mins.

In a food processor, puree 1 cup of the corn, until it is the texture of creamed corn. It will be slightly grainy and not completely smooth - this is perfectly fine.

Add pureed corn and remaining 1 cup of whole corn kernels into the creamy sauce. Cook until heated through.

In a separate pot, cook gnocchi according to packaged instructions.

Add cooked gnocchi immediately into the creamy corn sauce and stir to combine.

Serve with roasted tomatoes and basil.
Nutritional calculation was provided by WP Recipe Maker and is an estimation only. For special diets or medical issues please use your preferred calculator
Notes
*Use any size tomatoes you wish. I usually use grape or cherry tomatoes.