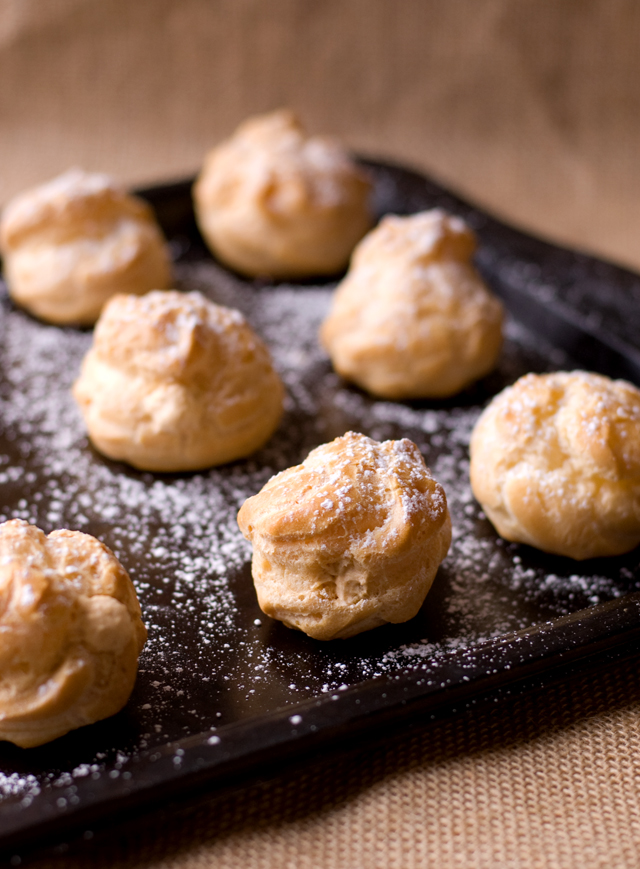 I made my first homemade cream puff years ago. I remember thinking, "I should challenge myself and make something super difficult" and for some reason, I thought cream puffs would be that perfect challenge. Boy, was I wrong. I was blown away by how easy they are to make. I've made a few variations over the years, but this, my friends, is my greatest creation.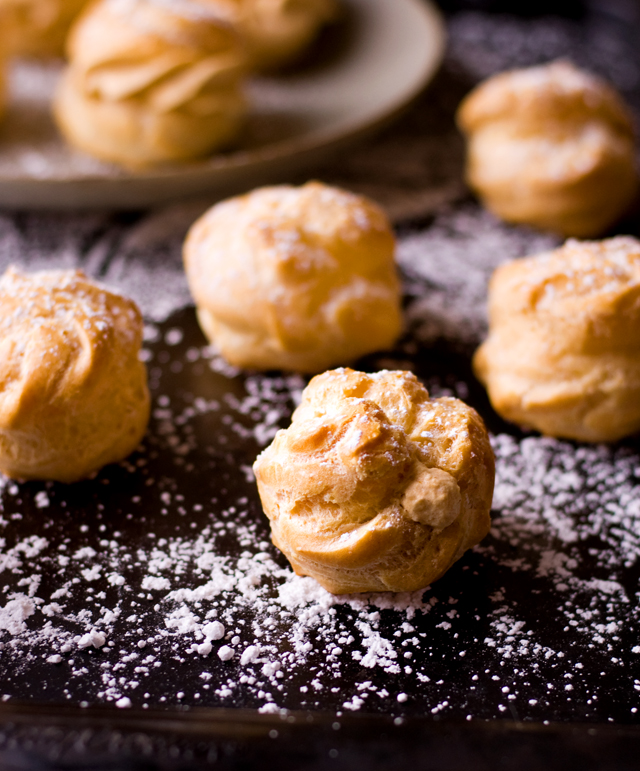 "What is that creation?," you ask. One day, out of the blue clear sky* it came to me. I had a homemade pumpkin pie gifted to me from my dear friend, Edith, and I had just bought whipped cream to top it with. I was brainstorming ideas on how to use up the rest of the whipped cream and I clearly still had pumpkin pie on the brain and…. bam! The idea of Pumpkin Pie Cream Puffs was seeded and I just couldn't get the idea out of my head.
*100 points to you if you knew this was a quote from Forrest Gump. Yep, I'm a nerd. 200 points if you went back and read that sentence with a Forrest Gump/southern accent.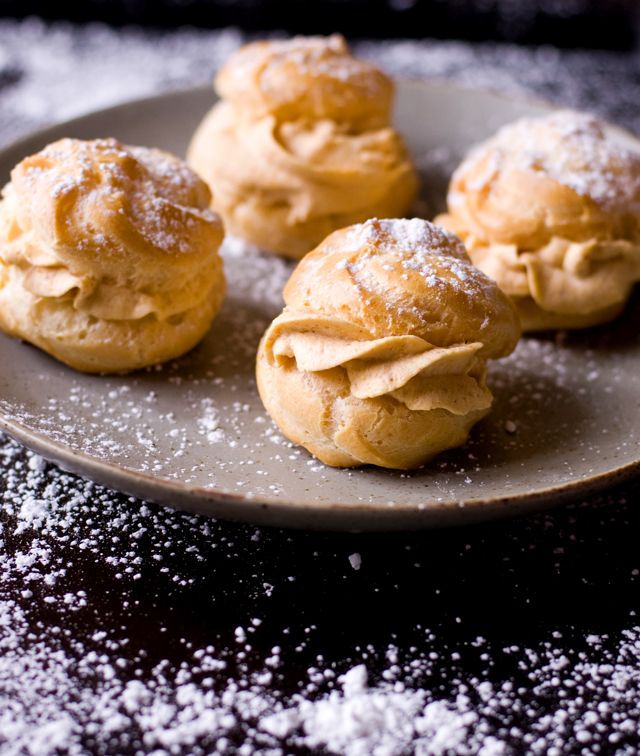 Obviously it goes without saying that Pumpkin Pie Cream Puffs are a genius idea. I won't go as far to say they're better than pumpkin pie, cause that would be a lie. But they are a close second. When I handed out these little cream puffs to friends and coworkers, I stayed close for the reaction of their first bite. Not to brag, but I basically blew minds. The flavor combination, plus the fact that they were homemade was too much for people to handle.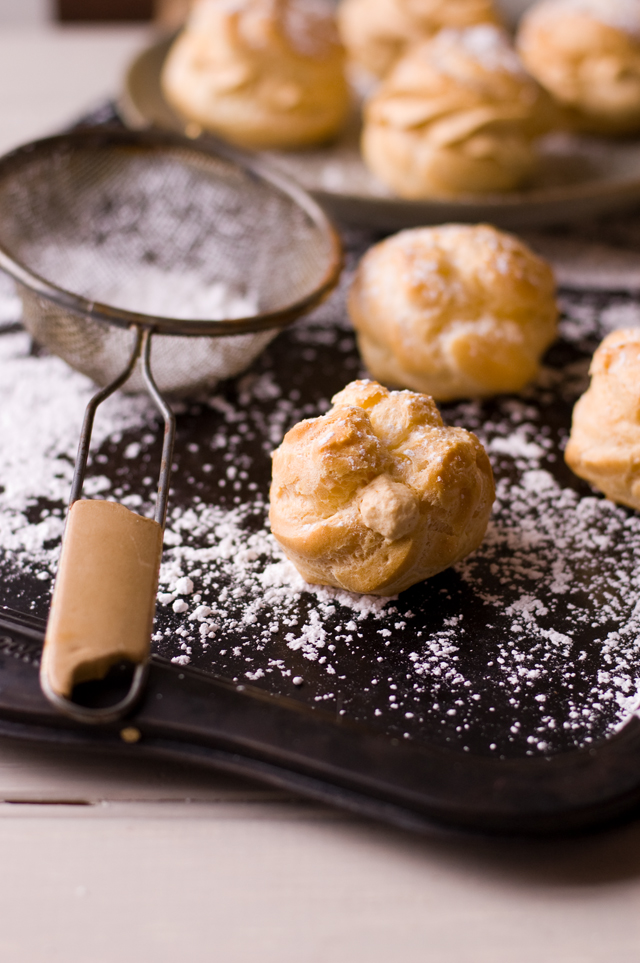 If you want to impress people, and make them think you slaved in the kitchen all day, make them cream puffs. When you tell people they're homemade, their jaws will drop and they'll be singing your praises. In reality, you only spent about 10 minutes in the kitchen, and the hardest part was mixing the dough by hand for 2 minutes in a pot. The holidays are right around the corner, and these Pumpkin Pie Cream Puffs are the perfect, unique addition to your dessert table or potluck.
Ingredients
Pate a Choux
1

cup

water

1/2

cup

unsalted butter

cut into small pieces

1

tsp

sugar

1/4

tsp

salt

1

cup

flour

4

eggs
Pumpkin Filling
1

cup

whipping cream

1/2

tsp

vanilla extract

1/2

cup

icing sugar

1

tsp

pumpkin spice

or to taste

1/2

cup

pumpkin puree
Instructions
Pate a Choux
Preheat oven to 400 degrees.

In a medium saucepan, heat water, butter, sugar and salt. Bring to a boil.

Remove the pan from the heat and add the flour. Stir until the mixture is a paste.

Return the pan to the heat and continuously stir the mixture until it's slightly shiny, about 2 minutes. A thin film will form on the pan, but this is normal.

Transfer the paste to the bowl of a stand mixture fitted with the paddle attachment.

Beat on low speed until slightly cooled, about 2-3 minutes.

Add one egg at a time, beating until combined before adding the next. Beat the batter until it's smooth and light. Transfer the dough to a piping bag fitted with a round or star tip. *I used a Wilton 1M tip. Or you can scoop dough by the tablespoon.

Line a cookie sheet with parchment.

Pipe the dough into 1+1/2 to 2 inch mounds. Leave about 2 inches between each mound.

Lightly dab the tops of each mound with a wet fingertip to slightly smooth the surface.

Bake for 15 minutes at 400 degrees.

Reduce the heat to 350 degrees, and continue to bake for another 15 minutes, until the mounds are golden brown, light and airy.

Immediately after removing from the oven, cut a small 'x' in the side of each puff, to allow the steam to escape.

Cool completely on a cooling rack.
Pumpkin Filling
In the bowl of a stand mixer fitted with the whisk attachment, beat the cream until it starts to slightly thicken.

Add the icing sugar, pumpkin spice, and vanilla, and continue to beat until soft peaks form.

Add in the pumpkin puree and continue to beat until well combined, and stiff peaks form. Make sure you do not over-beat the mixture.
Filling the Cream Puffs
Transfer the whipped cream to a piping bag fitted with a tip of your choice *I use Wilton 1M

There are two ways to fill a cream puff. You can cut the puff in half, fill one side, and top with the other half; or, you can slide the tip of the piping bag through the small 'x' you cut into the side of the puff and gently squeeze the cream until the puff begins to overflow.

The shells will remain slightly crispy for several hours, so it's best to fill these right before serving. They store well in the fridge for 2-3 days, however the pastry will become soft.

Top with icing sugar, caramel, or chocolate right before serving.
Nutritional calculation was provided by WP Recipe Maker and is an estimation only. For special diets or medical issues please use your preferred calculator
Notes
Culinary Cool Original Recipe